The Best Healthy Mexican Recipes
Healthy Mexican recipes that are easy to prepare, full of flavor, and packed with good for you ingredients. Everything from tacos to quesadillas, salads, soups, slow cooker dishes, and more
Don't wait to visit your favorite Mexican restaurant, make your favorite dishes any night of the week at home. These quick and simple Mexican dishes will please your taste buds and give you a lighter version so they are healthy and refreshing.
Living in Southern California, there are so many amazing Mexican restaurants. Everything from tiny taco stands at gas stations to fine dining and everything in between. And I want to try it all. Mexican food was something I never really ate in New England, save for some very Americanized ground beef tacos, and now it is something I love.
While I love going out for it, I also love recreating these flavors at home. Many of these healthy Mexican recipes were inspired by my favorite restaurant dishes, just lightened up to include but don't worry they still deliver all the flavor you expect with a good Mexican dish.
Whip up these guilt-free lighter versions of your favorite Mexican recipes. I have gathered some of my favorite healthy Mexican recipes that will give you those bold and bright flavors that you yearn for.
Healthy Tacos and Quesadillas Mexican Recipes
Easy Chicken Soft Tacos are a favorite in our home. You have a homemade taco seasoning that really adds a lot to the chicken, that takes just 15 minutes to make. Add a tortilla or even lettuce wraps for a simple dish. (277 calories, 4 Freestyle Smartpoints)
Chipotle Shrimp Tacos with Cilantro Avocado Slaw is such a vibrant and refreshing seafood taco. I love the perfectly cooked shrimp that is seasoned, paired with the slaw. Crispy, juicy, and downright amazing. (367 calories, 4 Freestyle Smartpoints)
Steak Tacos will always win over a crowd. Tender and juicy steak, that is rubbed down in a homemade rub. Top with fresh avocado and cilantro and put in a tortilla or bowl of rice. (325 calories, 6 Freestyle Smartpoints)
Chili Verde this is a delicious recipe that is authentic and I use three different peppers to make. You can serve on tortillas, make quesadillas, mix in scrambled eggs, and more. (249 calories, 4 Freestyle Smartpoints)
Healthy Chicken Quesadillas takes under 20 minutes to make. Crispy outer shell with inside filled with chicken, beans, corn, cheese and more. This is a wonderful dish to use leftover chicken with. (313 calories, 7 Freestyle Smartpoints)
Carnitas can be made in your slow cooker or even the Instant Pot. Either way, you will have a delight The meat is so versatile and you can use in burritos, tacos, serve over rice and more. (216 calories, 5 Freestyle Smartpoints)
Tostadas with Chicken will brighten up your table with color and flavor. A toasted shell piled high with chicken, cheese, tomatoes, onions, lime juice and more. (328 calories, 5 Freestyle Smartpoints)
Citrus Marinated Steak and Peppers Taco really brings out new flavors in the steak. If you haven't used citrus next to steak, you need to add this to your menu soon. (308 calories, 6 Freestyle Smartpoints)
Healthy Mexican Soup and Slow Cooker Recipes
Slow Cooker Fajita Soup gives you every ounce of fajita flavor but in a savory broth filled soup form. We love adding our favorite Mexican toppings and this tastes amazing reheated the next day. (305 calories, 6 Freestyle Smartpoints)
Slow Cooker Southwestern Chicken is quick to prep, and you just let the slow cooker work at cooking low and slow to marry the southwestern flavors. 6 ingredients are all that is needed. (400 calories, 1 Freestyle Smartpoints)
Slow Cooker Salsa Verde Beef will be a perfect one to make as you head out the door. Come home to a burrito or rice bowl dish. (226 calories, 3 Freestyle Smartpoints)
Chicken Tortilla Soup with Fresh Corn fills you up on a cold and chilly day. I use fresh corn which adds a lot of flavor to this chicken tortilla soup. It does carry a little spice that you can tame down with sour cream and cheese. (285 calories, 5 Freestyle Smartpoints)
Slow Cooker Beef Adobado is smokey, spicy, and such a tender and flavorful filling for tacos, quesadillas, and more. This is hands down a favorite in my eyes. (246 calories, 6 Freestyle Smartpoints)
Healthy Mexican Casserole Recipes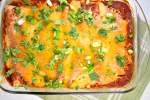 Chicken and Black Bean Enchiladas is a great one to make and serve up your family or crowd. Flavorful enchiladas filled with chicken, beans, and smothered in enchilada sauce and topped with cheese. (367 calories, 6 Freestyle Smartpoints)
Chicken Enchilada Bubble Up will bring you the flavors of an enchilada but in a casserole form. It is also topped with fluffy biscuits for a fun twist to your enchilada casserole. (235 calories, 5 Freestyle Smartpoints)
Chicken Enchilada Casserole gives you the flavors of an enchilada without all the extra work of rolling your enchiladas. Cheesy, flavorful, and the perfect weeknight dish to make for your Taco Tuesday. (404 calories, 8 Freestyle Smartpoints)
Healthy Mexican Salads and Side Recipes
Healthy Mexican Street Corn is a magical side dish that can very easily steal the show of your main dish. A corn dish that is bursting with flavor. Jalapenos, corn, mayo, Cotija cheese, and more come together for one tasty dish. (97 calories, 1 Freestyle Smartpoints)
Slow Cooker Pinto Beans if you do the spicy beans, you will have the perfect Mexican side dish for your friends and family to enjoy. (129 calories, 1 Freestyle Smartpoints)
Mexican Chopped Salad makes for a great salad to serve up whether it be your meal or a side dish to pair with other Mexican dishes. Loaded with avocado, beans, fresh veggies, and savory and flavorful dressing. (347 calories, 8 Freestyle Smartpoints)
Chili Con Queso is cheesy, and a perfect side or dip to serve up. Pair with fresh veggies, salty tortilla chips, or even cornbread. (64 calories, 1 Freestyle Smartpoints)
Black Bean and Corn Salad is perfect for topping your favorite tacos or serving on the side as a side dish. Either way, this colorful and flavorful salad is a must make for your Mexican dinner. (108 calories, 3 Freestyle Smartpoints)