The Best Homemade Tostada Recipes
Learn how to make the most delicious homemade Tostadas! This quick and easy Mexican meal with crispy corn tortillas piled high with beans, protein, and all the toppings will quickly become a favorite.
480 CALORIES
44g CARBS
18g FAT
37g PROTEIN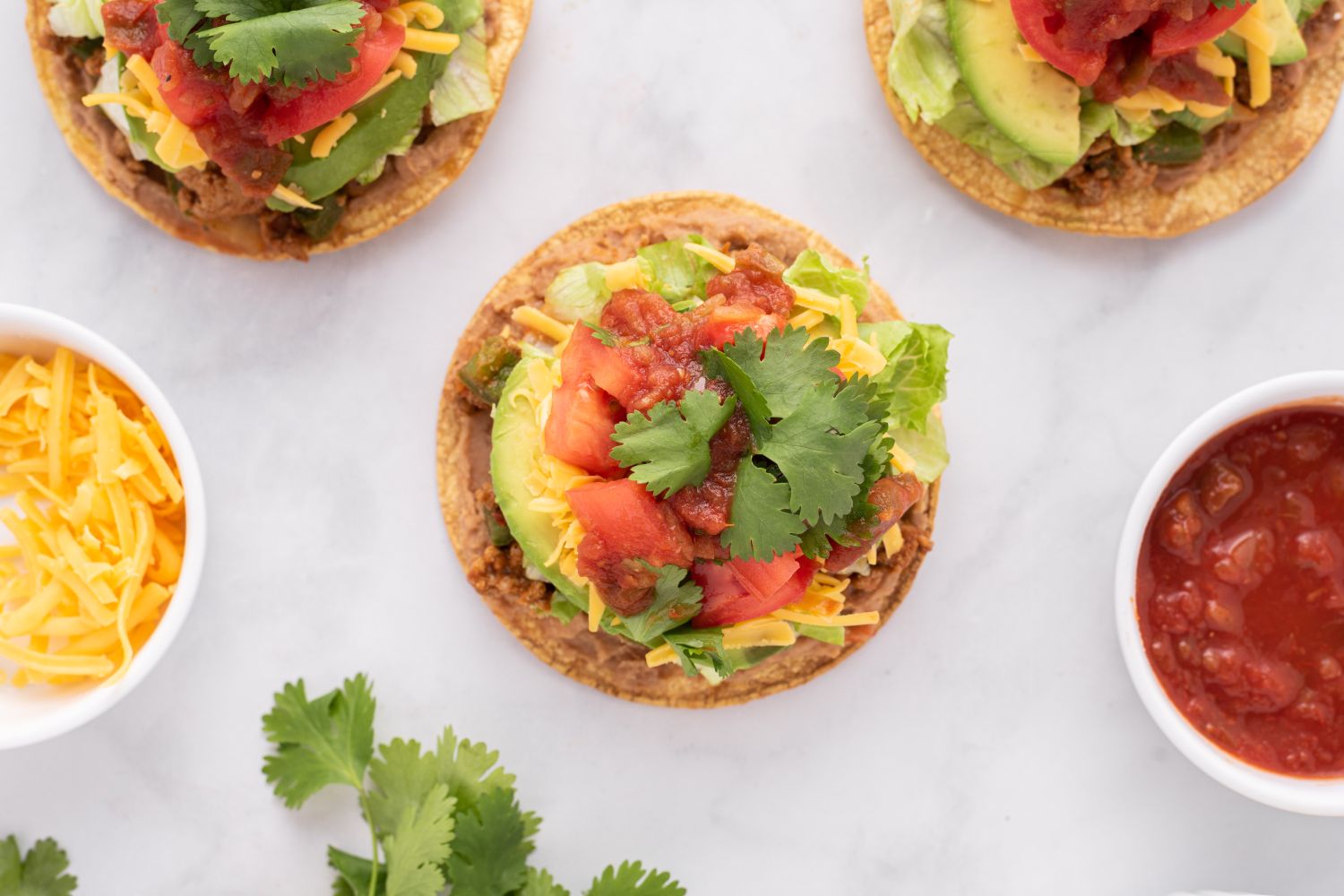 Move over Taco Tuesday, it's time to start a new trend Tostada Tuesday! If you love tacos, it's time to give Tostadas a try.
When it comes to quick and easy dinners, tostadas are truly one of the easiest options out there. Crispy corn tortillas piled high with beans, meat, cheese, and all your favorite toppings. This classic Mexican recipe is basically like a giant tortilla chip with all your favorite Mexican toppings. What's not to like?
What are tostadas?
In Spanish, "tostada" means toasted. Tostadas are basically toasted tortillas. They can be baked or fried and served with almost any filling and topping you would add to a taco. Think of it as an open-faced" taco with a thin layer of beans to hold everything together.
Why We Love Tostadas
15-Minute Meal: Tostadas are a true 15-minute meal. Bake or fry your corn tortillas. Spread on some canned refried beans. Add your protein and toppings. That's it!
Reinvent Leftovers: If you have leftover chicken, pork, steak, fish, shrimp, or vegetables - you can reinvent them as a tostada. It is one of the best ways to use up leftovers in a new and unexpected way. Although tostadas are normally made with Mexican-inspired proteins, they also work with other flavor combinations.
Healthy and filling: Tostadas are actually really healthy with baked corn tortillas, beans, lean proteins, and lots of veggies for toppings. they are filling, have lots of protein, and plenty of fiber and nutrients.
Budget-Friendly: Tostadas rely on affordable ingredients like tortillas and beans. Since you control the protein and toppings, these can be super budget friendly and are a great way to stretch ingredients and proteins.
The Best Homemade Tostada Recipes to Try!
How to Make Tostadas
Bake or fry the corn tortillas: Traditionally tostada shells are made by frying corn tortillas in hot oil for 1-2 minutes until they are crispy on both sides. Tostada shells can also be made in the oven for a healthier option (see the recipe below). Lastly, you can find pre-made tostadas in the Mexican aisle at most supermarkets.
Warm the beans: Make sure the beans are slightly warm so that you can spread them easily on the tortillas. Cold beans will cause the tostadas to break.
Add the protein and toppings: Then simply pile everything on the shells. Be careful not to add too many toppings or the tostada shells will break when they are picked up.
Are tostadas eaten warm or cold? This is a common question and tostadas are normally served slightly warm or at room temperature. Many times everything is prepped in advance and the tostadas are assembled with everything at room temperature. This makes tostadas a great option for meal prep or a picnic since everything doesn't need to be warm.
Favorite Tostada Toppings
When you think about tostadas, think about creating three layers. They always start with the crispy tortilla. Then you need beans, protein, and toppings. Here are my favorites.
Beans: Refried beans are the standard on tostadas since they hold the toppings in place. Use homemade or store-bought refried beans made with pinto beans, black beans, or any other beans you like. Whole beans are sometimes used, but it is best to mash them slightly so they stick to the tostada shell.
Protein: You will find tostadas topped with almost any type of cooked meat. Use a classic taco filling like chicken tinga, carnitas, carne asada, pollo asado, machaca, chile verde, or Mexican shredded beef. Looking for something vegetarian? Use these tasty rajas con queso or sofritas. For something quick and easy, use ground meat with taco seasoning. Tostadas are also made with fish, shrimp, and ceviche.
Toppings: Classic tostada toppings include shredded lettuce, shredded cabbage, tomatoes, fresh cilantro, diced onions, pickled onions, avocado, sliced jalapenos, queso fresco, shredded cheese, and sour cream.
Salsa: Any salsa can be used on tostadas including salsa verde, pico de gallo, pineapple salsa, or corn salsa.
Storage and Leftovers
If you are lucky enough to have leftover tostadas, make sure to store the tostada shells, beans, protein, and toppings separately. Baked or fried tostada shells can be stored in an airtight container for 3-4 days and they will stay crispy. Proteins, bans, and toppings should stay in the fridge.
Make sure to assemble the tostadas right before cooking for the best results.
Frequently Asked Questions
Here are the most common questions about making tostadas.
The main difference between tacos and tostadas is that tostadas are served "open-faced" on a crispy corn tortilla while tacos are served "wrapped" in either a corn or flour tortilla. Additionally, tostadas normally have a thin layer of beans that isn't standard on a taco and usually come with more toppings than a standard taco in Mexico.
When it comes to similarities, there are many. Tostadas and tacos both have a main protein, usually cooked meat, seafood, or vegetables. Both are served with toppings like salsa, cilantro, onion, lettuce, tomatoes, avocado, and cheese.
To eat a tostada, pick it up with both hands and take a bite! Since it is served open-faced, you don't tilt or turn it or the toppings will fall off.
Since tostadas sometimes break into pieces as they are eaten, it is best to eat it over a plate so you can scoop up any toppings or pieces that fall.
Corn tortillas are almost exclusively used for tostadas in Mexico since they get crispy when they are baked or fried. Although you could bake or fry a flour tortilla, the resulting texture won't be the same and it isn't something you would likely find at any Mexican restaurant.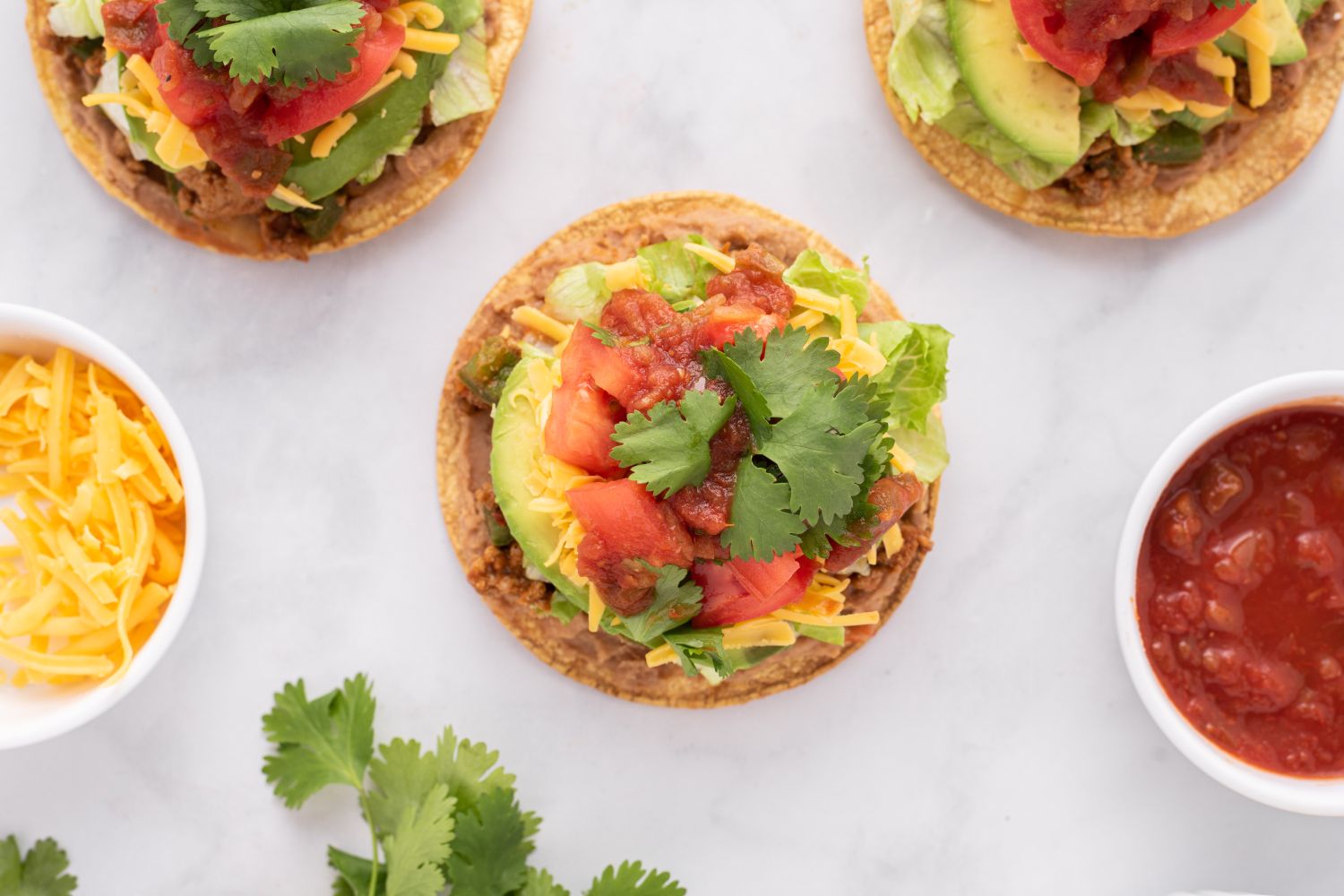 Homemade Tostada
PREP TIME: 5 Min
COOK TIME: 15 Min
TOTAL TIME: 20 Min
Print

Download

Get in your Inbox
Ingredients
2

cups

canned refried beans

2

cups

cooked chicken breast (or any protein)

1/2

cup

shredded Mexican cheese

1/4

cup

fresh cilantro, chopped
Like this Recipe? Try our Meal Plans!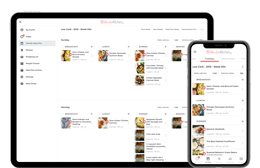 Weekly Meal Plans
Easy Shopping List
Healthy, Low Carb, & Vegetarian
Nutritional Information
Instructions
(Hide Media)
Switch to prevent your screen from going dark.
Nutritional Facts
Monounsaturated Fat 0g
0%
Polyunsaturated Fat 0g
0%
* Percent Daily Values are based on a 2,000 calorie diet. Your daily values may be higher or lower depending on your calorie needs.
The Nutritional Values provided are estimates only and may vary based on the preparation method.
This recipe works great with any protein you like. Consider using leftover rotisserie chicken, shredded chicken, ground meat cooked with taco seasoning, cooked shrimp, grilled beef, shredded pork, or any other protein you like.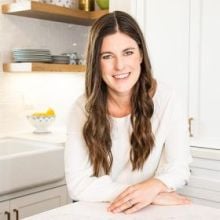 About the author
Meet

Kristen McCaffrey
Hi, I'm the cookbook author, recipe developer, and food enthusiast behind Slender Kitchen. I am obsessed with making healthy food that is easy to prepare and absolutely delicious. Meal planning is my secret weapon and I hope I can make meal time easier for you with our tried and tested recipes and foolproof meal plans.
Learn More
Get delicious, healthy recipes delivered each week right to your inbox.
Join over 80,000 subscribers.
Did you make this?
Snap a picture and show us what you made on Instagram or Facebook.
Tag us using @SlenderKitchen or #slenderkitchen.