This Easy Shrimp Ceviche with zesty lime marinated shrimp, red onion, jalapeno, avocado, tomatoes, and cilantro is the perfect bright, refreshing dish for a hot day. Plus it couldn't be easier to make!
214 CALORIES
11g CARBS
8g FAT
29g PROTEIN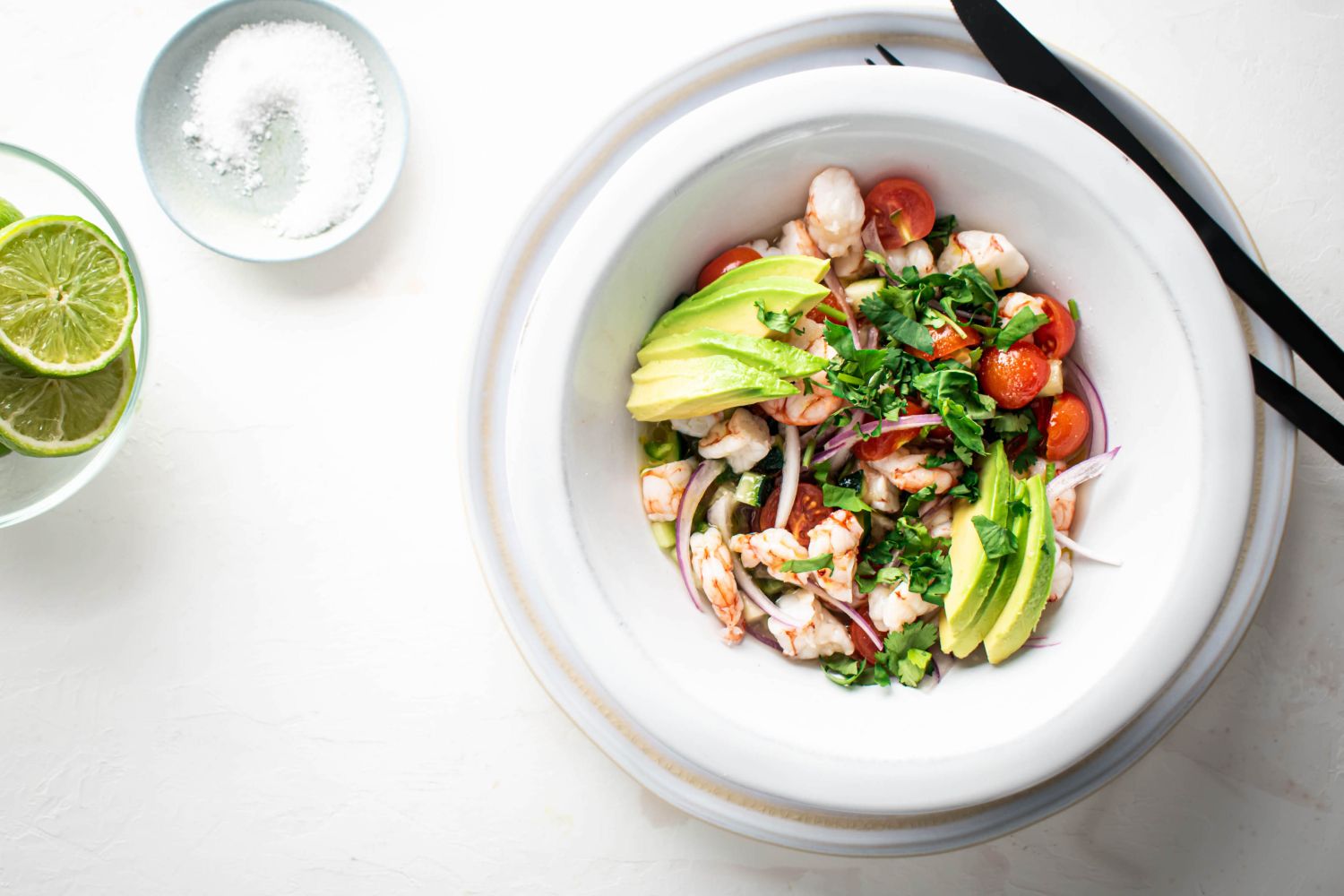 Shrimp Ceviche recipe is the ultimate summertime recipe. Serve it as an appetizer, bring it to barbecues, or make it a light summer meal. All you need are some plantain or tortilla chips and you have a dish everyone loves.
Ceviche is one of my all-time favorite dishes to make during warm months. It's cool, refreshing, and the perfect light meal when the sun is shining. We serve this all summer long as an appetizer or as a meal with crispy baked tostada shells.
Although ceviche is traditionally made with fish, it is also so good made with shrimp.
In Mexico, there are a few different types of ceviche including Aguachile and the traditional Coctel de Camarones, but today we are sharing the most traditional shrimp ceviche made simply with lime juice, onion, jalapeno, and cilantro. We also like to add avocado and tomatoes, but that's completely optional.
Before we dig into the recipe, let's cover some important basics.
What is ceviche?
Ceviche is a popular Mexican, Latin American, and South American dish made with raw fish marinated in lime or citrus juice.
It can also be made with shrimp and other seafood and there are varieties made with all types of fish, octopus, clams, scallops, and more. Most ceviche recipes include citrus juice, onions, chile peppers, and cilantro.
Is shrimp ceviche safe to eat?
Completely! While you can make shrimp ceviche using raw shrimp, we use cooked shrimp in this recipe to eliminate any concerns about raw shellfish. The extra step of blanching the shrimp in boiling water eliminates any worry about bacteria or parasites.
While traditional ceviche does "cook" in the lime juice, this process only changes the texture of the shrimp and denatures the protein. It doesn't kill all the bacteria. So unless you are buying sushi-grade shrimp or very fresh shrimp from a trusted fishmonger, there is always a small chance of parasites or bacteria.
One more note about the safety of shrimp ceviche. If you are very concerned about safety, then make this recipe with precooked frozen shrimp, as you would use for shrimp cocktail. Just defrost it first and then marinate it in the lime juice.

Ingredients
Make this fresh and zest ceviche recipe with just 5 key ingredients. Then add any of the extras for even more flavor and texture.
Shrimp: Medium-large size shrimp work best and I find raw shrimp has the best flavor. They are quickly blanched in boiling water for this ceviche and then immediately cooled down in an ice bath. This recipe also works with precooked shrimp. Make sure they are defrosted and deveined. The shrimp can be chopped into smaller pieces or kept whole.
Lime juice: The acidity in the lime juice soaks into the shrimp, adding a ton of bright and beautiful flavor. Feel free to pay with the flavors here adding some lemon juice or orange juice as well.
Cilantro: Fresh herbs like cilantro add a ton of incredible flavor that brightens up the whole dish.
Jalapeno: This adds a touch of heat that perfectly rounds out the rest of our bright flavors. Use serrano peppers for more spice.
Red onion: Thinly sliced red onion adds a delightful bite and textural variation to the dish. It's a staple ingredient in any traditional ceviche.
Avocado, cucumber, and tomato: All of these ingredients are optional but add flavor and texture to the dish. Avocado adds a creamy element and balances the acid. Tomatoes and cucumbers add some nice crunch and color.
How to Make Shrimp Ceviche
This ceviche couldn't be easier to make! Here's what to do:
Prep the shrimp
Sushi-grade shrimp: If you are using sushi-grade or super fresh shrimp, simply remove the shell and tail. Devein the shrimp by removing the black vein running along the back of the shrimp. This type of shrimp will need to marinate in the lime juice for the longest time, at least 45-60 minutes.
Raw shrimp: This is the method I use most often. Make sure the raw shrimp is defrosted, defined, and the shell and tail are removed. Bring a pot of water to a boil and quickly blanch the shrimp in the boiling water for one minute until it is bright pink. Remove and immediately place in an ice bath so the shrimp stops cooking.
Precooked shrimp: Make sure the shrimp is defrosted with the shell and tail removed. If you need to defrost the shrimp, place them in a bowl of cold water and let the water continue to trickle over the shrimp for 10-15 minutes until it is defrosted. Dry well.
Marinate Shrimp in Lime Juice
Now it's time to marinate or "cook" the shrimp in the citrus juice. Toss the shrimp with lime juice, red onions, jalapenos, salt, and pepper. Let the shrimp soak in the lime juice for at least 30 minutes (longer for raw shrimp) for the best results. The onions and jalapenos will also mellow out in the lime juice.
Although you could add the cilantro, tomatoes, and cucumbers at this stage, they stay crunchier if you wait until serving.
Add Fresh Ingredients, Season, and Serve
Now it's time to stir in all the fresh ingredients you are using. Always add cilantro and we recommend adding avocado, tomatoes, and cucumbers as well.
Taste the shrimp ceviche and season as needed. It needs a good amount of salt.
If the ceviche tastes too sour, add a drizzle of olive oil or a very small sprinkle of sugar, about 1/2 teaspoon.
How to Serve Shrimp Ceviche
Here are some of my favorite serving styles and substitutions for this dish:
Served with chips: This dish can be served as a dip alongside tortilla chips or plantain chips.
Make tostadas: You could also serve this dish on top of tostadas or inside lettuce wraps.
Rice bowls: To turn this into a more substantial meal, pile it on some steamed white rice with greens for a Mexican-style poke or sushi bowl. It also makes a delicious shrimp sushi bowl.
With corn on the cob or sweet potatoes: In Peru and South America, ceviche is often served with corn on the cob and cold steamed sweet potatoes to balance the spice and add heartiness to the dish. Both soak up the flavors of the lime juice mixture.
Crackers: In Mexico, ceviche is often served with saltines or Ritz crackers. Trust me, it's delicious.
Add a sauce: Usually, when I serve this with chips or tostadas, I love serving this shrimp taco sauce on the side for a creamy option to add on top.
Make tacos: Although it's not traditional to make shrimp tacos with ceviche, it actually is a perfect warm-weather meal.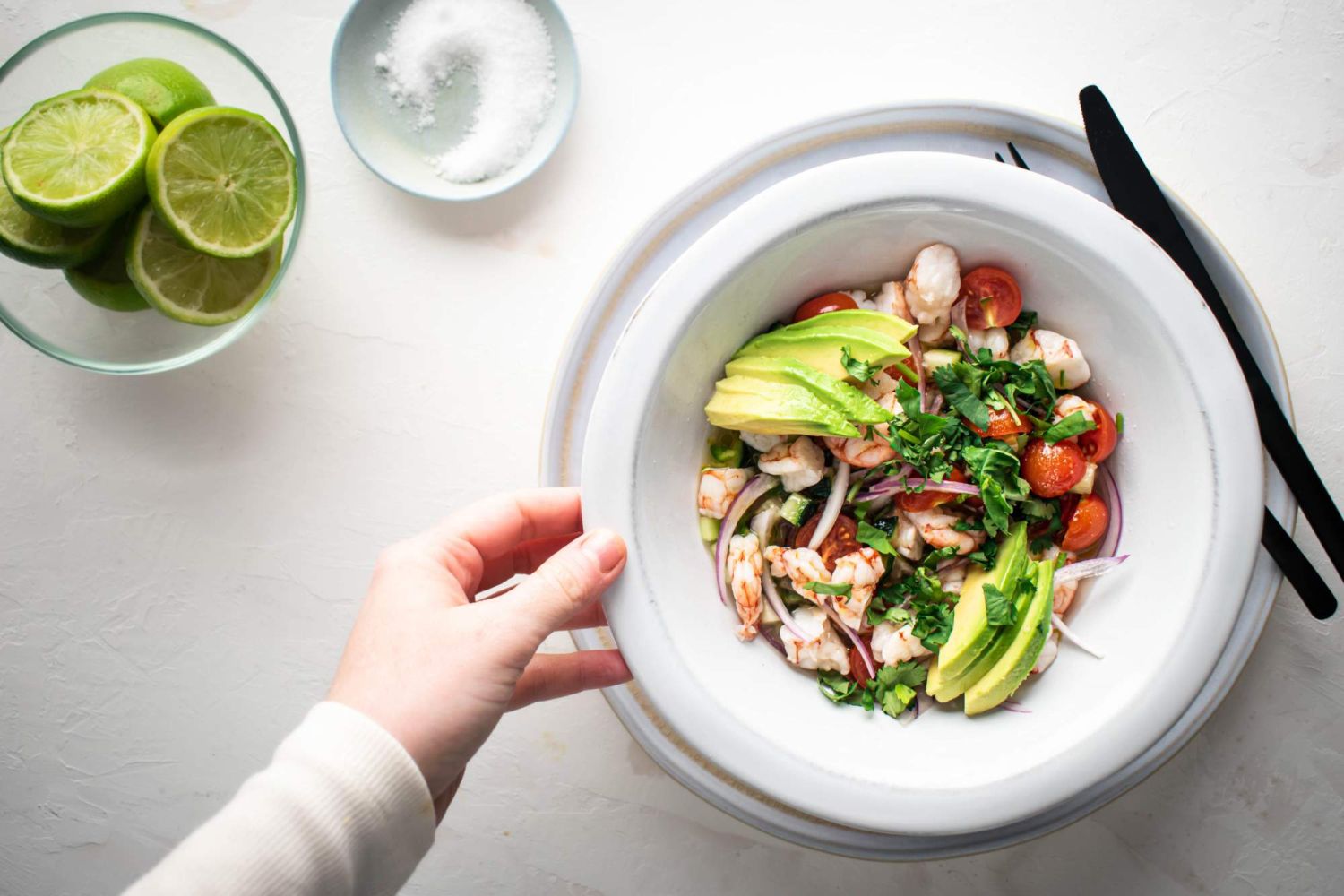 Variations and Recipe Tips
There are a lot of ways to customize this recipe and make it your own. Here are some favorites:
Add fruit: Add a sweet element with some chopped mango, jicama, or pineapple before serving.
Leave the shrimp whole: Although chopped shrimp is much easier to eat with chips, you can leave the shrimp whole for other presentations.
Add more seafood: Turn this into a Ceviche Mixto with additional seafood like fish, clams, scallops, mussels, or octopus.
Extra spicy: Ceviche is almost always served with spicy habanero or serrano pepper hot sauce on the side. play around with different hot sauce options to change up the flavor.
How long does the shrimp need to marinate in the lime juice?
Depending on the size of the shrimp you are using, shrimp can take anywhere from 20-60 minutes to fully "cook" in lime juice for ceviche.
Since raw shrimp should only be used if it is sushi-grade, cooked shrimp only needs to marinate in the lime juice until it soaks up enough flavor.
Do not let the shrimp marinate in the lime juice for more than 3-4 hours or it will begin to break down and get tough.
Storage and Leftovers
This dish will keep in the fridge in an airtight bag or container for up to 24 hours. I would refrain from attempting to freeze it, as the acid in the lime juice will continue to break down the proteins in the shrimp, resulting in a pile of mush after more than a few days.
With that said, ceviche is best eaten within 3-4 hours of when it is prepared.
If you are prepping it in advance, do not combine the shrimp and lime juice until 3-4 hours before serving. Everything can be prepped and chopped a day in advance, except for the avocado.
Frequently Asked Questions
Below you will find answers to some of the most frequently asked questions about this flavorful dish:
Yes! This dish is packed with lean protein, healthy fats, and tons of vitamins and minerals. Because it's low in calories and high in protein, it makes a fantastic addition to any healthy diet.
If you don't like the heat from jalapenos, you can substitute them out for diced bell peppers or simply leave the peppers out altogether.
Ceviche is a classic dish from Peru and is also the country's national dish. It's traditionally made with a base of cubed raw fish, lime juice, fresh cilantro, onions, and some kind of peppers. It is also very popular in Mexico and Latin America.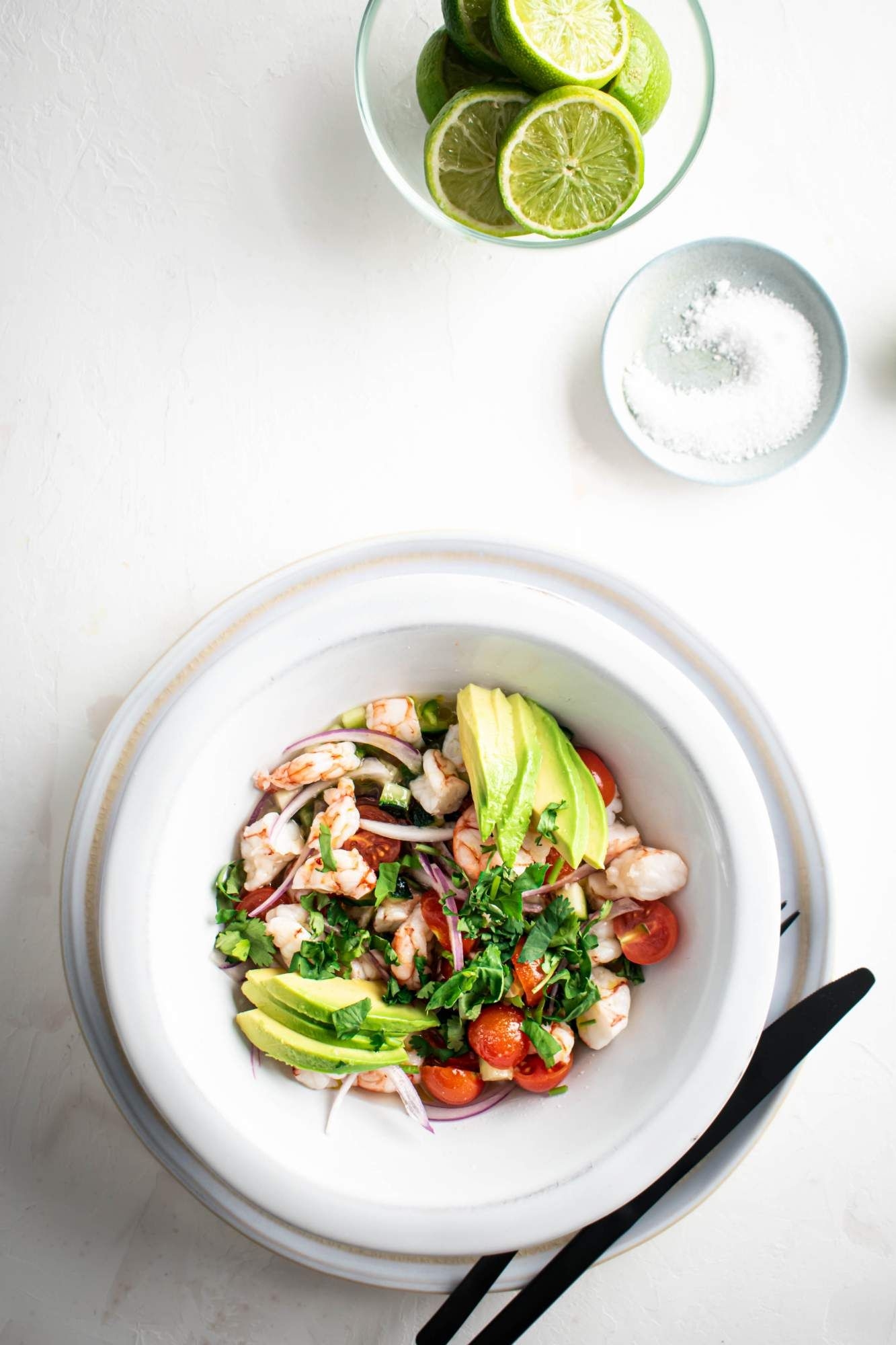 Shrimp Ceviche
PREP TIME: 5 Min
COOK TIME: 30 Min
TOTAL TIME: 35 Min
Print

Download

Get in your Inbox
Ingredients
1

lb

cooked shrimp, coarsely chopped

1/4

red onion, sliced thin

3/4

cup

cherry tomatoes, halved

1/3

cup

cilantro, chopped
Like this Recipe? Try our Meal Plans!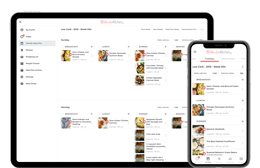 Weekly Meal Plans
Easy Shopping List
Healthy, Low Carb, & Vegetarian
Nutritional Information
Instructions
(Hide Media)
Switch to prevent your screen from going dark.
1
Toss together the shrimp, red onion, and jalapeno with lime juice. Place in a shallow glass dish or bowl where the shrimp can soak in the lime juice. Make sure the shrimp is covered in lime juice. Let sit for at least 20-30 minutes, but no longer than 3 hours. If you want to use raw shrimp, soak the shrimp and red onion only in the lime juice for 30-40 minutes, flipping once, until the shrimp is opaque and pink. Then stir in the remaining ingredients.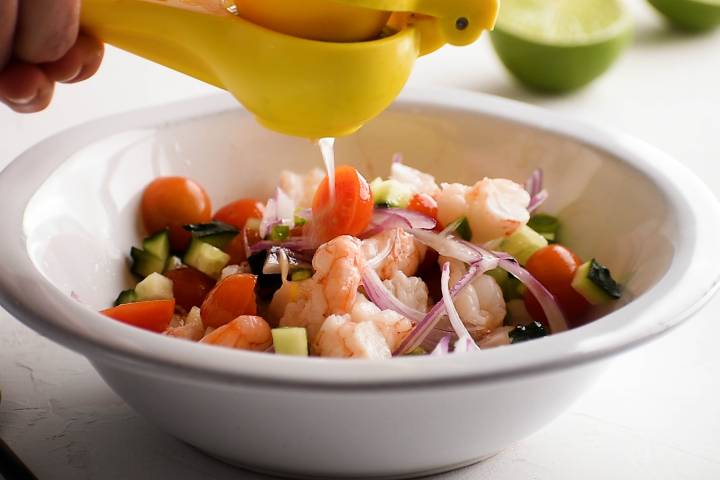 Nutritional Facts
Monounsaturated Fat 0g
0%
Polyunsaturated Fat 0g
0%
* Percent Daily Values are based on a 2,000 calorie diet. Your daily values may be higher or lower depending on your calorie needs.
The Nutritional Values provided are estimates only and may vary based on the preparation method.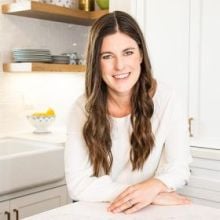 About the author
Meet

Kristen McCaffrey
Hi, I'm the cookbook author, recipe developer, and food enthusiast behind Slender Kitchen. I am obsessed with making healthy food that is easy to prepare and absolutely delicious. Meal planning is my secret weapon and I hope I can make meal time easier for you with our tried and tested recipes and foolproof meal plans.
Learn More
Get delicious, healthy recipes delivered each week right to your inbox.
Join over 80,000 subscribers.
Did you make this?
Snap a picture and show us what you made on Instagram or Facebook.
Tag us using @SlenderKitchen or #slenderkitchen.