Twenty Five Whole30® Slow Cooker Recipes
Whole30 Slow Cooker Recipes are a game changer when it comes to completing a Whole30. Find amazing crockpot recipes for chicken, beef, pork, vegetables, soups, stews, and more.
If you are considering doing a Whole30, the slow cooker can be your best friend. First, it's an easy and stress free way to prepare a meal. Additionally, since many people struggle with lunches on the Whole30, it can be the perfect way to prep lunches for the week. Just make up a big batch of your favorite Whole30 slow cooker recipe and then eat it for lunch during the week with salads, lettuce wraps, baked potatoes, veggies, or cauliflower rice. Additionally, even if you aren't doing Whole30, all of these recipes are gluten-free with no added sugars and are Paleo friendly, although you will have to substitute sweet potatoes for white potatoes in a couple recipes.
The other amazing thing about using your crockpot for the Whole30 is that it is an incredible way to build flavors without needing lots of extra, noncompliant ingredients. Cooking protein low and slow in the crockpot with ingredients like onion, garlic, tomatoes, fresh herbs, coconut aminos, citrus, and other flavors adds tons of flavor to recipes that would be difficult to build otherwise. These recipes will become the cornerstone of your meal planning since they can be utilized in all kinds of dishes. Doing a Whole30 is cooking intensive, so large recipes like these are a game changer.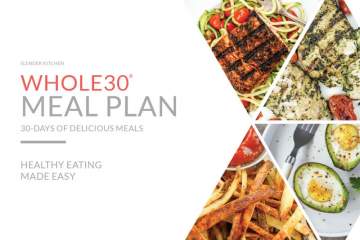 Check out this easy Whole30 Meal Plan packed with delicious recipes for breakfast, lunch, and dinner. Complete shopping lists, snack ideas, meal prep, and more! Learn More
Interested in more Whole30 recipes?
Meal Plan Members! If you are considering doing a Whole30, the meal planner is a great place to create your menu for the month. Simply turn off the meal plan suggestions and then use our Whole30 recipe index to save recipes to your queue and favorites. Then you can quickly build your own Whole30 meal plan and generate your shopping list.