Twenty Five Delicious and Healthy Sausage Recipes
Twenty Five Delicious and Healthy Sausage Recipes that are quick, easy, and will make you rethink using sausage to make a healthy dinner.
Twenty Five Delicious and Healthy Sausage Recipes that you will love and take no time to get on the table for a healthy, easy, and delicious dinner.
I often get asked if there are things that I always have on hand for quick and healthy dinners. And while this is a terribly hard question for me to answer since my pantry and freezer are often overflowing with ingredients. After much thought I realized that one of my favorite ingredients is lean chicken and turkey sausage. Not only does it cook quickly and have tons of flavor, it's surprisingly versatile and can be used in so many dishes. Plus with under 200 calories (sometimes as little as 100 calories per link depending on the brand) and 4 SP per serving, it's an ingredient that can work with almost any diet.
Here are some things to keep in mind when making these Healthy Sausage Recipes:
There are a ton of different types of sausage on the market and they come in all different flavors and styles. The first thing you will need to think about is whether you want ground sausage or sausage links. For ground sausage, it is usually easier to find lean ground turkey sausage in either a sweet or spicy Italian flavor. This is available in most grocery stores. I have found it difficult to find lean ground chicken sausage, but sometimes its available in more specialty stores. For sausage links, there are way more options. I can find about 8 different flavors of lean chicken sausage in my local store and another 3-4 flavors or lean turkey sausage. For some reason the turkey sausage usually comes raw and the chicken sausage is usually precooked. Honestly they are all pretty interchangeable, just make sure to pay attention to the calorie counts if you are watching your diet.
When it comes to choosing a flavor of chicken sausage, try to choose something that complements the other flavors in the dish. Spinach and feta sausages are delicious with Italian flavored dishes and spicy jalapeno sausages work great with Asian dishes.
If you want to pump up the flavor in any dishes made with ground turkey or ground chicken, consider substituting sausage instead. It comes built in with tons of flavors and can take a bland recipe to a whole new place.
Since sausage is such a versatile ingredient, I always have some on hand in my freezer. Usually I stock up when there are sales and keep it around for quick and easy meals.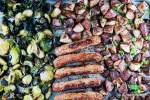 1. One Pan Musatrd Roasted Sausages, Potatoes, and Brussel Sprouts, 346 calories
2. Pineapple Chicken Sausages, 175 calories
3. Slow Cooker Sausage and Gnocchi Soup, 297 calories
4. One Pan Roasted Sweet Potato, Sausage, and Green Beans, 305 calories
5. One Pan Roasted Italian Sausage, Zucchini, and Tomatoes, 308 calories
6.Tomato Basil Spaghetti Squash with Sausage, 307 calories
7. Low Carb Caprese Sausage Bake, 314 calories
8. Andouille Sausage, Kale, and Root Vegetable Bake, 340 calories
9. Sausage, Pepper, and Spinach Soup, 291 calories
10. Sausage, Spinach, and Tomato Lentils, 412 calories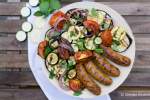 11. Grilled Chicken Sausages and Summer Vegetables, 285 calories
12. Garlic Parmesan Zucchini Noodles with Sausage, 317 calories
13. Sausage, Potato, and Veggie Bake, 344 calories
14. Sausage, Spinach, and Polenta Bowl, 319 calories
15. Spaghetti Squash with Tomato Cream Sauce and Sausage, 346 calories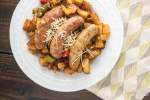 16. Roasted Italian Sausages with Potatoes, Peppers, and Onions, 314 calories
17. Whole30 Breakfast Salad with Sausage, 413 calories (awesome recipe for dinner as well!)
18. Sausage, Spinach, and Cherry Tomato Pasta Arrabiata, 353 calories
19. Spinach and Sausage Spaghetti Sauce, 202 calories (slow cooker or stove top)
20. Spinach and Artichoke Spaghetti Squash with Sausage, 386 calories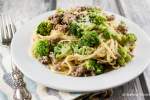 21. Turkey Sausage and Broccoli Pasta, 364 calories
22. Italian Sausage Meatballs, 231 calories
23. Low Carb Creamy Tomato, Mushroom, and Spinach Pasta with Sausage, 347 calories
24. Turkey Sausage, Chickpea, and Butternut Squash Soup, 290 calories
25. Spicy Sausage, Spinach, and Mushroom Lasagna, 450 calories
Meal Plan Members! Looking for a quick and easy dinner? Consider saving some of these recipes in your Favorites or Recipe Queue for times when you need a quick weeknight meal.