26 Healthy Make Ahead Breakfasts For Busy Mornings
Make ahead healthy breakfasts are the key to easy, stress mornings! Try out these delicious recipes for oatmeal, bars, egg muffins, casseroles, and more to make healthy eating in the morning a breeze.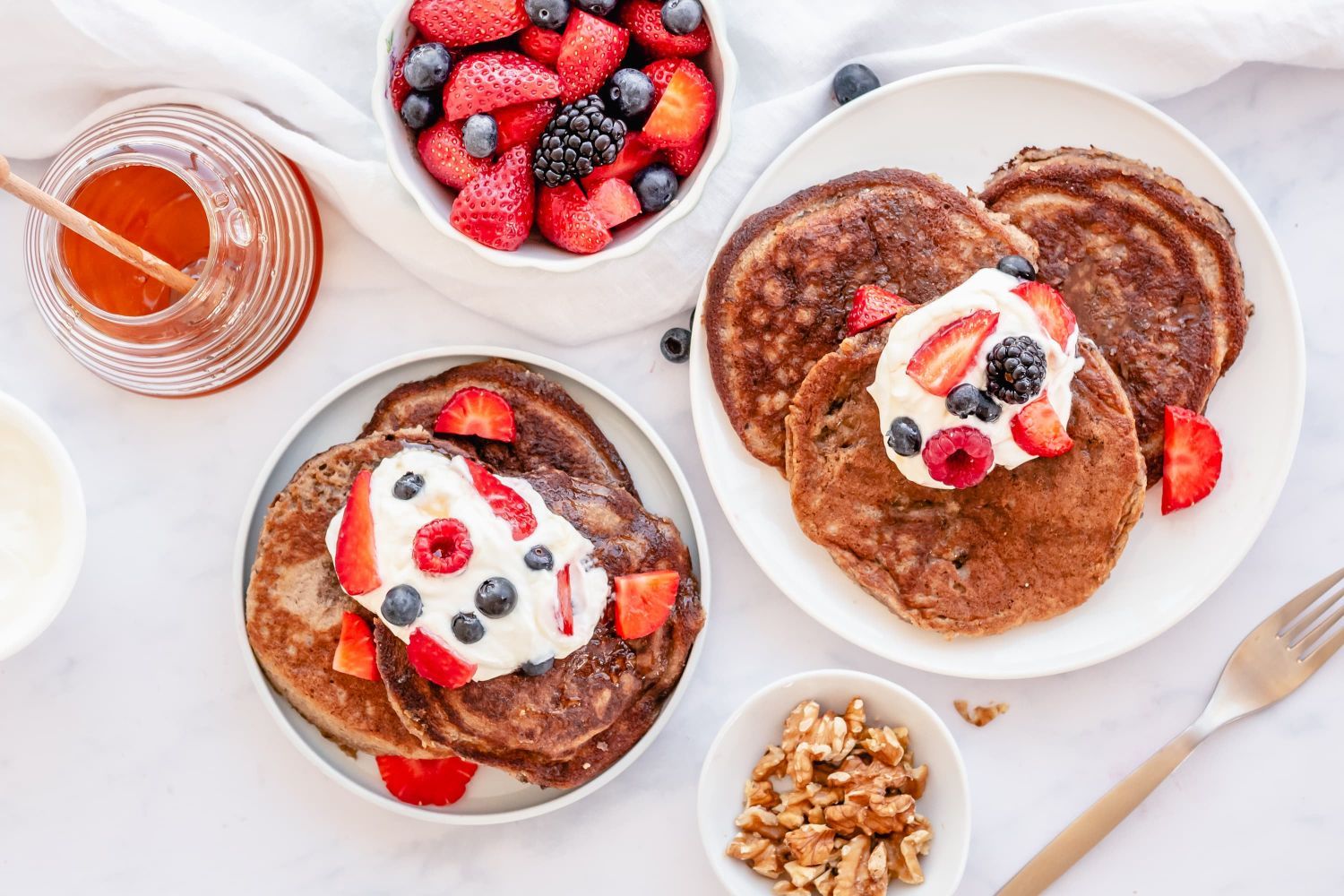 Mornings can be stressful so having one of these healthy make ahead breakfasts ready to go makes sure you start your morning on the right track.
I don't know about you, but as much as I dream of relaxing mornings, it seems like we are always at least 15 minutes behind and frantically running around trying to get out the door. So having breakfasts like the ones I am sharing today saves me from reaching for something like a pop tart because I am starving and have no time to make anything. All of these recipes can be made ahead of time and kept in the fridge or freezer. Normally I make up at least one recipe below on Sunday to have ready to go for the week.
When choosing what to make for breakfast meal prep, there are a few important things to keep in mind. First - do you like to eat the same thing for every meal? Personally, I have no problem eating the same thing all week, so I can batch cook one recipe and be ready for the week. If you like more variety, you may want to choose 2-3 recipes that you can meal prep. Choose one that is freezer friendly so it will last for upcoming weeks.
Next, you want to think about how you like to eat your breakfast. Do you eat at home? Are you eating in the car? Choose meals that fit your lifestyle. You may love pancakes, but if you eat in your car they may not be the best option. Lastly, think about the whole family? What meals can you make that will work for everyone? Things like oatmeal bars and egg sandwiches are popular with everyone in our house.
What are your favorite make ahead breakfasts?
1. Broccoli Cheddar Quinoa Egg Muffins, 76 calories: These healthy morning egg muffins are packed with quinoa, broccoli, and cheddar cheese. My kids gobble these up and the fact that they are portable makes them a great option for meals on the go.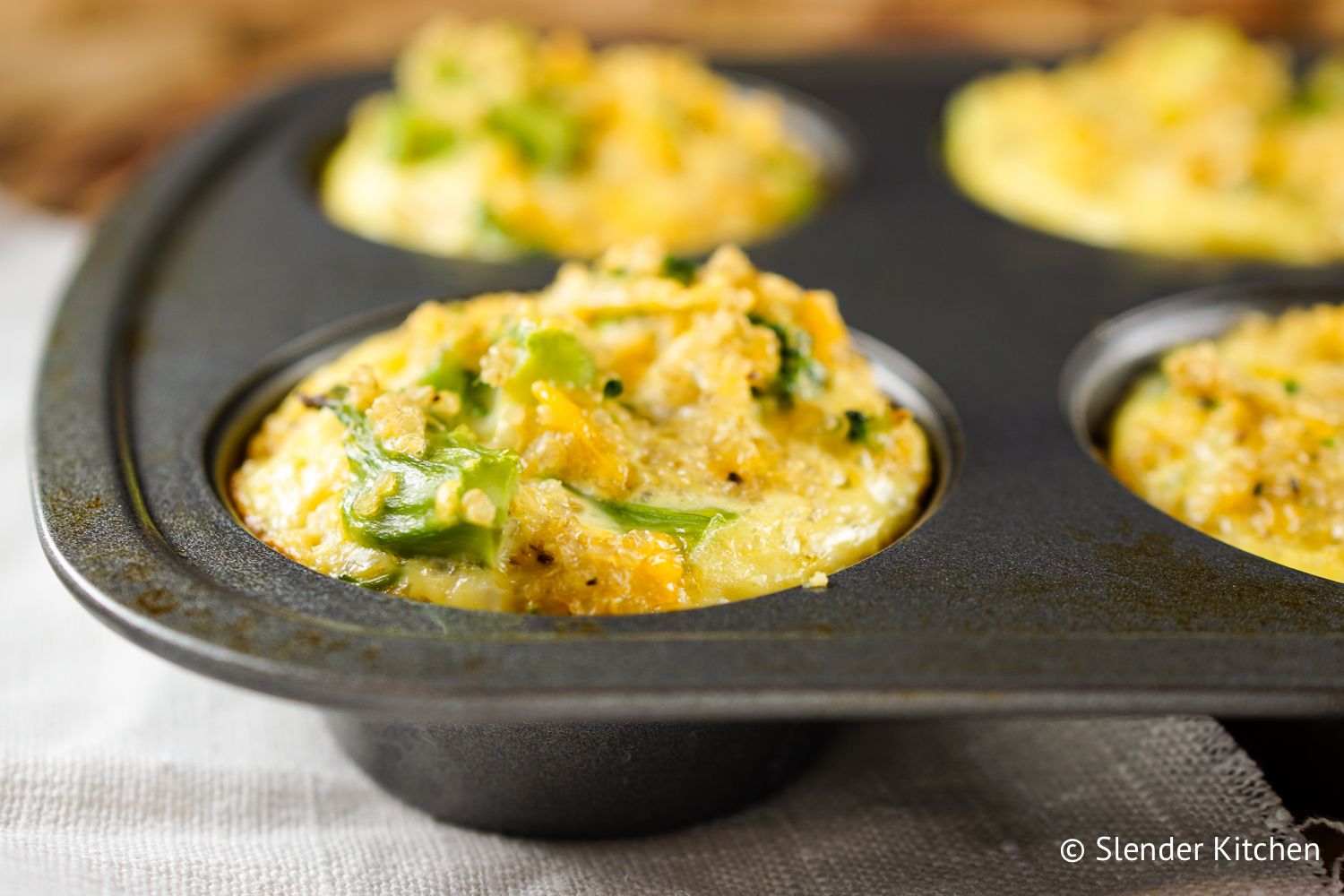 2. Make Ahead Creamy Steel Cut Oats, 199 calories: Steel cut oats are the best on cold mornings but they take forever to make. Consider making up a big batch on the weekend and let everyone add their own toppings in the morning. Fresh berries, banana, nut butter, maple syrup, honey, and dried fruit are all tasty options.
3. Asparagus, Mushroom, and Quinoa Frittata, 226 calories: Adding whole grains, like quinoa, to eggs is one of my tricks to make egg breakfast recipes more filling. It also means you have a complete meal that you can take on the go without needing to add toast or something on the side.
4. Healthy Cinnamon Banana Bread, 157 calories: It's hard to beat a slice of banana bread when it comes to a comforting breakfast. This one is made with lots of bananas, cinnamon, and whole grains for a healthier spin on the classic dish. Pair it with some Greek yogurt to make a complete breakfast.
5. Sausage and Butternut Squash Breakfast Casserole, 331 calories: Breakfast casseroles are a great way to batch cook and this one packed with turkey sausage, butternut squash, spinach, and eggs doesn't disappoint. Grab a slice and eat it warm or cold for an easy, on-the-go breakfast.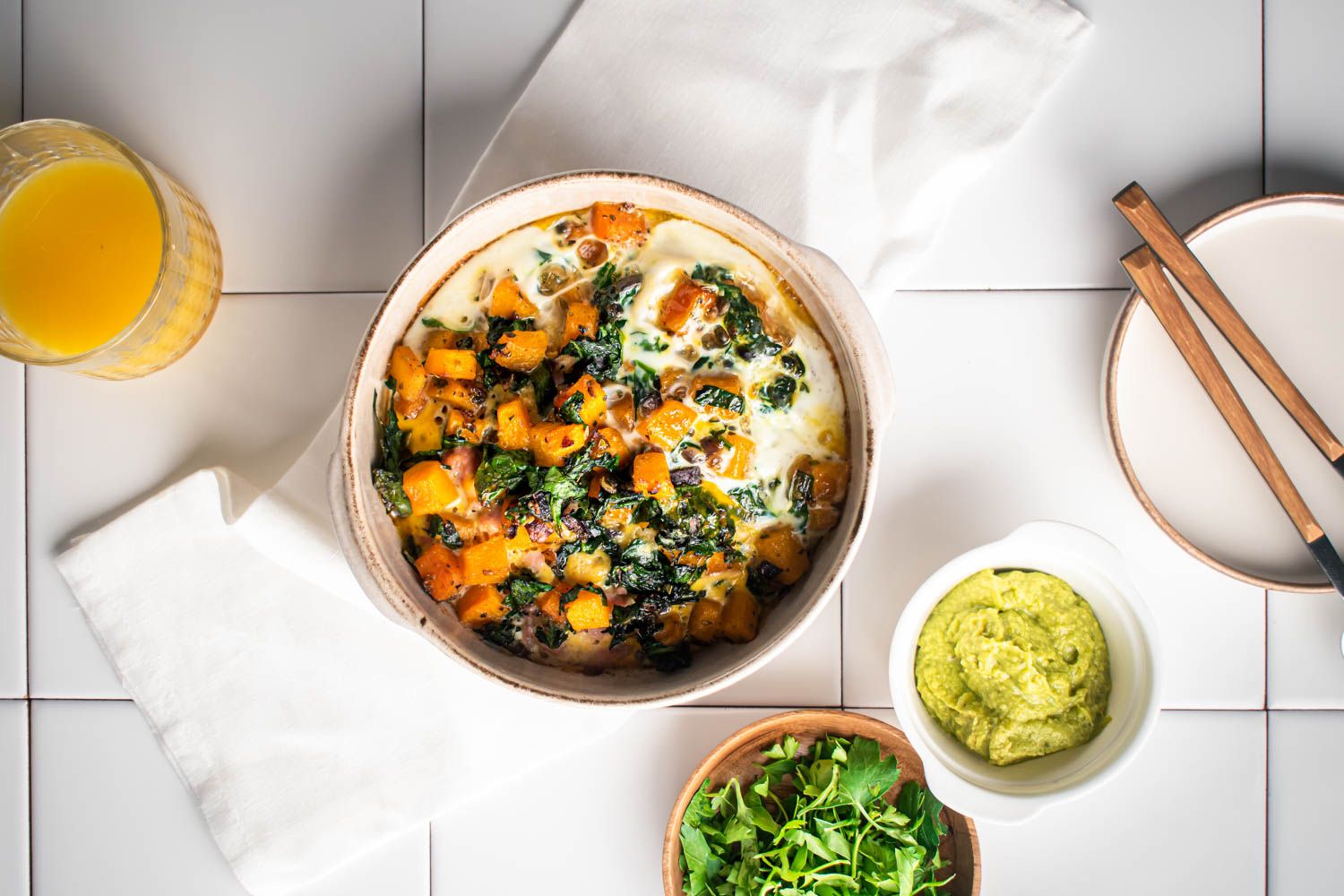 6. Baked Blueberry Banana Oatmeal, 208 calories: Something magical happens when you baked your morning oatmeal. It's get nutty, the flavors deepen, and it makes meal prepping oatmeal super easy.
7. Sweet Potato and Spinach Egg Muffins, 137 calories: These simple egg muffins packed with spinach and sweet potatoes are filling and packed with good for you ingredients. Eat them plain or grab some toast and turkey bacon to make a quick breakfast sandwich.
8. Baked Apple Cinnamon Oatmeal, 269 calories: Another vote for baked oatmeal. This one is packed with tender baked apples and cinnamon for the perfect meal on a chilly morning. This even makes an appearance in lunch boxes for the kids regularly.
9. Bacon, Egg, and Zucchini Egg Muffins, 145 calories: It's true that adding bacon makes everything better. These muffins stay light and healthy though with the use of center cut bacon and plenty of fresh zucchini.
10. Pumpkin Chocolate Chip Oatmeal Muffins, 140 calories: If you want a breakfast that is healthy but tastes like dessert, these baked pumpkin and chocolate chip muffins are for you. Packed with whole grains, they are good for you and will keep you full all morning.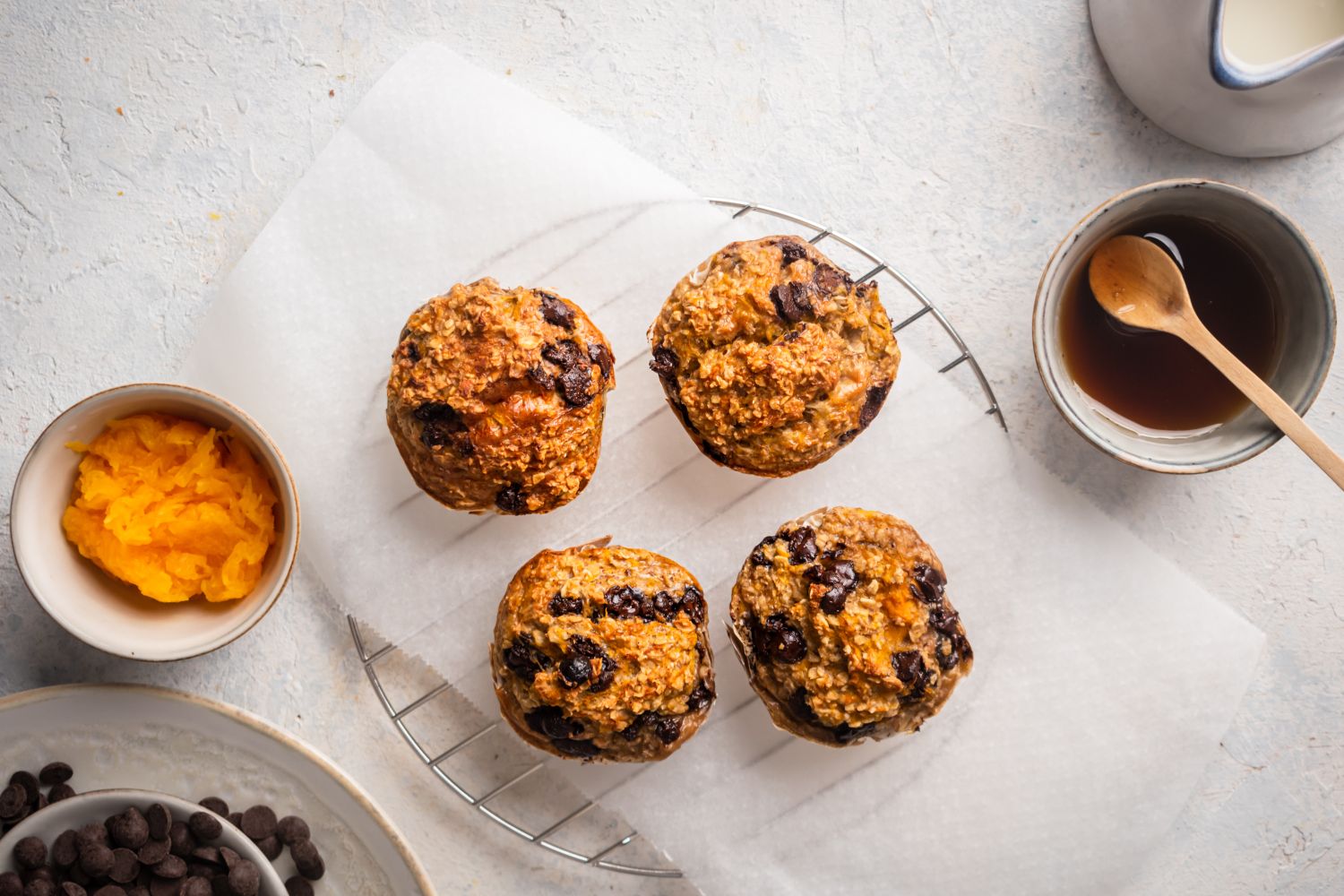 11. Baked Steel Cut Oatmeal with Plums, 264 calories: Another option for steel cut oats is to bake them so you don't have to wait around for them to cook. This whole grain dish can be made with any fruit you like.
12. Green Apple, Chia, and Cinnamon Overnight Oats, 283 calories: Overnight oats are a game changer when it comes to easy oatmeal meal prep. Just grab some oats, milk, and all your favorite mix-ins for a breakfast that's ready and waiting when you wake up.
13. Banana Peanut Butter Oat Bars with Dates, 224 calories: Originally I made these bars as a snack but they are hearty and healthy enough to use for a healthy, portable breakfast bar that's free of refined sugars.
14. Banana Quinoa Chia Seed Muffins, 195 calories: These banana muffins are packed with quinoa, oats, chia seeds, and whole grains. They taste like a delicious bakery muffin but are so much better for you.
15. Asparagus, Mushroom, and Feta Frittata, 242 calories: This veggie packed breakfast tastes great cold or warmed up. It can even double as a quick lunch of dinner.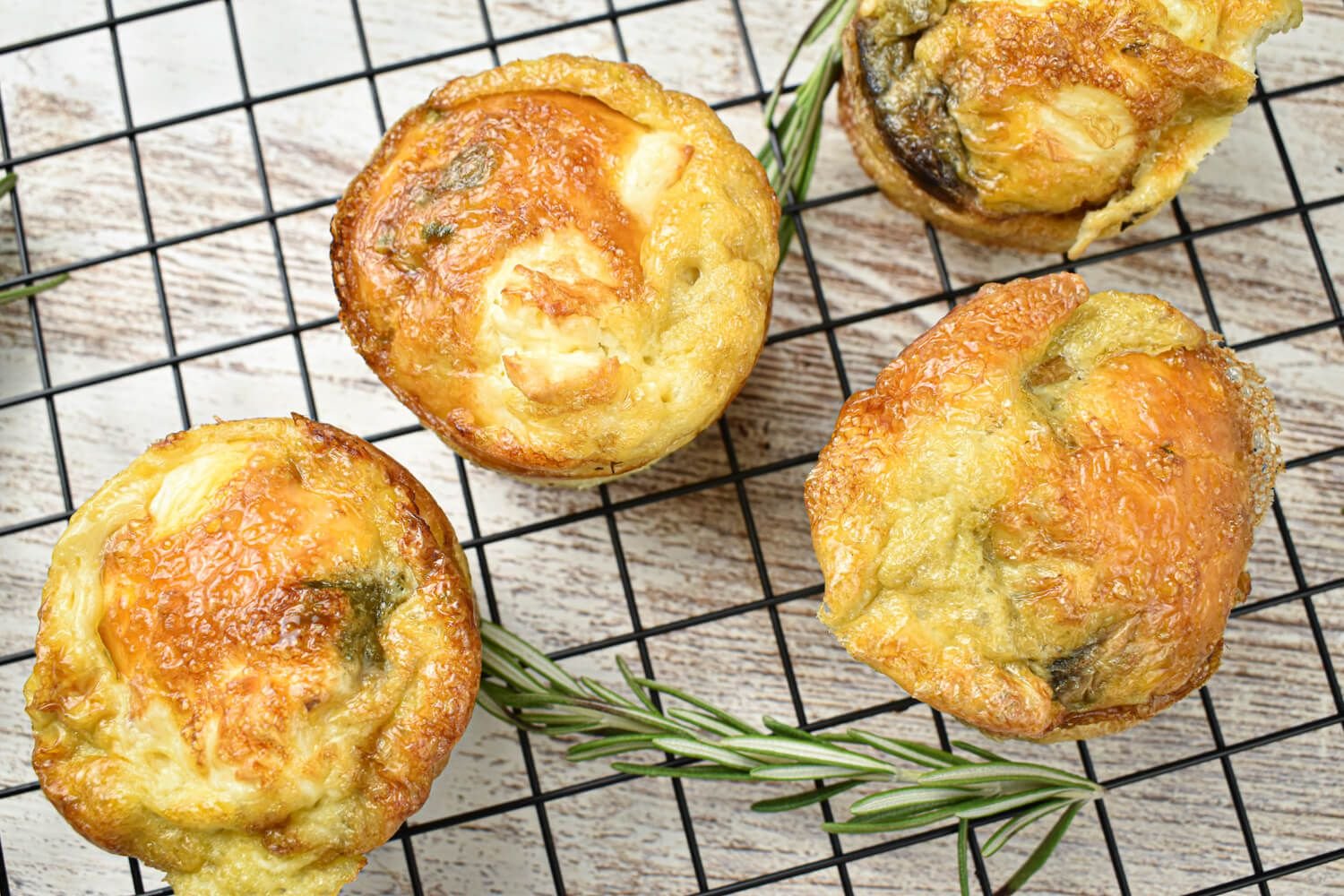 16. Banana Chocolate Coconut Oatmeal Muffins, 141 calories: Who wouldn't love grabbing an oatmeal muffin stuffed with chocolate chips, banana, and coconut for breakfast. These are good enough for dessert but healthy enough to fuel your morning.
17. Make Ahead Fruit and Yogurt Parfaits, 292 calories: There is something about seeing these beautiful parfaits in the fridge that make eating breakfast feel special. Plus they are easy to eat on the go or packed for a quick breakfast in the office.
18. Apple Pie and Almond Butter Chia Seed Pudding, 333 calories: Chia pudding is packed with nutrition and plenty of fiber to keep you full all morning. This version using apples and almond butter tastes like a spin on apple pie and is so easy to meal prep.
19. Slow Cooker Pumpkin Steel Cut Oatmeal, 287 calories: This easy Slow Cooker Steel Cut Oats with pumpkin pie flavors is the perfect hearty breakfast with all the pumpkin spice flavors you crave.
20. Southwest Black Bean Egg Muffins, 115 calories: Egg Muffins are a favorite breakfast on the go and these ones have staying power with plenty of black beans and veggies.
21. Turkey Sausage, Spinach, and Egg White Wraps, 266 calories: This Starbucks copycat can be prepped in advance and kept in the freezer for an easy, filling breakfast.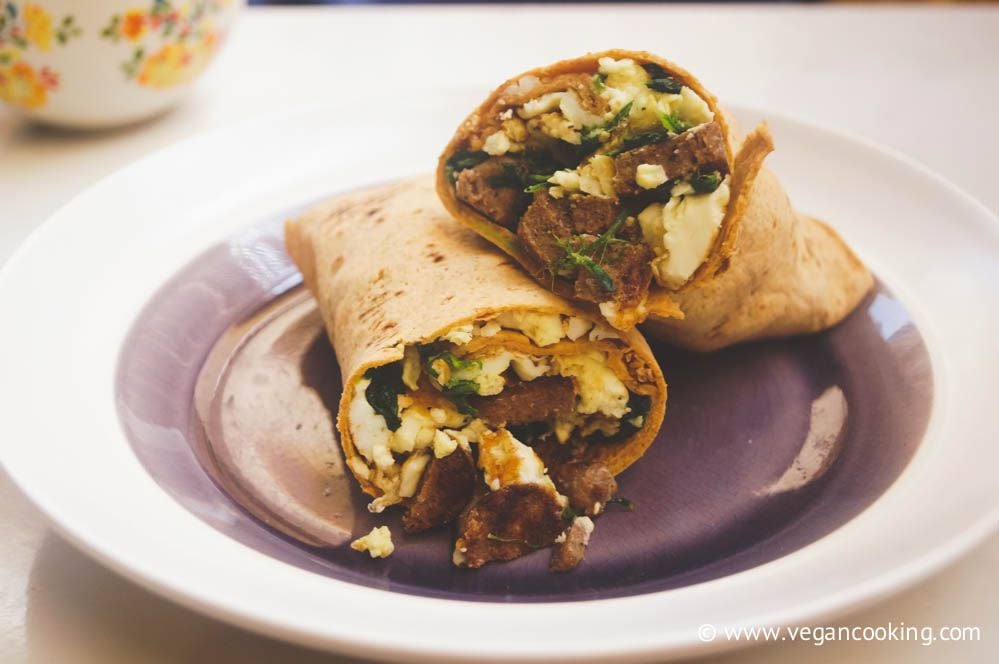 22. Overnight Peanut Butter and Honey Chia Oats, 344 calories: This mash up between overnight oats and chia seed pudding will keep you energized all the way until lunch. Packed with protein, fiber, and healthy fats.
23. Nutella Banana Bread, 155 calories: All you have to know is that there is Nutella involved in this hearty banana bread. A favorite with kids.
24. Overnight Chai Steel Cut Oats, 293 calories: Making these overnight oats means that you have breakfast ready to go as soon as you wake up. This version is made with all the flavors of chai tea.
25. DIY Egg McMuffins, 249 calories: Instead of stopping at the drive through, make your own egg McMuffin at home and keep a stash in the freezer when you need breakfast in a hurry.
26. Frozen Breakfast Quesadillas, 275 calories: These breakfast quesadillas are probably the number one most requested breakfast in our house. They are so good and freezer friendly.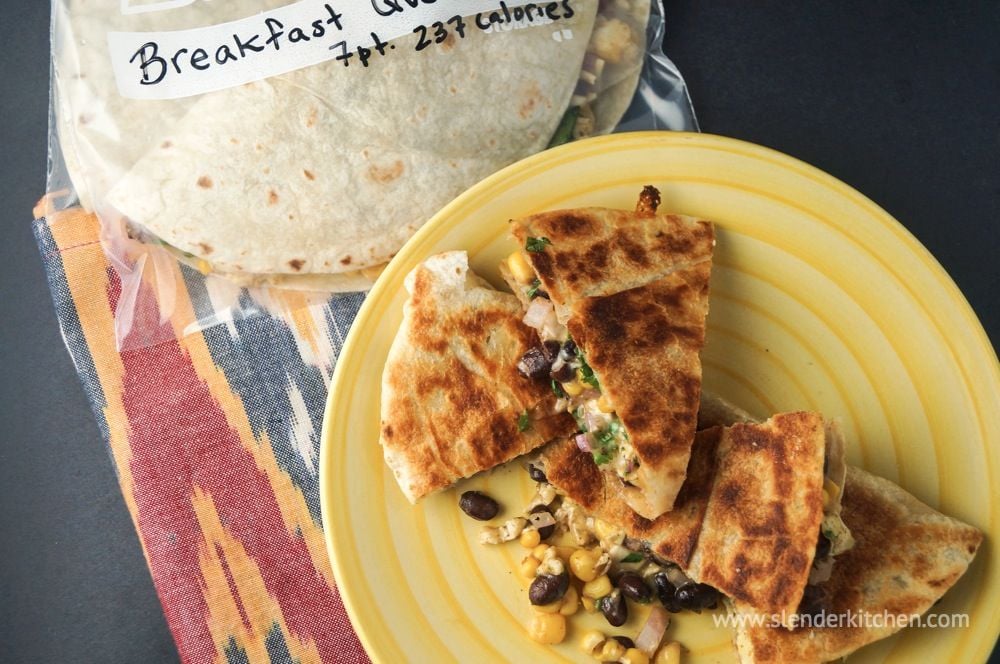 Meal Planning Ideas: Try adding these breakfasts to your weekly meal plans for stress-free mornings. Instead of running around trying to get breakfast prepared, all you have to do is reach in the fridge and you're ready to go. Want help meal planning and utilizing breakfasts like these? Try out our weekly healthy, low carb, and vegetarian meal plans! All include delicious recipes like the ones above for quick, healthy weekday breakfasts.
Get delicious, healthy recipes delivered each week right to your inbox.
Join over 80,000 subscribers.