Roasted Cauliflower Steaks
These easy Roasted Cauliflower Steaks with homemade chimichurri sauce are the perfect vegetarian entree! Made right in the oven, this easy cauliflower recipe is good for you, easy to make, and tastes seriously amazing.
167 CALORIES
15g CARBS
11g FAT
6g PROTEIN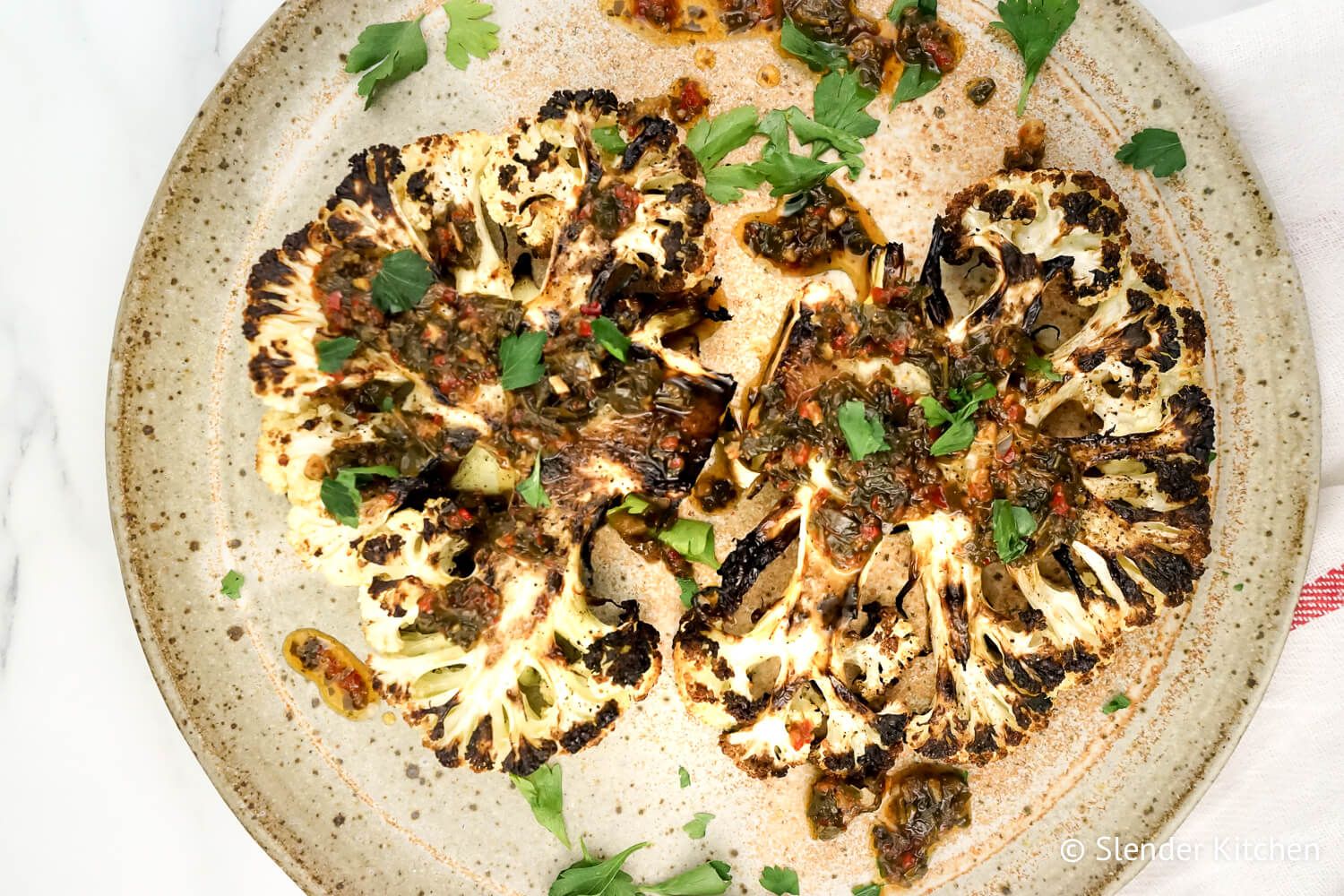 These delicious Cauliflower Steaks are a great way to make a hearty vegetarian entree that everyone loves. With browned caramelized edges and a rich, nutty flavor, these roasted cauliflower steaks make a great main dish or side.
Cauliflower is one of our favorite ingredients and we use it all the time in recipes like Roasted Cauliflower, Bang Bang Cauliflower, Cauliflower Parmesan, or simple cauliflower rice. But lately, my whole family has been requesting these steaks made from thick-sliced cauliflower.
They are seasoned simply with olive oil, salt, and pepper. Then the most amazing chimichurri is drizzled on top. If you don't want to make the chimichurri, there are lots of seasoning ideas below to make sure every bite of your cauliflower steak is well seasoned.
Since these cauliflower steaks aren't high in protein, pair these steaks with some protein. For a plant-based option add some Pesto Chickpeas, Lentil Falafel, or Tuscan White Beans. For a more traditional protein, add some Grilled Chicken, Pork Tenderloin, or Lemon Pepper Salmon.
Why You'll Love Cauliflower Steaks
Main dish or side dish: These make a beautiful main dish or side dish that truly is a show-stopper. I love serving these at dinner parties or for special occasions.
Versatile: These cauliflower steaks work with so many different flavor profiles. Change up the spices, add melted cheese, and change up the dipping sauce or garnishes. Just like regular cauliflower, these steaks are a blank canvas for any flavors you like.
Easy to make: Once you know how to cut the cauliflower into steaks, these are really easy to make! Plus they keep well in the fridge.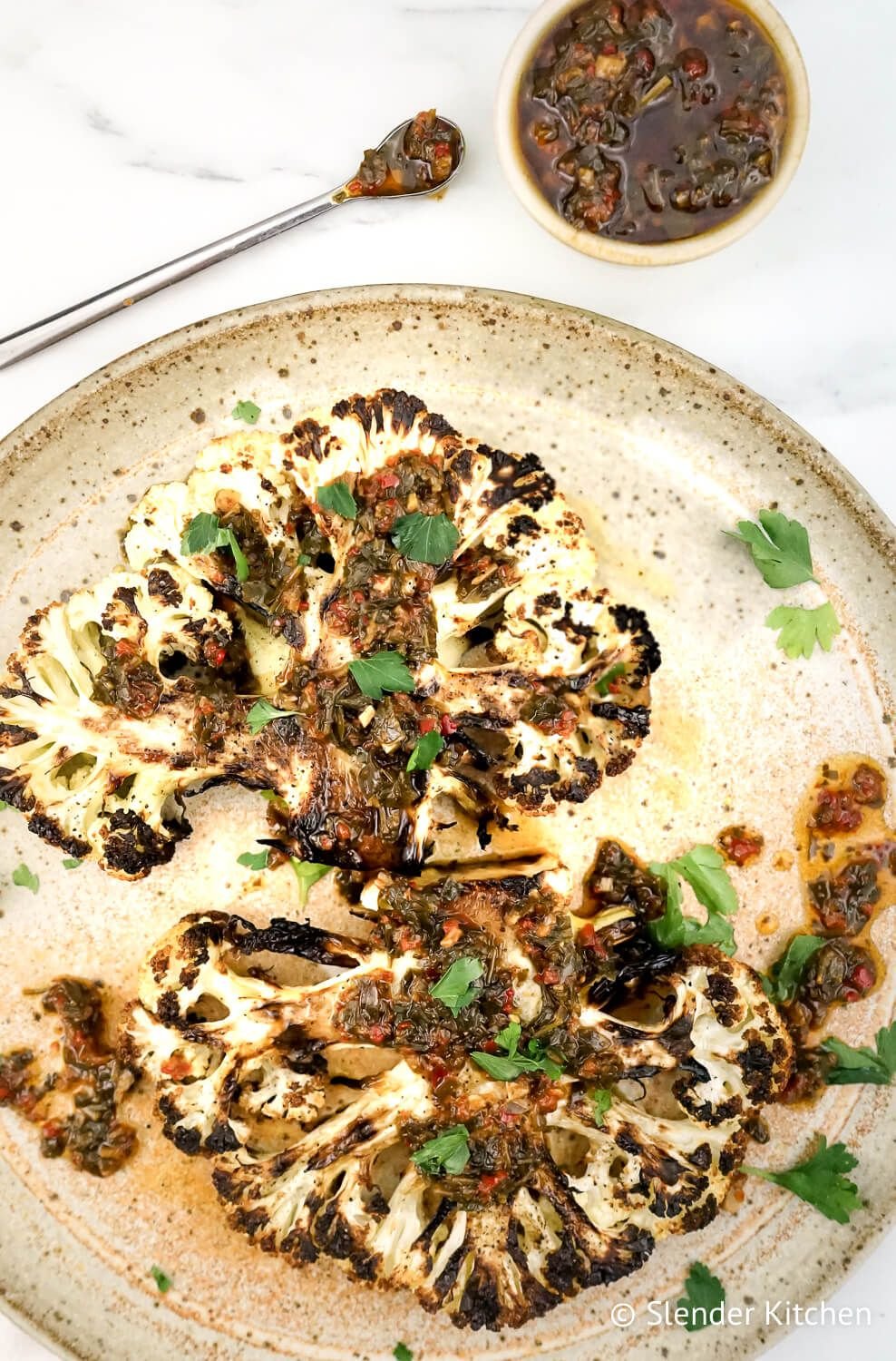 Ingredients
Here is everything you need to make these tasty cauliflower steaks.
Cauliflower: Look for a heavy, large cauliflower when making steaks that have tightly formed florets. The larger the cauliflower, the more steaks you can get from one single cauliflower. With that said, you can roast any large florets in the same way and they will taste amazing.
Olive oil: Since the cauliflower steaks don't have a ton of extra seasoning, choose a good-tasting olive oil to coat the cauliflower steaks.
Seasoning: Basic salt and pepper is a great way to season cauliflower steaks, especially if you are adding a sauce like chimichurri. If you aren't adding sauce, add garlic powder, paprika, cumin, or any other spcies you like.
Sauce or garnish: Add extra flavor to the cauliflower by adding things like parmesan cheese, fresh herbs, gremolata, vinaigrette, or dressing.
How to Cut Cauliflower Into Steaks
Choose the right cauliflower: The first key to cutting the cauliflower into steaks is actually choosing the right cauliflower. Make sure to choose a large head of cauliflower with closely formed florets. It should feel heavy and dense.
Remove leaves: The easiest way to cut a cauliflower into steaks is to start by removing the green leaves around the bottom. Make sure you have a nice flat bottom so it stands up on your cutting board.
Cut into steaks: Then cut the cauliflower in half. Moving out from the cut edge, slice the remaining cauliflower into 1-2 steaks depending on thickness. For a good size cauliflower, you should be able to get 3-4 steaks.
Extra cauliflower florets: You will have a cauliflower leftover. Usually, I just toss the cauliflower florets on the same pan as the cauliflower steaks and serve it on the side or save it for later in the week.
Cauliflower Steak Flavor Ideas
Since cauliflower is a pretty blank slate and can use some extra flavor, I almost always pair it with a quick marinade or a sauce. To be honest, I find that a sauce works just as good, if not better, than a marinade since cauliflower doesn't absorb marinade that well.
Here are some of my favorites that can be used as a sauce, marinade, or both.
Chimichurri: I have always loved pairing chimichurri with steak, so pairing it with a cauliflower steak was a no-brainer. The bright sauce made with parsley, cilantro, red wine vinegar, garlic, and a touch of heat is a classic that works every time.
Teriyaki: The sweet and savory notes of teriyaki sauce work really well for cauliflower. Brush the cauliflower with the teriyaki sauce before baking and drizzle some extra on top before serving. If you want a natural option, check out this healthy homemade teriyaki sauce.
Parmesan and garlic: It's hard to beat anything covered in garlic and cheese. Combine the olive oil for the cauliflower steaks with minced garlic and your favorite dried herbs. Brush this on the cauliflower steaks before roasting and then top with Parmesan cheese and lemon juice before serving.
Middle Eastern: We eat a lot of Middle Eastern inspired food and the flavor combination is great for cauliflower. My go-to is using za'atar, a spice blend that has sesame seeds, oregano, thyme, and sumac. You could also make your own Middle Eastern spice blend with cumin, thyme, oregano, garlic powder, onion powder, and allspice.
Store bought sauces and marinades: Don't shy away from experimenting with store-bought marinades and sauces. Cauliflower takes on flavor well and can be paired with all types of sauce from buffalo sauce to lemon pepper to steak sauce. I also really enjoy them drizzled with your favorite vinaigrette and some fresh hebrs and nuts.
How to Grill Cauliflower Steaks
It takes between 15-20 minutes to grill a cauliflower steak. Just follow the same instructions as roasting, but place them on the grill instead over medium heat. Depending on the thickness, you will want to grill them for 6-10 minutes per side.
Side Dish Ideas
There are so many good options for side dishes to serve with cauliflower steaks. Since the cauliflower on its own isn't always filling, I almost always reach for a whole grain or legume on the side. Think about using farro, quinoa, rice, couscous, beans, or lentils.
Polenta is another great option, especially with the roasted cauliflower steaks. Make up a big batch of creamy polenta, some roasted tomatoes, roasted cauliflower steaks, and fresh basil and you have a comfort meal you will want to eat again and again.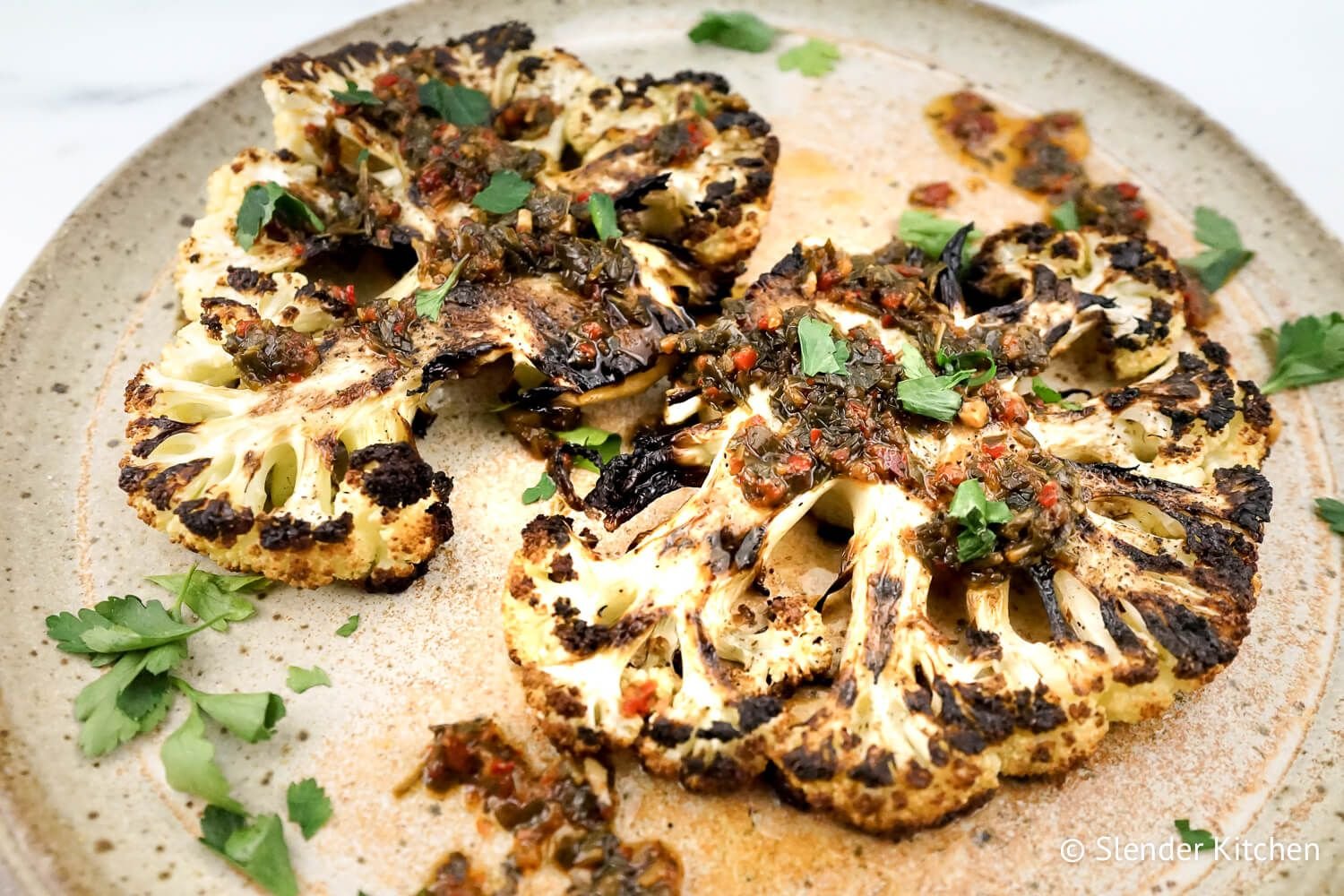 Steaming Cauliflower Steaks
If you like the cauliflower steaks to be softer, then consider steaming them lightly before roasting them. The easiest way to do this is to simply cover the baking sheet with foil for the first 5-10 minutes of roasting. As the cauliflower cooks, it will release liquid and gently steam the cauliflower.
Then simply remove the foil and let the steaks brown and roast. This step is a great option if your steaks are very thick or if you prefer a softer cauliflower.
Frequently Asked Questions
Cauliflower steak simply tastes like roasted cauliflower! It's thick-sliced cauliflower that is roasted or grilled with oil and any seasonings you like.
When cauliflower is roasted, it has a slightly nutty flavor the edges get caramelized and toasted. Most of the flavor will come from the seasoning, sauces, and garnishes you use.
There is no need to boil cauliflower steaks before roasting or grilling them. With that said, if you like the cauliflower very soft or have very thick steaks, you can steam them first. Simply cover the baking sheet with foil for the first 5-10 minutes of cooking to gently steam the cauliflower before it roasts.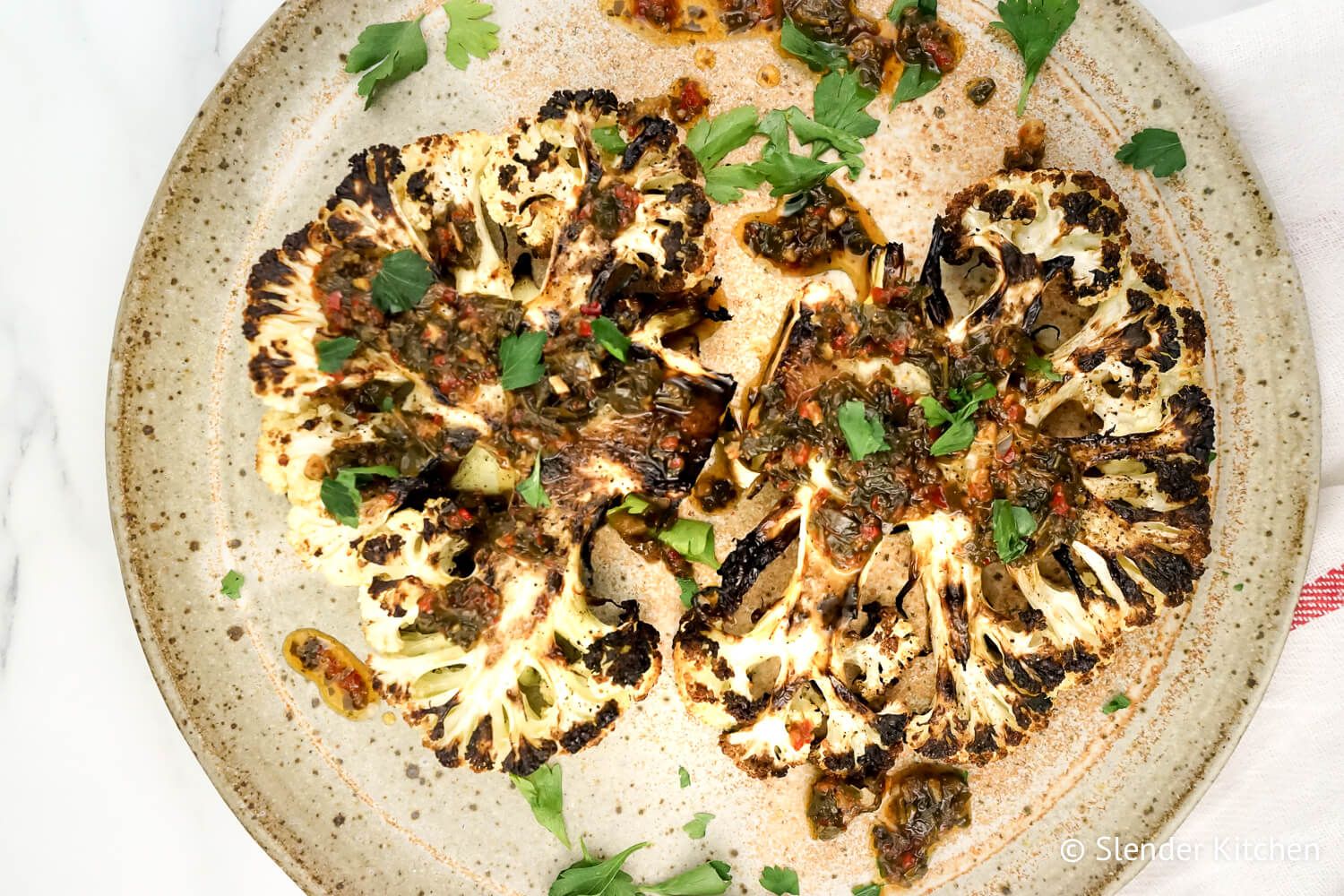 Roasted Cauliflower Steaks
PREP TIME: 5 Min
COOK TIME: 25 Min
TOTAL TIME: 30 Min
Print

Download

Get in your Inbox
Ingredients
1/8

tsp

red pepper flakes
Like this Recipe? Try our Meal Plans!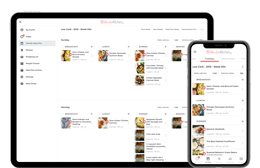 Weekly Meal Plans
Easy Shopping List
Healthy, Low Carb, & Vegetarian
Nutritional Information
Instructions
(Hide Media)
Switch to prevent your screen from going dark.
Nutritional Facts
Serving Size:
1 steak with 2 tbsp sauce
Monounsaturated Fat 0g
0%
Polyunsaturated Fat 0g
0%
* Percent Daily Values are based on a 2,000 calorie diet. Your daily values may be higher or lower depending on your calorie needs.
The Nutritional Values provided are estimates only and may vary based on the preparation method.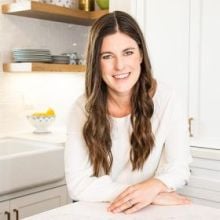 About the author
Meet

Kristen McCaffrey
Hi, I'm the cookbook author, recipe developer, and food enthusiast behind Slender Kitchen. I am obsessed with making healthy food that is easy to prepare and absolutely delicious. Meal planning is my secret weapon and I hope I can make meal time easier for you with our tried and tested recipes and foolproof meal plans.
Learn More
† We are a participant in the Amazon Services LLC Associates Program, an affiliate advertising program designed to provide a means for us to earn fees by linking to Amazon.com and affiliated sites.
Get delicious, healthy recipes delivered each week right to your inbox.
Join over 80,000 subscribers.
Did you make this?
Snap a picture and show us what you made on Instagram or Facebook.
Tag us using @SlenderKitchen or #slenderkitchen.