This Easy Pan Roasted Cauliflower is seriously the best side dish with its browned and caramelized cauliflower bits, creamy melted Parmesan cheese, and plenty of garlic and lemon.
140 CALORIES
9g CARBS
10g FAT
6g PROTEIN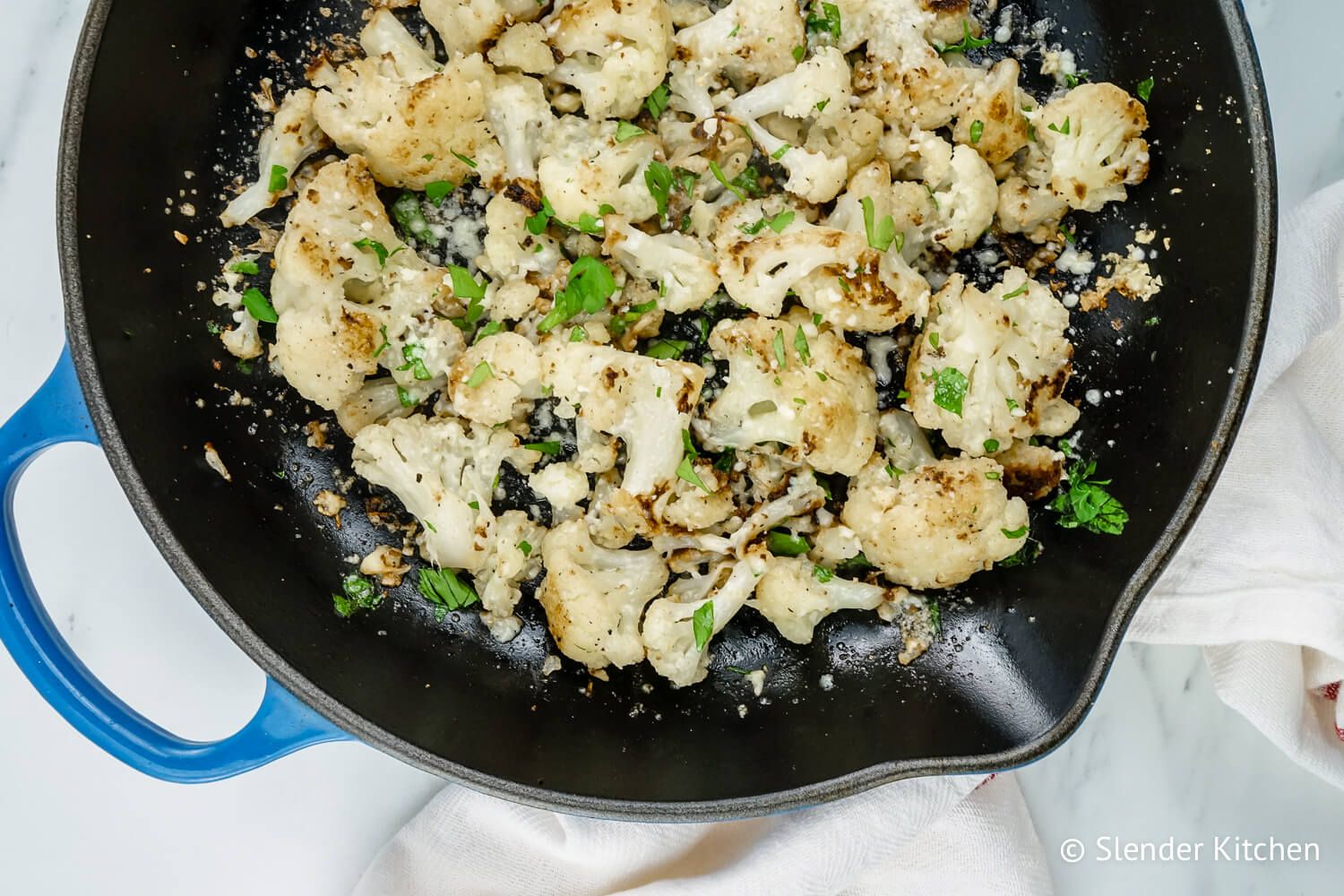 As much as I love roasting cauliflower in the oven, sometimes I just want to do it on the stove. Enter this amazing Pan Roasted Cauliflower recipe. All the same crispy browned edges as traditional roasted cauliflower, just done in a heavy skillet!
This recipe is great for when you are already cooking something in the oven and don't have any extra space for veggies or the oven is at a different temperature.
So now let's talk about this pan-roasted cauliflower recipe! It will quickly rise to the top as one of your favorite side dishes. The cauliflower is roasted until it's browned and crispy. Then it is served with plenty of garlic, Parmesan cheese, and fresh lemon juice.
This pan roasted cauliflower is also super versatile. Switch up the spices, use fresh herbs, or add different garnishes. The options are pretty endless once you get going.
But truth be told, this is by far my favorite way. Plus my family, kids included, practically fight over the last pieces. In fact, if you visited our kitchen, you would see us grabbing it right off the sheet pan. It's that good.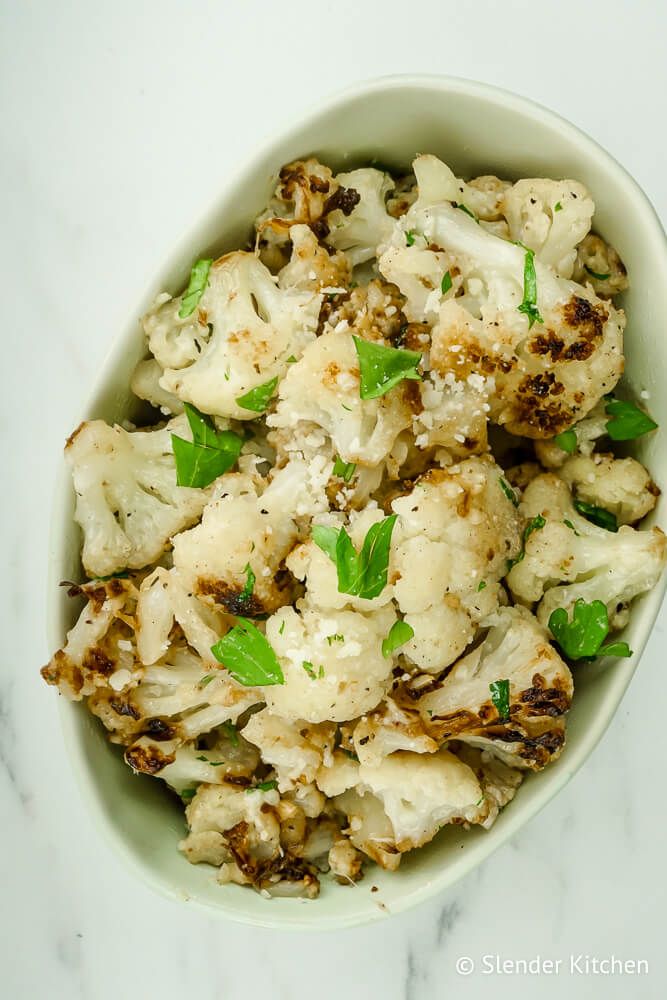 The Key To Crispy Pan Roasted Cauliflower
I am going to let you in on a secret to getting super delicious, crispy roasted cauliflower. It all comes down to how you cut the florets.
One tricky part about cooking cauliflower is that the shape of a typical floret is very uneven and there isn't a lot of surface area that comes in contact with the baking sheet or pan. This means less browning.
But, if you can learn to cut your florets to have a flat edge that stays in contact with the hot pan, then you can achieve maximum browning.
Here's what to do:
Cut the cauliflower into planks that are around 3/4 inch thick. Basically, you are making cauliflower steaks.
Then carefully cut around the core of the cauliflower to create florets that are flat on the top and bottom.
Don't throw out the core! Chop it as well and throw it on the pan with the florets. It all tastes amazing when roasted.
Now when you roast it, you have plenty of flat surface area that can brown.
How to Pan Roast Cauliflower
There are lots of different ways you can skillet roast or pan roast cauliflower, but only one way will result in cauliflower that is both tender and browned. The key is to start out in a cold, covered pan so that the cauliflower can begin to soften. Then crank things up and get the cauliflower nice and brown.
The other key step is trying to cut your florets so that they have as much flat surface area as possible. This method is described above.
The last trick to cooking cauliflower in a pan is to cook it in batches. It's almost impossible to fit an entire head of cauliflower in one skillet and get them all browned. If you care about them all getting caramelized, they need to cook in a single layer. Otherwise when they are piled up on top of each other, the bottom florets brown but nothing else.
Here is the basic recipe for pan-roasting cauliflower.
Toss all of the cauliflower with olive oil, salt, pepper, and any seasoning in a large bowl.
Grab a heavy skillet and add the cauliflower to the cold pan in a single layer.
Cover and turn the heat up to medium-high. Let cook for 5 minutes.
Then open and cook for 10-12 more minutes, stirring the cauliflower a couple of times.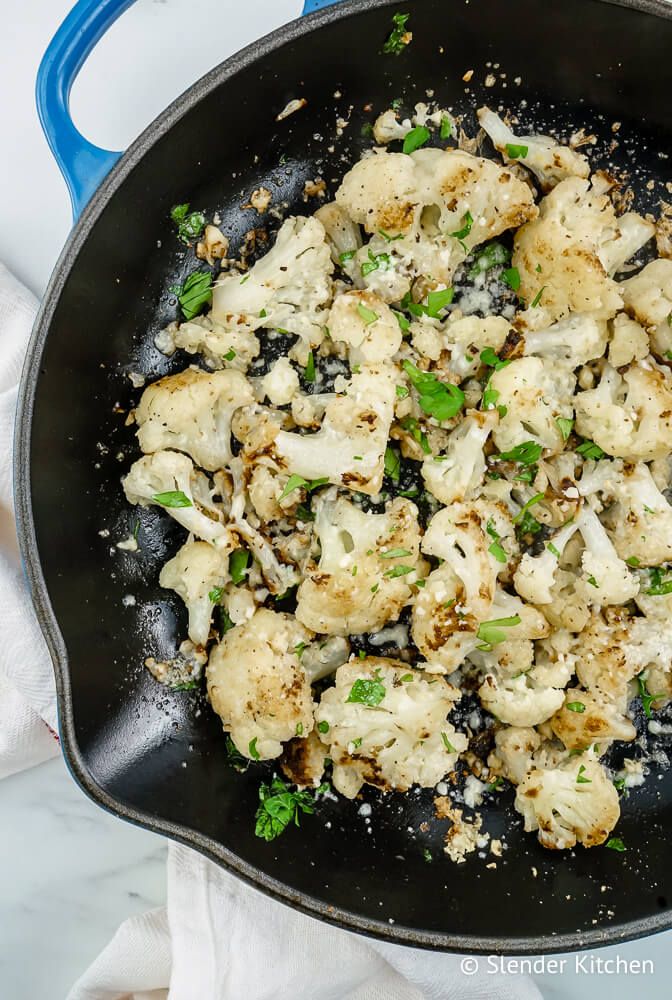 Serving Ideas
Besides using it as a side dish, there are so many different ways to use pan roasted cauliflower. There are also tons of possibilities when you mix up the seasoning blends.
Pasta: This cauliflower is so good with pasta. For a quick and easy dinner, cook up your favorite pasta. Top it with marinara sauce, a big mound of this cauliflower, and some sliced chicken sausage, cooked shrimp, or cooked lentils.
Grain bowls: It also is a killer addition to a grain bowl. Start with quinoa, farro, or brown rice. Top with this roasted cauliflower, fresh or sauteed spinach, halved cherry tomatoes, and a spoonful of store-bought or homemade pesto.
Eggs: Reach for some eggs and make a delicious scramble with roasted cauliflower and sundried tomatoes, toss it in a frittata with some chopped ham and green onions, or add to a baked egg dish like these Parmesan and Tomato Baked Eggs.
Salads: It is hard not to think about a salad when you think about roasted veggies. This is no exception. For an Italian-inspired salad, start with a bed of arugula and add cherry tomatoes, garlic Parmesan cauliflower, artichoke hearts, roasted red peppers, and some olives.
Seasoning Ideas
Once you start making cauliflower this way, you will never steam it or saute it again. It's essentially impossible to turn back once you have tasted the browned bits of crispy cauliflower. It's just too good.
Knowing that, here are some other options for flavoring your roasted cauliflower for future recipes.
Mexican: Toss the cauliflower with taco seasoning (or a simple mix of paprika, garlic powder, cumin, and chili powder). Then toss it with lime juice and fresh cilantro. You could also melt some cheddar cheese on top.
Steakhouse: Steak seasoning is something we love and tossing cauliflower with this punchy spice blend is delicious. Add Parmesan cheese and lemon at the end.
Indian: For an Indian option, toss the cauliflower with your favorite curry powder and add fresh cilantro right before serving.
Greek: Toss the cauliflower with Greek seasoning and then finish it with lemon juice, parsley, and feta cheese.
Ranch: Use dry ranch seasoning to cook the cauliflower and add lots of fresh lemon juice and parsley before serving.
Frequently Asked Questions
Here are the most common questions about pan roasting cauliflower.
The most common cause for mushy roasted cauliflower is an over-crowded pan. If the baking sheet is too crowded, then the cauliflower steams instead of roasting.
There is no need to soak cauliflower before roasting it and this can actually make it harder to get those brown crispy edges. Cut it into florets and then rinse and dry those florets to remove any dirt or debris.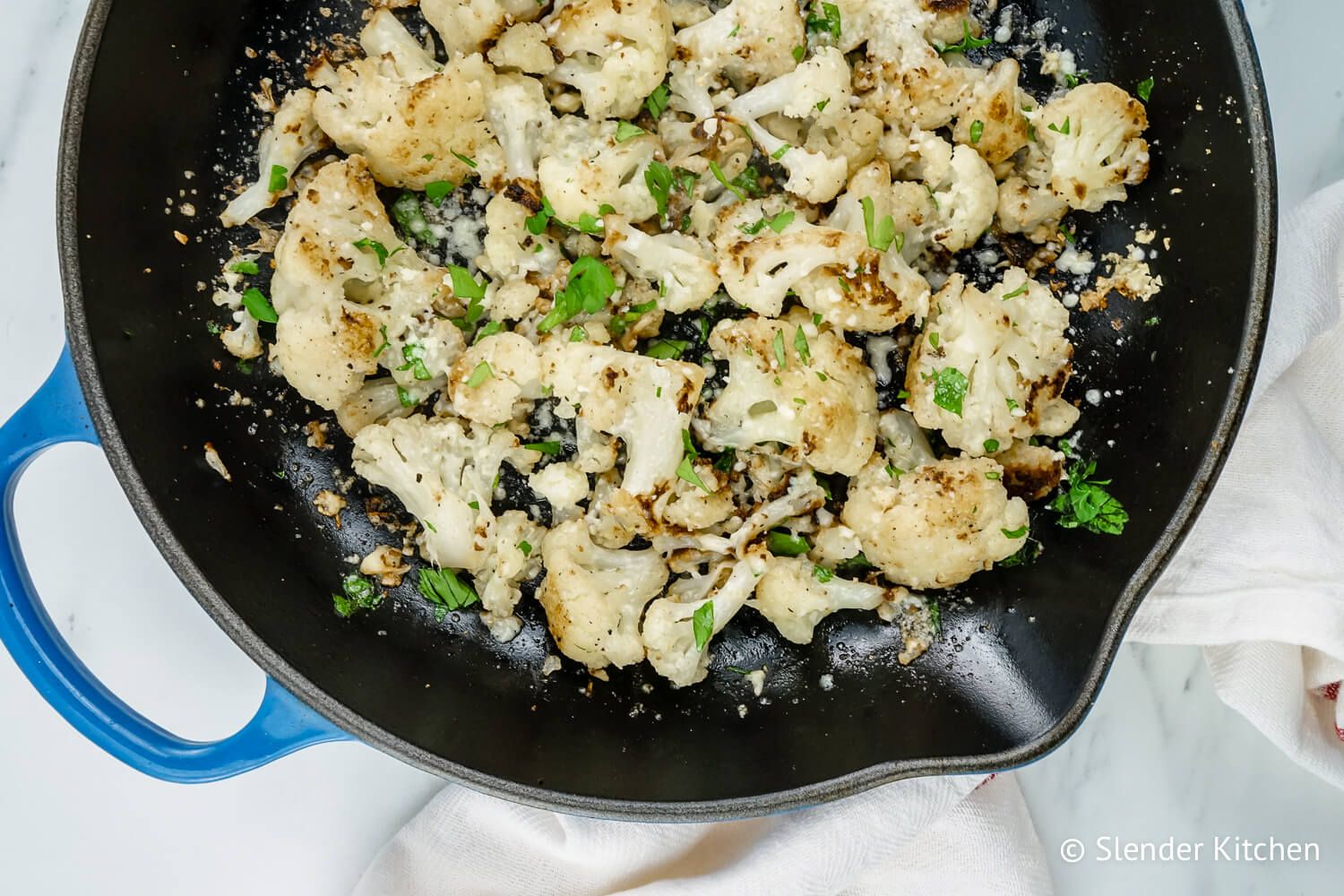 Pan Roasted Cauliflower
PREP TIME: 10 Min
COOK TIME: 25 Min
TOTAL TIME: 35 Min
Print

Download

Get in your Inbox
Ingredients
1

cauliflower, cut into florets

2

garlic cloves, minced (more to taste)

1/4

tsp

red pepper flakes (optional, to taste)
Like this Recipe? Try our Meal Plans!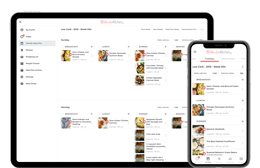 Weekly Meal Plans
Easy Shopping List
Healthy, Low Carb, & Vegetarian
Nutritional Information
Instructions
(Hide Media)
Switch to prevent your screen from going dark.
1
Chope the cauliflower into flat florets: Cut the cauliflower into planks that are around 3/4 inch thick. Basically, you are making cauliflower steaks. Then carefully cut around the core of the cauliflower to create florets that are flat on the top and bottom. You can chop up the stem and roast that as well.
3
Add the cauliflower to a heavy skillet in a single layer. You may have to work in batches. Cover the pan and turn the heat to medium-high. Cook for 5 minutes. Remove the lid and cook for 10-12 more minutes, stirring occasionally. Make sure to give the cauliflower time to brown. If you stir it too often, it won't brown. Add the Parmesan cheese and cover for 1-2 minutes so it melts. Top with lemon juice and zest.
Nutritional Facts
Monounsaturated Fat 0g
0%
Polyunsaturated Fat 0g
0%
* Percent Daily Values are based on a 2,000 calorie diet. Your daily values may be higher or lower depending on your calorie needs.
The Nutritional Values provided are estimates only and may vary based on the preparation method.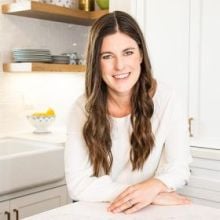 About the author
Meet

Kristen McCaffrey
Hi, I'm the cookbook author, recipe developer, and food enthusiast behind Slender Kitchen. I am obsessed with making healthy food that is easy to prepare and absolutely delicious. Meal planning is my secret weapon and I hope I can make meal time easier for you with our tried and tested recipes and foolproof meal plans.
Learn More
Get delicious, healthy recipes delivered each week right to your inbox.
Join over 80,000 subscribers.
Did you make this?
Snap a picture and show us what you made on Instagram or Facebook.
Tag us using @SlenderKitchen or #slenderkitchen.