The best easy roasted beets with honey, balsamic vinegar, and shallots. Delicious as a side dish, in a salad, or for an appetizer with goat cheese.
132 CALORIES
21g CARBS
5g FAT
3g PROTEIN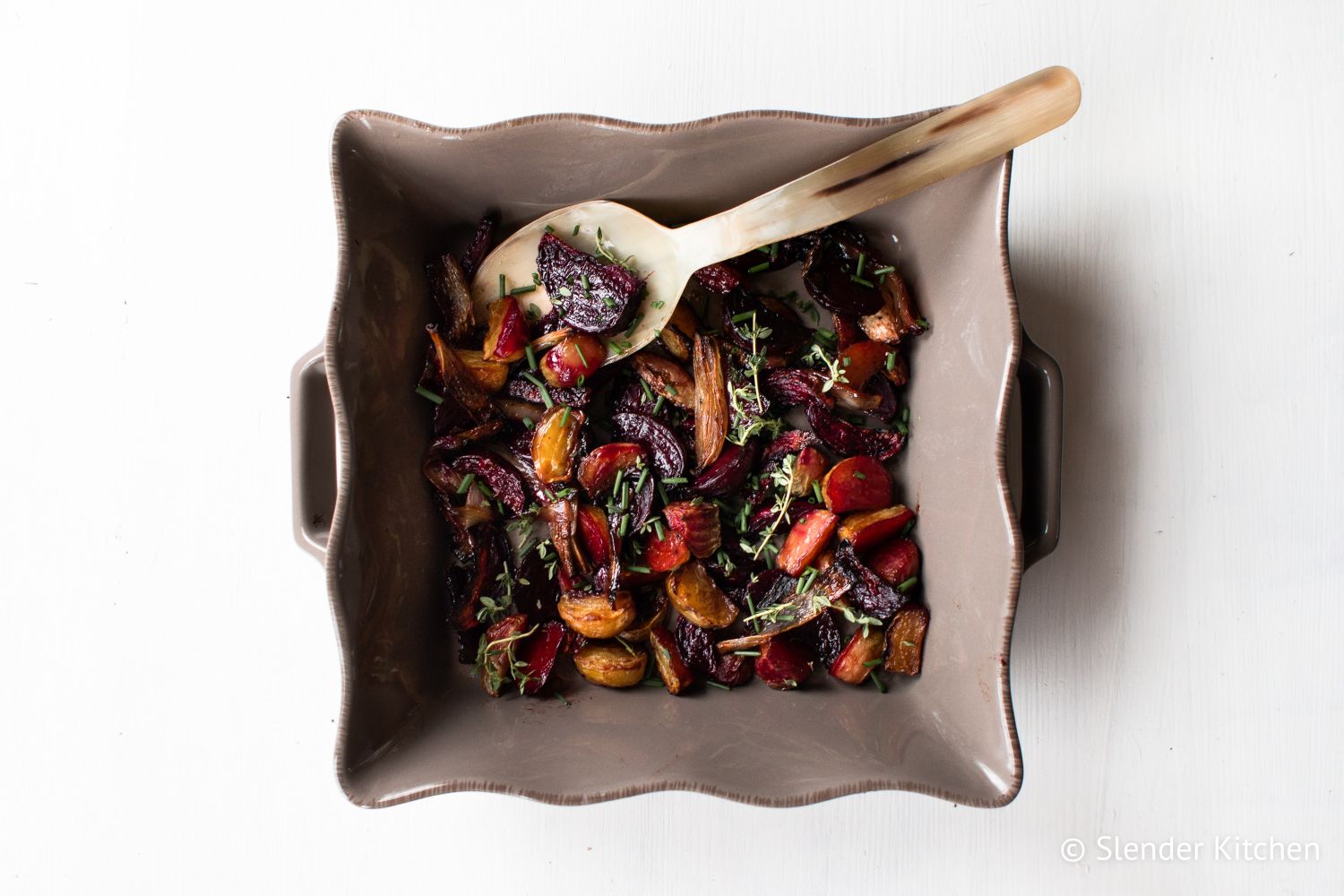 Roasting beets until they are browned, caramelized, and crispy is the absolute best way to cook a beet. These easy roasted beets come out delicious every time and are tossed with a delicious combination of honey and balsamic vinegar for the best side dish.
I know what you're thinking, is it really worth it to roast my own beets? You could just buy precooked beets in the grocery store.
Well, these beets are different! These beets have crispy edges, deep caramelization, and are so delicious. We make them every year for the holidays and people go crazy for them.
Now you are probably used to seeing roasted beet recipes where the beets are wrapped in aluminum foil. The beets steam inside the foil and come out soft and tender. Those beets are delicious, but many times they are roasted and then immediately chilled for salad.
Not these beets! Today we are going to use the same cooking technique we use for roasting brussels sprouts, cauliflower, green beans, or bok choy. High heat, dark crispy edges, and the most amazing flavor. Trust me, you have never had beets like this.
Why these are the best roasted beets! No foil!
Crispy: These beets have crispy edges like roasted potatoes or broccoli. Nothing soft or mushy.
Cook more quickly: Foil-wrapped beets can take over an hour to cook. These beets take about 40 minutes.
Infuse flavor: When beets are roasted in foil, it's tough to add flavor. When you roast chopped beets, you can add spice, herbs, and marinades to switch up the flavor.
Leave the peel on: If you scrub the beets really well, you can even leave the peel on. Normally I prefer them peeled, but they also work with the peel intact. One less step.
Now, for full disclosure purposes, I will admit that I didn't start to like to eat and roast my own beets until about 5 years ago myself, so I understand your hesitation. But trust me, this beet is very different than what you are used to!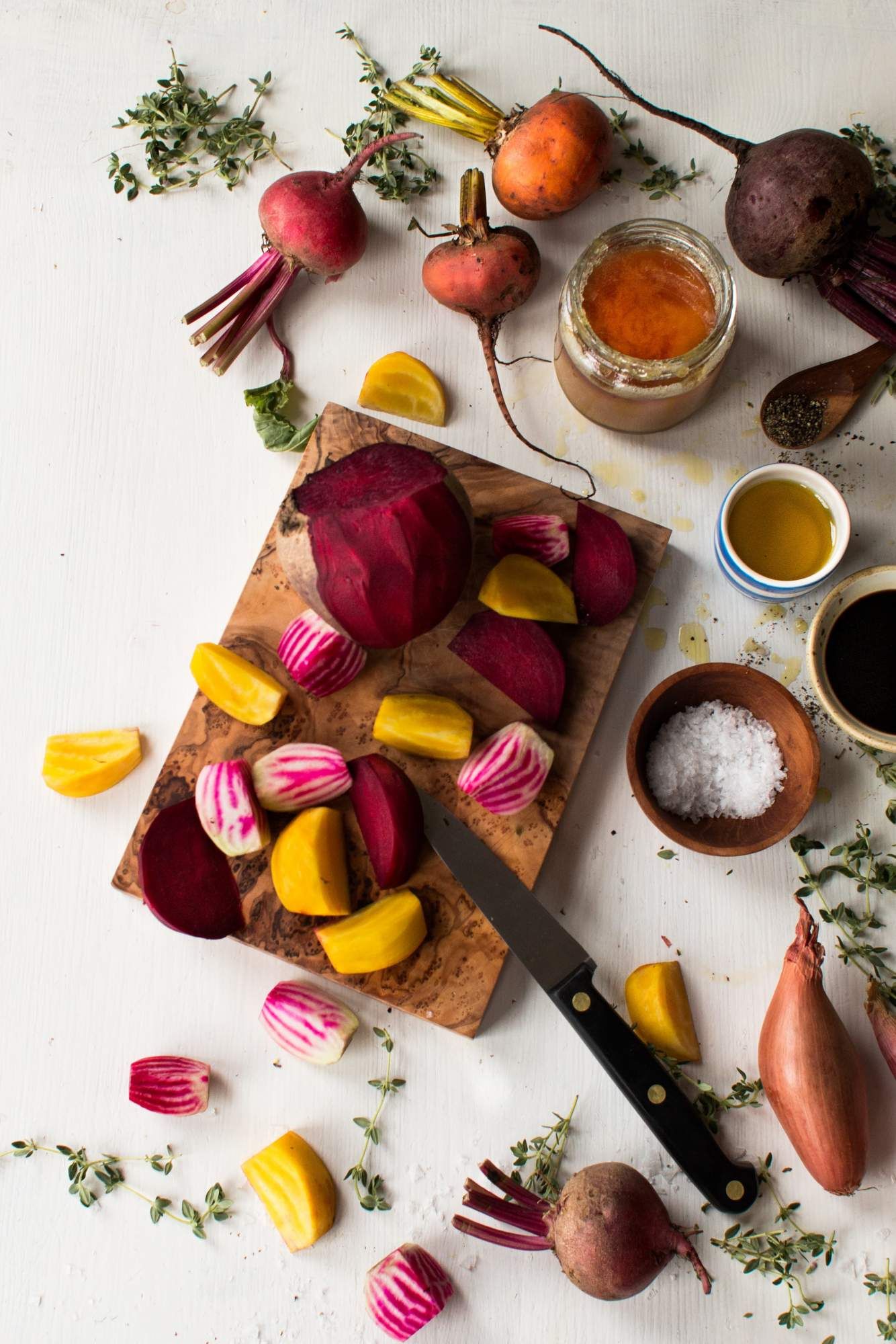 Ingredients and Swaps
Fresh beets: Always start with fresh beets when you are roasting them. Precooked or canned beets won't work for this recipe. Feel free to use any variety including traditional red beets, golden beets, striped beets, or any other beet variety. Just cut the beets into the same size chunks so they cook evenly.
Olive oil: For the beets to get those delicious browned edges, they need to be coated in olive oil. Almost any oil will work, but the flavor of olive oil works really nicely with the beets.
Balsamic vinegar and honey: The vinegar and honey are completely optional, but they make this really tasty glaze on the beets. The honey plays with the natural sweetness in the beets and the balsamic vinegar brings adds some tang. For a vegetarian option, use maple syrup instead.
Seasoning: All beets really need is salt and pepper, but you could add herbs like fresh thyme, rosemary, parsley, or dill.
Shallots: Another completely optional addition is shallots. Shallots have a sweet onion flavor that is really good with beets.
Think of this as a blueprint! As long as you have beets, olive oil, salt, and pepper - you can make really tasty roasted beets. Everything else is optional to make the beets extra special. This is our favorite way to make them for a holiday meal but many times I roast the beets simply and use them as a side dish. Then I use the leftovers in salads, wraps, and grain bowls.
How do you make Roasted Beets?
Roasting beets is easy! You'll see!
Preheat the oven to 425 degrees and line a baking sheet with parchment paper.
Prep the beets: Peel the beets by cutting the tops and bottom off and peeling the skin off around the beet. Slice the beets into wedges, about ½ inch thick at the widest part. Next, peel the shallots and cut them into quarters.
Roast until tender: Toss the beets and shallots together in a bowl with olive oil, salt, and pepper. Then add them to the baking sheet in a single layer. Make sure not to crowd the pan or the beets will steam. Put the roasting sheet in the oven for 30-40 minutes or until the beets are just about tender all the way through. The smaller the beets are cut, the faster they will cook.
Add balsamic honey glaze: Take the pan out of the oven and drizzle with honey (or maple syrup) and balsamic vinegar and stir it all around with a wooden spoon. Add the pan back to the oven for another 10-15 minutes to allow the beets to tenderize all the way and for the honey and balsamic to caramelize.
Season and serve: Remove the beets from the oven. Season with more salt and pepper as needed. Consider adding some fresh herbs, nuts, or cheese! Beets are delicious with fresh thyme, fresh parsley, feta cheese, goat cheese, chopped walnuts, and toasted pumpkin seeds.
Do you have to peel beets when roasting?
I always peel my beets before roasting. I don't like the skin. But you can cook them with the skin on if you prefer. Just make sure to scrub the beets really well to remove any dirt or debris. The skin tastes a bit like carrot skin.
To remove the skin from the beets, use a knife or a vegetable peeler. Peel them carefully.
If you are roasting the beets in foil, you can also remove the skins after you've cooked them. They will come off easily once they are cooked.
What makes beets healthy?
Beets are super healthy for you. They are even considered a "superfood" for the abundance of healthy vitamins and minerals that they possess. Beets are low in fat and calories. They have a little bit of protein and fiber, as well as vitamins C and B6, folate, magnesium, potassium, phosphorus, iron, and manganese.
Beets can help give you an energy boost, improve your brain power, fight inflammation and keep your teeth, skin, hair, and nails their healthiest, and can help regulate your blood sugar.
Ideas for Eating Roasted Beets
Side dish: Beets pair well with almost anything, but they are especially delicious with this Rosemary Chicken, Balsamic Chicken, or Honey Mustard Chicken.
Breakfast: Add your roasted beets to a breakfast hash with potatoes, carrots, and fried eggs.
Salads: Traditionally beets are used in salads, try roasting them next time for an even more delicious result. We love adding roasted beets to this Beet Salad with Goat Cheese or classic Arugula Salad.
Double up the veggies: Roast your beets with carrots, turnips, red onions, or potatoes and serve with cooked grains for a roasted vegetable grain bowl.
Dips: Add beets to hummus. Blend for a lovely red color and terrific flavor.
Frequently Asked Questions
Here are the answers to the most common questions about roasting beets.
As a general rule of thumb, whole beets will take between 50-80 minutes to roast at 375 degrees when wrapped in foil. The small beets will cook more quickly than the larger beets.
Chopped beets will roast in a short amount of time, usually between 35-45 minutes at 425 degrees.
You know the beet is cooked when it is soft to the touch and the flesh has become tender.
Beets are a root vegetable and pair well with other root vegetables that take a similar amount of time to cook. Some delicious options include potatoes, sweet potatoes, carrots, turnips, onions, butternut squash, and acorn squash.
Beet greens are delicious and packed with nutrition. Start by washing and drying them well. Then saute the beet greens with olive oil and garlic until they are nice and tender. Some people like to use beet greens in pesto as well.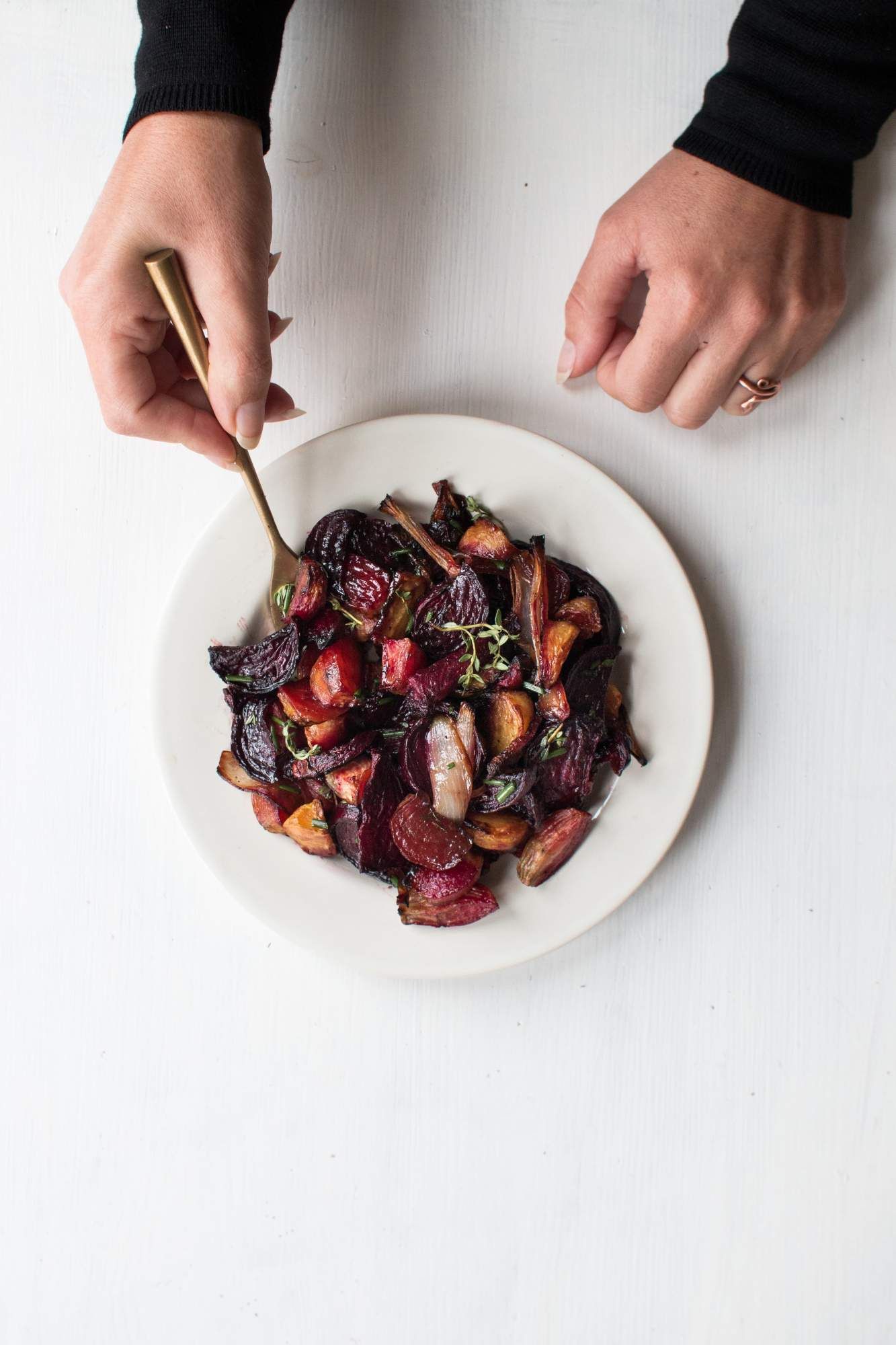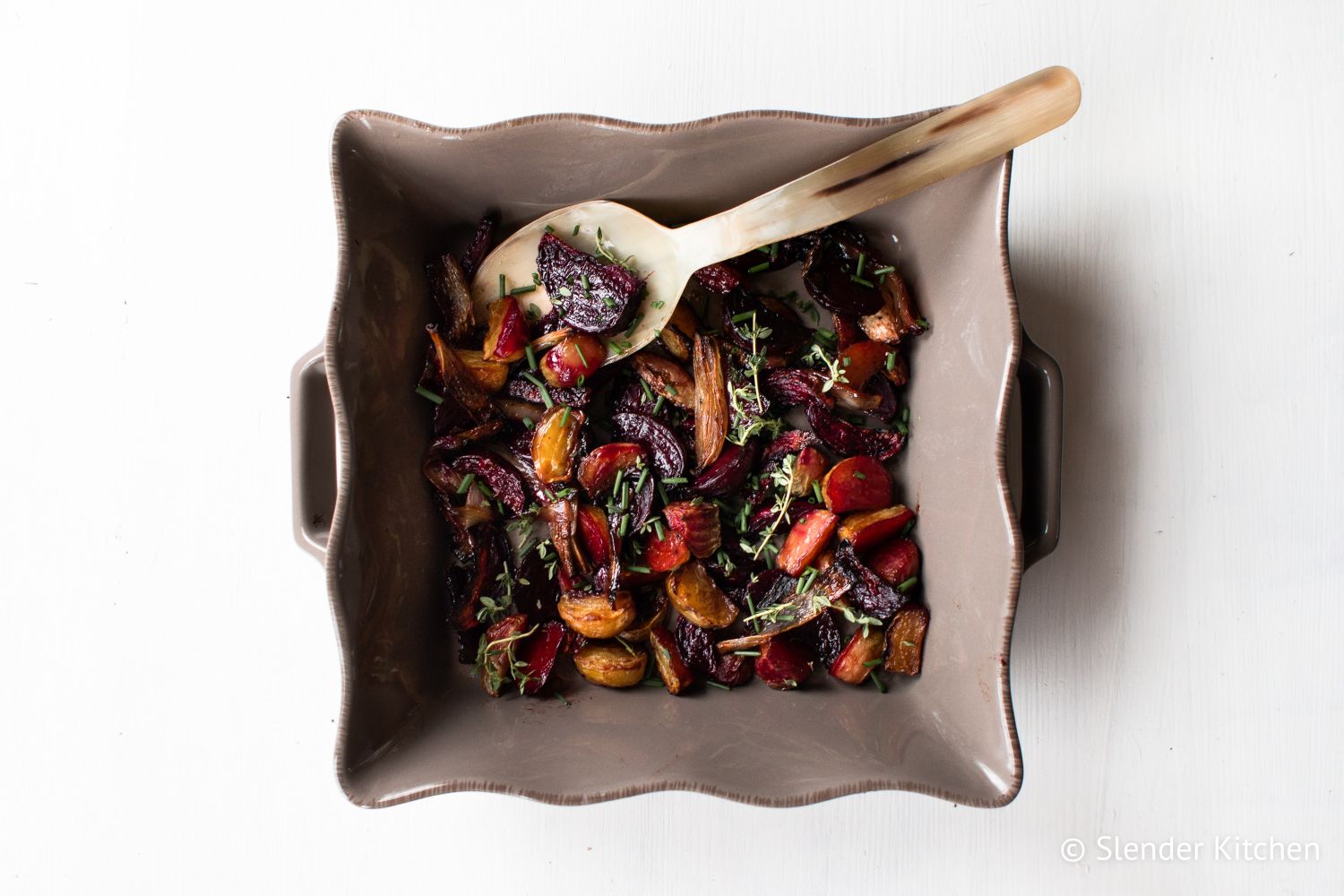 Easy Roasted Beets
PREP TIME: 10 Min
COOK TIME: 45 Min
TOTAL TIME: 55 Min
Print

Download

Get in your Inbox
Ingredients
1

tbsp

honey (or pure maple syrup)
Like this Recipe? Try our Meal Plans!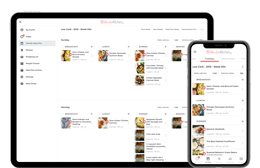 Weekly Meal Plans
Easy Shopping List
Healthy, Low Carb, & Vegetarian
Nutritional Information
Instructions
(Hide Media)
Switch to prevent your screen from going dark.
3
Carefully remove the pan from the oven. Drizzle the beets and shallots with honey and balsamic vinegar. Toss to coat. Place the pan back in the oven. Cook for 10-15 minutes until beets are tender and beginning to caramelize and brown. Season with salt and pepper. Serve immediately or let cool and store in an airtight container.
Nutritional Facts
Monounsaturated Fat 0g
0%
Polyunsaturated Fat 0g
0%
* Percent Daily Values are based on a 2,000 calorie diet. Your daily values may be higher or lower depending on your calorie needs.
The Nutritional Values provided are estimates only and may vary based on the preparation method.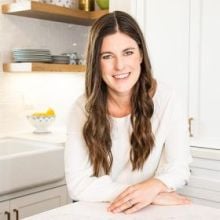 About the author
Meet

Kristen McCaffrey
Hi, I'm the cookbook author, recipe developer, and food enthusiast behind Slender Kitchen. I am obsessed with making healthy food that is easy to prepare and absolutely delicious. Meal planning is my secret weapon and I hope I can make meal time easier for you with our tried and tested recipes and foolproof meal plans.
Learn More
Get delicious, healthy recipes delivered each week right to your inbox.
Join over 80,000 subscribers.
Did you make this?
Snap a picture and show us what you made on Instagram or Facebook.
Tag us using @SlenderKitchen or #slenderkitchen.