Roasted Delicata Squash with three different flavor options - brown sugar cinnamon, rosemary maple, or coconut curry - makes the most delicious side dish for a holiday meal or just dinner at home.
93 CALORIES
18g CARBS
2g FAT
2g PROTEIN
Learn how to cook Delicata squash in the oven so that it comes out perfectly tender and caramelized every time. From how to pick it, prep it, and three different flavor ideas, we've got you covered when it comes to this delicious winter squash.
If you love squash but hate the prep and hassle of preparing it, delicata squash is for you. This is the easiest of all the winter squash with it's thin and edible skin, sweet flavor, and endless recipe options. Plus now that Trader Joe's offers organic pre-sliced delicata squash in the produce section - it's a no brainer. We love to eat this squash as a side dish, stuffed into tacos, in salads, and even in our morning eggs. Plus the kids love it, especially when I make it with brown sugar and cinnamon.
The other amazing thing about this squash is that when it is roasted in the oven, it gets caramelized and the thin pieces will get almost crispy. We always fight oven the super thin, almost burnt pieces of delicata squash that taste almost like chips. They are so so good. Then we dig into the meatier pieces that are sweet, tender, and super delicious.
No matter how you make it, this winter squash should become part of your holiday spread or weeknight menus. It's quick, easy, full of nutritional benefits, and super tasty.
What does it taste like?
Delicata squash tastes like a milder, slightly less sweet butternut squash and almost tastes like a mix between butternut squash and corn. Some people also say the flavor reminds them of a mix between sweet potato and corn, which is why it is sometimes called the sweet potato squash. The flesh inside the squash is yellow to orange and seeds taste similar to pumpkin seeds when roasted.
How to know if a delicata squash is ripe?
When choosing this squash, it should be firm and feel heavy for the size. It should also be without any major blemishes or soft spots, and the skin should be free of any large wrinkles. When delicata squash is ripe and ready to eat, they are yellow in color and have green stripes. Unripe squash will have a greenish tint on the entire squash.
If you don't plan on using the squash right away, keep it in a cool and dark place until you are ready to use it. It will keep for a couple of weeks.
Prep and Chopping
Start by washing the skin of the squash well and removing any dirt. Since the skin will remain on the squash (it's edible!), you want to make sure it is nice and clean. Then cut both ends off the squash. This will make it more stable when you are slicing it. Cut the squash in half lengthwise. Then use a spoon to scoop out the seeds and any stringy membrane. You can save the seeds for roasting or simply throw them away. If you are stuffing the squash or roasting it whole, you can stop here.
Place the squash, cut side down, on the cutting board. Slice into half moons, anywhere from 1/4 inch to 1/2 inch thick. The most important thing is to make sure that all the slices are around the same thickness so they cook uniformly. It can also be cut into chunks, I am just partial to the beautiful rings.
Can I eat the skin?
One of the best parts of using a delicata squash is that the skin is edible and you don't have to peel the squash. This makes it the easiest of all the winter squash when it comes to preparation. Compared to other squash, the skin of the delicata squash is super thin, which is why it can be eaten. It also isn't bitter like some other vegetable skin. However, if you don't like the flavor or texture, you can peel the squash and roast it with the skin.
Flavor Ideas
With its mild sweetness and somewhat earthy flavor, delicata squash works with almost any flavor combination and spices. You can go the simple route with olive oil, salt, and pepper or really kick things up with fresh herbs, Cajun seasoning, curry, and more. Here are my three favorite ways to prepare the squash.
Brown sugar and cinnamon: This classic combination is a favorite for kids and adults alike and is great for the holidays. The brown sugar brings out the sweetness of the squash and cinnamon adds the perfect amount of warm spiciness. For each delicata squash (about 1.5 lbs), you will want to use 2 teaspoons of olive oil, one tablespoon of brown sugar, and 1/4-1/2 teaspoons of cinnamon. Toss the squash with the oil, sugar, and cinnamon before roasting and sprinkle with a little salt and pepper.
Rosemary maple: Maple syrup is another natural fit for delicata squash since it brings out the natural sweetness and rosemary provides a nice counterpoint to that. To make it, you'll need to combine 2 teaspoons of olive oil with 1 tablespoon of real maple syrup and 2 teaspoons of fresh minced rosemary or 1/2-1 teaspoon dried rosemary for every delicata squash you are preparing. This is assuming they are around 1.5 pounds.
Coconut curry: Pairing curry with sweeter vegetables like squash and sweet potatoes just makes sense. It creates that delicious sweet and spicy combination that is so good. For this, toss the delicata squash slices with 2 teaspoons of coconut oil, 1-2 teaspoons of curry powder, and one tablespoon of brown sugar.
Recipe Ideas for Leftovers
If you are lucky enough to end up with leftovers, making a salad is a great use for the leftover roasted squash. Here is a quick recipe for a delicious kale salad with roasted delicata squash.
2 tbsp. pure maple syrup
2 tbsp. olive oil
1 tbsp. apple cider vinegar (or more to taste)
1 tbsp. Dijon mustard
Salt and pepper
2 bunches Lacinato kale (or curly kale)
2 cups leftover roasted delicata squash
1/2 red onion, sliced very thin
1 apple, sliced thin
1/8 cup cashews
Directions: Whisk together the maple syrup, olive oil, apple cider vinegar, mustard, salt, and pepper. Taste and adjust if needed, adding more mustard or vinegar. Massage the dressing into the kale and red onions. Let rest for 5-10 minutes. When ready to serve, toss with squash, apples and cashews.
Roasted Delicata Squash
PREP TIME: 10 Min
COOK TIME: 30 Min
TOTAL TIME: 40 Min
Ingredients
1.5

lbs

delicata squash (about 1 whole squash)

1/4

tsp

cinnamon (or more to taste)
Like this Recipe? Try our Meal Plans!
Weekly Meal Plans
Easy Shopping List
Healthy, Low Carb, & Vegetarian
Nutritional Information and Points
Instructions
(Hide Photos)
Nutritional Facts
* Percent Daily Values are based on a 2,000 calorie diet. Your daily values may be higher or lower depending on your calorie needs.
The Nutritional Values provided are estimates only and may vary based on the preparation method.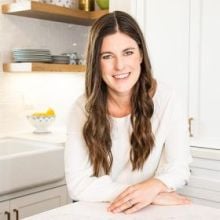 About the author
Meet

Kristen McCaffrey
Hi, I'm the cookbook author, recipe developer, and food enthusiast behind Slender Kitchen. I am obsessed with making healthy food that is easy to prepare and absolutely delicious. Meal planning is my secret weapon and I hope I can make meal time easier for you with our tried and tested recipes and foolproof meal plans.
Learn More
Get delicious, healthy recipes delivered each week right to your inbox.
Join over 80,000 subscribers.
Did you make this?
Snap a picture and show us what you made on Instagram or Facebook.
Tag us using @SlenderKitchen or #slenderkitchen.