Four Ingredient Healthy Pumpkin Pancakes
Healthy Pumpkin Pancakes made with just four ingredients are packed with pumpkin flavor and couldn't be easier to make. Plus you can use any flour you like - oat, coconut, almond, whole wheat - making it work for almost any diet.
152 CALORIES
17g CARBS
5g FAT
9g PROTEIN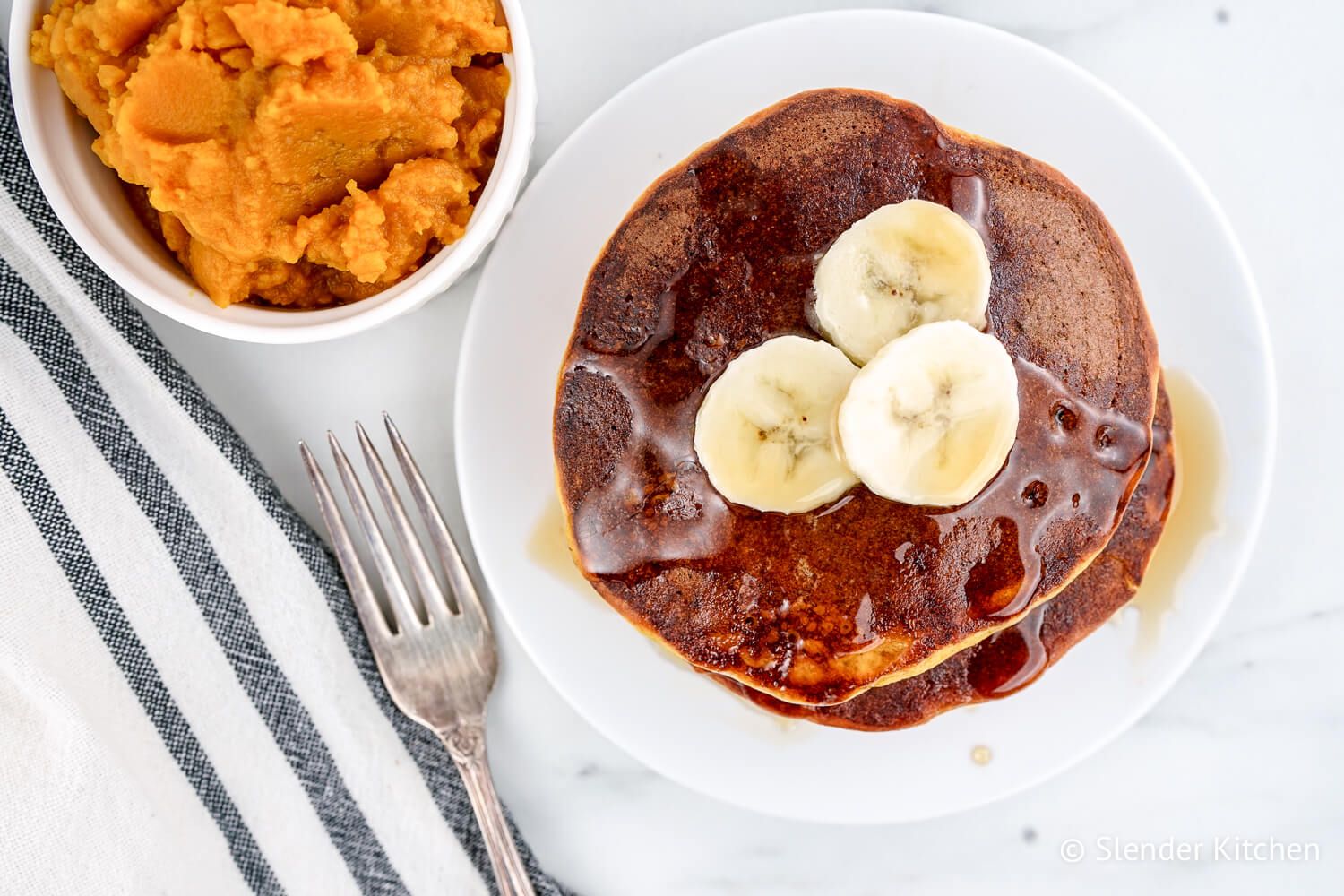 These Four Ingredient Healthy Pumpkin Pancakes are the perfect way to get into the holiday spirit and are made with ingredients you already have at home. We love as much as these Three Ingredient Banana and Egg Pancakes and they are just as easy.
When the weekends roll around, I almost always crave a big stack of pancakes, a bigger cup of coffee, and a hopefully lazy morning lounging in the house. However last weekend, we had a million things going on and although I wasn't going to get my relaxing morning, I wasn't willing to give up on pancakes. These four ingredient Healthy Pumpkin Pancakes were the answer.
With some canned pumpkin, an egg, any type of flour you like, and some pumpkin pie spice - you can make the most delicious, pumpkin filled pancakes in under 10 minutes. They are also a great way to use up leftover canned pumpkin since I always have some sitting in my fridge this time of year
The other really amazing thing about these pancakes is that they are super versatile. They work with virtually any flour you like. You can use regular all-purpose or whole wheat flour. If you want a Paleo or grain-free option, you can use coconut or almond flour. If you want extra whole grains, you can use oat or buckwheat flour. And truth be told, you can even make these without any flour at all. Personally, I like the texture of a fluffy pancake with some flour added, but these work without the flour as well.
Like any good pancake, magical things also happen when you add toppings. For these, I like to use some sliced banana and real deal maple syrup. Pumpkin and maple is just such a good combination. Sometimes I will also toss in some mini chocolate chips and top them with some light whipped cream. They are also great with some chopped walnuts or pecans for crunch or a pile of fresh blueberries. Honestly, almost anything will work and you can get really creative.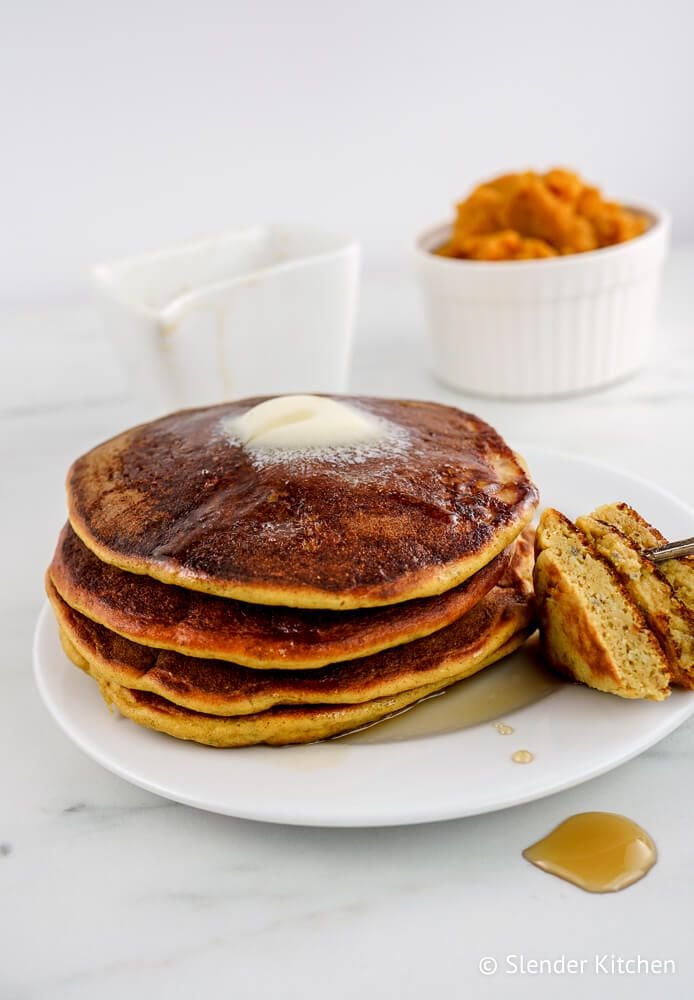 What kind of flour can I use?
All purpose: If you are looking for a classic pumpkin pancake, you will want to use all purpose flour. It has a mild flavor and the traditional taste of a pancake you would get at a diner or restaurant.
Whole wheat: For a healthier option, you could use whole wheat flour instead of white flour. For a more mild flavor, I usually buy the white whole wheat flour.
Oatmeal: This is my favorite option for these pancakes. You can either buy oat flour that is pre-made or you can blend the oats in a food processor or blender for a few seconds to make your own at home.
Coconut: For a grain-free option, coconut flour is a good option. However coconut flour does get thick very quickly, if your batter looks too thick with the coconut flour, you may need to add a touch of water or milk. This is a good Paleo option.
Almond: For extra protein, I like to use almond flour. It is also a good Paleo option or grain free option as well and doesn't thicken up like coconut flour does.
Kodiak or Pancake Mix: If you like a fluffier pancake, you could use a store-bought pancake mix like Kodiak Cakes or any store-bought pancake mix. You can also use flour and simply add a touch of baking powder to add some fluffiness to the pancakes.
Can I make these pumpkin pancakes in the blender?
If you are making a large batch of these pancakes, the blender is a great option to speed things up. Simply add the eggs, pumpkin puree, flour, and pumpkin pie spice to a blender and blend until just combined. One quick note, for some reason this method sometimes results in thinner pancakes. If you want a fluffier pancake, add about 1/8 tsp of baking powder per serving. You can also add a splash of vanilla extract to add flavor as well.
Mix-in and Topping Ideas
There are tons of options when it comes to mixers and toppings for these pancakes. These are some of my favorites but feel free to get creative. Also, if you add something and the batter gets too thick, you can also add a splash of water, milk, or almond milk to think out the batter.
Chia seeds: Packed with Omega 3's and fiber, I add chia seeds into almost everything to pack in some extra nutrition. They are essentially flavorless and are a great way to kick up the health benefits.
Flax seeds: Flax seeds are another one of my favorite things to pump up the nutrition in all kinds of recipes. They are packed with Omega 3's, fiber, and protein. Personally, I like to use flaxseed meal since it blends right into the mix.
Nut butter: I love topping pancakes with all kinds of nut butter. To make it more like a traditional syrup, melt it in the microwave first so you can drizzle it on.
Chocolate Chips: Pumpkin and chocolate are a natural pair and no one will be mad if you add some chocolate chips to these healthy pumpkin pancakes. I like to use mini-chips so you get more chips spread throughout the pancakes.
Bananas: You can add bananas directly into the batter to add some sweetness or add them on top.
Blueberries: I never thought pumpkin and blueberries went together, but it's actually really delicious. You can add them right into the batter or add them on top.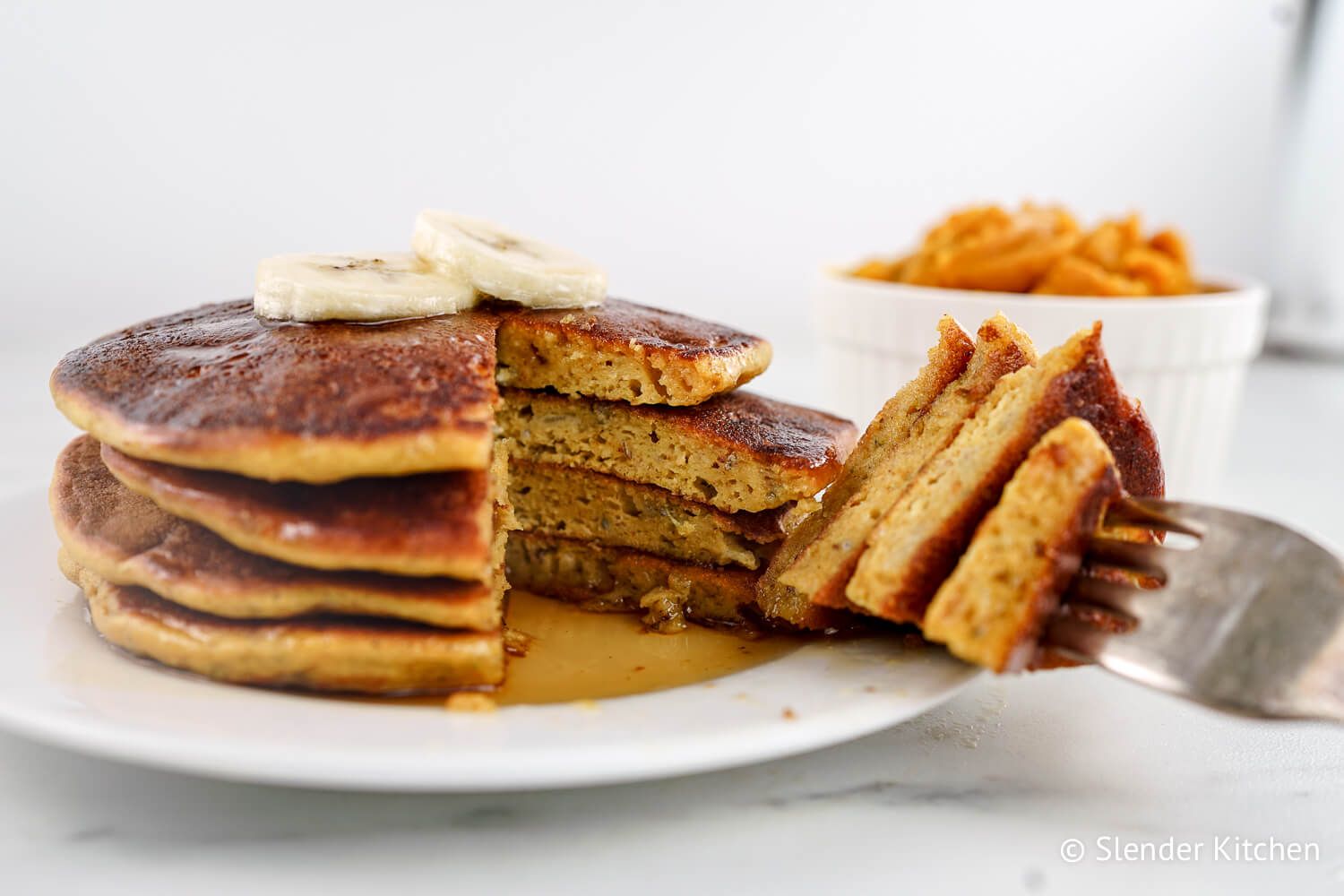 How do I make pumpkin pancakes with real pumpkin?
To make things quick and easy, I usually use canned pumpkin from the grocery store. Just make sure to choose canned pure pumpkin, not pumpkin pie filling. Pumpkin pie filling has lots of added sugar and flavoring that we don't need for this recipe. If you want to make homemade pumpkin puree, you can follow this easy recipe to make your own at home.
Are these pancakes sweet?
These pumpkin pancakes are not very sweet on their own since the pumpkin is the only thing adding sweetness to the recipe. Since I normally top these with maple syrup, this isn't a problem for me. However, if you want a sweeter pancake, you have a few options. First, you can simply add some maple syrup, honey, or brown sugar to the pancake mix itself. For a lower calorie option, you could use Stevia or Splenda instead. You could also add some mashed banana since it is significantly sweeter than pumpkin.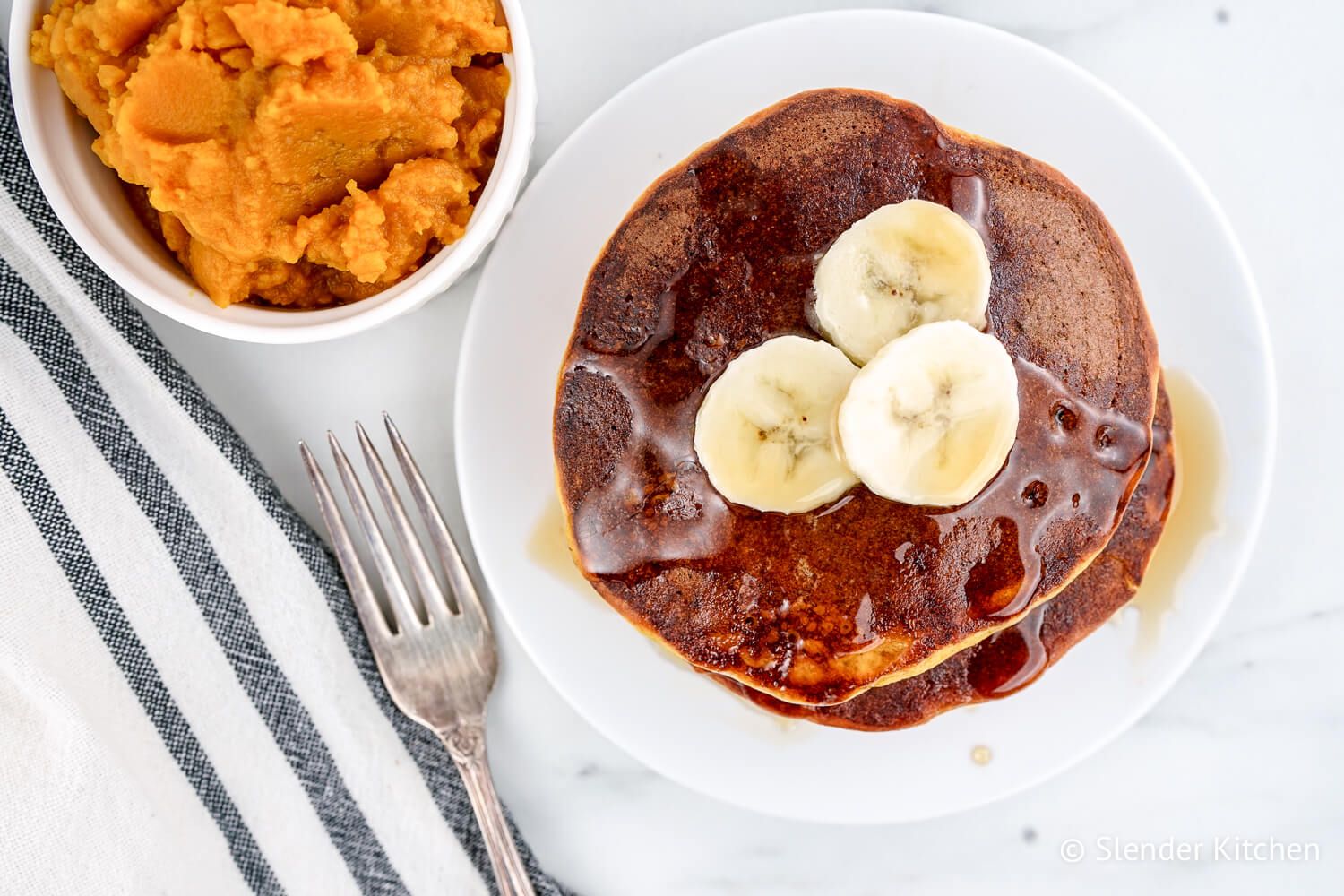 Four Ingredient Healthy Pumpkin Pancakes
PREP TIME: 5 Min
COOK TIME: 5 Min
TOTAL TIME: 10 Min
Print

Download

Get in your Inbox
Ingredients
2

tbsp

flour (any flour will work, I used whole wheat)

1/4

tsp

pumpkin pie spice (adjust to taste)
Like this Recipe? Try our Meal Plans!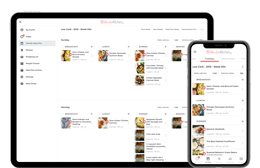 Weekly Meal Plans
Easy Shopping List
Healthy, Low Carb, & Vegetarian
Nutritional Information
Instructions
(Hide Media)
Switch to prevent your screen from going dark.
Nutritional Facts
Serving Size:
2-3 pancakes
Monounsaturated Fat 0g
0%
Polyunsaturated Fat 0g
0%
* Percent Daily Values are based on a 2,000 calorie diet. Your daily values may be higher or lower depending on your calorie needs.
The Nutritional Values provided are estimates only and may vary based on the preparation method.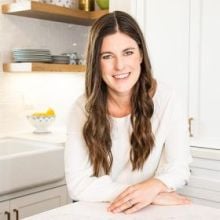 About the author
Meet

Kristen McCaffrey
Hi, I'm the cookbook author, recipe developer, and food enthusiast behind Slender Kitchen. I am obsessed with making healthy food that is easy to prepare and absolutely delicious. Meal planning is my secret weapon and I hope I can make meal time easier for you with our tried and tested recipes and foolproof meal plans.
Learn More
Get delicious, healthy recipes delivered each week right to your inbox.
Join over 80,000 subscribers.
Did you make this?
Snap a picture and show us what you made on Instagram or Facebook.
Tag us using @SlenderKitchen or #slenderkitchen.