Cochinita Pibil is a flavorful Mexican pork recipe where pork shoulder is braised in a citrus marinade until fork-tender. This mouth-watering dish is easy to make and can be prepared in the oven, slow cooker, or Instant Pot. Serve it up with warm corn tortillas and your choice of toppings!
226 CALORIES
6g CARBS
9g FAT
29g PROTEIN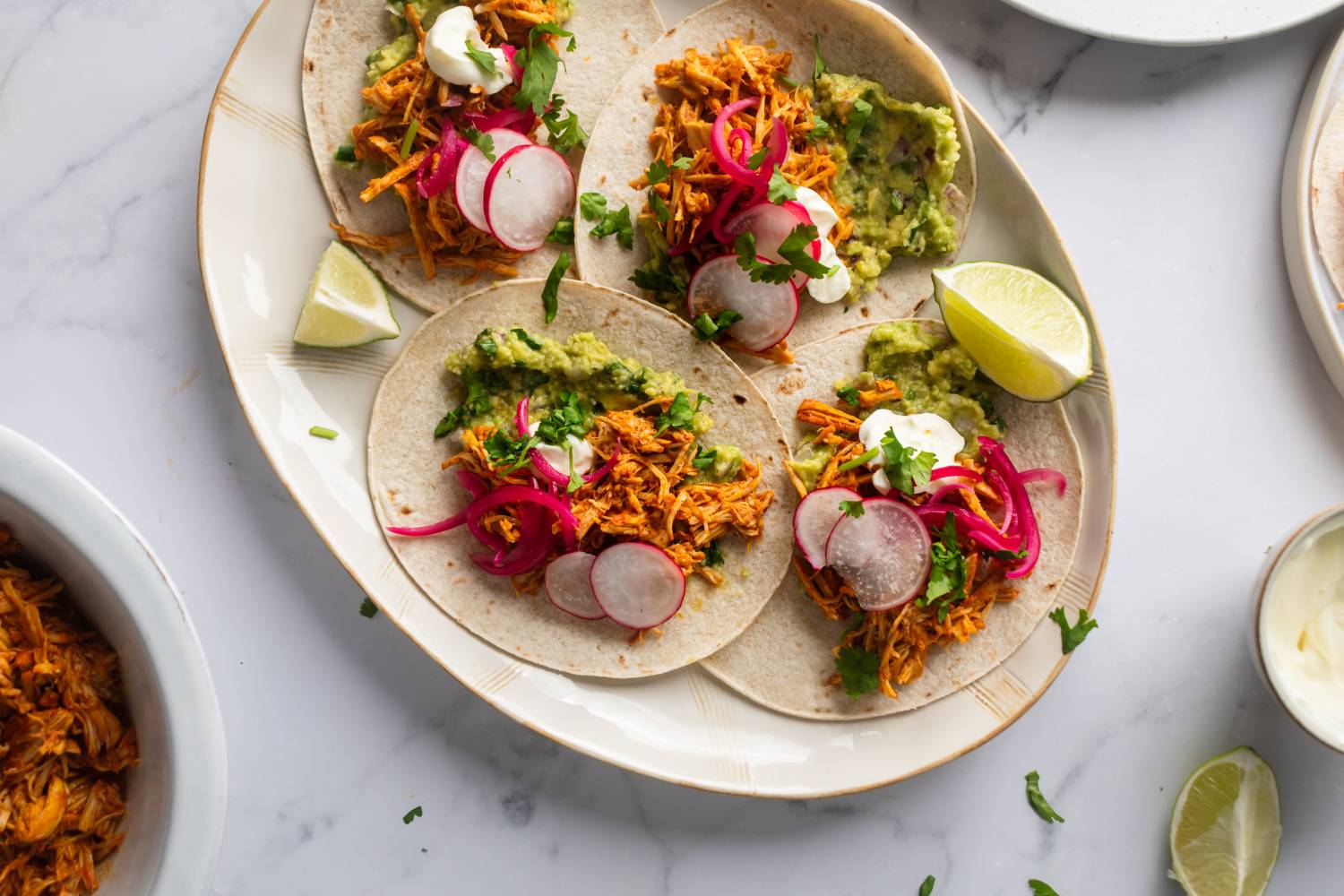 If you're looking for a new Mexican recipe to make at home, look no further than Cochinita Pibil. While traditional recipes like this can feel intimidating, it actually couldn't be easier to make.
Also referred to as Yucatan Pork, this pulled pork dish is made with a citrus marinade that is super easy to throw together. It's sweet, tangy, savory, and spicy all in one delicious dish.
It makes the most amazing tacos with pickled red onions and habanero salsa. But it is versatile enough to use in bowls, burritos, enchiladas, and more.
Looking for more authentic Mexican dishes? Try this Birria de Res, Pozole Rojo, Chicken Tinga, or Chile Verde.
What is Cochinita Pibil?
Cochinita Pibil is an authentic, Mexican pulled pork dish that tastes similar to carnitas but with more citrus and achiote. It originated in the Yucatán Peninsula, where the pork was traditionally marinated in bitter Seville oranges and achiote paste, wrapped in banana leaves, and cooked underground in a pit for hours.
It is almost always served with fresh cilantro, pickled red onions, and fresh habanero peppers or habanero salsa.
Sometimes you may see this dish called cochinita con achiote or puerco pibil. It is also sometimes made with chicken, like in this Pollo Pibil recipe.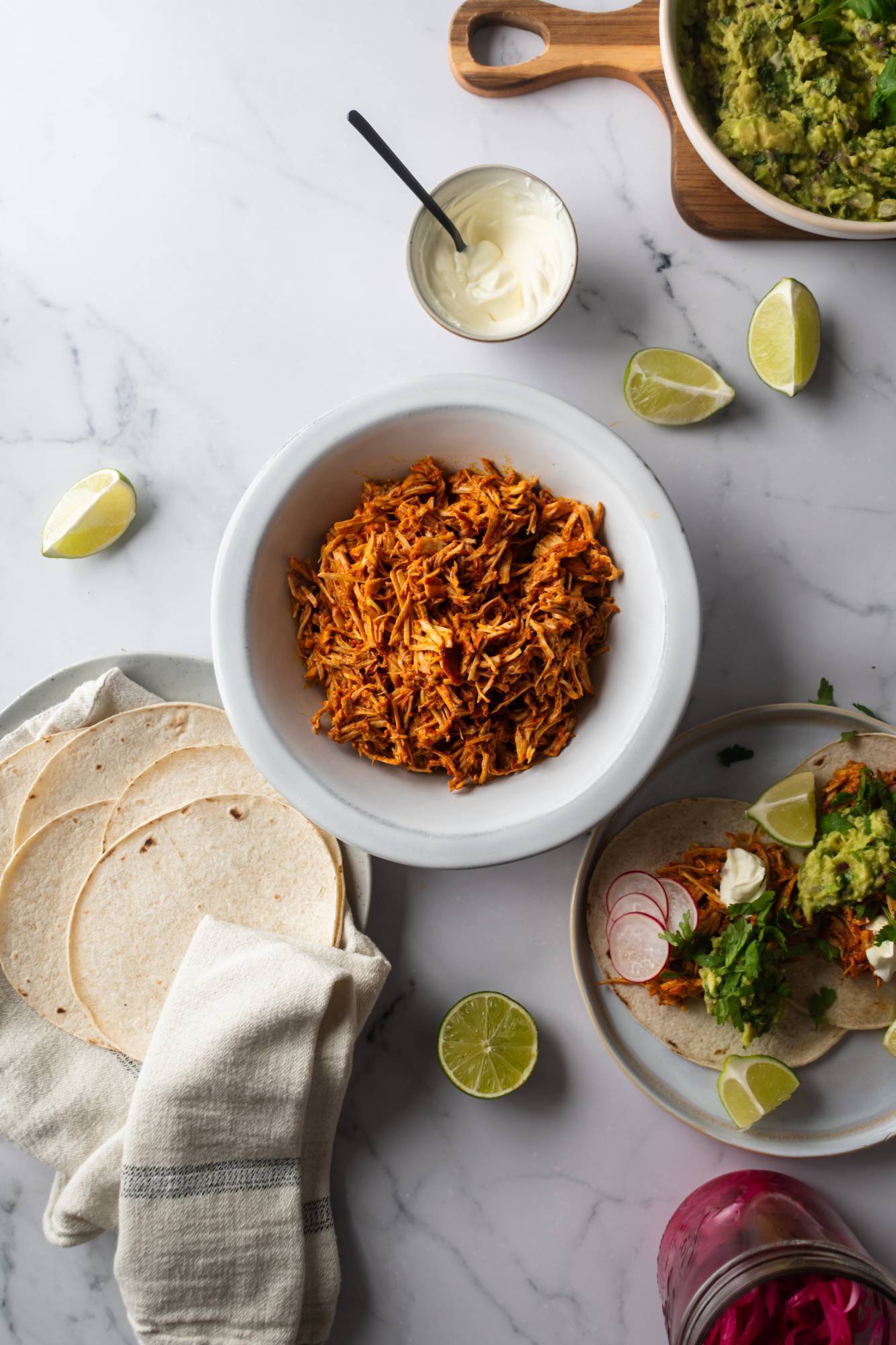 Key Ingredients
To bring this tasty Mexican pork dish to life, you will need the following key ingredients:
Pork shoulder. This recipe works with any cut of pork that is good for braising - pork shoulder, pork butt, or a picnic roast. Boneless pork is the easiest option, but you could use bone-in as well.
Citrus juice: Traditionally cochinta pibil is made with bitter Seville oranges, found in the Yucatan. These can be hard to find in the US, but you can recreate that sour orange juice flavor with a mix of orange juice and lime juice. I prefer to use fresh for both, but you can use orange juice from a carton if needed.
Achiote paste: Achiote paste is absolutely essential for this dish. If you aren't familiar with achiote, it is a vibrant red-orange seasoning with a mild, earthy flavor. It is made from ground annatto seeds combined with vinegar, garlic, cinnamon, cumin, and oregano. It is also called recado rojo. It can be found in the international/Mexican aisle of many supermarkets or ordered online. It is also used for Tacos al Pastor, Mexican adobada, and many Mexican fish recipes.
Herbs and spices. This dish gets a ton of flavor from a delicious combination of cumin, Mexican oregano, allspice, bay leaves, and salt. If you can't find Mexican oregano, regular oregano will work great in its place.
Toppings: When cochinita pibil is served as tacos it is traditionally served on corn tortillas with pickled red onions, cilantro, and habanero peppers. Sometimes it also has fresh lime juice and/or guacamole. Radishes or cucumbers are sometimes served on the side.
How to Make Cochinita Pibil
Traditionally, this pork dish is made by roasting a whole pig in banana leaves underground. Since most of us can't do that at home, this is an easier spin on this recipe.
It also includes an option for cooking the pork in banana leaves, which will add flavor and moisture to the dish. However, it still turns out great without the banana leaves.
1. Marinate the Pork
Although some recipes only combine achoite and citrus juice, I like to add a few extra species and ingredients to ensure there is tons of flavor.
Simply add orange juice, lime juice, achoite pasta, garlic, cumin, Mexican oregano, allspice, and salt to a blender. Blend until nice and smooth.
Add the pork to the marinade. Ideally, the pork will marinate overnight.
Pro tip: If you are cooking this in the slow cooker, you can skip marinating it overnight. The pork soaks up plenty of flavor after 8 hours in the slow cooker.
2. Oven Method
When this is cooked in the oven, it's important to wrap the pork up in foil so that all the moisture is trapped as it cooks. This is similar to what the banana leaves do in the traditional recipe.
Place the pork on top of a few layers of heavy foil and pour in the excess marinade. Seal the baking dish tightly. Bake at 325 degrees for 3-4 hours until the pork is fork tender.
Use banana leaves: If you want to use banana leaves, make sure to soak the first. Then place them in the bottom of the baking dish. Add the pork and wrap the banana leaves around the pork. Seal the dish tightly with foil. Then bake.
3. Slow Cooker
This is the easiest method and you can skip marinating the pork overnight since it will cook for 8 hours.
Simply add the pork, marinade, and bay leaf to the slow cooker. Some people like to add a cinnamon stick as well. Cook on low for 8=10 hours until the pork is super tender.
Use banana leaves: Place the soaked banana leaves in the bottom of the slow cooker. Add the pork and then fold the leaves on top. Cook on low for 8-10 hours.
4. Instant Pot
Make sure to marinate the pork for this pressure cooker version since the pork cooks quickly.
Add everything to the Instant Pot and cook for 45 minutes. Let the Instant Pot naturally release for at least 15 minutes. Carefully open and shred the pork.
This method doesn't work well with banana leaves since they can burn on the bottom of the Instant Pot.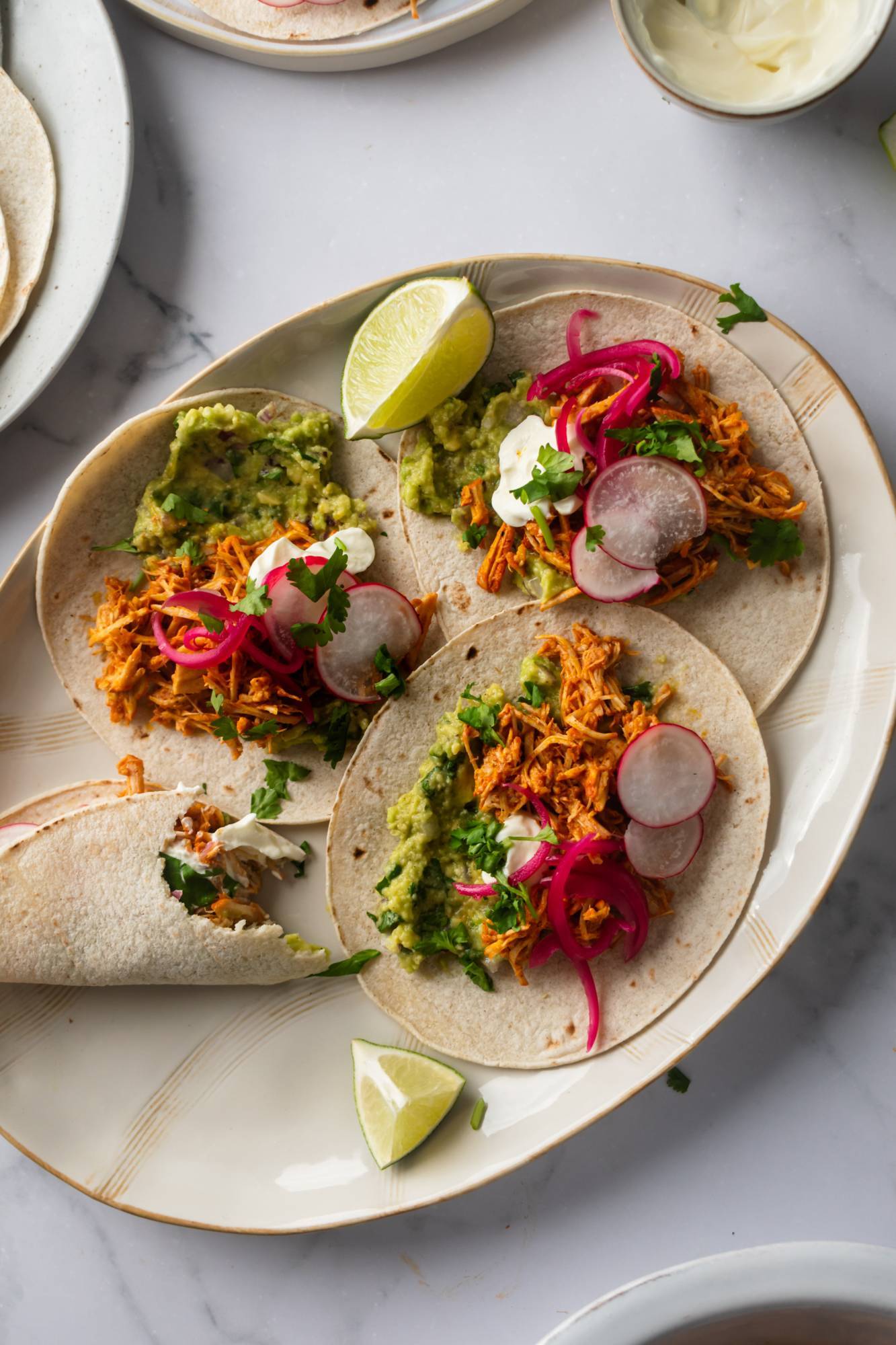 Cochinita Pibil Tips and Variations
Whether you're a first-timer or a Yucatan pork connoisseur, here are my top tips and variations for making the best Cochinita Pibil:
Freeze excess marinade. Depending on how much pork you use – and also how much marinade — you might be lucky enough to have some leftover! You can freeze your extra marinade for up to 6 months, you know, for round two.
Shred your pork. Once the pork has finished cooking, you should be able to easily shred it using the two-forks method.
Add onion. For a little extra flavor, add some chopped white onion or extra garlic cloves to the pork mixture before cooking it.
Spice things up. Looking for some more heat? Easy. Simply add some chopped jalapeno or habanero chiles to the mix. Alternatively, you can finish the pork off with a few dashes of your favorite hot sauce.
No lime juice? No problem! You can easily swap lime juice for white vinegar in this recipe. You'll still get the citrus from the orange and the white vinegar will help to enhance the flavors of the dish.
How to Serve Cochinita Pibil
Cochinita Pibil is a classic Mexican entrée that can honestly be served with just about anything.
To get you started, here are some of my favorite ways to serve this dish:
Tacos: This is the most traditional way to serve cochinita pibil. It starts with warm corn tortillas piled high with pickled onions, cilantro, and slices of habanero peppers.
Burritos: Cochinita Pibil is a fantastic way to switch up your favorite burritos. Wrap this pork in a tortilla alongside some rice, black beans, and all your favorite fixings for a delicious and protein-packed lunch or dinner.
Nachos: Because it is already shredded, Cochinita Pibil is perfect for turning some average nachos into the best nachos ever. It's great for game-day parties!
Rice and beans. This dish serves as the perfect protein source to complete your classic Mexican rice and beans meal. I love serving this pork with rice or Mexican Cauliflower Rice and black beans or refried beans.
Salsa: This dish tastes amazing with all your favorite salsas. Some of my favorites include Pineapple Salsa, Creamy Avocado Salsa Verde, and Corn Salsa.
How to Store This Dish
When it comes to meal prep (and in general, really) this is one of my favorite dishes. Because it can be enjoyed in so many different ways, it's great for preparing ahead of time and tucking away for quick and easy lunches or dinners.
To store this dish, simply transfer it to an airtight container and store it in one of two ways:
In the fridge for up to 3-4 days.
In the freezer for up to 4-6 months.
Frequently Asked Questions
Below you'll find the answers to some of the most frequently asked questions about this Mexican pork dish:
Cochinita Pibil is not a particularly spicy dish, it is more earthy and citrusy. When people think of Cochinita Pibil as spicy, they are usually thinking of the habanero peppers that are added to the tacos as a condiment.
While this dish traditionally uses pork shoulder, you can adapt it to suit your flavor preferences and dietary needs by swapping out the pork for chicken breast or flank steak. In fact, we love making this Pollo Pibil with chicken thighs.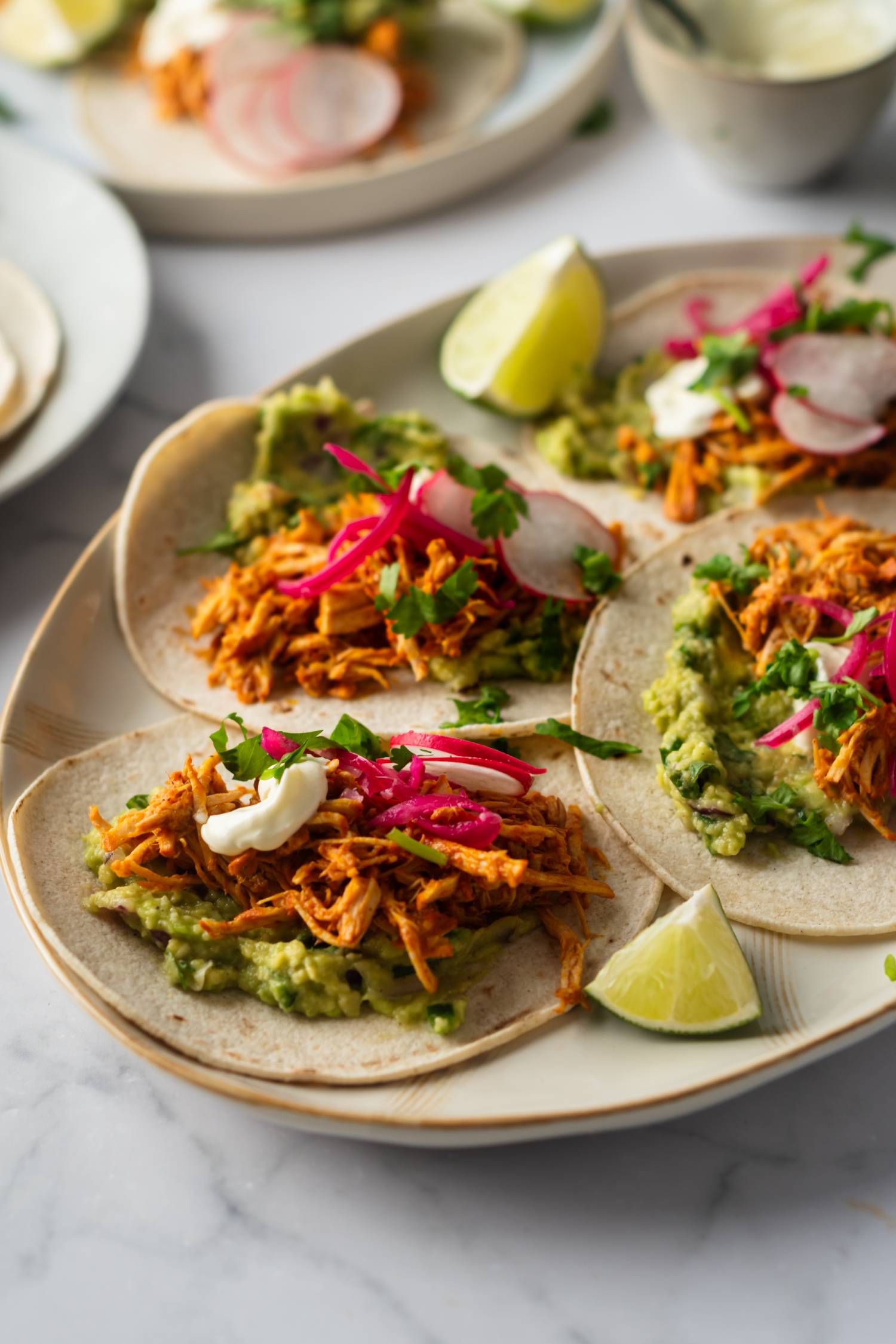 Cochinita Pibil
PREP TIME: 15 Min
COOK TIME: 8 Hours
TOTAL TIME: 8 Hours, 15 Min
Print

Download

Get in your Inbox
Ingredients
4

lbs

lean pork shoulder (boneless and cut into 1.5-2 inch chunks)

1

cup

freshly squeezed orange juice

3

oz

achiote paste (1 package)

1

tsp

kosher salt (more to taste)
Like this Recipe? Try our Meal Plans!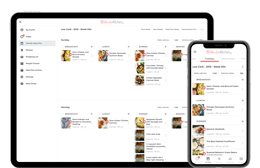 Weekly Meal Plans
Easy Shopping List
Healthy, Low Carb, & Vegetarian
Nutritional Information
Instructions
(Hide Media)
Switch to prevent your screen from going dark.
Nutritional Facts
Serving Size:
1/2-3/4 cup
Monounsaturated Fat 4g
0%
Polyunsaturated Fat 1g
0%
* Percent Daily Values are based on a 2,000 calorie diet. Your daily values may be higher or lower depending on your calorie needs.
The Nutritional Values provided are estimates only and may vary based on the preparation method.
This dish can be prepared with traditional banana leaves as well. Make sure to soak them before using. Then wrap them around the pork in the slow cooker or oven. If cooking in the oven, seal the dish tightly with foil even if using the banana leaves.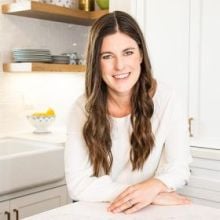 About the author
Meet

Kristen McCaffrey
Hi, I'm the cookbook author, recipe developer, and food enthusiast behind Slender Kitchen. I am obsessed with making healthy food that is easy to prepare and absolutely delicious. Meal planning is my secret weapon and I hope I can make meal time easier for you with our tried and tested recipes and foolproof meal plans.
Learn More
Get delicious, healthy recipes delivered each week right to your inbox.
Join over 80,000 subscribers.
Did you make this?
Snap a picture and show us what you made on Instagram or Facebook.
Tag us using @SlenderKitchen or #slenderkitchen.