The Best Grilled Vegetables: Tips, Techniques, and 25 Recipes
Grilled vegetables are the perfect summer side dish! Learn how to grill almost any vegetable from asparagus to zucchini to corn, onions, peppers, potatoes, mushrooms, and more. Delicious recipes, seasoning options, serving ideas, and more.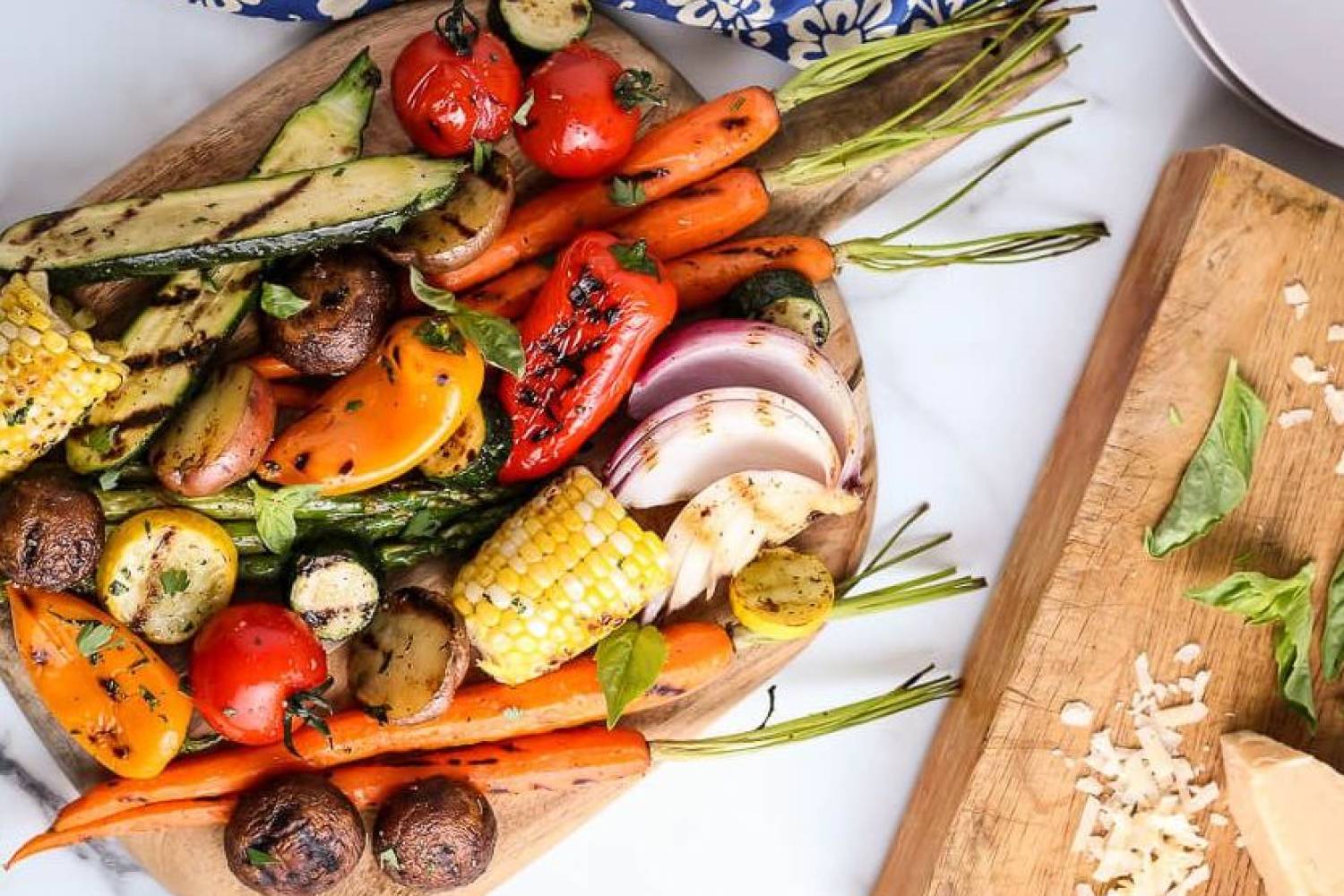 If you want to level up your summer grilling, the best place to start is learning how to grill vegetables. The grill is for so much more than meat.
Trust me, grilling vegetables is one of the best techniques for making delicious, crave-worthy veggies. The edges get caramelized and sweet. The vegetables pick up the perfect amount of smoky flavor. They maintain some texture and crunch.
Whether it's zucchini, bell peppers, mushrooms, asparagus, corn, broccoli, onions, or even butternut squash and potatoes - almost all your favorite veggies become even more delicious on the grill.
Grilled vegetables are also incredibly versatile. Use them as an easy side dish, in hearty salads, layered in sandwiches and burgers, added to pasta and pasta salads, and even as plant-based main dishes. These vegetables can be used in so many ways.
No more running from the kitchen to the grill, use this guide to learn how to grill almost any vegetable. All the recipes, cooking techniques, seasoning ideas, and marinades you need to grill fresh veggies all summer long.
Choosing the Right Vegetables for Grilling
When choosing vegetables for grilling, choosing the right vegetables to grill can make all the difference. Consider the taste, texture (nothing too soggy), and cooking time. Choose vegetables that are in season for the best flavor and quality.
Here are some of the best vegetables for grilling:
Bell peppers
Zucchini
Eggplant
Asparagus
Corn
Mushrooms
Onions
Tomatoes
Broccoli
Cauliflower
Carrots
Green beans
Squash
You can also grill or char some lettuces, such as romaine, endive, or radicchio. I also like to think outside the box when it comes to grilling vegetables. Artichokes, sweet potatoes, avocado, and Brussels sprouts are also excellent on the grill.
One last tip! Always look for firm and plump vegetables with smooth skin and vibrant colors. Make sure the vegetables are free from bruises or blemishes. The leaves, stems, and tops should be fresh and intact. The better quality of the vegetables, the better they will taste on the grill.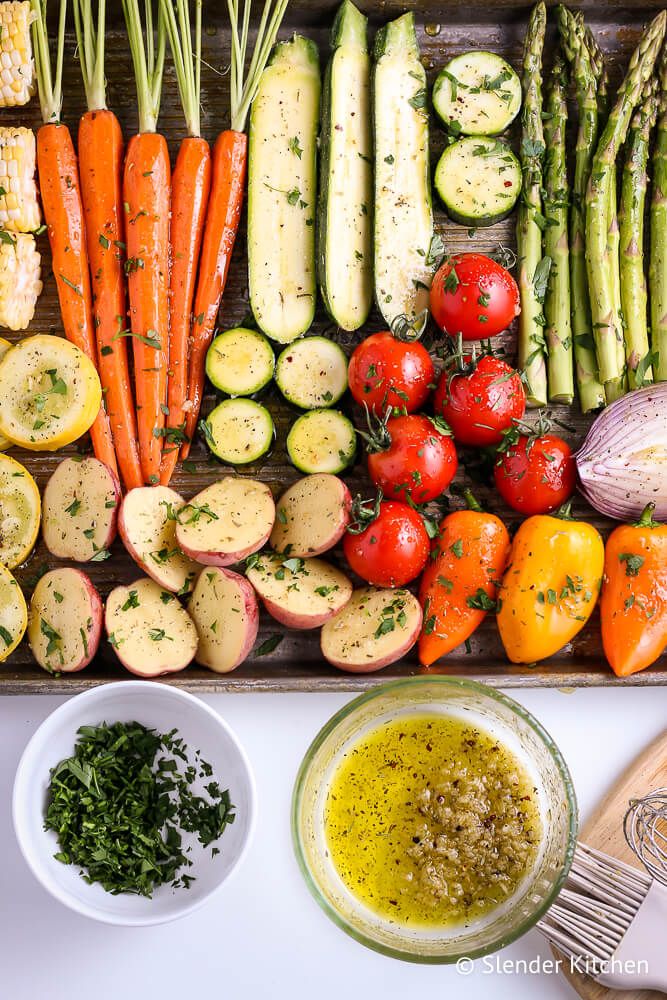 Preparing Vegetables for the Grill
It's important to prep vegetables before getting them on the grill. This includes washing, peeling (if needed), and cutting the vegetables into the right shape for the grill.
Consider the following tips when getting veggies ready for grilling.
Large surface area: When cutting the vegetables, think about creating a large surface area. This creates more contact with the grill., which means more grill marks and flavor. Plus it means the veggies won't fall through the grill grates and they are easier to flip with tongs.
Same thickness: Try to cut the vegetables to be the same thickness or size so they cook at the same rate. Usually about ½-1 inch thick is best for grilling.
Prevent sticking: Always make sure to coat the vegetables in some kind of oil or cooking spray so they don't stick to the grill. Make sure the grill is clean and oil the grates gently with a paper towel.
Seasoning and marinating: Always season the vegetables with oil, salt, and pepper. From there you can add additional spices, seasoning blends, marinades, and dried herbs. Be careful about adding fresh herbs or garlic before grilling since they can burn quickly.
More specifically, here are some techniques for prepping specific vegetables for the grill.
Bell peppers: Cut into wide planks, removing the seeds.
Onions: Peel the onions and cut them into ½ inch rounds. Many people grill onions on skewers (rafting) or foil so they don't fall apart when flipped.
Zucchini and yellow squash: Cut into long planks about ½ inch thick.
Eggplant: Leave the peel on and cut into ½ inch planks or large circles.
Asparagus: Leave whole, trimming the woody ends. Consider rafting the asparagus (using skewers to connect multiple asparagus together) for easier flipping.
Corn: Grill whole corn on the cob in the husk, wrapped in foil, or directly on the grill.
Mushrooms: Larger mushrooms like portobellos can be grilled whole. Smaller mushrooms need to be grilled on skewers, in a foil packet, or in a grill basket.
Tomatoes: Smaller tomatoes can be cooked whole if they are still on the vine. Cherry or grape tomatoes can be grilled on skewers, in foil packets, or in a grill basket whole. Cut larger tomatoes in half, removing most of the pulp and seeds. Grill them directly on the grates.
Broccoli: Chop broccoli into similar-sized florets. Grill in a foil packet or a grill basket.
Cauliflower: Cut into steaks or quarters to grill directly on the grill. Otherwise cut into equal-sized florets and grill in a foil packet or grill basket.
Carrots: Wash and peel carrots. Cut in half lengthwise. Grill directly. Otherwise, chop into ½ inch pieces and grill in a foil packet or grill basket.
Green beans: Use the rafting technique to skewer multiple green beans together for direct grilling. Otherwise, grill them in a foil packet or grill basket.
Squash: Butternut squash and other winter squash can be grilled. Cut into long planks or circles about ½ inch thick. Remove any seeds. Or cut into small 1/2-inch chunks and grill in a foil packet or basket.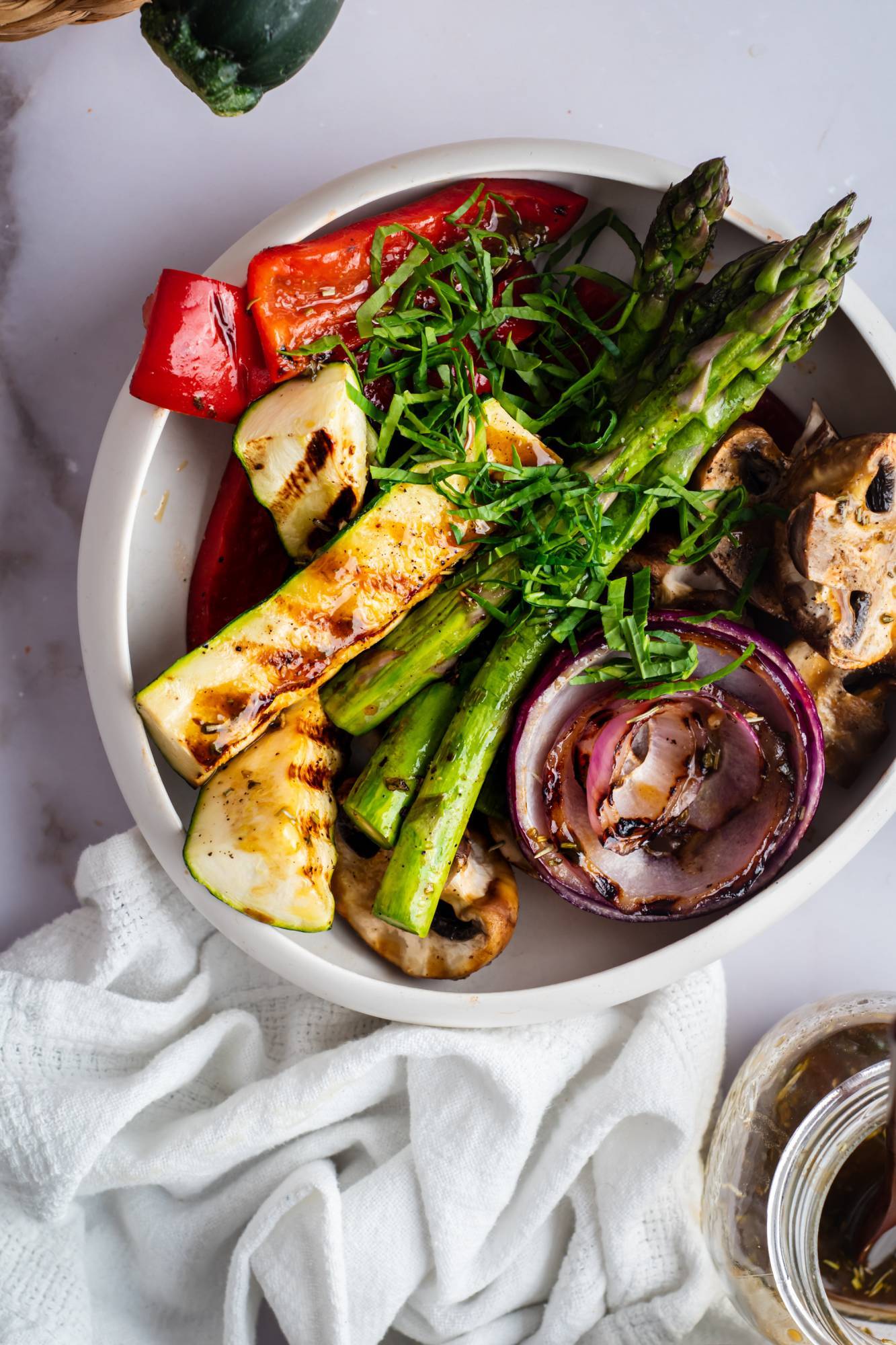 Method 1: Directly on the Grill
Some vegetables are better right on the grates and require no additional preparations, tools, or pans. Think vegetables like portobello mushrooms, asparagus, zucchini, or corn. This method creates the most charred and smoky flavor since the vegetables have the most contact with the grill.
Cut the vegetables into large ½-1 inch thick pieces that are large enough that they won't fall through the grates. Or leave vegetables whole where appropriate.
Toss the vegetables with oil, salt, pepper, and any other spices or seasoning.
Make sure the grill grates are clean. Preheat the grill over medium-high heat.
Lightly oil the grill grates to prevent sticking.
Cook the vegetables on each side. They are ready to flip when they easily release from the grill and have nice, browned grill marks. Use the chart below for exact cooking times.
Vegetarian main dish idea: For a plant-based main course, consider making a "steak" right on the grill using cauliflower, cabbage, eggplant, portobello mushrooms, or butternut squash.
Method 2: Grill Basket or Pan
If you have one, a grill basket is one of the easiest options, especially for bite-sized or smaller vegetables. You put all your veggies into the basket, then put it right on top of the grill. The basket has holes so you can still grill without worrying about having some of your vegetables slip through the grates.
Cut the vegetables into similar-sized pieces. If including vegetables that take longer to cook (think squash, potatoes, carrots), cut them into smaller/thinner pieces so they cook at the same rate as the quicker-cooking vegetables.
Toss the vegetables with oil, salt, pepper, and any seasoning you like.
Preheat the grill over medium-high heat. Preheat the grill basket as well for extra charred, crispy edges.
Place the basket and vegetables on the grill. Close the lid. Cook until the vegetables are tender and crisp (see cooking times below), shaking the grill pan a few times while the vegetables cook.
Meal prep idea: Instead of roasting vegetables for meal prep during summer months, consider using a grill basket to prep a variety of grilled vegetables to enjoy all week. They are great in salads, grain bowls, wraps, and more.
Method 3: On a Skewer
This is one of the more fun ways to grill up vegetables. Even though it can be a little bit of a pain to do the extra work of skewering, the presentation is well worth it. Plus, you can eat right off the skewer or add a few cubes of meat, fish, or even tofu in between the vegetables for a complete meal.
If you plan to marinate the vegetables, you can marinade first, then skewer later, or vice-versa. The order doesn't really matter.
Soak the skewers in water first (if using wood or bamboo) so that they don't burn on the grill.
Cut the vegetables into similar-sized chunks so they cook at the same rate. Choose vegetables that cook in the same amount of time if using multiple vegetables. If using vegetables that cook at different rates, cut the vegetables that take longer into smaller/thinner pieces to speed up the cooking time.
Place the vegetable skewers directly on the grill. Cook until they release easily and vegetables begin to char and soften. Flip and continue to cook on the other side.
Season the vegetable skewers as needed once they come off the grill. Brush with sauce or drizzle with marinade.
Fun recipe idea: One fun way to get the veggies and/or meats off the kabobs is to place the whole skewer in the middle of a piece of large pita bread, then squeeze both sides of the pita together and slide the bamboo or metal skewer out, leaving behind a perfect little pita sandwich.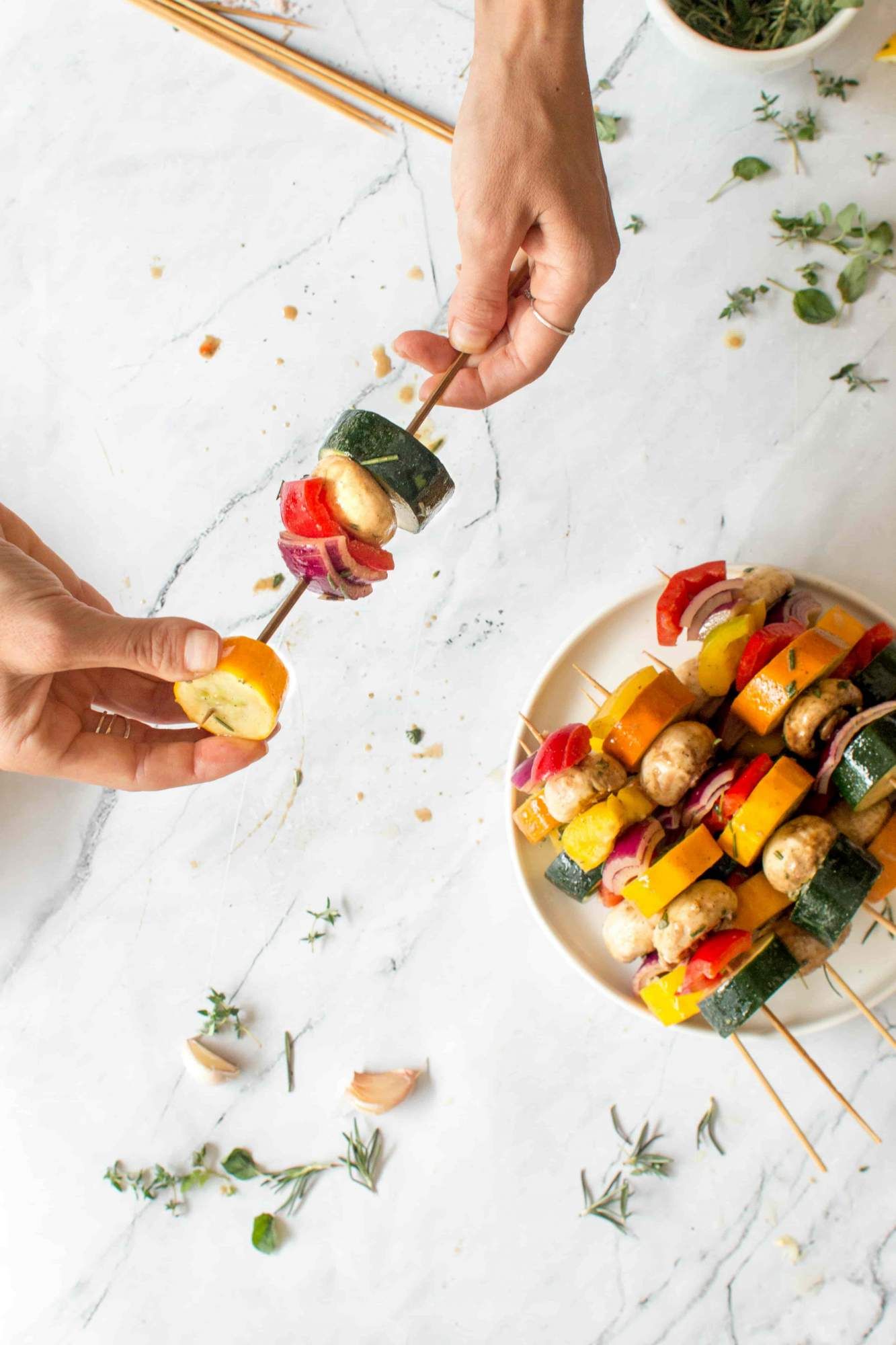 Method 4: Foil Packets
This method is the most worry-free way to grill vegetables and is great for smaller vegetables and vegetables that need some extra time on the grill, like potatoes.
One important note: Cooking vegetables in a foil packet combines grilling and steaming. The vegetables will come out softer with some charred edges on the bottom. They will be less crispy than the other methods. If you prefer more traditionally grilled vegetables, do not close and seal the packet.
Cut up all your vegetables in similar size pieces. Choose vegetables that cook at the same rate for the best results.
Season them with olive oil, salt, pepper, and/or any seasoning, spices, or marinade you like.
Wrap them up in a little foil burrito, folding up the sides so the packet is sealed on the top. Use a knife or fork to poke a small in the top to release some steam. This helps the vegetables get a more grilled texture.
Place the packet on the grill until the desired doneness. The exact cooking time depends on the vegetables being cooked.
Make it a meal: It's so easy to turn this into a full meal with chicken, fish, tofu, or beans. If adding raw protein, make sure to choose something that cooks in the same amount of time on the grill. Smaller chicken breasts and salmon will cook in 10-15 minutes.
Cooking Times
The exact cooking time will depend on the vegetable, the size of the pieces, and the cooking technique. Always make sure to allow the vegetables to cook on the first side long enough to get nice grill marks. They should naturally release from the grill. This usually takes 3-4 minutes at the minimum.
You want to make sure they are good and done (and grill-marked) on one side before flipping to the other side. Think one (flip) and done.
Bell peppers: 4-5 minutes per side
Zucchini: 3-4 minutes per side
Eggplant: 3-4 minutes per side
Asparagus: 2-3 minutes per side
Corn: 10-15 minutes
Mushrooms: 3-4 minutes per side
Onions: 4-5 minutes per side
Tomatoes: 2-3 minutes per side
Broccoli: 8-10 minutes (grill basket)
Cauliflower: 8-10 minutes (grill basket) or 6-9 minutes per side for steaks
Carrots: 4-6 minutes per side (if halved) or 8-12 minutes (grill basket)
Green beans: 2-3 minutes per side
Squash: 4-5 minutes per side (½ inch slices)
Potatoes: 20-25 minutes in a foil packet
Seasoning, Marinades, Sauces, and More
The great thing about vegetables is that they can be paired with so many different seasonings, spice blends, marinades, sauces, and garnishes to create so many different and amazing recipes. Here are some of our favorite ways to enhance the flavor of grilled vegetables.
Seasoning and spice blends: For something simple, olive oil, kosher salt, black pepper, and garlic powder is a classic. Spice things up with cajun seasoning or blackening seasoning. Add zesty notes with lemon pepper. Or use any combination you like.
Marinades: Use this Balsamic Grilled Vegetable Marinade for a classic pairing. Or swap in your favorite vinaigrette, Italian dressing, Asian marinade, barbecue sauce, or citrus juices. Always add marinade to the vegetables after grilling for the best flavor. Most raw vegetables aren't great at absorbing flavor.
Sauces: Finish your grilled vegetables with tzatziki, pesto, chimichurri, balsamic vinaigrette, creamy avocado sauce, barbecue sauce, or any other sauce you like.
Garnishes: Add texture with almonds, pine nuts, peanuts, walnuts, or sesame seeds. Brighten things up with fresh lemon juice and herbs like cilantro, basil, and parsley. Add some freshly grated Parmesan cheese, crumbled feta, or creamy goat cheese.
Grilled Vegetable Recipes
Here are some of our favorite grilled vegetable recipes:
Main Dish Ideas for Grilled Vegetables
Now that you have these delicious grilled vegetables, you need some ideas for how to serve them! Grilled vegetables pair with virtually anything but here are some favorites.
Check out all of our grilling recipes.
Storage. Leftovers, and Meal Prep
If you've pre-cut your vegetables in preparation for grilling another time (or purchased them from the grocery), those vegetables will keep, covered, in your fridge for three to five days. If they start to look wilted, brown, or otherwise not great, it's time to either use them immediately or pitch or compost and start over.
Pre-marinated vegetables will keep for about a day, then you should go ahead and grill them. Toss any marinades that have been in contact with raw meat (for instance, if you marinated vegetables and meats in the same bag or they shared the same platter pre-grill).
Troubleshooting and Expert Tips
Grilling vegetables can come with its own set of challenges, but luckily most are easy to solve. We've got you covered with some troubleshooting tips and tricks to ensure your grilling experience is a success.
Overcoming Common Challenges
Vegetables Sticking to the Grill: To prevent vegetables from sticking to the grill grates, make sure to preheat the grill and lightly oil the vegetables before placing them on the grates. This will create a non-stick surface and help them cook evenly. It's also important to make sure the grill is clean. Another reason vegetables may stick is if you try to flip them too early. Wait until a nice crust has formed on the vegetable and it easily releases from the grates. Sometimes it sticks simply because it hasn't fully seared yet.
Uneven Cooking: Some vegetables may cook at different rates due to their size or thickness. To achieve uniform cooking, make sure to chop veggies into similar sizes. Using a grilling basket or foil packet to regulate heat distribution can also help.
Vegetables Falling Apart: Delicate vegetables like thinly sliced zucchini, summer squash, and eggplant can sometimes fall apart or disintegrate on the grill. Make sure to slice delicate vegetables thicker so they don't fall apart. It's also important to only cook them for a few minutes on each side. Overcooking them causes them to fall apart.
Vegetables Fall Through the Grates: To prevent this, use skewers or a grill basket specifically designed for vegetables to keep them intact and make flipping easier. Rafting is another great option for thin vegetables like asparagus, onions, or green beans. Use two or three skewers to create a "raft" with the vegetables. This ensures they won't fall through the grates and makes them easier to flip.
Expert Tips and Tricks
Marinating: Enhance the flavor and tenderness of your grilled vegetables by marinating them after grilling. Unlike proteins, vegetables soak up sauces and marinades better after being cooked. The other great thing about grilling vegetables is that you can use the same marinade before and after if you like since no raw proteins are involved.
Direct vs. Indirect Heat: Different vegetables benefit from either direct or indirect heat. Dense vegetables like potatoes or beets may require indirect heat to fully cook, while thinner ones like zucchini or bell peppers do well with direct heat for a nice char. You can also parboil heartier vegetables to speed up the cooking process.
Seasoning: Don't forget to season your vegetables with salt, pepper, or your favorite spices before grilling. It adds an extra layer of flavor and elevates the taste.
Frequently Asked Questions
Here are the most common questions about cooking vegetables on the grill.
Grilled vegetables are typically done when they are tender crisp and have developed a nice char or grill marks. The cooking time varies depending on the vegetable and its size, so keep a close eye on them and test for doneness with a fork or skewer.
It's hard to think of a way that vegetables can really be bad for you. Unless, of course, you're covering them in mountains of oil or throwing them in a deep fryer. Grilled vegetables are a great way to get more of those cancer-fighting, heart-disease lowering, free-radical eliminating, fiber-full foods into your diet.
Grilling is also one of the best ways to cook your vegetables, as boiling them can cause many of the nutrients to seep into the water, and frying them, well, just adds a lot of unnecessary fat.
When you grill your vegetables you can put them in a simple marinade beforehand, use a grill basket, skewer them, or put them in a foil pouch to be cooked all together. All of these ways help retain the natural compounds found in vegetables, which means more of that goodness gets to you.
Is a charcoal grill healthier than grilling over propane or vice-versa? Studies show that when grilling meat, more of the cancer-causing polycyclic aromatic hydrocarbons (PAHs) drip onto the charcoals, thus creating more smoke that gets infused back into your meat when cooking with a charcoal grill. In propane grills, the PAH content is less simply because there are no coals to catch the drippings -- however, there are still some of the chemicals present when cooking with propane.
How does this affect cooking vegetables? Well, I guess that depends on whether or not you're cooking meat with your vegetables or your vegetables alone. These PAHs can drip onto the bottom of your grill and come back up in the smoke in either grill form. If you are grilling meat with your vegetables, then it's best to choose lean cuts of meat or to trim the fat off your meat first before grilling.
As for grilling vegetables on their own, it doesn't really matter which kind of grill you use because grilling vegetables doesn't unleash the PAHs you find in meat. However, if you are used to grilling only meats, you might want to take some time to clean the bottom of your grill before adding vegetables -- just to be on the safe side.
One other factor to consider when grilling with charcoal versus gas is the smoky flavor you get from grilling with charcoal. If that's a flavor you love, then charcoal it is!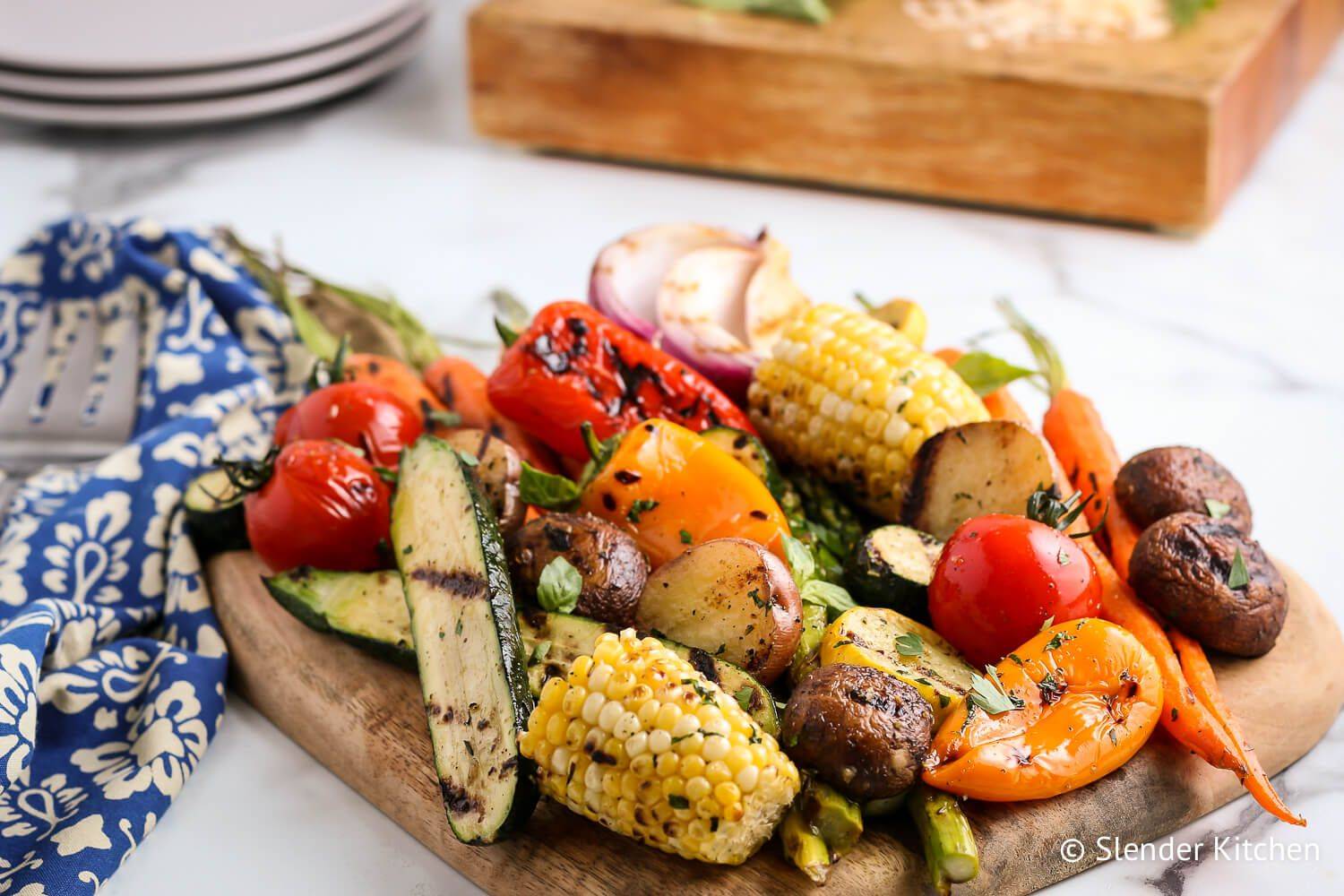 Grilled Vegetables
PREP TIME: 5 Min
COOK TIME: 10 Min
TOTAL TIME: 15 Min
Print Recipe

Download PDF
Ingredients
2

tbsp

parsley, chopped (optional, more for serving)
Like this Recipe? Try our Meal Plans!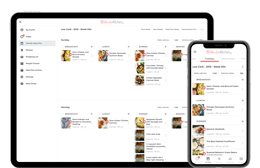 Weekly Meal Plans
Easy Shopping List
Healthy, Low Carb, & Vegetarian
Nutritional Information
Instructions
(Hide Media)
Switch to prevent your screen from going dark.
3
Place in a grill basket or directly on the grill. If grilling directly. Grill for about 5 minutes (adjust according to cooking times above) and either shake the grill basket or flip the veggies. Grill 4-5 minutes longer until tender. Season with additional salt and pepper if needed. Garnish with a drizzle of olive oil, fresh herbs, or cheese.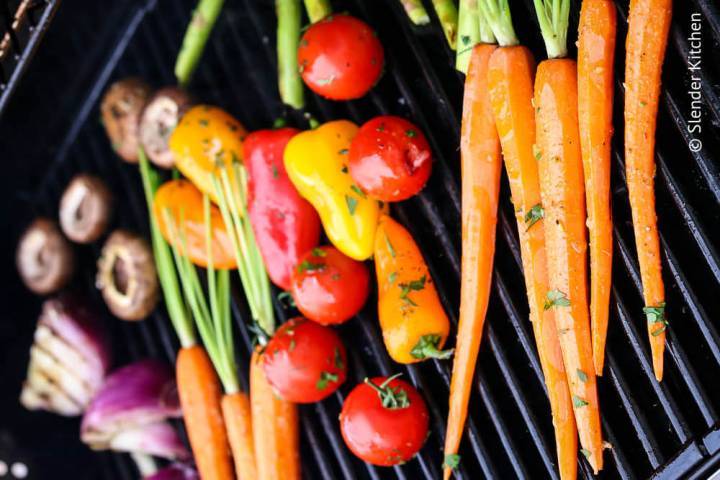 Nutritional Facts
Monounsaturated Fat 0g
0%
Polyunsaturated Fat 0g
0%
* Percent Daily Values are based on a 2,000 calorie diet. Your daily values may be higher or lower depending on your calorie needs.
The Nutritional Values provided are estimates only and may vary based on the preparation method.
Get delicious, healthy recipes delivered each week right to your inbox.
Join over 80,000 subscribers.