Grilled Green Beans with olive oil, garlic, salt, and pepper are going to be one of your new favorite summer side dishes. Easy to make, packed with flavor, and the best way to enjoy fresh summer beans.
69 CALORIES
9g CARBS
4g FAT
2g PROTEIN
Learn how to grill green beans and you will never want to eat them any other way. It's a game changer and once you start grilling your vegetables, you will never look back. Try these Grilled Mushrooms and Garlic Grilled Broccoli as well.
A few years back I started roasting all my veggies and it changed everything. They come out caramelized, crispy, and delicious. A real game changer when it came to vegetables.
When it got hot outside I would find myself craving those roasted veggies but was not keen to heat up the house by turning on the oven. Enter the grilled vegetable. Just like roasting, grilling vegetables brings out so much flavor. The vegetables get browned and charred and are super flavorful.
Many of us overlook the green bean when we think about grilled veggies. I am here to tell you that it's time to grill some green beans. They get this delicious, crispy outside while staying bright green and tender-crisp. They are so good, my whole family was devouring them as soon as they came off the grill. Plus they take under 10 minutes to cook.
Grilled green beans can also be paired with pretty much any meal. They work with chicken, steak, pork, fish, and seafood. Leftover green beans make awesome additions to salads, wraps, and scrambles. And they taste great with any spices, herbs, or seasoning you want to add.
We also love making this Garlic Grilled Broccoli and Grilled Cauliflower during the summer grilling season.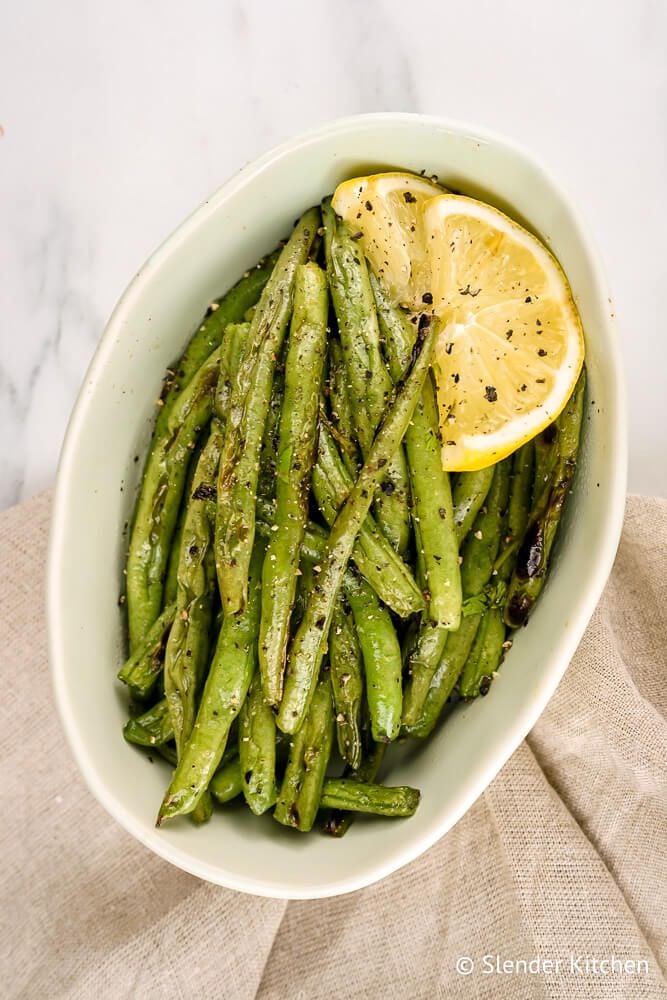 Why We Love Grilled Green Beans
Here are a few reasons why we love grilled green beans.
Flavorful: There's nothing quite like the flavor of grilled green beans.
Simple: It's super easy to grill up some green beans.
Healthy: Green beans are chock full of fiber and other nutrients.
Versatile: You can't go wrong no matter how you season them or how you eat them.
Key Ingredients and Easy Swaps
Here are the ingredients you need to make this grilled green beans recipe and a few alternatives.
Green beans: Use a pound of green beans or substitute for wax beans, asparagus, snap peas, or snow peas.
Olive oil: Extra virgin olive oil is great, but any oil will work. Try avocado or coconut.
Seasonings: A combination of garlic powder, kosher salt, and black pepper adds great flavor.
How to Grill Green Beans
Prep the green beans: Green beans take a tiny bit of prep to get them ready for the grill. Start by washing and drying the beans. Then trim the stem ends, which can be fibrous and hard to chew.
Add fat: The beans will need some fat so they don't stick to the grill and to bring out the flavor. Reach for olive oil, avocado oil, coconut oil, safflower oil, or any other oil you like. Toss the beans with the oil you choose.
Add seasoning: Go simple and just add salt and fresh pepper OR grab any other spices you like. The sweetness of green beans pairs great with spices like cumin or paprika. I also love adding some garlic powder, onion powder, or steak seasoning for an all in one option. Tip: To make sure the green beans are well coated in the oil and spices, start by combining the oil with the spices in the bottom of a bowl. Then add the green beans to that and toss. This helps spices to get distributed evenly on all the beans.
Grab a grill basket or pan: Green beans are best cooked with a grill basket or grill pan so they don't fall through the grates of the grill. For best results, preheat the grill basket on your hot grill. Then add the green beans and cook for 6-7 minutes total, shaking the pan 1-2 times. The green beans are ready when they are bright green, tender-crisp, and have some grill marks. In a pinch, you can use a piece of heavy-duty foil to serve as your grill pan. Just place it right on the grill grates and cook the beans on the foil.
Flavor Ideas for Grilled Green Beans
Green beans are sweet, crunchy, and a blank canvas for all kinds of spices and herbs. They are delicious with something simple like salt and pepper or you can spice things up with one of these ideas:
Parmesan, Garlic, and Lemon: Add some freshly minced garlic or garlic powder to your green beans before cooking. Then top with fresh parmesan cheese and fresh lemon juice right when they come off the grill.
Cajun: For a bit of heat, add Cajun seasoning to the green beans before tossing them on the grill.
Old Bay Seasoning: This classic seafood seasoning is also amazing on vegetables and works great with green beans., Trust me - you'll love it.
Balsamic Vinegar: For a little extra tang, toss the green beans with balsamic vinegar before throwing them on the grill and then drizzle some extra on top before serving them.
With onions: For some extra flavor, add some chopped onions in the grill basket with the onions.
With tomatoes: Believe it or not, cherry tomatoes are great on the grill. Throw them in the grill basket with your green beans. Then add Parmesan cheese - magic.
With bacon: If you want to cook the green beans right on the grill, consider making green bean packets wrapped in bacon. Grab a small handful of green beans and wrap them in one to two pieces of bacon. Secure the bundle with a toothpick and grill for 8-10 minutes until the bacon is crispy and the green beans are tender.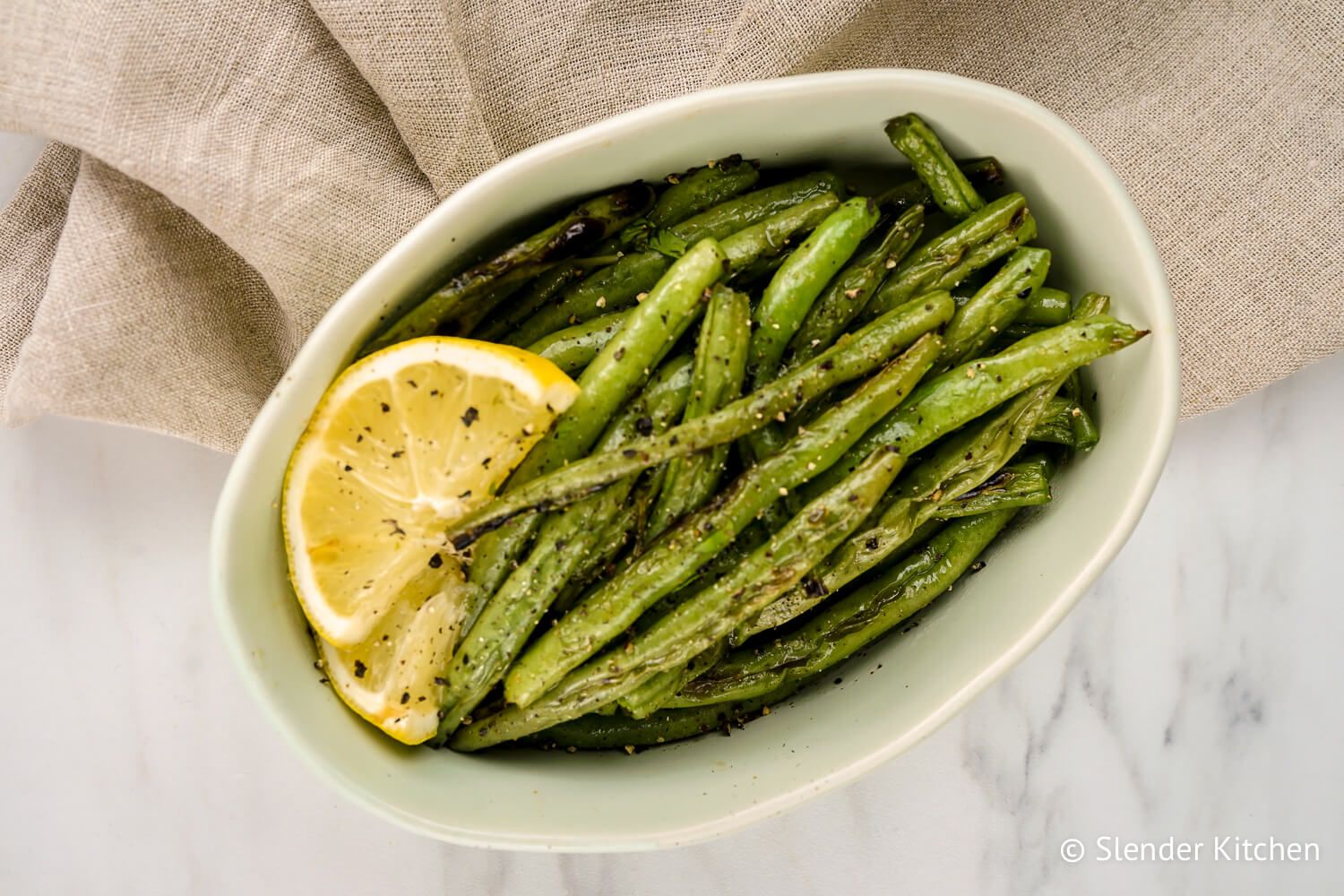 Grilling Green Beans in Foil Packets
If you prefer a more steamed green bean, then foil packets are the perfect answer. Green beans cooked in foil get some of the charred grill taste but also steam inside the foil packets, making them softer than a traditionally grilled bean.
How to Serve Grilled Green Beans
Although no one will be disappointed when these delicious charred green beans make an appearance as a side dish, you can also get creative and use them in all kinds of recipes.
Make a Grilled Green Bean Salad: Add cherry tomatoes, shallots, and feta cheese. Toss with lemon juice, olive oil, and fresh black pepper,
Use them in a grilled vegetable pasta salad: Add all your other grilled veggie favorites. Add a store-bought vinaigrette or make your own.
Serve them as a snack: Pair the beans with a healthy ranch dip or hummus for a fun twist of the usual.
Make a hearty vegetarian dish: Toss the green beans with some canned chickpeas, tomatoes, arugula, and goat cheese. Add olive oil, lemon juice, black pepper, and fresh basil.
Can I use other beans?
This recipe works with all different types of beans. Try it with sugar snap peas, snow peas, haricot verts, Romano beans, or wax beans. Depending on the size of the beans, they might need a little less or a little more cooking time. You can also use a combination of different types of green beans
How To Store Leftover Green Beans
If you happen to have leftovers, here's what you should do with them.
Fridge: Leftover grilled beans will keep for 3 days in the refrigerator though they may lose their crunchy texture.
Freezer: You can freeze grilled beans for up to 3 months.
Thaw: Thaw it in the fridge overnight.
Reheat: Reheat the green beans in the oven or under the broiler to crisp them up.
Frequently Asked Questions
Here are the most common questions about making green beans on the grill.
There are so many ways to add flavor to green beans. Just take a look at all the suggestions above.
It is not necessary to blanch the green beans but it will speed up the cook time.
Grilled Green Beans
PREP TIME: 5 Min
COOK TIME: 10 Min
TOTAL TIME: 15 Min
Print

Download

Get in your Inbox
Like this Recipe? Try our Meal Plans!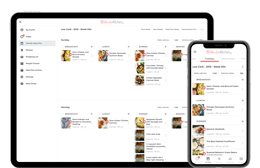 Weekly Meal Plans
Easy Shopping List
Healthy, Low Carb, & Vegetarian
Nutritional Information
Instructions
(Hide Media)
Switch to prevent your screen from going dark.
Nutritional Facts
Monounsaturated Fat 0g
0%
Polyunsaturated Fat 0g
0%
* Percent Daily Values are based on a 2,000 calorie diet. Your daily values may be higher or lower depending on your calorie needs.
The Nutritional Values provided are estimates only and may vary based on the preparation method.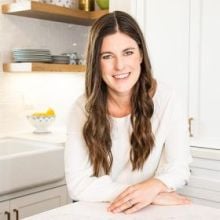 About the author
Meet

Kristen McCaffrey
Hi, I'm the cookbook author, recipe developer, and food enthusiast behind Slender Kitchen. I am obsessed with making healthy food that is easy to prepare and absolutely delicious. Meal planning is my secret weapon and I hope I can make meal time easier for you with our tried and tested recipes and foolproof meal plans.
Learn More
Get delicious, healthy recipes delivered each week right to your inbox.
Join over 80,000 subscribers.
Did you make this?
Snap a picture and show us what you made on Instagram or Facebook.
Tag us using @SlenderKitchen or #slenderkitchen.