Slow Cooker Pumpkin Steel Cut Oatmeal
This easy Slow Cooker Steel Cut Oats with pumpkin pie flavors is the perfect hearty breakfast with all the pumpkin spice flavors you crave.
287 CALORIES
45g CARBS
8g FAT
10g PROTEIN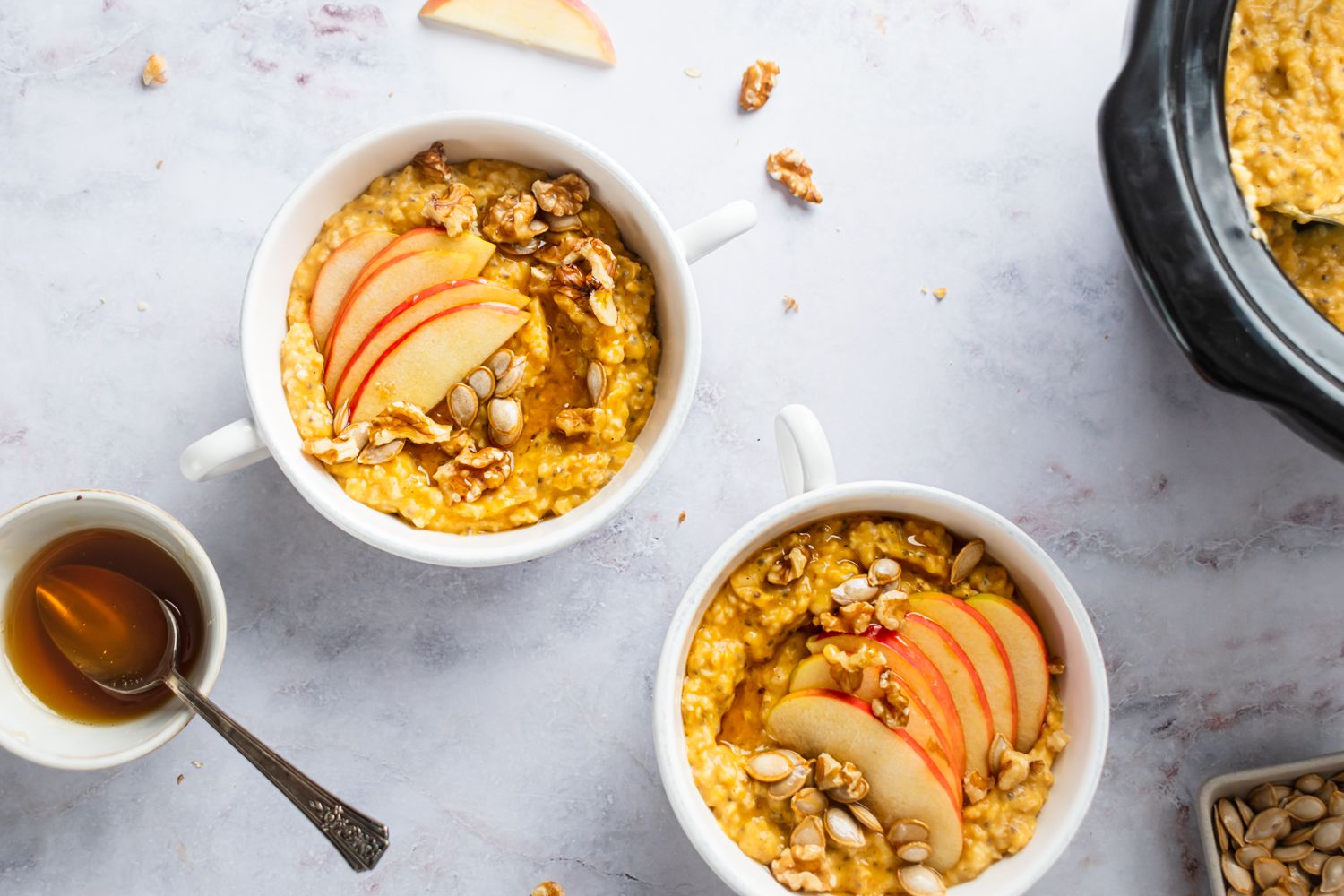 Slow Cooker Steel Cut Oatmeal is the perfect make-ahead breakfast to have on hand all week. Flavored with pumpkin and pumpkin pie spice, this has all the classic flavors of pumpkin pie but in healthy morning oats.
When the weather starts getting cold and fall begins, pumpkin spice season begins. These days you can get almost anything with pumpkin spice and although I am not always the biggest pumpkin fan, I do love it with my morning oats. The pumpkin bumps up the nutritional content of traditional morning oats and the warm cinnamon and nutmeg flavors are perfect for fall. This version made with steel-cut oats is hearty and packed with fall flavor.
This is a great fire and forget it recipe that cooks overnight slowly while you sleep, so you can roll straight out of bed and dish up a hot meal - highly customizable, this dreamy breakfast pick-me-up can be punched up with oodles of fruit and flavors, so you can have whatever flavor combination you please!
Short on time? Make sure to try this Microwave Pumpkin Pie Oatmeal or make your own flavored oatmeal with this Easy Microwave Oatmeal.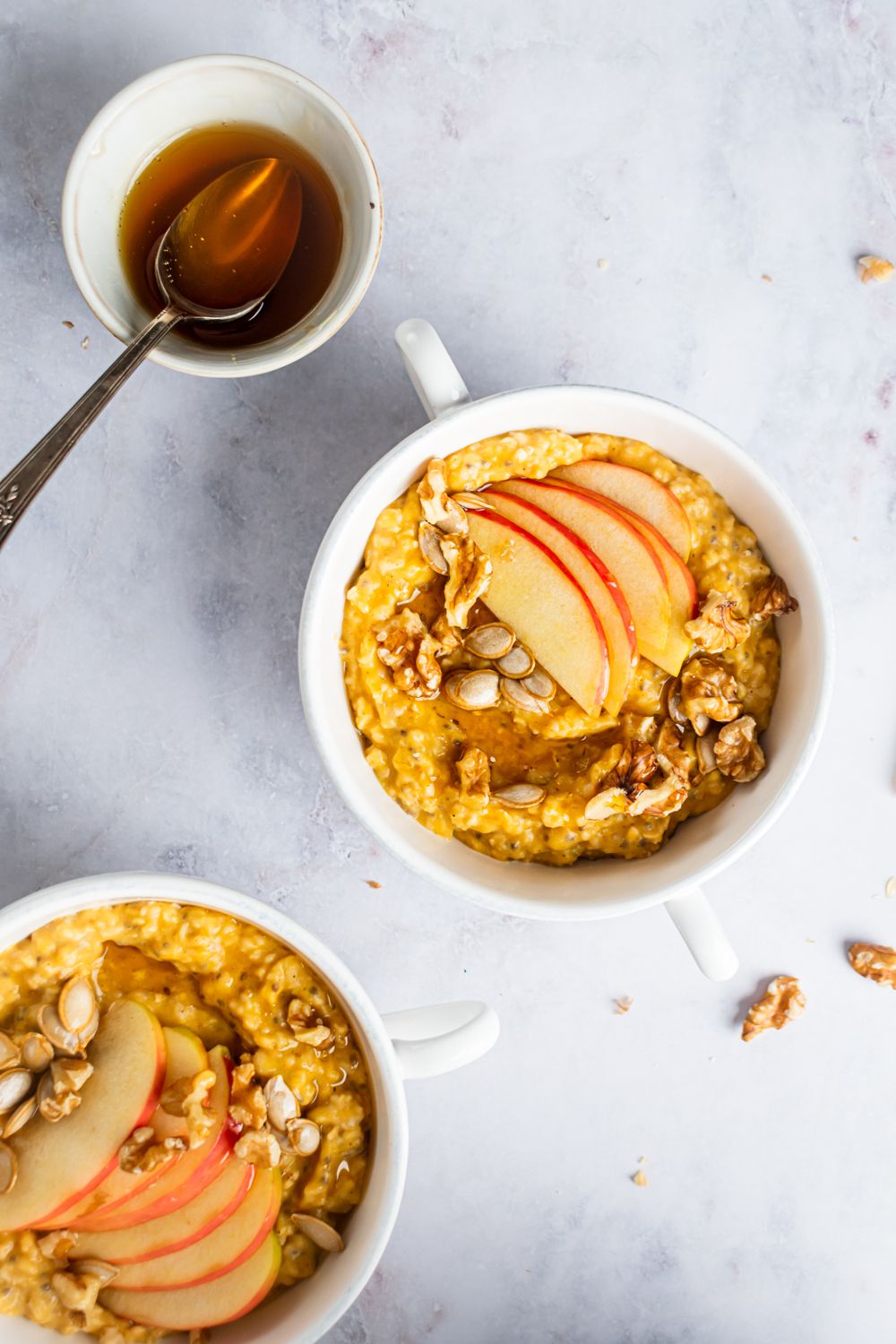 What Goes in Slow Cooker Pumpkin Pie Oatmeal?
This oatmeal has a few more ingredients than the average quick oatmeal you'd make on the stove, but that just means there's more flavor! This simple oatmeal starts with humble, heart healthy Steel Cut Oats, adding butter, canned pumpkin puree, maple syrup, unsweetened vanilla almond milk, warm water, pumpkin pie spices, and dried cranberries, to really punch up that hearty, comforting fall flavor.
Why Use a Slow Cooker?
Since traditional oatmeal only takes around 10 minutes to cook on the stove, you might be asking yourself, why bother with the slow cooker?
Well, let me tell you something – when you make it in a slow cooker, the flavors of the pumpkin puree, pumpkin pie spices, and maple syrup all have time to be soaked up by the oatmeal, and every bite has an overnight-developed, deep flavor that you just can't get in 10 minutes.
Using a slow cooker is also a great way to feed a lot of people; try making oatmeal for more than just a small family on the stove – you're going to end up with some oats burned and others undercooked, but using the slow cooker gets you a nice even cook for those larger batches.
One more reason? Steel cut oats take longer to cook than traditional rolled oats, so this is a great way to cook these heartier oats without having to spend 30 minutes over the stove.
Which Oatmeal is Best for the Slow Cooker?
There are half a dozen different types of oats, each one with its own time and place to be used, but for slow cooked oatmeal? You want to use Steel Cut Oats, as they're sturdier and hold together better over the long cooking time. If you used instant oats for this kind of recipe, they would turn into mush and take on a tacky consistency. Steel cut oats are best for slow cooking.
With Steel Cut Oats your oatmeal comes out with a wonderful consistency that is a pure joy to eat!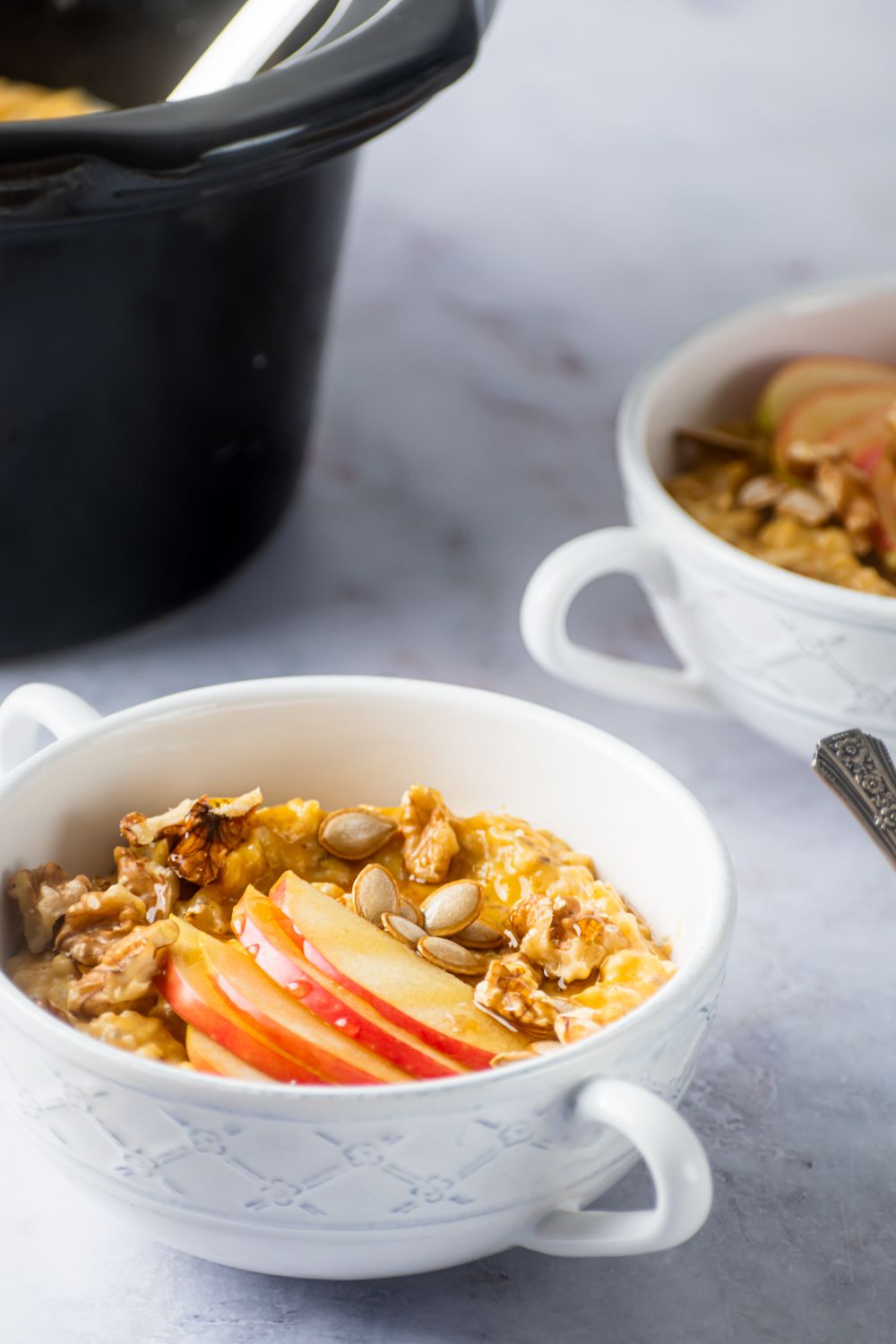 Slow Cooker Oatmeal Tips
Here are a few handy tips to help you make perfect slow cooker oatmeal:
Use a slow cooker liner or nonstick spray, as the oats will try to stick if you don't, and then they will burn.
If you're really worried about burning, then you can cook the oatmeal in a large casserole dish inside the slow cooker sitting in a bath of water filled to about halfway up the casserole container, creating a water bath and allowing for a longer cooking time without any issues with oats sticking.
This recipe can easily be doubled and still work within the overnight cooking time, so long as you have a big enough slow cooker, of course!
Other Fall Oatmeal Recipe Ideas
Pumpkin pie oatmeal is great year-round, but let's all be honest for a minute – pumpkin flavored things just taste better in the Fall, which is why I've compiled a few other Autumnal oatmeal ideas for you.
Apple and Cinnamon: Has there ever been a more classic Fall flavor combination? Use chopped apples or applesauce plus a few tablespoons of cinnamon to have some pie in a bowl for breakfast – we won't tell!
Apple and Cranberry: Add dried cranberries and Granny Smith apples to your oatmeal then mix in some pumpkin seeds before you serve it – give them some of that chewy crunch!
Pecan Butter and Raspberry Jam: For an Autumnal twist on the classic PB&J, go with pecan and raspberry, instead!
Maple and Sweet Potato: This combination might seem a little bit out there, but trust me here that the sweetness of the maple syrup makes this into a delicious and heavy breakfast – perfect for those cold Fall mornings! Just swap in mashed sweet potatoes or butternut squash for the pumpkin.
How to Store Leftovers
It might not seem like an obvious thing to do, but it is absolutely possible to make a really big batch of oatmeal that you will be eating for weeks if you like!
You can store leftover oatmeal in the fridge for 3 or 4 days before the risk of it going bad becomes a concern. You can even put your leftover oats in the fridge – just be sure in either case that you separate it into individual containers so you can just pull one serving out at a time when you need it.
Reheat your leftover oatmeal with a little bit of milk in the microwave.
Frequently Asked Questions
Here are some of the most common questions we hear from readers.
Can these be made with regular rolled oats or instant oats?
These slow cooker oats only work with steel-cut past since regular rolled oats will get mushy and overcooked. If you only have rolled oats, this can be cooked on the stovetop. Just reduce the amount of liquid (usually a 1:1 ratio of oats to liquid) and simmer on the stove for 4-7 minutes until tender. This recipe won't work well with instant oats.
Can this be made with something other than pumpkin?
Most canned pumpkin is actually a combination of pumpkin, butternut squash, and other winter squash. Any mashed squash will work and this recipe is really delicious with mashed butternut squash. You can buy it right in the frozen vegetable section and simply defrost it.
Other options include applesauce, mashed sweet potatoes, or mashed bananas.
What's the best way to freeze steel cut oats?
This recipe is great for meal prep. Start by letting the steel cut oatmeal cool completely. Then you can freeze individual portions in silicone muffin tins or larger silicone freezer cubes. Silicone works best since the oats won't stick to the containers. Once they are frozen, pop them out and store the individual portions in a freezer safe bag. Reheat in the microwave or in a small pot over low heat.
Other Delicious Oatmeal Recipe
Slow Cooker Pumpkin Steel Cut Oatmeal
PREP TIME: 10 Min
COOK TIME: 8 Hours
TOTAL TIME: 8 Hours, 10 Min
Print

Download

Get in your Inbox
Ingredients
1.5

cups

dry steel cut oats

3

cups

unsweetened vanilla almond milk

14

oz.

canned pumpkin puree

3

tbsp

pure maple syrup (more to taste)
Like this Recipe? Try our Meal Plans!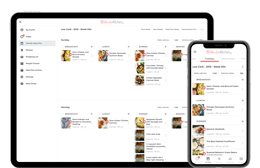 Weekly Meal Plans
Easy Shopping List
Healthy, Low Carb, & Vegetarian
Nutritional Information
Instructions
(Hide Media)
Switch to prevent your screen from going dark.
2
Turn the slow cooker on low for 8 hours or high for 3.5-4 hours. This works great as an overnight recipe, put it in before you go to sleep and enjoy in the morning. I usually put this on right before I go to bed because if it cooks too long it can get mushy. In the morning, you will wake up to delicious pumpkin pie oatmeal. This recipe will keep well in the fridge. I put mine in 1 cup servings and then just throw them in the microwave for a minute and they are ready to go. Add a little milk if needed when reheating.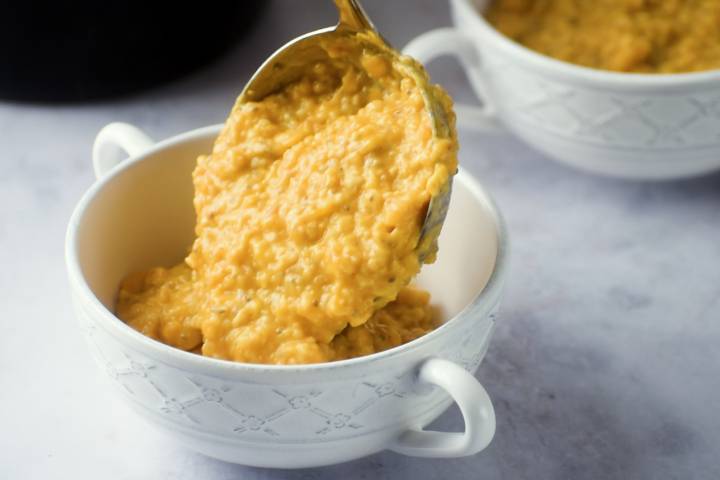 Nutritional Facts
Monounsaturated Fat 0g
0%
Polyunsaturated Fat 0g
0%
* Percent Daily Values are based on a 2,000 calorie diet. Your daily values may be higher or lower depending on your calorie needs.
The Nutritional Values provided are estimates only and may vary based on the preparation method.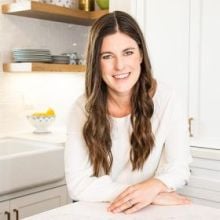 About the author
Meet

Kristen McCaffrey
Hi, I'm the cookbook author, recipe developer, and food enthusiast behind Slender Kitchen. I am obsessed with making healthy food that is easy to prepare and absolutely delicious. Meal planning is my secret weapon and I hope I can make meal time easier for you with our tried and tested recipes and foolproof meal plans.
Learn More
† We are a participant in the Amazon Services LLC Associates Program, an affiliate advertising program designed to provide a means for us to earn fees by linking to Amazon.com and affiliated sites.
Get delicious, healthy recipes delivered each week right to your inbox.
Join over 80,000 subscribers.
Did you make this?
Snap a picture and show us what you made on Instagram or Facebook.
Tag us using @SlenderKitchen or #slenderkitchen.