Potato Gnocchi with Zucchini and Corn
Potato Gnocchi with Zucchini and Corn is in an easy Parmesan garlic sauce is the perfect fifteen-minute weeknight meal. Enjoy it as a meatless meal or add chicken or shrimp for extra protein.
462 CALORIES
82g CARBS
10g FAT
15g PROTEIN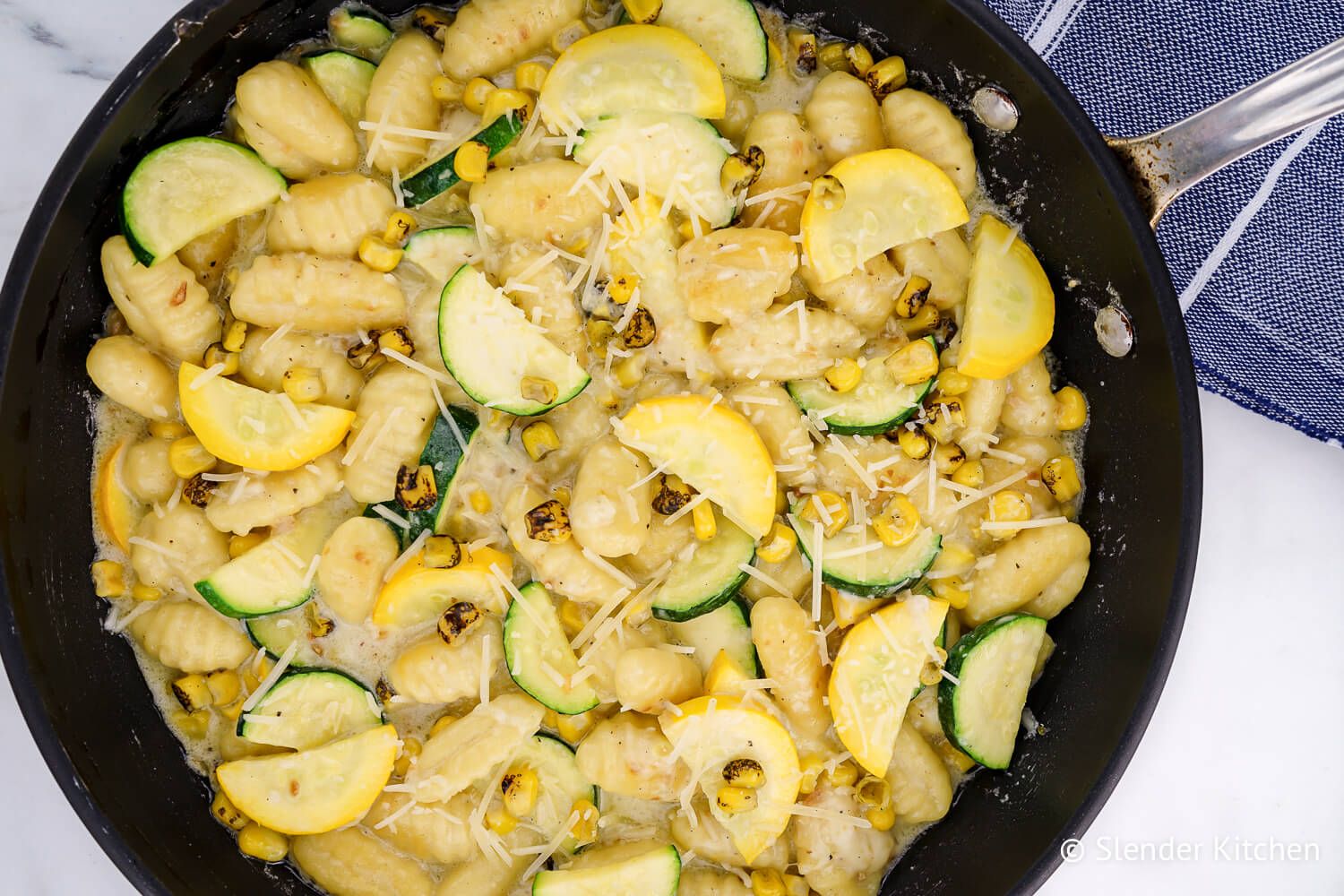 This creamy Potato Gnocchi with Zucchini and Corn is a cheesy pasta dish that is actually on the lighter side. Made with lots of veggies and a lightened up garlic Parmesan sauce, this easy fifteen minute meal is a keeper. Add it to your pasta rotation along with this Chicken Broccoli Pasta and Spinach Artichoke Pasta.
Easy Potato Gnocchi with summer zucchini and corn all in a creamy garlic sauce is one of those meals that you won't believe is so simple to make. It tastes like a restaurant dish but is actually ready in about fifteen minutes. Plus it's one of those meals that you can be sure your whole family will eat. My toddler loved it since it is like a grown up version of mac and cheese and let's be honest, who doesn't love a good cheesy pasta dish. The husband loved it as well, although truth be told he had his with some chicken sausage on the side.
There are three things that make this gnocchi recipe beyond delicious. First is the garlicky Parmesan cream sauce. It's made right in the pan with a combination of the garlic, milk, and Parmesan cheese. It couldn't be simpler to make but it is so creamy and delicious. Next is the veggies. First corn is roasted or slightly charred in the pan. Next, the zucchini and summer squash are cooked in lots of garlic until they are tender crisp. Finally, everything comes together with pillowy potato gnocchi to finish things off. You could substitute in another cooked pasta but the gnocchi makes the dish in my opinion.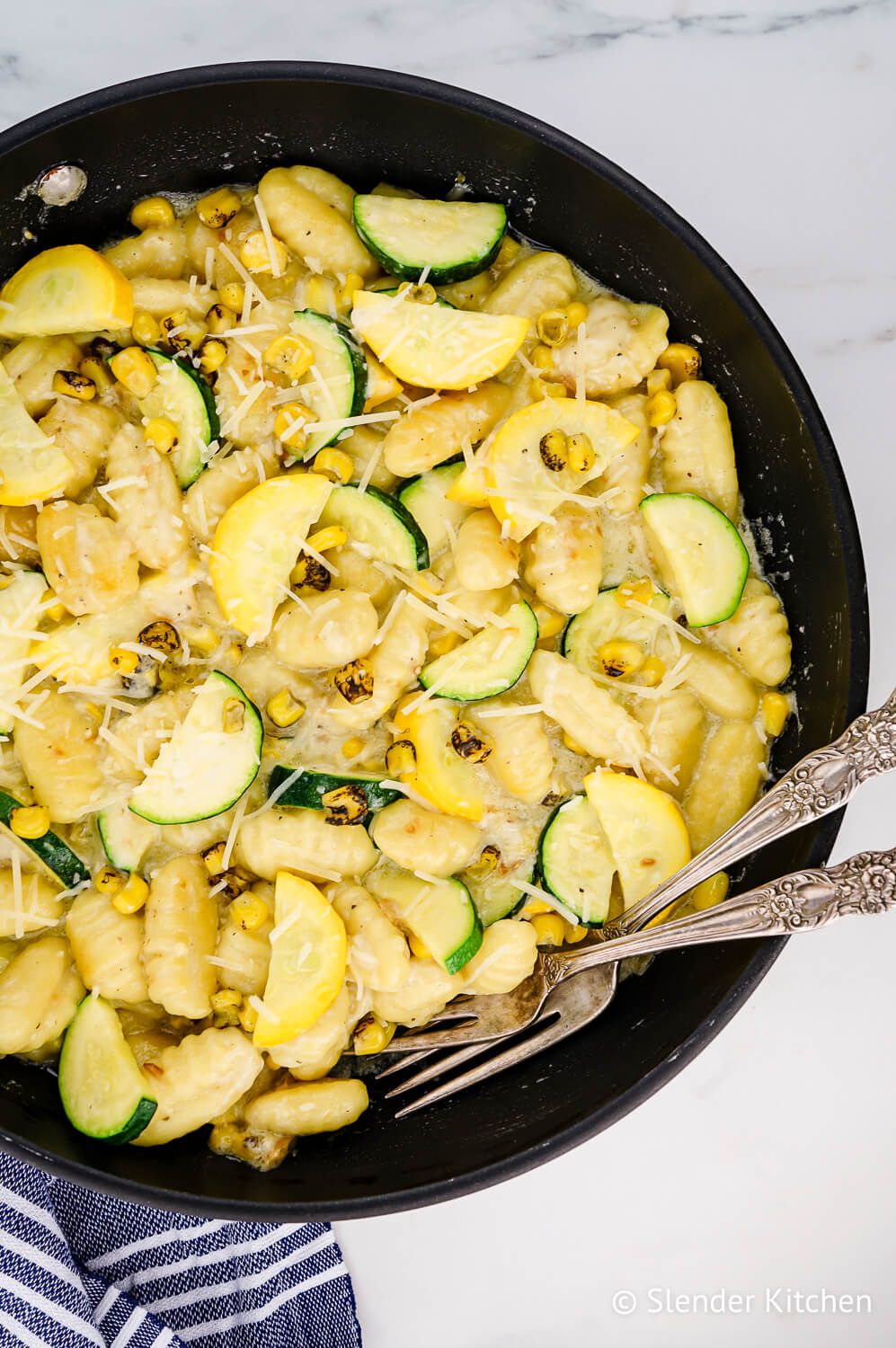 Let's talk about buying potato gnocchi. There are a few different options and it can be tricky to know what to buy. In my grocery store, there are three options - fresh, frozen, and shelf-stable gnocchi that is kept with the dried pasta. In my opinion, it is absolutely worth it to buy fresh gnocchi if you can find it. And if you have an Italian deli or restaurant that sells fresh, make the trip. It almost always tastes better and you don't have to worry about it being heavy or getting gummy. Store-bought fresh gnocchi can also be really good.
Next option is frozen. I find that frozen gnocchi is generally much better than the shelf-stable version. Some favorites include Trader Joe's frozen gnocchi and the Alessi brand. After that, you can find a shelf-stable brand with the dried pasta. These normally aren't my favorite option, although DeLallo, Mediterranea, and Emilia. To lighten things up, you could also use one of the new cauliflower gnocchi on the market. Trader Joe's makes a popular one. And homemade gnocchi is always an option as well.
Is gnocchi pasta or a potato?
Most people consider potato gnocchi a pasta. The Italian version is made with mashed potatoes and flour and formed into a dumpling. However, there are actually all kinds of different gnocchi out there, not just the popular gnocchi di patate or potato gnocchi. There is a gnocchi alla Romana that's made with semolina flour and eggs. There is a gnocchi di ricotta made with ricotta cheese, eggs, and flour. And there is a gnocchi Parisiennee made with a Frenc pâte à choux (cream puff) dough.
Are gnocchi healthy?
Gnocchi can be part of a healthy diet in moderation, much like pasta. Some people feel like gnocchi is a healthier option since it contains potatoes but it can be higher in calories than typical pasta. It really depends on your dietary needs. Additionally, it is important to pay attention to the serving size and be weary of sauces that contain large amounts of cream or butter.
What to serve with potato gnocchi?
Potato gnocchi recipes can be served with all different types of sauces, meats, and vegetables. Traditionally gnocchi is served similar to regular pasta with a marinara or tomato sauce. It can also be served with cream sauce like this recipe. It is popular to pair gnocchi with vegetables since it is a very filling pasta and doesn't necessarily need meat. Generally speaking you can serve gnocchi much in the same way that any pasta dish is served.
How do you know when gnocchi is cooked?
When boiling gnocchi, you know it is cooked when it floats to the top of the water. Normally this takes around three minutes. If you are pan searing gnocchi, it can take 3-4 minutes and is ready once it is crisp and browned on the outside. Be careful not to overcook gnocchi since it can get gummy when cooked to long.
Tips and Tricks for this Gnocchi Recipe
If you want to add protein, try adding chicken, shrimp, or white beans. You can quickly cook the chicken or shrimp in the olive oil before cooking the vegetables. You could also use grilled chicken or rotisserie chicken. For white beans, make sure to drain and rinse the beans first.
If you don't want to use gnocchi, you can use another cooked pasta instead. However, you will want to use 8 oz of dry pasta for four servings instead of 16 oz. of pasta. Gnocchi is much heavier than traditional pasta. To make sure the pasta doesn't overcook in the sauce, make sure to cook it al dente.
You can swap out the veggies in this recipe for anything that's in season or you have on hand. Spinach, tomatoes, asparagus, snap peas, broccoli, and cauliflower are all delicious options.
If you like tomatoes in your pasta, consider adding fresh cherry tomatoes or canned diced tomatoes. If you opt for fresh tomatoes, I like to cook them with the other vegetables until they begin to burst.
To add more brightness to the dish, consider adding some chopped basil and a touch of fresh lemon juice or lemon zest.
For a thicker cream sauce, you can use half and half or whole milk. Fat-free half and half or skim canned evaporated milk will also make a thicker sauce.
Change up the flavor of the cheese sauce by trying the recipe with different cheeses. I love it with goat cheese, gorgonzola, feta, and gouda.
For a lighter option, use frozen cauliflower gnocchi like the one made by Trader Joe's.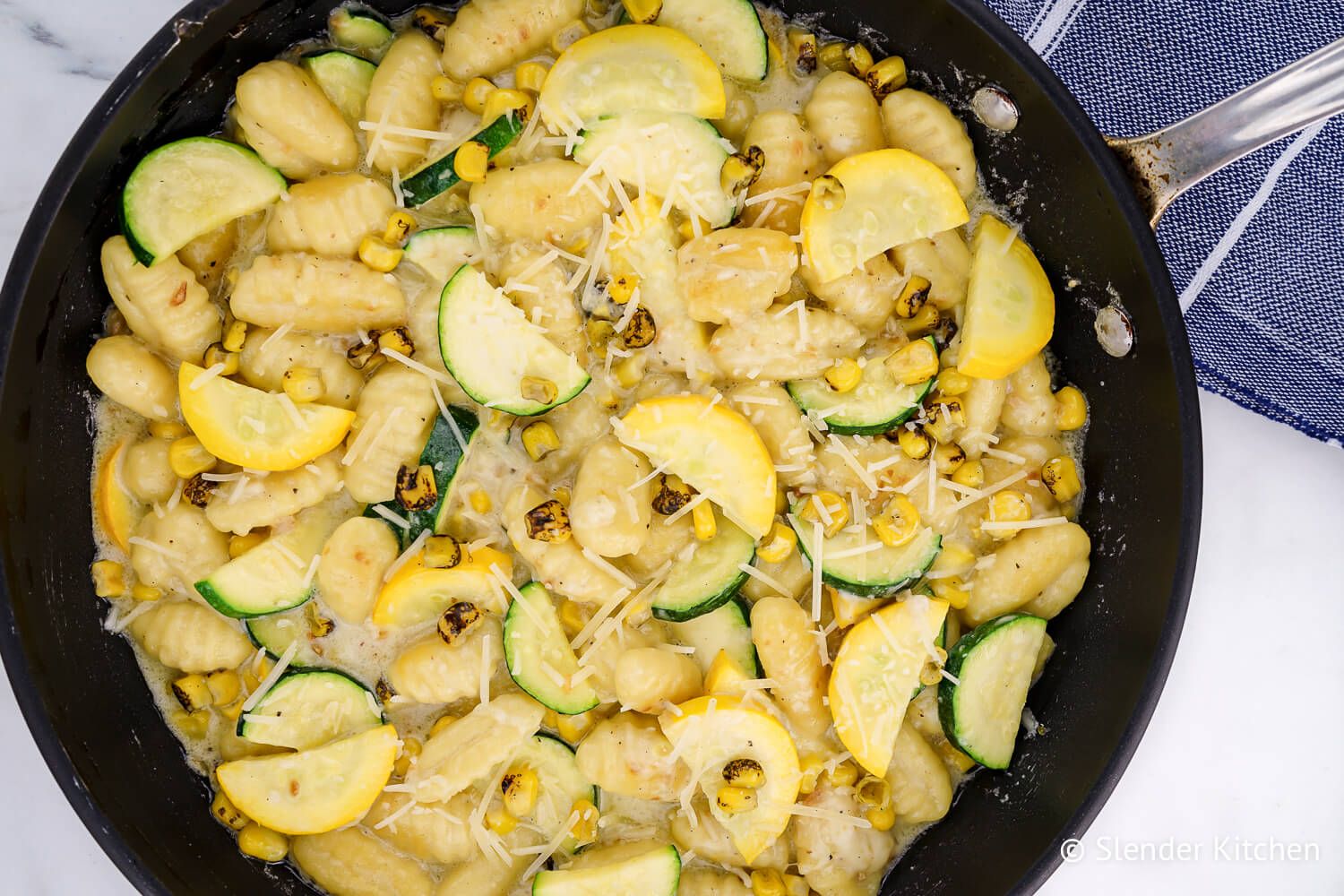 Potato Gnocchi with Zucchini and Corn
PREP TIME: 5 Min
COOK TIME: 15 Min
TOTAL TIME: 20 Min
Print

Download

Get in your Inbox
Ingredients
1

cup

corn (frozen, canned, or fresh)
Like this Recipe? Try our Meal Plans!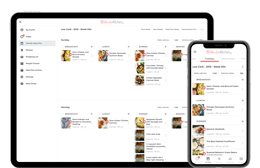 Weekly Meal Plans
Easy Shopping List
Healthy, Low Carb, & Vegetarian
Nutritional Information
Instructions
(Hide Media)
Switch to prevent your screen from going dark.
Nutritional Facts
Monounsaturated Fat 0g
0%
Polyunsaturated Fat 0g
0%
* Percent Daily Values are based on a 2,000 calorie diet. Your daily values may be higher or lower depending on your calorie needs.
The Nutritional Values provided are estimates only and may vary based on the preparation method.
For roasted/charred corn, you have a few options. Normally I roast mine right on a flame on my gas stove until it begins to brown. You could also grill it. To char it, add oil to a skillet and add the corn in one layer. Let it cook until it begins to brown and then stir. You can also buy frozen roasted corn.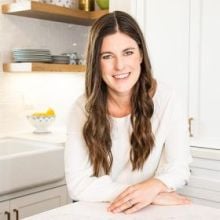 About the author
Meet

Kristen McCaffrey
Hi, I'm the cookbook author, recipe developer, and food enthusiast behind Slender Kitchen. I am obsessed with making healthy food that is easy to prepare and absolutely delicious. Meal planning is my secret weapon and I hope I can make meal time easier for you with our tried and tested recipes and foolproof meal plans.
Learn More
Get delicious, healthy recipes delivered each week right to your inbox.
Join over 80,000 subscribers.
Did you make this?
Snap a picture and show us what you made on Instagram or Facebook.
Tag us using @SlenderKitchen or #slenderkitchen.