Shrimp Tacos with Cilantro Slaw
Shrimp Tacos with Cilantro Slaw with the perfect homemade spicy seasoning make the best seafood tacos and are so easy to make. Ready in less than 20 minutes!
358 CALORIES
33g CARBS
10g FAT
34g PROTEIN
These easy Shrimp Tacos with Slaw are the ultimate warm-weather meal packed with spicy shrimp, crunchy coleslaw, and creamy avocado all wrapped in a warm corn tortilla. Yum.
Have I told you before about my deep love of shrimp tacos? There is just nothing better than sweet shrimp tossed in smoky chipotle chili powder and packed into warm corn tortillas with crunchy cabbage slaw and avocado.
The fact that I can make everything in under 20 minutes makes me love this meal even more. Especially as it gets warmer every night, I pretty much only want dinners like this - fish tacos and shrimp tacos every night and I'm a happy girl.
Something cool and crunchy and refreshing is the perfect remedy for a hot night.
Depending on what you are in the mood for, this recipe can be made with almost any fish or scallops as well. You can also blend the avocado, cilantro, and cumin with a touch of yogurt or sour cream if you prefer a creamy dressing for the slaw. Or make this delicious shrimp taco sauce.
Think about this recipe as your base for building some incredible shrimp tacos. Taco lovers should also try these Chicken Street Tacos, Cajun Shrimp Tacos, and Steak Tacos.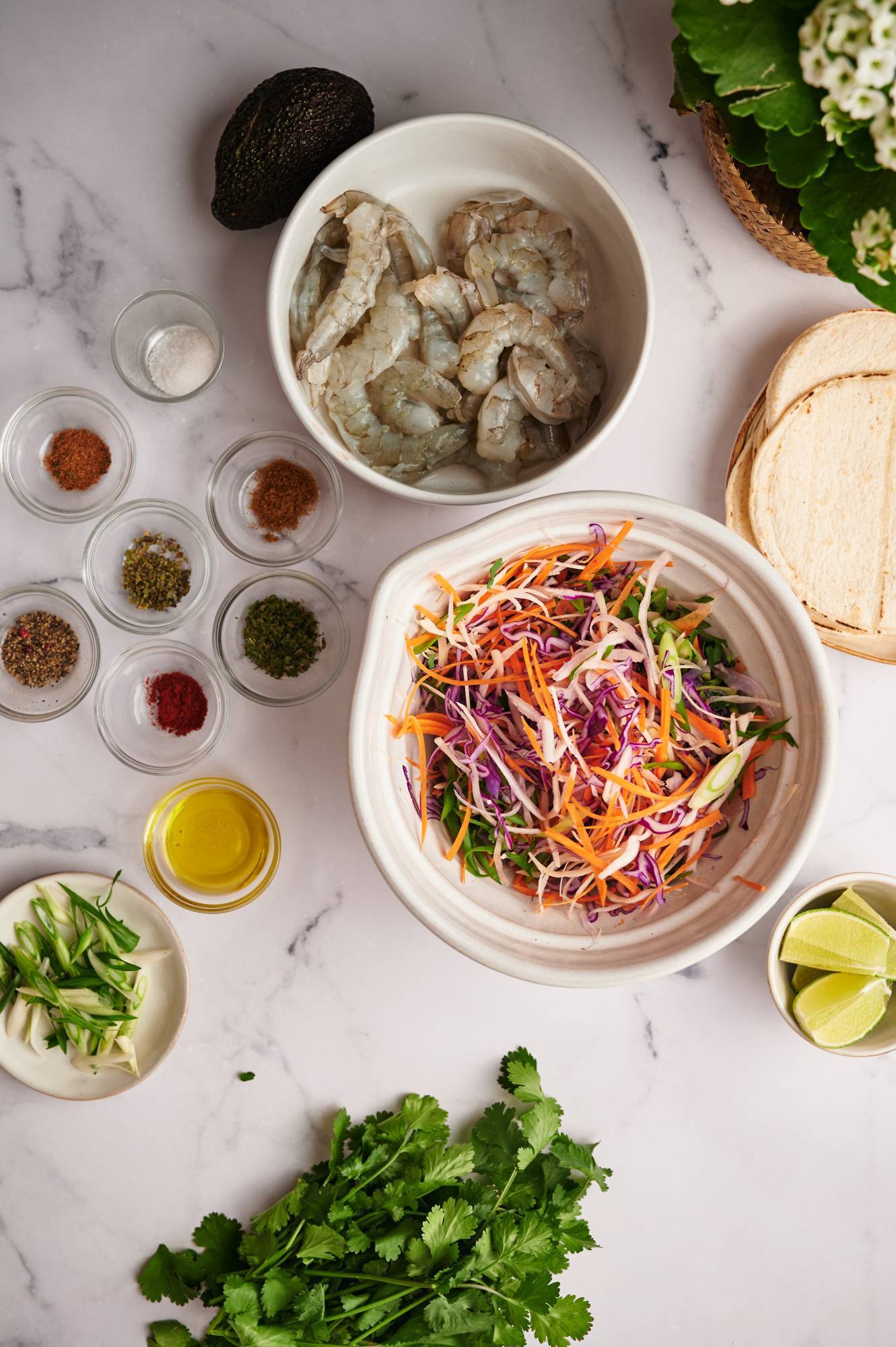 Ingredients and Easy Swaps
Here's everything you need to make these delicious shrimp tacos with homemade slaw.
Shrimp: Any shrimp will work in these tacos, but I recommend medium to large shrimp for the best results. If using frozen shrimp, just make sure to defrost them. Bay shrimp aren't recommended for making tacos since they are so small and have a saltier, briny flavor.
Seasoning: These tacos use a seasoning mix made with ancho chile powder, kosher salt, paprika, oregano, and cumin. Feel free to swap in taco seasoning, fajita seasoning, or blackening seasoning.
Shrimp taco slaw: The crunchy slaw in this recipe is the perfect balance for heat in the taco seasoning. It's made with a combination of shredded cabbage, avocado, lime juice, and cilantro. Swap in purple cabbage or a shredded coleslaw mix if you prefer. The avocado can be left out, but add a creamy element with a spoonful of Greek yogurt or sour cream.
Tortillas: Corn tortillas are the most traditional in shrimp tacos. Small "street-size" flour tortillas, lettuce wraps, and low-carb or grain-free tortillas can also be used.
Side Dishes for Shrimp Tacos
There are so many delicious things you can serve with these yummy tacos. Here are some of the ones I reach for the most often.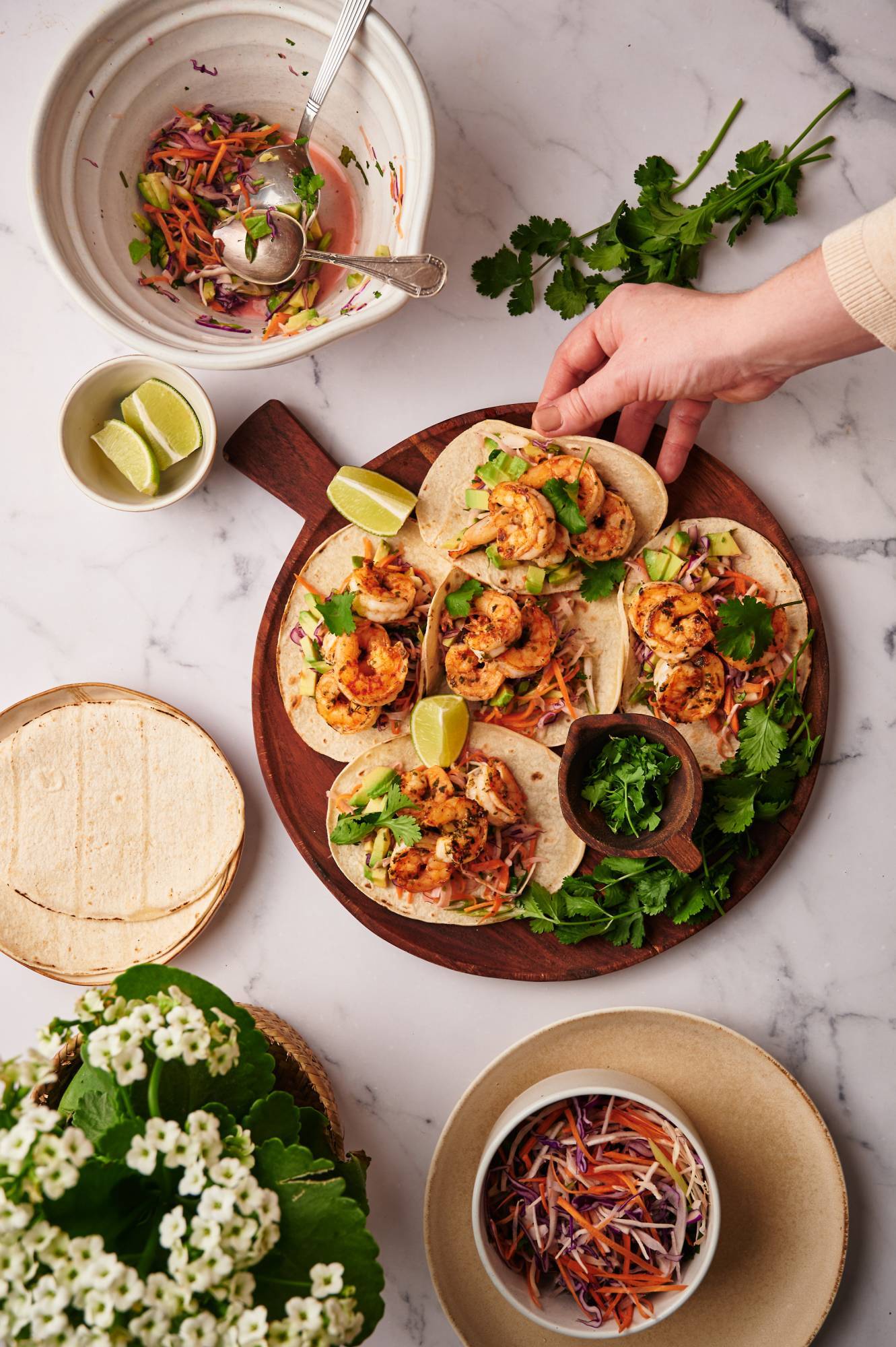 How to Make Shrimp Tacos with Slaw
Follow these easy steps to make homemade tacos packed with spicy shrimp in less than 20 minutes.
1. Make the shrimp taco slaw
Coleslaw is best when it has at least 10-15 minutes to hang out. The cabbage gets softer, the flavors combine, and it just works. So always start with the slaw.
Start by shredding the cabbage or speed things up with a bag of shredded coleslaw mix. Red cabbage, green cabbage, and Napa cabbage all work. It's up to you if you want to include carrots or not.
Add the cilantro and green onions. Then add lime juice, salt, pepper, and cumin to the cabbage and massage it with your fingers. This softens up the cabbage.
If you want a creamy slaw, add a couple of tablespoons of greek yogurt or mayo here.
Add in the avocado right before serving. Season everything with salt and pepper.
2. Prepare the shrimp taco seasoning
This shrimp seasoning mix is easy to make with pantry spices and can easily be adjusted to suit your tastes.
Combine ancho chili powder (or regular), salt, paprika, oregano, and cumin in a small bowl. You can also add some garlic powder and onion powder if you like. Add a pinch of cayenne pepper for more heat.
Toss the shrimp with olive oil and this seasoning mix. Add some lime juice as well if you like lots of lime flavor in your shrimp tacos.
3. Cook the shrimp
To keep things easy, I like to cook my shrimp in a skillet for tacos. All you need to do is toss them with some oil and spices. Then add them to the large skillet over medium-high heat. Make sure to place them in a single layer.
Cook over high heat for 2-3 minutes per side. They are ready when they are pink and opaque. Be careful not to let your shrimp overcook since it will get tough.
You can also throw these shrimp on the grill. Since they can fall through the grates pretty easily, use a grill basket or thread them onto skewers. Grill them for 2-3 minutes per side.
Lastly, you could also use the broiler to make shrimp for tacos. Just spread the shrimp out on a sheet pan and place it under a hot broiler. Broil for 2-3 minutes per side.
Shrimp Taco Toppings
When choosing toppings for tacos with shrimp, you want to make sure to find things that won't cover the taste of the shrimp. Since it is a more expensive ingredient, you want to be able to taste it.
That's why we like to stick to a simple cabbage slaw flavored with lime juice and cilantro. It also adds a great crunch to the tacos. Add a sprinkle of queso cotija or queso fresco if you like.
If you aren't in the mood for cabbage slaw, you can go more traditional and reach for diced onions, cilantro, lime wedges, salsa, chopped avocado, guacamole, or sour cream.
When choosing a salsa, look for something that isn't too smoky since the shrimp is already seasoned with chipotle powder. I like something light and refreshing like pico de gallo or mild green salsa. Or if you really want things spicy, try this homemade habanero salsa.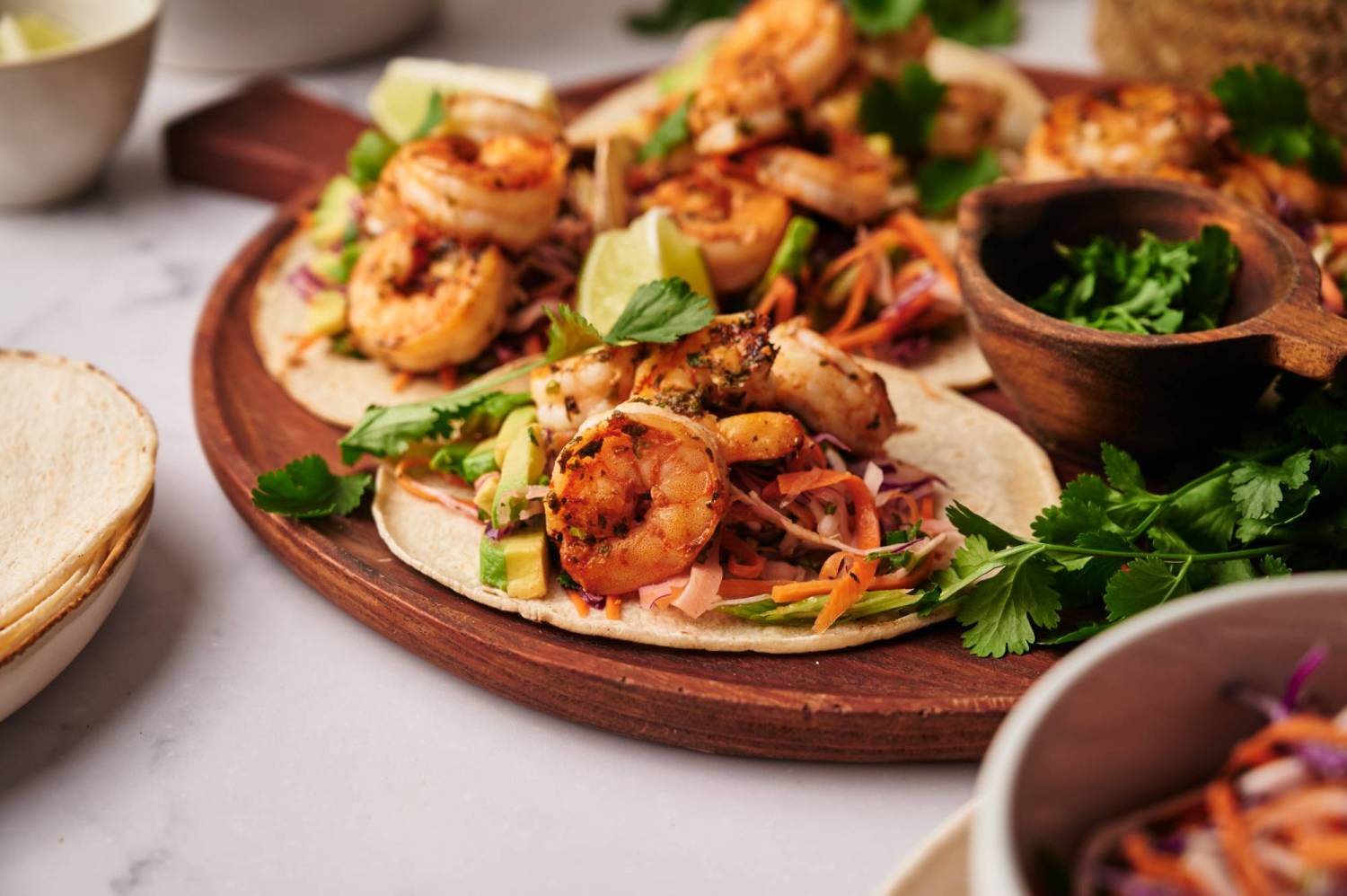 Recipe Ideas for Shrimp Tacos
There are lots of ways to customize this recipe and make it your own.
Mango salsa: When I am not in the mood for the cabbage slaw, you can be assured I am making a simple mango slaw. All you need is chopped mango, cilantro, red onion, lime juice, salt, and pepper. It adds a delicious sweetness to the spicy shrimp. This salsa is also great on traditional fish tacos.
Make shrimp taco sauce: To make an easy shrimp taco sauce, blend 3/4 cup Greek yogurt with 1/4 cup mayonnaise (or sour cream), juice of 1 lime, 1/2 cup cilantro, 2 green onions, and 1 jalapeno if you want it spicy. Season with salt and pepper.
Tone down the spice: These tacos aren't overly spicy but the chipotle chili powder does pack a punch. To down it down, you can leave it out completely or use regular chili powder instead, which tends to be less spicy.
Make taco bowls: For something different, swap in cooked brown or cauliflower rice for the tortillas and make taco bowls. This is a great option for meal prep.
Use lettuce wraps: For a low-carb option, wrap up your shrimp tacos in lettuce wraps.
Make crispy taco shells: To add a crunchy option, make baked taco shells. They only take 8-10 minutes in the oven.
Make tostadas: Another option is to make tostadas. Start by baking the tortillas in the oven at 400 degrees for 8-10 minutes. Spread on some refried black beans, shrimp, avocado slaw, and some queso fresco.
Can I make these with frozen shrimp?
Generally speaking, you don't want to cook with frozen shrimp since the outside quickly overcooks while the inside remains raw. Instead, place the shrimp in the fridge the night before you plan on making the tacos so your shrimp is ready to cook. You can also buy previously defrosted shrimp.
How do defrost frozen shrimp quickly?
If you need your shrimp quickly, start by placing the shrimp in a large bowl in the sink. Cover them with cold water and let the water continue to run into the bowl at a slow trickle. After about 15 minutes, your shrimp will be ready to cook. Just make sure to dry them before cooking to remove any excess water.
Frequently Asked Questions
Here are the most common questions about making these shrimp tacos.
Shrimp is cooked when it turns pink and is opaque. It should be firm to the touch, but not rubbery. Since shrimp will continue to cook for a couple of minutes after it is removed from the heat, it is best to remove the shrimp as soon as they are pink and firm.
Absolutely! The grill adds even more flavor to the shrimp. They will take 2-3 minutes per side on a hot grill. One note, use a grill basket or skewers so the shrimp don't fall through the grill grates.
There are lots of different sizes and options when it comes to shrimp. The first decision will be to buy frozen or fresh. Frozen is fine and usually is a bit more affordable. \
Next look for shrimp that has the shell removed and has been deveined. This will save you lots of prep time.
Finally, you can buy any size shrimp you like. Just be aware that it will affect the cooking time. Usually, I look for medium to large shrimp, with a count of around 20-24 shrimp per pound.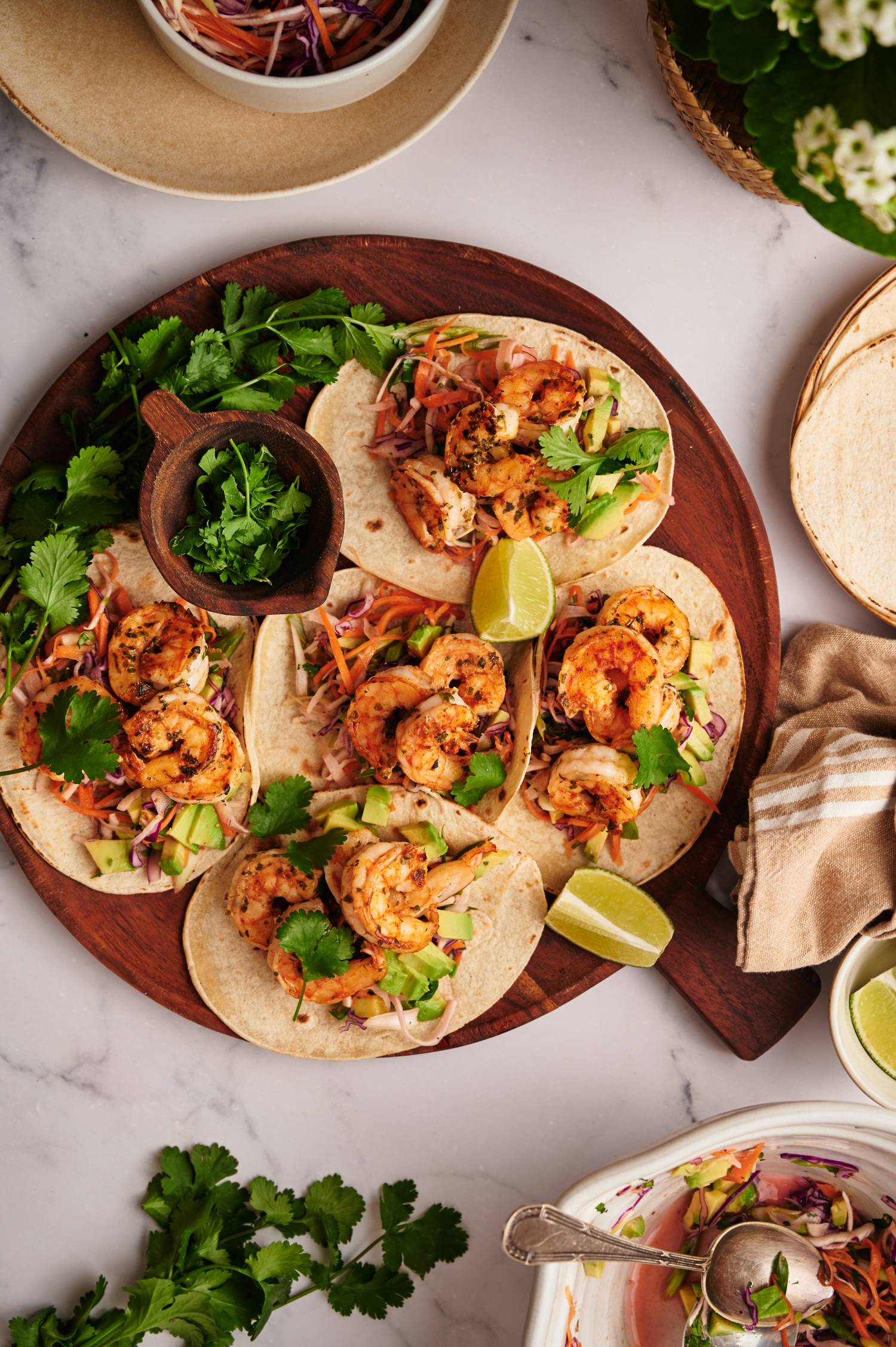 Shrimp Tacos with Cilantro Slaw
PREP TIME: 5 Min
COOK TIME: 15 Min
TOTAL TIME: 20 Min
Print

Download

Get in your Inbox
Ingredients
1

tsp.

ancho chili powder (chipotle chili powder)

1/4

cup

cilantro, chopped

3

tbsp.

lime juice (or more)
Like this Recipe? Try our Meal Plans!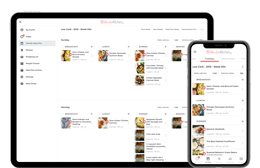 Weekly Meal Plans
Easy Shopping List
Healthy, Low Carb, & Vegetarian
Nutritional Information
Instructions
(Hide Media)
Switch to prevent your screen from going dark.
Nutritional Facts
Monounsaturated Fat 0g
0%
Polyunsaturated Fat 0g
0%
* Percent Daily Values are based on a 2,000 calorie diet. Your daily values may be higher or lower depending on your calorie needs.
The Nutritional Values provided are estimates only and may vary based on the preparation method.
Always make sure to clean and devein the shrimp before cooking them. Since the shrimp will be served in a taco, make sure they are shelled with the tails removed.
Shrimp cook very quickly and can be rubbery if overcooked. Make sure to watch them closely and remove them from the pan as soon as they are pink and opaque.
If you do not have ancho chile powder, you can swap in regular chili powder.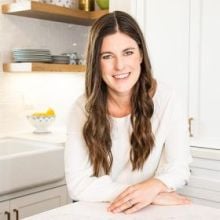 About the author
Meet

Kristen McCaffrey
Hi, I'm the cookbook author, recipe developer, and food enthusiast behind Slender Kitchen. I am obsessed with making healthy food that is easy to prepare and absolutely delicious. Meal planning is my secret weapon and I hope I can make meal time easier for you with our tried and tested recipes and foolproof meal plans.
Learn More
Get delicious, healthy recipes delivered each week right to your inbox.
Join over 80,000 subscribers.
Did you make this?
Snap a picture and show us what you made on Instagram or Facebook.
Tag us using @SlenderKitchen or #slenderkitchen.