Grilled Lemon Pepper Chicken
Make juicy and flavorful Lemon Pepper Grilled Chicken that is perfectly cooked and full of flavor. The quick and easy recipe is a crowd-pleaser and great for summer grilling.
420 CALORIES
4g CARBS
20g FAT
53g PROTEIN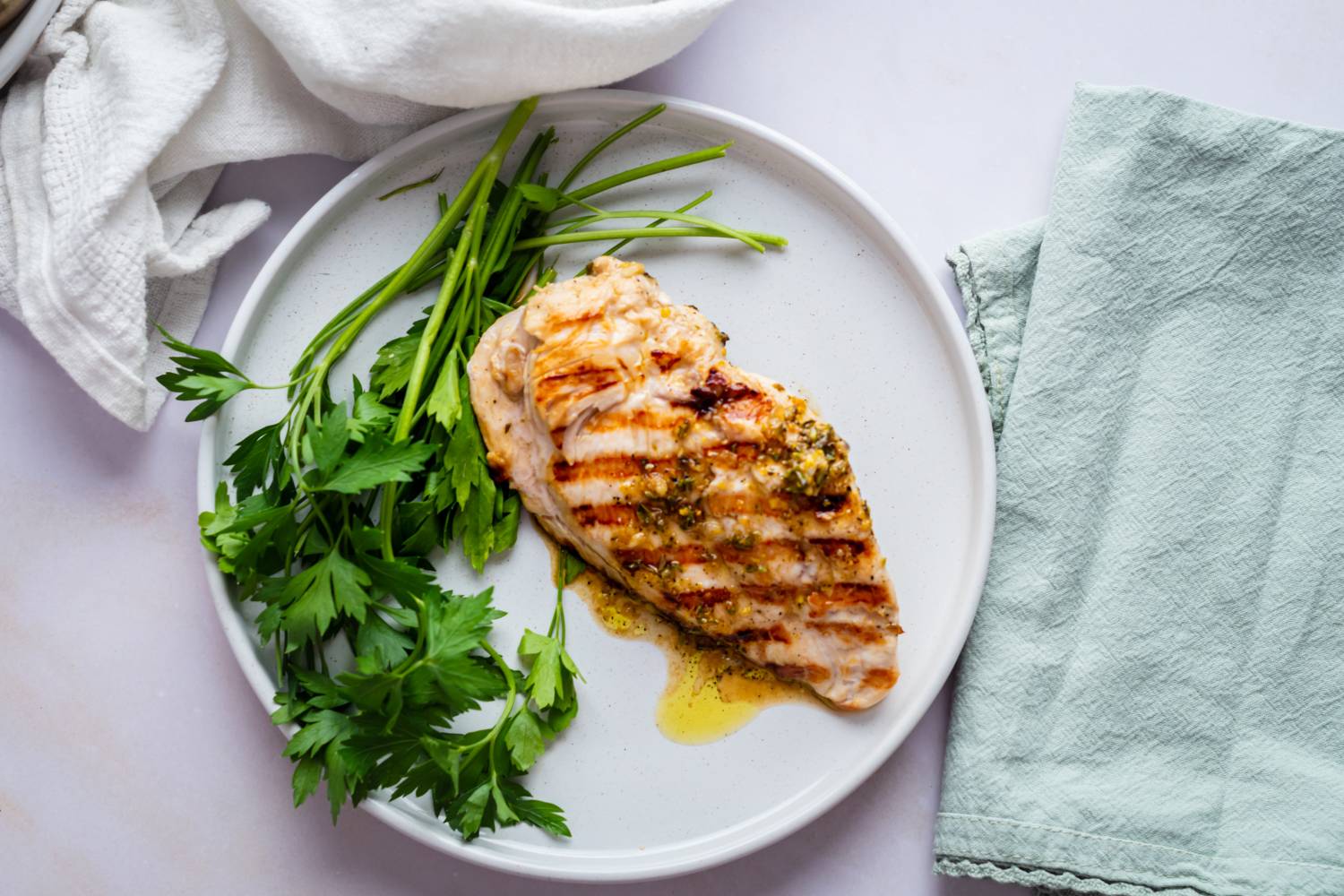 Instead of making the same boring grilled chicken breast this summer, it's time to try this easy Grilled Lemon Pepper Chicken. It is simple to make, packed with tons of flavor, and pairs great with grilled vegetables, rice, salads, and more. We also love using this recipe to make grilled chicken sandwiches.
With summer and warm weather coming, we are all about getting outside and cooking on the grill.
At the top of our list is this easy grilled chicken in lemon pepper marinade. It's quick, flavorful, and versatile. The easy grilled chicken can be served in so many different ways. It is perfect for barbecues, an easy weeknight dinner, and great for meal prep.
Why We Love Grilled Lemon Pepper Chicken
Zesty and flavorful: Never worry about bland chicken with this recipe. With tons of lemon and black pepper flavor, this chicken is full of flavor.
Versatile: This easy grilled chicken can be used for a main dish, sandwiches, wraps, grain bowls, chicken salad, and more. The bright flavor work in so many different meals.
Easy cleanup: Pair this with some grilled vegetables and grilled red potatoes for an outdoor meal with minimal cleanup.
Love lemon pepper? Don't miss this Baked Lemon Pepper Chicken, Lemon Pepper Salmon, and Lemon Pepper Tilapia.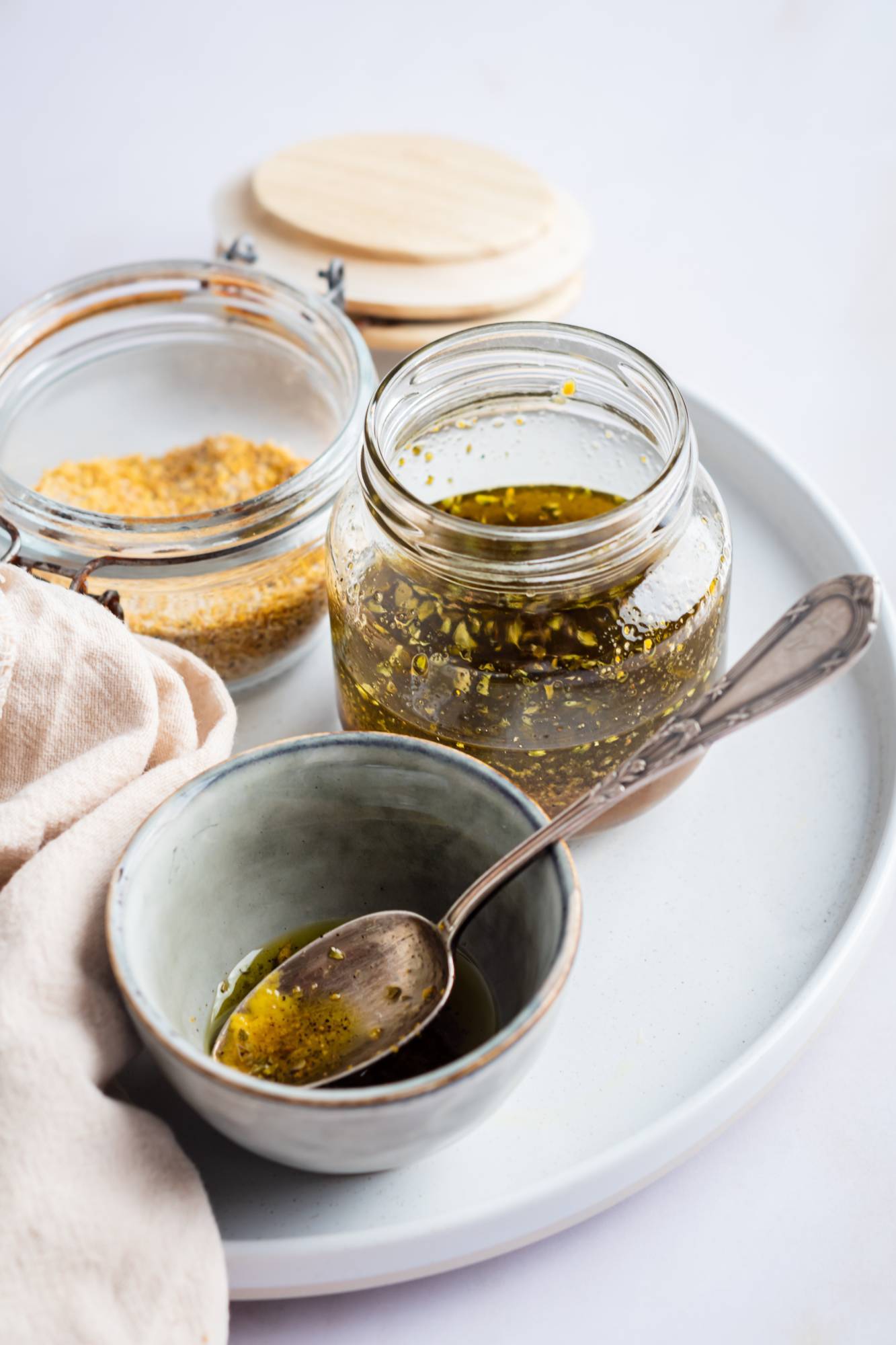 Ingredients and Substitutions
Here is everything you need to make this delicious grilled chicken.
Chicken breast: This recipe will work with chicken breast, chicken thighs, drumsticks, and wings. Just adjust the cooking time as needed. Boneless skinless chicken breasts and thighs are the easiest options, cooking in about 10 minutes on the grill.
Lemon juice: Fresh lemon juice adds flavor to the chicken and also works to tenderize the chicken. Marinating chicken in lemon juice is a very easy way to ensure moist, juicy chicken on the grill.
Olive oil: Any type of oil can be used in this recipe. Just choose something with a neutral or complimentary flavor.
Lemon pepper seasoning: Homemade lemon pepper seasoning is really delicious but does take some time to make. Store-bought works great. For the best flavor look for one with natural ingredients with real lemon zest as an ingredient. Most lemon pepper also contains garlic powder, salt, onion powder, and lots of black pepper.
Worcestershire sauce: This acts to add some umami flavor to the chicken to balance the brightness of the lemon. Swap in soy sauce if you prefer.
Dijon mustard: This is completely optional but it builds on the savory flavors in the dish. Whole grain or Dijon mustard can be used, do not use yellow mustard.
Oregano: Use any fresh or dried herbs you like in this dish. You can also swap in paprika, smoked paprika, cayenne pepper, chili powder, dried dill, dried basil, or Italian seasoning.
How to Grill Lemon Pepper Chicken
Follow these easy steps to make this chicken on the grill.
1. Marinate the chicken
Start by making the lemon pepper marinade. Combine fresh lemon juice, olive oil, lemon pepper seasoning, Worcestershire sauce, mustard, and oregano.
Then prepare the chicken. The most important thing is that the chicken is uniform in thickness so that it cooks evenly on the grill, Either pound down the chicken breasts or butterfly larger chicken breasts.
Add them to the marinade and place everything in the fridge. Ideally, this chicken will marinate for 1-2 hours, but even 20-30 minutes will add a lot of flavor. Don't let the chicken marinate for more than 2 hours or the lemon juice will begin to break down the chicken and cause it to get mushy.
2. Prepare the grill
One of the keys to making really good grilled chicken is actually prepping the grill. Make sure the grill grates are clean. Then preheat the grill to medium-high heat.
Right before cooking the chicken, gently oil the grill grates. You only need a tiny bit of oil for this. Too much oil and it will catch fire in the grill. This helps ensure the chicken doesn't stick to the grill.
3. Grill and let rest
Remove the chicken from the fridge 20-30 minutes before cooking it so it can come to room temperature. Then remove the chicken breasts from the marinade and let the excess drip off.
Place the chicken on the grill and let it cook for 4-5 minutes on the first side until it naturally releases from the grill. It should have some nice grill marks. If it is sticking to the grill, it may not be ready to flip.
Once the chicken is nicely browned and grilled on one side, flip it over and cook for 3-4 minutes on the other side. The second side usually cooks more quickly. Remove once the chicken is cooked through. Loosely Tent with foil and let rest for at least 5 minutes.
The exact cooking time will depend on how thick the chicken breasts are. Using a meat thermometer is the best way to make sure it doesn't overcook or become dry. Remove the chicken when it reaches an internal temperature of 165°F.
Side Dish Ideas
Since this dish is cooked on the grill, the easiest side dishes are either made on the grill or can be prepped without needing to turn on the oven.
Think grilled veggies, salads, and more. Here are some favorites: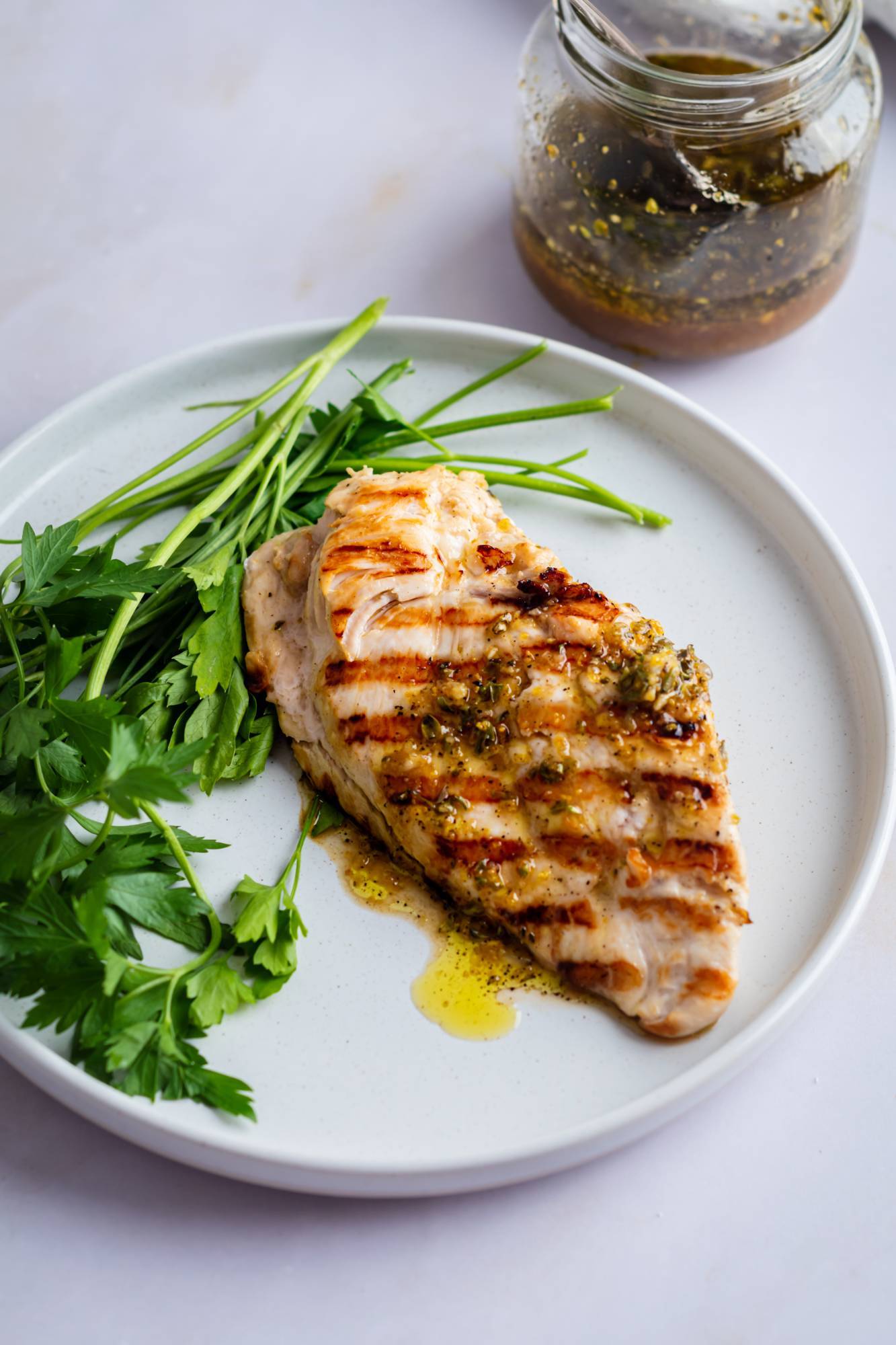 Storage and Leftover Ideas
If you have any leftover grilled chicken you can store them in an airtight container in the refrigerator for up to 3 days. Just make sure to let it fully cool before storing it.
The leftover chicken can be enjoyed cold in salads, sandwiches, or wraps, or you can gently reheat it in a skillet until warmed through.
You can freeze the chicken in the marinade for up to 3 months. Thaw it in the refrigerator overnight before grilling. Keep in mind that the texture of the chicken may be slightly affected after freezing and thawing.
Expert Tips for Grilling Chicken
Don't be intimidated by making chicken on the grill. Follow these tips for delicious, juicy grilled chicken every time.
Preheat the grill: Ensure your grill is preheated to the appropriate temperature before placing the chicken on it. This helps to sear the chicken quickly and locks in the juices, resulting in a moist and flavorful final dish.
Uniform thickness: If your chicken breasts are of varying thickness, pound them gently or slice them in half horizontally to achieve a uniform thickness. This ensures that they cook evenly and prevents overcooking the thinner parts.
Let it rest: Allowing the grilled chicken breast to rest for a few minutes before serving is crucial. This allows the juices to redistribute throughout the meat, resulting in a more tender and juicy texture.
Oil the grill grates: To prevent sticking, brush the grill grates with oil or use a non-stick cooking spray before placing the chicken on the grill. This also helps in achieving those beautiful grill marks.
Recipe Variations and Ideas
This grilled chicken and lemon pepper marinade is easy to customize, You can experiment with different flavors and ingredients.
Here are a few recipe ideas to try:
Honey Lemon Pepper Chicken: Add a touch of sweetness by adding honey or brown sugar to the marinade. This combination of sweet and savory is really delicious. The honey also helps the chicken to caramelize on the grill.
Spicy Lemon Pepper Chicken: If you crave some heat, add red pepper flakes or cayenne pepper to the marinade. Adjust the amount according to your desired spice level.
Herb-Marinated Lemon Pepper Chicken: Add chopped fresh herbs like rosemary, thyme, or basil to the marinade.
Frequently Asked Questions
Here are the most common questions about making this recipe.
Yes! If you don't have access to an outdoor grill, you can use a stovetop grill pan or an indoor electric grill. Preheat them according to the manufacturer's instructions and follow the grilling steps as mentioned in the recipe. This chicken can also be baked in the oven or cooked in the air fryer.
While fresh lemon juice provides the best flavor, you can use bottled lemon juice in a pinch. Just make sure it is 100% pure lemon juice without any added sweeteners or preservatives.
This lemon pepper marinade works well with other proteins like boneless skinless chicken thighs, pork chops, or even shrimp. Adjust the grilling time accordingly based on the type and thickness of the meat.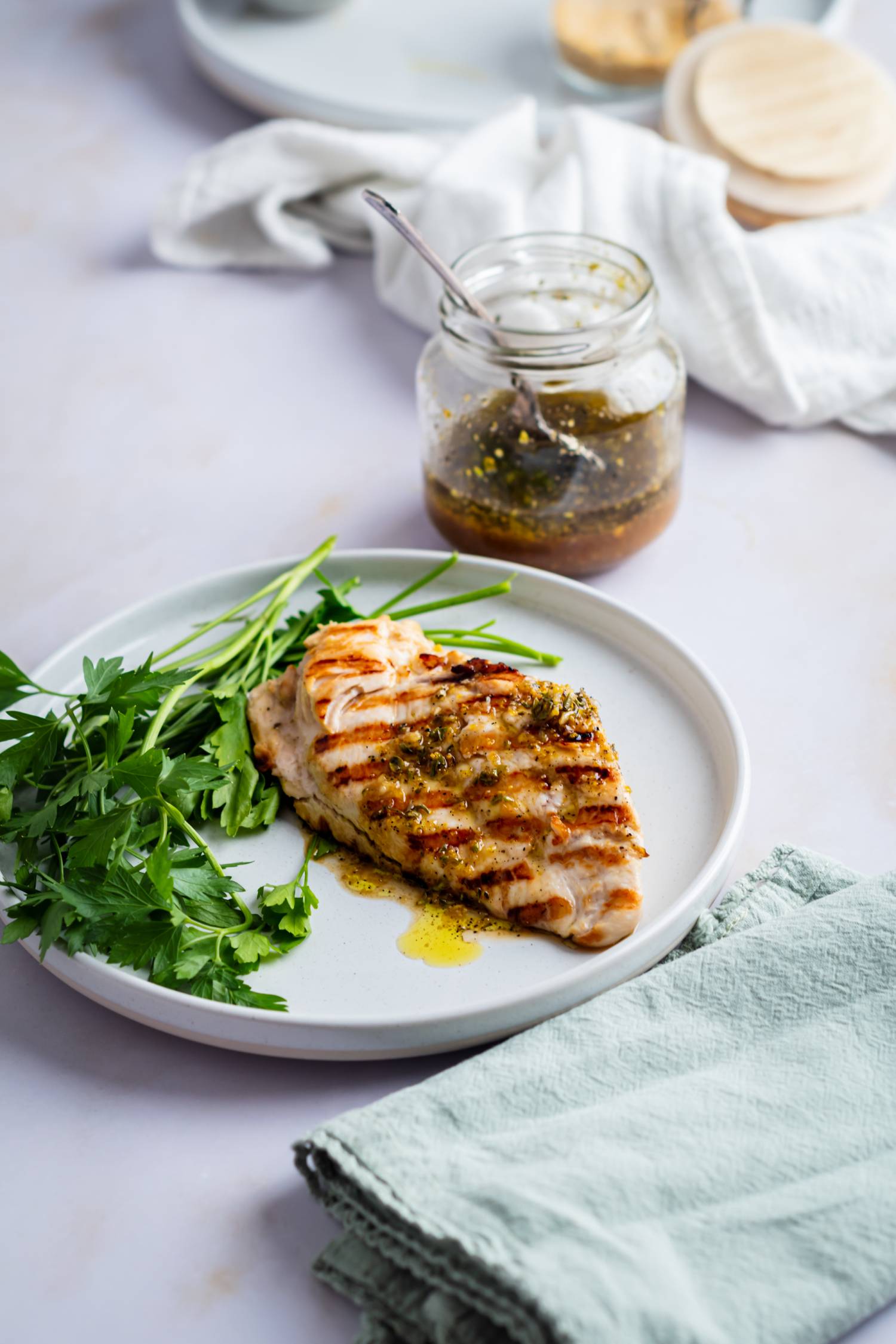 Grilled Lemon Pepper Chicken
PREP TIME: 1 Hours
COOK TIME: 15 Min
TOTAL TIME: 1 Hours, 15 Min
Print

Download

Get in your Inbox
Ingredients
4

boneless skinless chicken breasts (smaller breasts)

1/4

cup

fresh lemon juice

2

tbsp

lemon pepper seasoning

2

tbsp

Worcestershire sauce

1

tbsp

Dijon mustard (optional)

1

Salt to taste (only if needed, many times lemon pepper seasoning has salt)
Like this Recipe? Try our Meal Plans!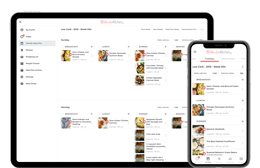 Weekly Meal Plans
Easy Shopping List
Healthy, Low Carb, & Vegetarian
Nutritional Information
Instructions
(Hide Media)
Switch to prevent your screen from going dark.
Nutritional Facts
Serving Size:
1 chicken breast
Monounsaturated Fat 2g
0%
Polyunsaturated Fat 1g
0%
* Percent Daily Values are based on a 2,000 calorie diet. Your daily values may be higher or lower depending on your calorie needs.
The Nutritional Values provided are estimates only and may vary based on the preparation method.
If you do not have a gas or charcoal grill, cook this in a hot cast iron skillet for 4-5 minutes per side, depending on the thickness.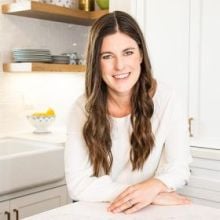 About the author
Meet

Kristen McCaffrey
Hi, I'm the cookbook author, recipe developer, and food enthusiast behind Slender Kitchen. I am obsessed with making healthy food that is easy to prepare and absolutely delicious. Meal planning is my secret weapon and I hope I can make meal time easier for you with our tried and tested recipes and foolproof meal plans.
Learn More
Get delicious, healthy recipes delivered each week right to your inbox.
Join over 80,000 subscribers.
Did you make this?
Snap a picture and show us what you made on Instagram or Facebook.
Tag us using @SlenderKitchen or #slenderkitchen.