These Easy Roasted parsnips made with just 5 ingredients come out crispy and full of natural sweetness! This vegetable side dish will soon be a family favorite.
117 CALORIES
21g CARBS
4g FAT
1g PROTEIN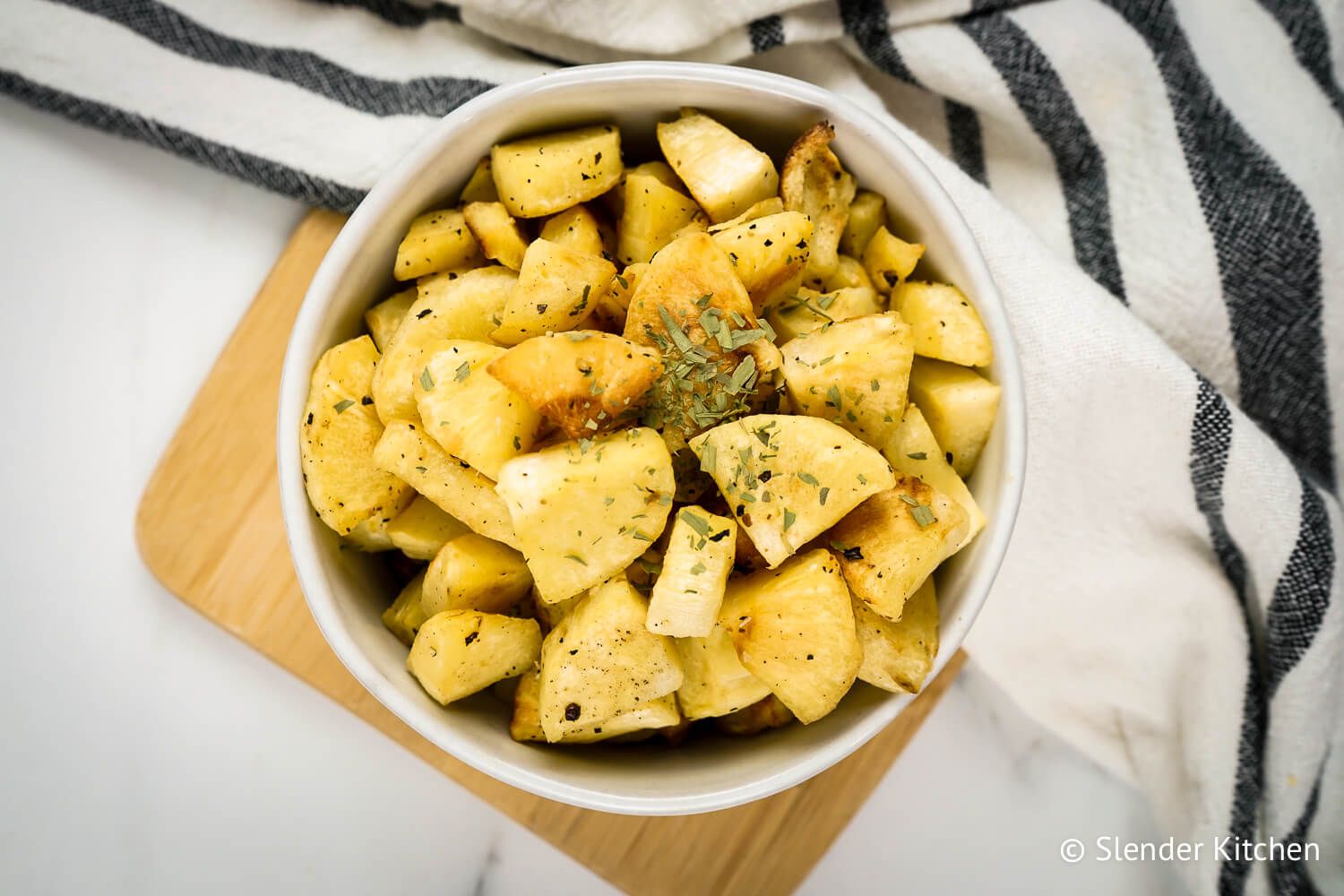 When it comes to root vegetables, parsnips are often overlooked but it's time to put them center stage. These Roasted Parsnips made with olive oil and Italian seasoning are a perfect weeknight side dish ready in just 30 minutes.
Everyone has tried roasted carrots. Most of us have tried roasted beets or roasted turnips. But have you tried a roasted parsnip? This sweet and creamy vegetable, which looks like a white carrot, is full of flavor and a great way to add a new veggie to your routine.
With their natural sweetness, they are a hit with my kids and I love that we are all eating more vegetables. Plus they are easy to find during winter months and make a nice alternative to carrots and potatoes.
Parsnips also make a really delicious french fry! These Crispy Parsnip Fries are another great way to try cooking parsnips.
What is a parsnip?
If you haven't ever tried a parsnip before, it looks like a white carrot. It tastes similar to carrots but it is sweeter and more earthy. Many people describe the flavor as nutty.
This isn't surprising since parsnips are related to carrots and are part of the same family. They are root vegetable that looks like a pale, cream-colored carrot with a larger, thicker base. They can be found year-round in most grocery stores but are most popular during the fall and winter months.
While parsnips can be consumed in all different ways - raw, mashed, sauteed, boiled, or as soup - we are partial to this roasted option. When you roast a parsnip, it gets caramelized and the natural sweetness comes out. It also gets those little browned, crispy edges that are hard to beat with roasted vegetables. In our house, we fight over the almost burnt pieces. Trust me, you will too.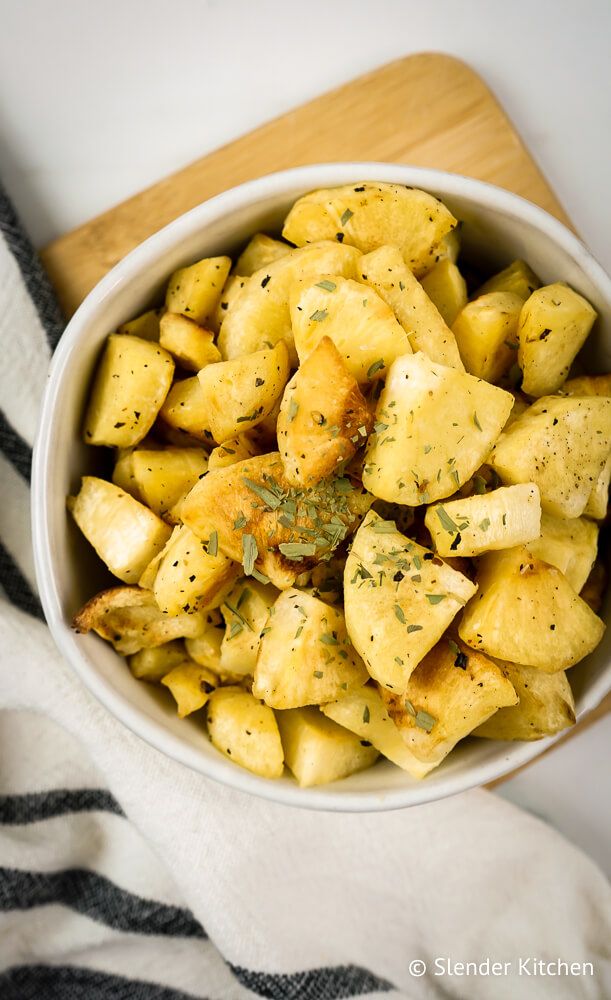 How to Roast Parsnips
Roasting parsnips couldn't be easier and takes less than 30 minutes. Here's what to do:
Prepare and cut the parsnips: Wash and/or peel your parsnips. Decide how to chop your parsnips - sticks, wedges, half moons, quartered. You can use any variety of shapes.
Oil and seasoning: Toss the parsnips with oil (olive oil, coconut oil. avocado oil) and any spices or seasoning you like.
Arrange in one layer on a baking sheet: Place the parsnips on a baking sheet spray covered with parchment paper or sprayed with cooking spray. Make sure to place the parsnips in a single layer. Do not overcrowd the pan or the parsnips will steam instead of roast.
Roast until tender and browned: Roast them for 20-25 minutes, shaking the pan halfway through, until the parsnips are lightly browned and crispy. They should be tender on the inside but browned on the outside.
What do parsnips taste like?
Parsnips taste like a cross between a potato and a carrot with more natural sweetness. They are also slightly earthy and nutty.
They are root vegetables related to both carrots and parsley, which is why you can taste elements of both of these vegetables in parsnips.
They have a texture similar to a carrot but a little less dense and they are notably sweeter, especially if you purchase smaller, younger parsnips.
Seasoning Ideas For Roasted Parsnips
When thinking of what to do with your roasted parsnips, a good tip is to remember that you can use parsnips the same way you would use carrots and potatoes. They stand up to all different combinations of spices, herbs, and flavors.
Here are some of our favorite options:
Try something spicy like taco seasoning or Cajun seasoning to create a sweet and spicy combination since parsnips have a lot of natural sweetness.
For a more savory option, consider using steak seasoning which tends to be packed with black pepper, garlic, and herbs.
If you want to add even more sweetness, toss the roasted parsnips with 1 tbsp of honey or maple syrup.
Add flavor with fresh garlic or garlic powder and then finish the parsnips with chopped parsley and Parmesan cheese.
Curry powder is a great counterpart to the sweetness of the parsnips and brings out its natural earthiness.
For something simple, use seasoned salt.
If you love ranch, consider tossing the parsnips with ranch seasoning and then serving some extra ranch dressing for dipping on the side.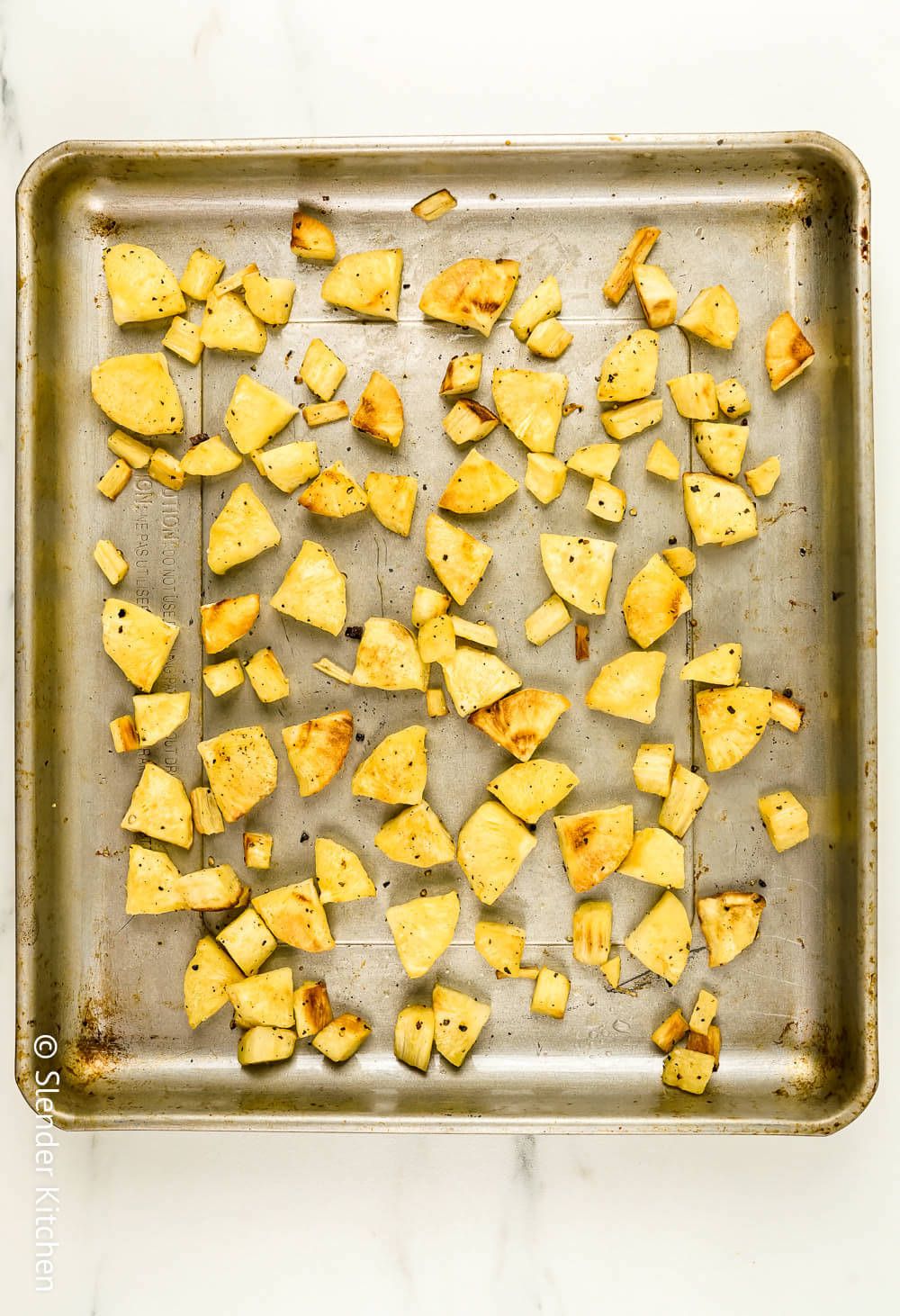 How to Buy Parsnips
Parsnips are a vegetable that most people don't buy often so you may not be sure of how to choose them. Normally they are found near the carrots in the grocery store either loose or in a plastic bag. Follow these tips to choose the best parsnips.
Choose smaller, younger parsnips over the larger ones. They are sweeter than the more mature parsnips and they don't need to be peeled.
Avoid parsnips that have lots of small, hair-like fibers on the skin. This can be a sign that the parsnips are no longer fresh or were grown without enough water.
If possible, buy parsnips that have the greens attached since it is a sign of freshness. The greens should be bright green and not wilted.
Do parsnips need to be peeled before roasting?
Parsnips can be eaten with or without the peel. If you are going to leave the skin on the parsnips, then make sure to scrub it well to remove all the dirt and debris since they grow underground. You can also peel the parsnips if you prefer them without the skin.
In general, smaller parsnips will have more tender skin and it is less necessary to peel them. Older, larger parsnips tend to have a more fibrous, bitter skin so it is best to peel them.
Frequently Asked Questions
Find answers to the most common questions about how to roast parsnips.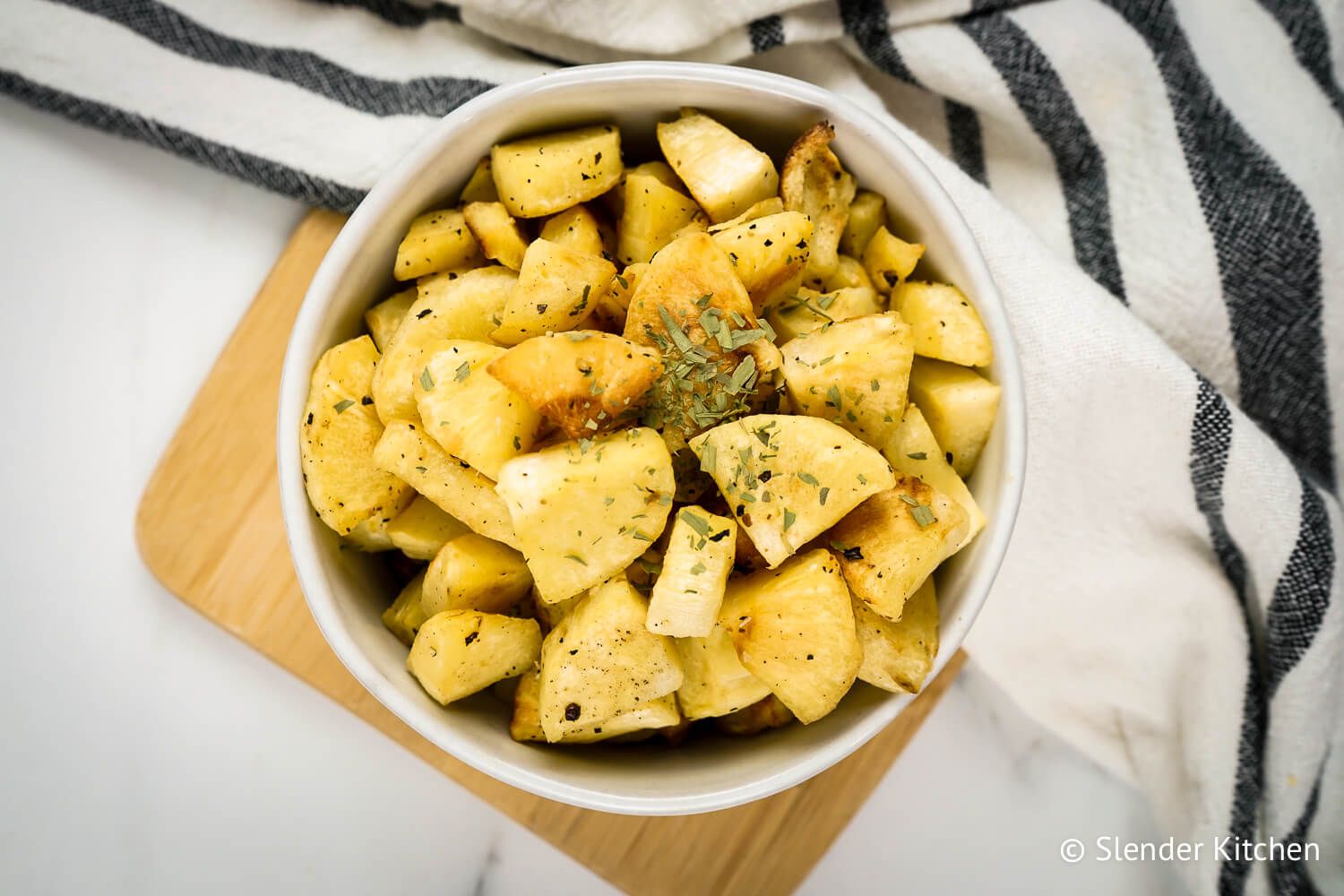 Roasted Parsnips
PREP TIME: 10 Min
COOK TIME: 25 Min
TOTAL TIME: 35 Min
Print

Download

Get in your Inbox
Like this Recipe? Try our Meal Plans!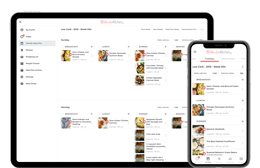 Weekly Meal Plans
Easy Shopping List
Healthy, Low Carb, & Vegetarian
Nutritional Information
Instructions
(Hide Media)
Switch to prevent your screen from going dark.
Nutritional Facts
Monounsaturated Fat 0g
0%
Polyunsaturated Fat 0g
0%
* Percent Daily Values are based on a 2,000 calorie diet. Your daily values may be higher or lower depending on your calorie needs.
The Nutritional Values provided are estimates only and may vary based on the preparation method.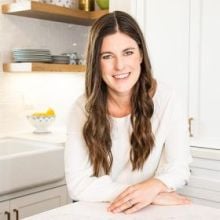 About the author
Meet

Kristen McCaffrey
Hi, I'm the cookbook author, recipe developer, and food enthusiast behind Slender Kitchen. I am obsessed with making healthy food that is easy to prepare and absolutely delicious. Meal planning is my secret weapon and I hope I can make meal time easier for you with our tried and tested recipes and foolproof meal plans.
Learn More
Get delicious, healthy recipes delivered each week right to your inbox.
Join over 80,000 subscribers.
Did you make this?
Snap a picture and show us what you made on Instagram or Facebook.
Tag us using @SlenderKitchen or #slenderkitchen.