These Easy Roasted Mushrooms are made with baby bella coated in a flavorful combination of butter, olive oil, balsamic vinegar, and soy sauce. This tasty side dish comes together in under 30 minutes and pairs beautifully with any dish!
96 CALORIES
10g CARBS
6g FAT
5g PROTEIN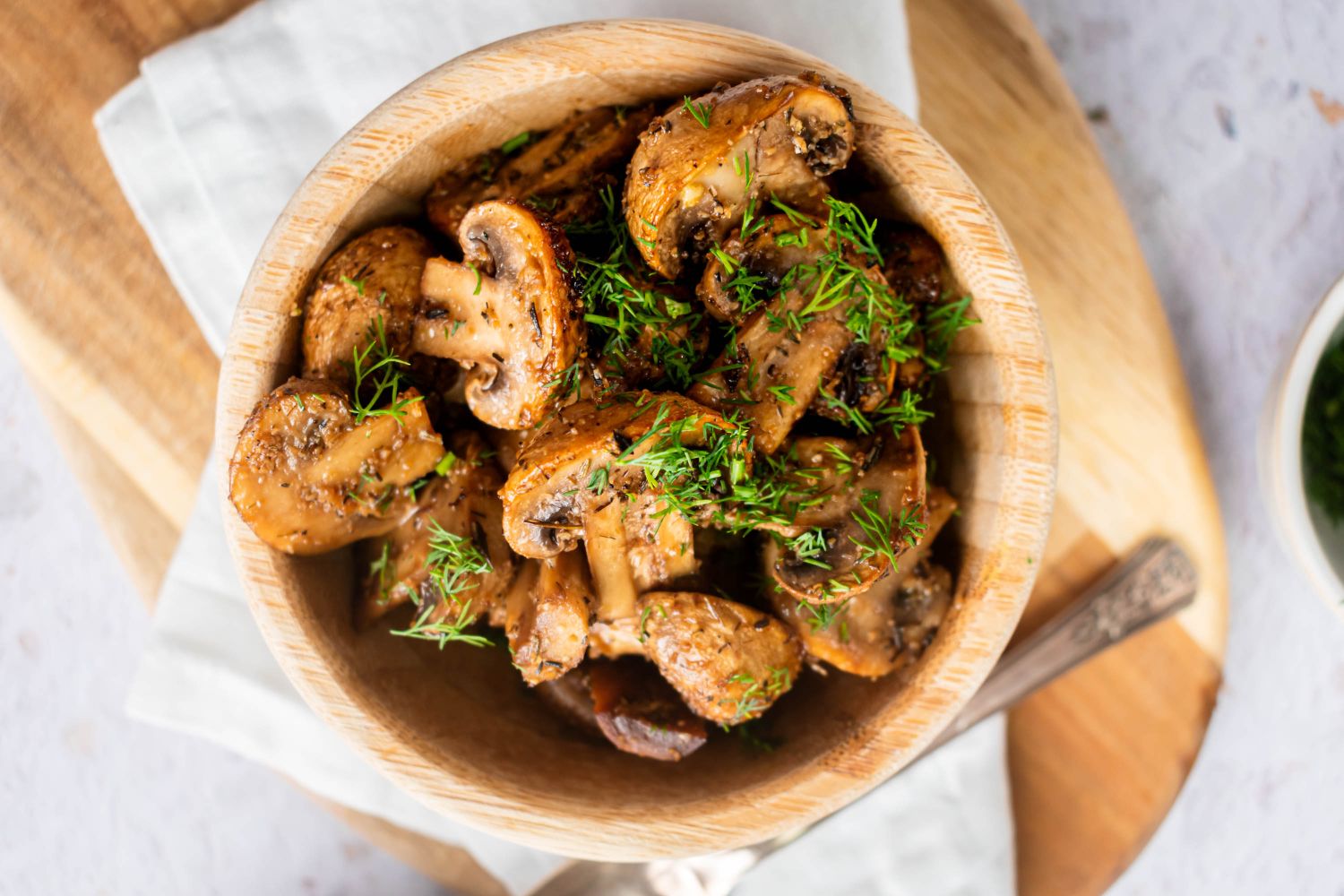 Learn how to roast mushrooms in the oven that come out caramelized on the outside and perfectly tender inside. These delicious Roasted Mushrooms are the star of any table and make an amazing side dish.
I am always searching for new and exciting ways to get my kids to eat their veggies. Can anyone relate? It can be a challenge to get children to eat anything green and anything with "mush" in the name. That's why I get insanely excited when I come up with absolute winners like these Roasted Mushrooms.
Rich, savory, and easy to make, this mushroom side dish is the ultimate veggie side to serve with any of your favorite meals. The mushrooms are tender and meaty, with a truly mouth-watering flavor that even the pickiest of eaters will fall in love with.
For a complete meal, all you have to do is pick out a protein source and another side dish to complement these mushrooms. This could be pasta, rice, potatoes, or even a side salad. Because this savory dish is so versatile, it can be served with just about anything you have laying around. Seriously, it's the real deal.
Pro tip: To really impress a crowd, serve these mushrooms over top of polenta with some pesto chicken as the main course. Are you drooling? Because I certainly am! Trust me, you're going to love this one.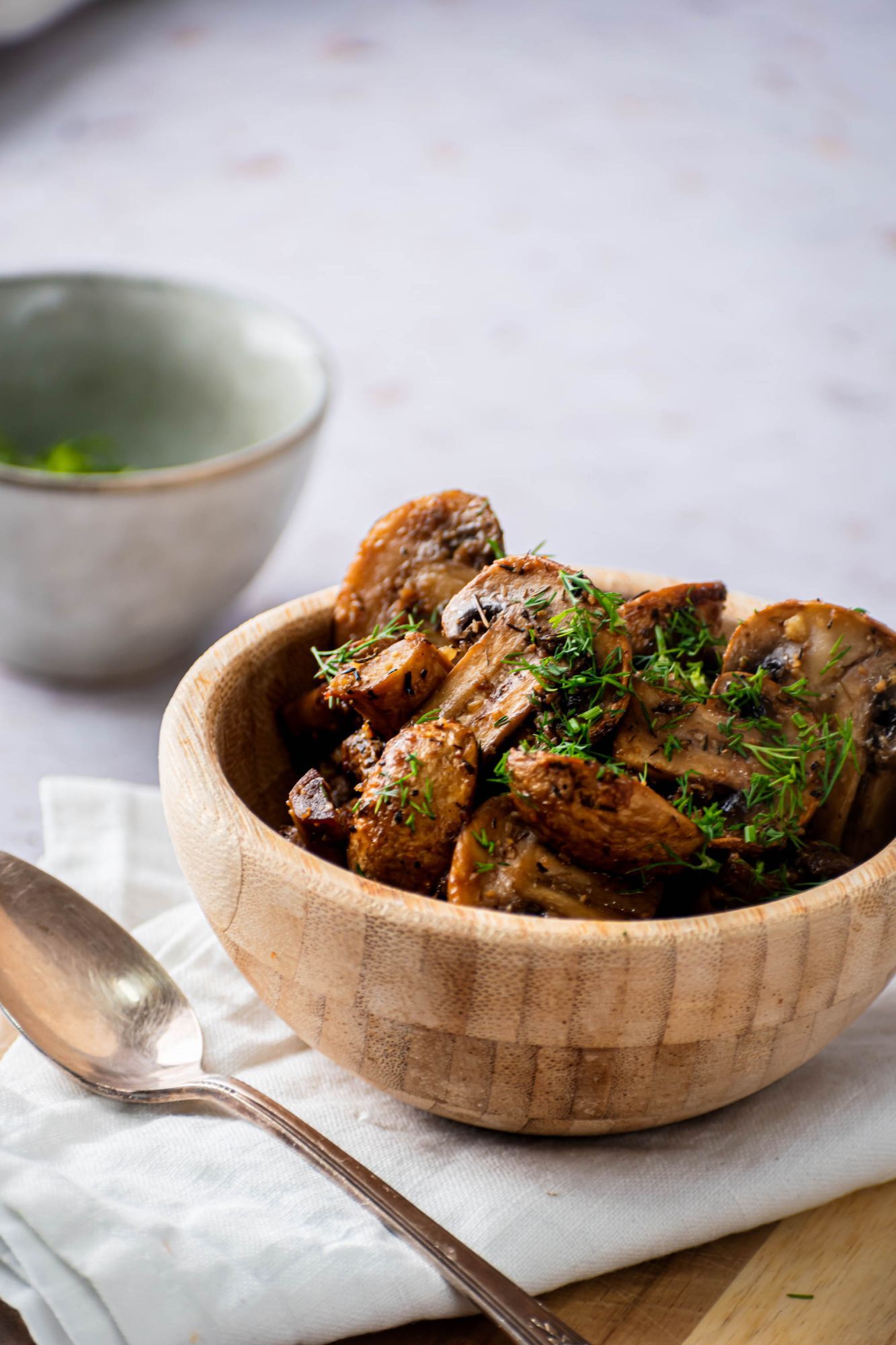 Key Ingredients
To prepare this tasty mushroom side dish, you will need the following key ingredients:
Mushrooms: I like to use a combination of mushrooms for this recipe, usually cremini and button mushrooms. They're meaty, flavorful, and adapt really well to any flavor. If you can't find any, feel free to swap them out for the mushrooms of your choice. White button and shiitake mushroom would also work well.
Butter: This infuses the mushrooms with deep rich flavors that take this dish from tasty to out-of-this-world delicious.
Balsamic vinegar: The tangy and slightly sweet flavor of the balsamic vinegar cuts through the umami of the mushrooms to give you a perfect harmony of flavors. I like to splurge on high-quality balsamic because you get a much more complex flavor profile.
Soy sauce: Make sure to use low-sodium soy sauce, or swap it out for tamari for a gluten-free dish.
Herbs and spices: I like to keep things simple here with garlic powder, dried thyme, salt, and pepper. If you want to switch it up, try adding other herbs that pair well with mushrooms like parsley, rosemary, or chives.
Best Mushrooms for Roasting
There are so many different types of mushrooms, it can be tricky to know which one is best. Here are the main types of mushrooms found in most markets.
Cremini mushrooms (aka baby bella): For the best flavor and texture, cremini mushrooms, also called baby bellas, are the best choice. They are more flavorful than button mushrooms and have a rich, umami flavor. They also maintain a nice texture when roasted. They are also great for sauteed with garlic butter.
Button mushrooms: White or brown button mushrooms are also nice for roasting. The texture will be softer than a cremini mushroom and it won't have the same, almost meaty flavor. It's a milder mushroom flavor.
Portobello mushrooms: This is another great mushroom for roasting, they are just bigger. Roast them whole like in this recipe or chop them into smaller pieces.
Other good mushroom varieties for roasting: You can roast oyster mushrooms, shiitake mushrooms, and other wild mushrooms.
How to Roast Mushrooms
Follow these easy steps to make these tasty mushrooms.
Clean the mushrooms: Use a damp paper towel to rinse any dirt and debris off the mushroom. Mushrooms can also be cleaned in a bowl of cold water, using your hands to rub off any dirt. Just make sure to dry them well using a salad spinner or kitchen towel. Contrary to popular belief, they won't absorb too much water.
Cut them in half: Generally speaking, small to medium-sized mushrooms should be cut in half or quartered. Do not slice them. They need to have some size so they don't shrink too much.
Toss with oil and seasoning: Since mushrooms have a mild flavor, it's important to season them and add flavor. Start with a fat like butter or olive oil. Then add additional layers of flavor like soy sauce (more umami), vinegar, herbs, spices, salt, and pepper.
Single layer: Make sure to give the mushrooms space on the baking sheet! Thuis is one of the most important things when roasting any vegetable.
Roast at high heat: Roasting mushrooms at high heat ensures they caramelize on the outside while staying juicy on the inside. This ensures they don't dry out.
Roasted Mushrooms Recipe Tips
Here are some of my top tips to help you and your family fall in love with this dish:
Do not crowd the pan: When you're preparing these roasted mushrooms, make sure not to overcrowd the pan, or you might end up steaming the mushrooms. Try to arrange them in a single layer with no mushrooms touching to ensure they get roasted evenly.
Similar size: Make sure to cut your mushrooms so that all of the pieces are roughly the same size. This helps to ensure an even cook.
More garlic flavor: To get a more concentrated garlic flavor, feel free to substitute the garlic powder for freshly minced garlic cloves instead.
Use the liquid: These mushrooms will release a lot of liquid as they cook. This liquid has been infused with the delicious flavors of soy sauce, balsamic vinegar, and butter, so don't toss it out! If the tray gets too full during cooking, pour out the liquid and set it aside so the mushrooms can roast. Save that sauce to pour over your mushrooms just before serving the dish.
Try different mushrooms: Can't find baby bella or cremini mushrooms? Feel free to swap them out for white button or shiitake mushrooms.
Garnishes: Add more flavor by finishing the dish with parmesan cheese, fresh lemon juice, pine nuts, or fresh herbs like thyme, rosemary, or oregano.
What to Serve With Roasted Mushrooms
This healthy side dish pairs beautifully with a wide range of foods. I recommend first picking a lean protein source like fish, chicken, steak, pork, or tofu. Then, add something green like a salad or roasted broccoli, green beans, or brussels sprouts.
Take some of that leftover mushroom sauce and drizzle it all over everything, and voila! You're left with an absolutely drool-worthy lunch or dinner. Need some inspiration to help you get started? Here are some of my favorite dishes to pair with roasted mushrooms:
Mashed potatoes. Transform your favorite mashed potato recipe into a show-stopper by pairing them with these delicious mushrooms. Try out my simple Mashed Potatoes or, for a low-carb option, these Roasted Garlic Cauliflower Mashed Potatoes.
Pasta. You can add these mushrooms to just about any pasta dish you like! Some of my top recommendations include this Vegetable Pasta Salad and my Roasted Vegetable Pasta. Or get experimental and use them as a component by adding them to the pasta!
Power bowl. For the ultimate 'empty out the fridge' dish, fill up a bowl of rice or quinoa with your favorite veggies, protein, and these savory mushrooms. Use this balsamic sauce in these Roasted Veggie Bowls for even more flavor. Or use these on these delicious polenta bowls,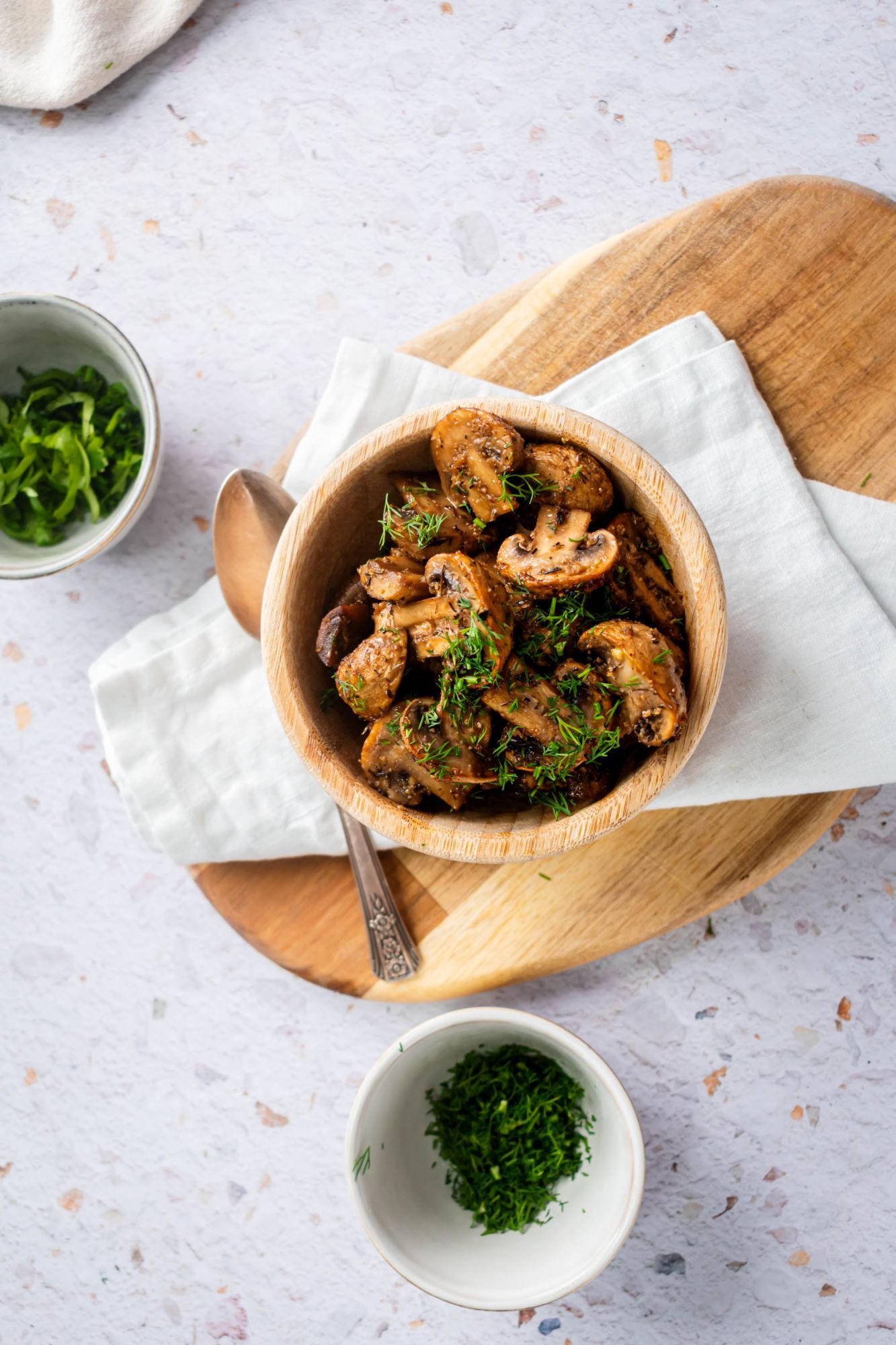 How to Store This Dish
Not only are roasted mushrooms delicious and versatile, but storing them is an absolute breeze. I love to prepare them with some protein and greens ahead of time to save as healthy meal preps throughout the week. Simply let them cool, then transfer them to an airtight storage container, and store them in one of two ways:
In the fridge for up to 3-5 days.
In the freezer for up to 1 month.
Frequently Asked Questions
Here are the answers to some of the most frequently asked questions about this healthy mushroom dish:
Yes! Mushrooms are naturally packed with phytochemicals, antioxidants, and vitamins. They're also an excellent source of plant-based protein, which is one of the reasons (along with their meaty texture) that they are often used in place of meat in vegan dishes.
It's super easy to reheat frozen cooked mushrooms! You can toss them into a pan or in the oven straight from the freezer and cook out the liquid. Alternatively, you could allow them to thaw in the fridge overnight, blot with paper towels, then reheat on the stove or in the oven.
This dish makes a fantastic side dish to accompany any of your favorite proteins, grains, and starches. Personally, I love serving this dish with a lean protein source like fish, chicken, or lean steak, along with rice, whole wheat pasta, or potatoes.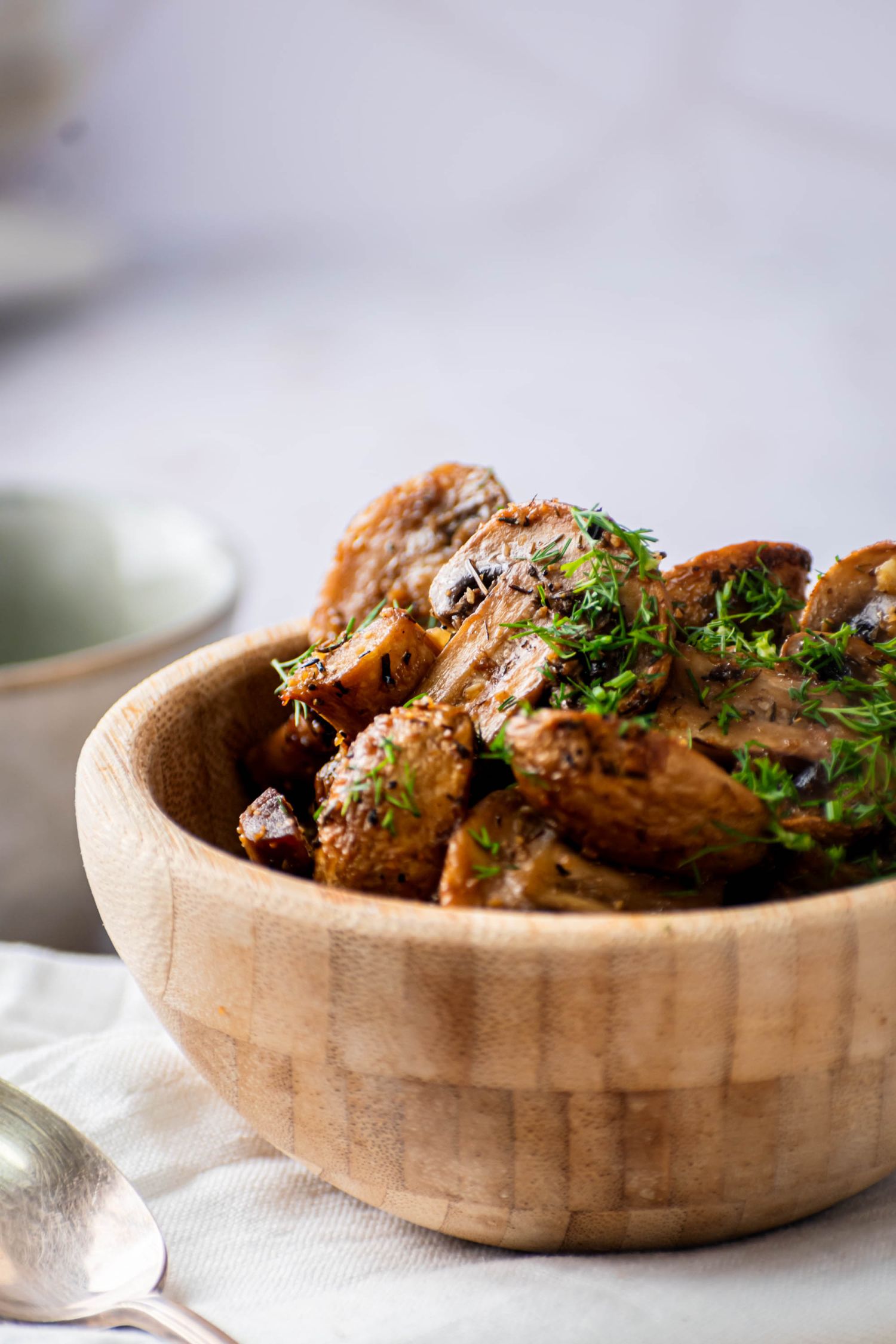 Roasted Mushrooms
PREP TIME: 5 Min
COOK TIME: 15 Min
TOTAL TIME: 20 Min
Print

Download

Get in your Inbox
Ingredients
1.5

lbs

cremini mushrooms, halved (or baby bella)

1

tbsp

unsalted butter, melted

1.5

tbsp

low sodium soy sauce

1

tsp

garlic powder (or 2 cloves minced fresh garlic)
Like this Recipe? Try our Meal Plans!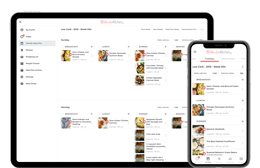 Weekly Meal Plans
Easy Shopping List
Healthy, Low Carb, & Vegetarian
Nutritional Information
Instructions
(Hide Media)
Switch to prevent your screen from going dark.
Nutritional Facts
Monounsaturated Fat 0g
0%
Polyunsaturated Fat 0g
0%
* Percent Daily Values are based on a 2,000 calorie diet. Your daily values may be higher or lower depending on your calorie needs.
The Nutritional Values provided are estimates only and may vary based on the preparation method.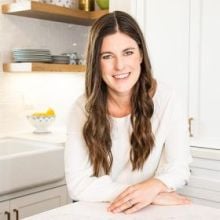 About the author
Meet

Kristen McCaffrey
Hi, I'm the cookbook author, recipe developer, and food enthusiast behind Slender Kitchen. I am obsessed with making healthy food that is easy to prepare and absolutely delicious. Meal planning is my secret weapon and I hope I can make meal time easier for you with our tried and tested recipes and foolproof meal plans.
Learn More
Get delicious, healthy recipes delivered each week right to your inbox.
Join over 80,000 subscribers.
Did you make this?
Snap a picture and show us what you made on Instagram or Facebook.
Tag us using @SlenderKitchen or #slenderkitchen.