Baked Eggplant Cutlets come out crispy and delicious without frying! Make a batch for eggplant parmesan, to make sandwiches, or just eat on their own.
46 CALORIES
8g CARBS
1g FAT
2g PROTEIN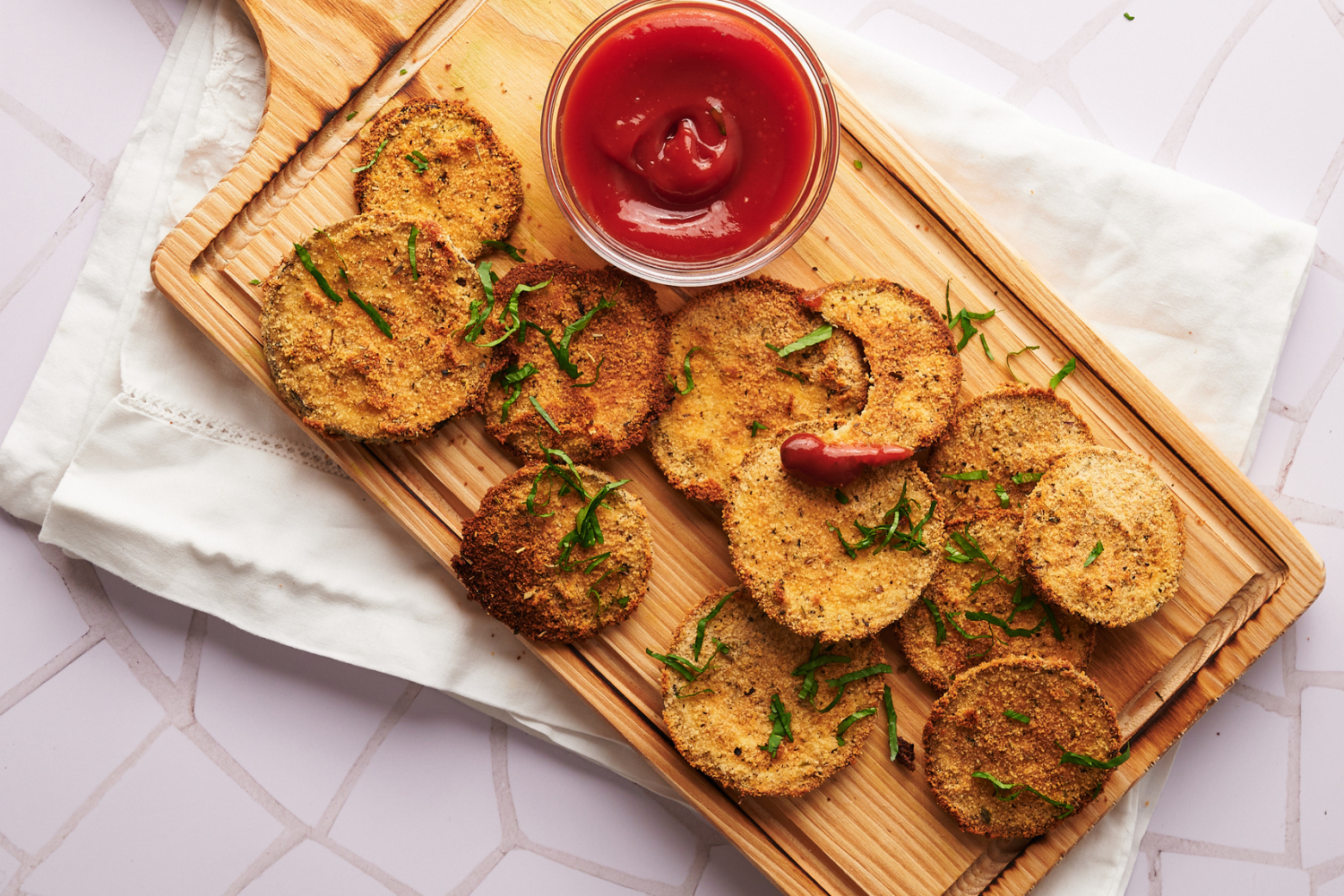 This delicious, easy, and super crispy baked eggplant is a healthy way to make perfect eggplant in the oven every time. They are a great meatless alternative to classically baked chicken cutlets and also a great way to introduce eggplant to kids.
I can't say enough about these homemade breaded eggplant slices. My whole family was literally grabbing them off the baking sheet, dunking them in some marinara on the side, and chowing down. I am not even sure they knew it was eggplant when they started but I happily watched as they ate a huge serving of veggies.
My kids were even asking for more, which is pretty incredible since they usually shy away from eggplant. They are also obsessed with these eggplant fries.
The key to making crispy eggplant cutlets is to make sure you cut them super thin and salting them. This is a step that many people skip but is super important. Salting the eggplant helps pull out some of the moisture and allows the eggplant and coating to get nice and crunchy on the outside.
If you skip this step, you could end up with soggy eggplant slices. They will still taste great but will be missing that addictive crunch.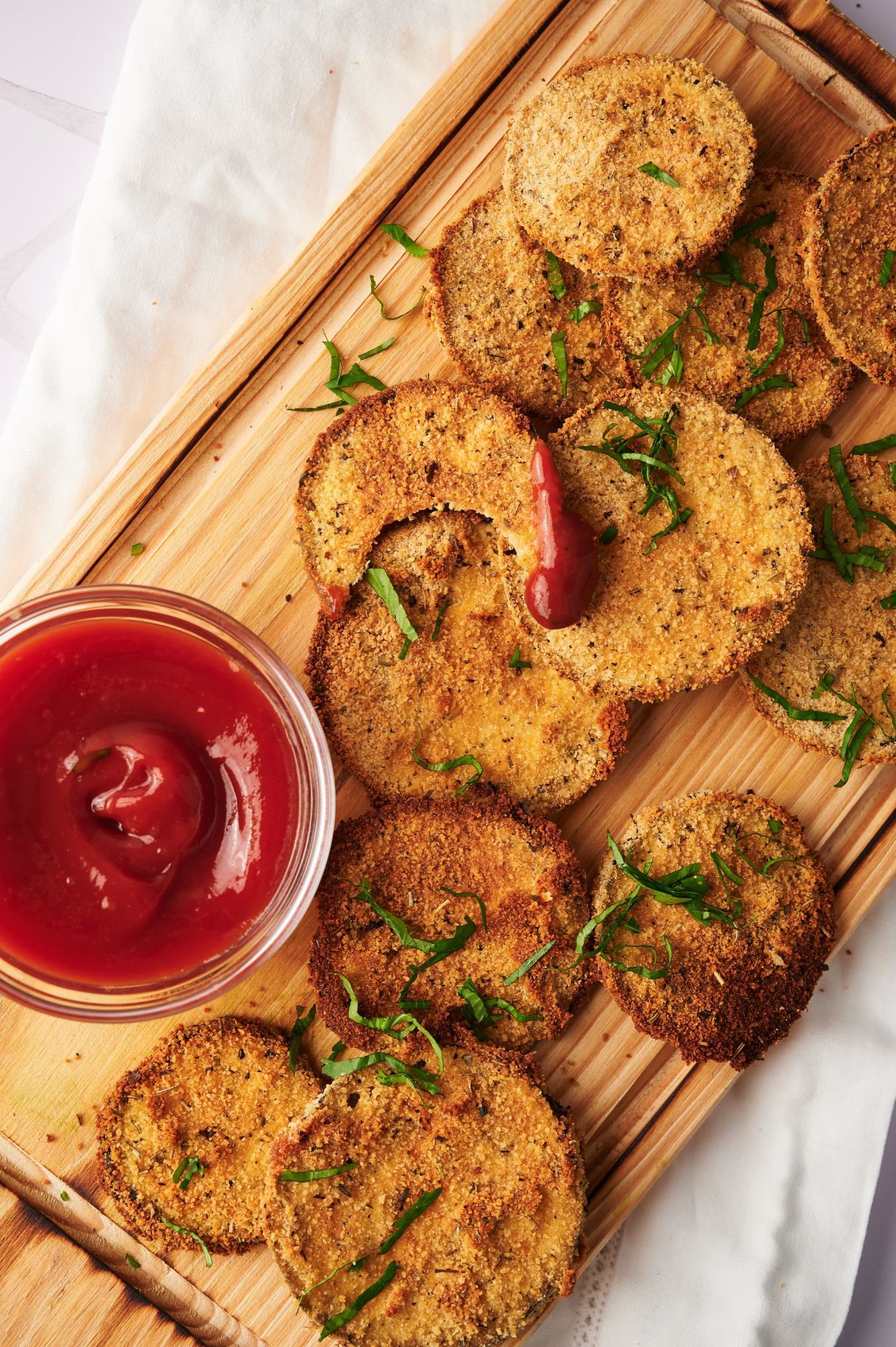 How to Make Baked Eggplant Cutlets
Here are the step-by-step instructions to ensure you make delicious, crispy baked eggplant every time.
Salt the eggplant: This is the most important step if you want crispy eggplant that isn't soggy! Once the eggplant is sliced into rounds, sprinkle it with salt. Let the salted eggplant sit for at least 5 minutes, ideally about 30 minutes. Rinse lightly and dry or simply wipe with paper towels. This removes excess moisture and is the key to making non-mushy eggplant.
Make the breading mixture: In a shallow dish, combine the breadcrumbs and spices. Feel free to swap in any spices you like. For extra crispy eggplant cutlets, add one tablespoon of olive oil to the breadcrumbs. Both regular and Panko breadcrumbs can be used, but regular is more traditional.
Bread the eggplant cutlets: Dredge the eggplant slices in the eggs to start. Egg whites or whole eggs can be used. Then gently press into the breading mixture making sure to coat well on both sides.
Bake until crispy: Arrange in a single layer on a baking sheet and cook for 15-20 minutes until browned and crispy. If desired, place them on a wire rack to ensure they are crispy on both sides. However, if you place them on a preheated baking sheet and flip them halfway through, the wire rack isn't necessary.
Main Dishes to Serve with Baked Eggplant
Think of these cutlets like any other "meat" — you can add them to just about anything, including:
Low-Carb Eggplant Parmesan is my all-time favorite and could very well be yours, too!
These cutlets would make a nice, crispy base for these Eggplant Pizza Bites.
Instead of roasting your eggplant, chop up these cutlets and add to this Roasted Eggplant and Quinoa Salad with Feta.
Bake up several eggplant's worth of cutlets and top with whatever you have on hand — every cutlet can have a different topping.
Use a cutlet like a faux burger — add it to a bun and top with all your typical burger toppings. You won't miss the meat!

Leftover Ideas
Eggplant cutlets are great in a number of ways, my favorite, of course, being this skinny eggplant parm. Other ways to eat the eggplant include:
As a snack. No muss, no fuss.
You can use these cutlets as the "meat" for your sandwich along with your favorite toppings.
These cutlets would also work well sliced or cubed over a salad.
They also make a great appetizer topped with a dab of ricotta and some marinara sauce. Just be sure to slice your eggplant thin!
Dice the cutlets up and mix them together with some chickpeas, halved cherry tomatoes, basil, and some grated parmesan for an eggplant-parm-inspired salad.
Do You Have to Peel an Eggplant?
I didn't peel the eggplant to make these cutlets. But I know that some people don't like the skin at all. For these cutlets, feel free to make them how you like. It does make the eggplant less chewy and bitter if you cut the skin off — especially if you have a bigger or older eggplant. Smaller ones should be softer and cook more easily — but then again, your cutlets will be smaller.
How do you fry eggplant in the oven?
When I originally posted this recipe, I got a lot of questions about frying eggplant. While these come out nice an crispy, some people enjoy a more "fried" version. If this is what you crave, simply drizzle the eggplant cutlets with a touch of olive oil or melted butter before baking them. The oil will add the flavor of fried eggplant that many are used to and make things even crispier.
Are Baked Eggplant Cutlets Healthy?
First of all, these cutlets are baked, not fried like most eggplant. Other ways that these cutlets are because:
Eggplant itself is low-carb and low-fat and also low in calories. The fruit (yes, it's a fruit!) also has plenty of bone-building calcium and antioxidants that can help to ward off heart disease, cancer, and other chronic illnesses.
Breadcrumbs when used sparingly, are a great replacement for heavier breading used for frying. And, since these cutlets are baked, breadcrumbs are a good carb to add to get that crispiness you want in a cutlet.
Egg whites are low in calories and high in protein.
Spices such as oregano, basil, rosemary, pepper, and salt can help to fight inflammation in your body and also fill you with your daily allowance of essential vitamins and minerals to keep your body healthy and working properly.
Frequently Asked Questions
Here are the most common questions about making baked eggplant.
When cut into slices, eggplant takes 15-20 minutes to cook in the oven at 450 degrees. If it is being roasted in cubes or wedges, it will take about 20-25 minutes at 400 degrees.
The best way to make sure your eggplant isn't mushy or soggy is to salt the eggplant slices for 10-15 minutes before cooking it. Then wipe off the excess moisture with paper towels. This helps eggplant to have a firm texture when cooked.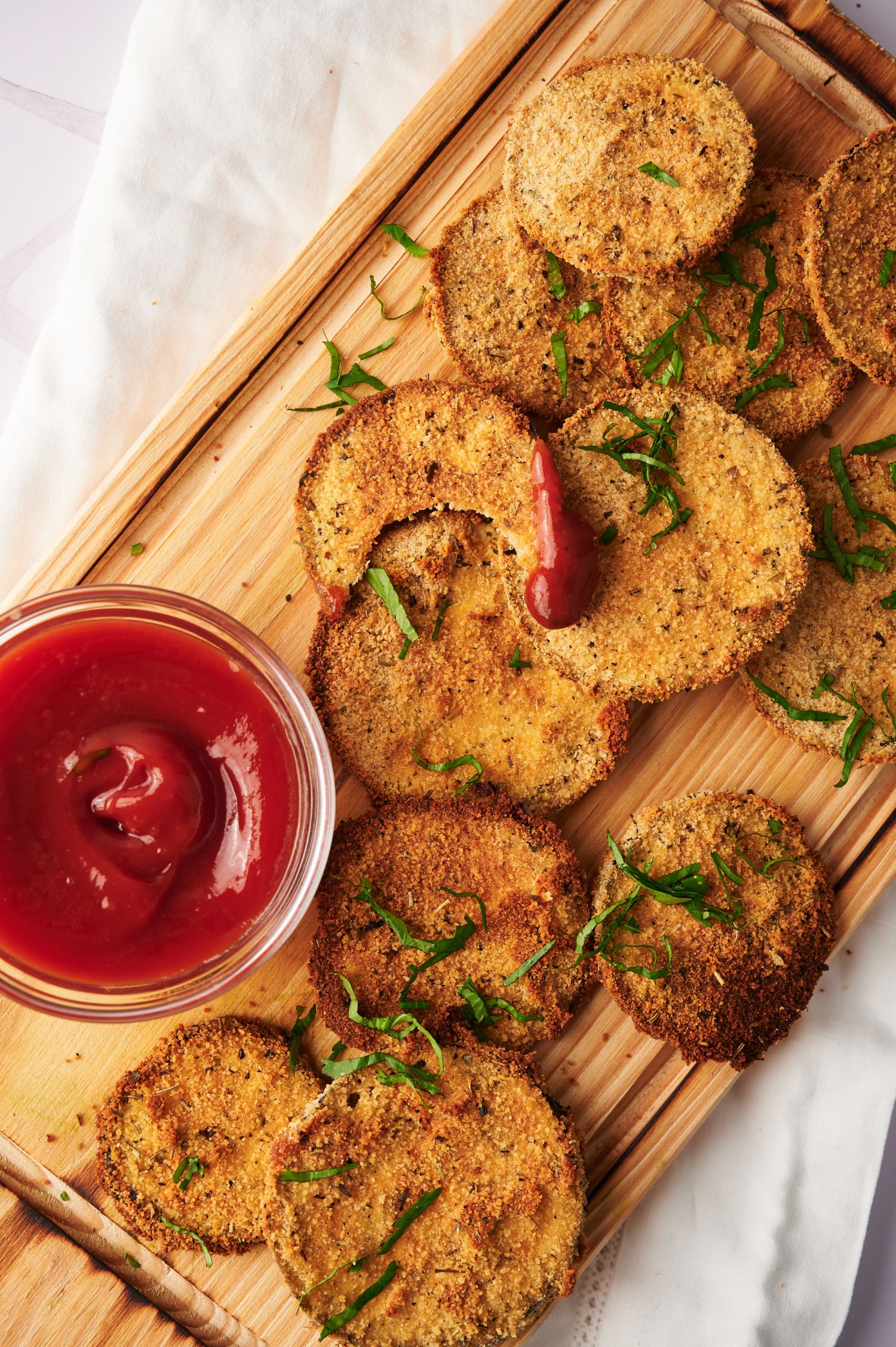 Baked Eggplant Cutlets
PREP TIME: 15 Min
COOK TIME: 20 Min
TOTAL TIME: 35 Min
Print

Download

Get in your Inbox
Ingredients
1

medium eggplant, sliced into 1/4 inch slices
Like this Recipe? Try our Meal Plans!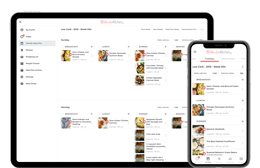 Weekly Meal Plans
Easy Shopping List
Healthy, Low Carb, & Vegetarian
Nutritional Information
Instructions
(Hide Media)
Switch to prevent your screen from going dark.
Nutritional Facts
Monounsaturated Fat 0g
0%
Polyunsaturated Fat 0g
0%
* Percent Daily Values are based on a 2,000 calorie diet. Your daily values may be higher or lower depending on your calorie needs.
The Nutritional Values provided are estimates only and may vary based on the preparation method.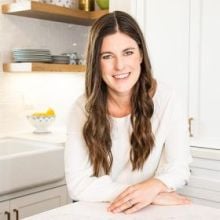 About the author
Meet

Kristen McCaffrey
Hi, I'm the cookbook author, recipe developer, and food enthusiast behind Slender Kitchen. I am obsessed with making healthy food that is easy to prepare and absolutely delicious. Meal planning is my secret weapon and I hope I can make meal time easier for you with our tried and tested recipes and foolproof meal plans.
Learn More
Get delicious, healthy recipes delivered each week right to your inbox.
Join over 80,000 subscribers.
Did you make this?
Snap a picture and show us what you made on Instagram or Facebook.
Tag us using @SlenderKitchen or #slenderkitchen.