Baba Ganoush (Eggplant Dip)
Smoky and delicious Baba Ganoush is an easy homemade eggplant dip that is packed with Middle Eastern flavor. It's made with tender eggplant, lemon, garlic, and tahini for the most delicious dip and spread.
104 CALORIES
9g CARBS
8g FAT
2g PROTEIN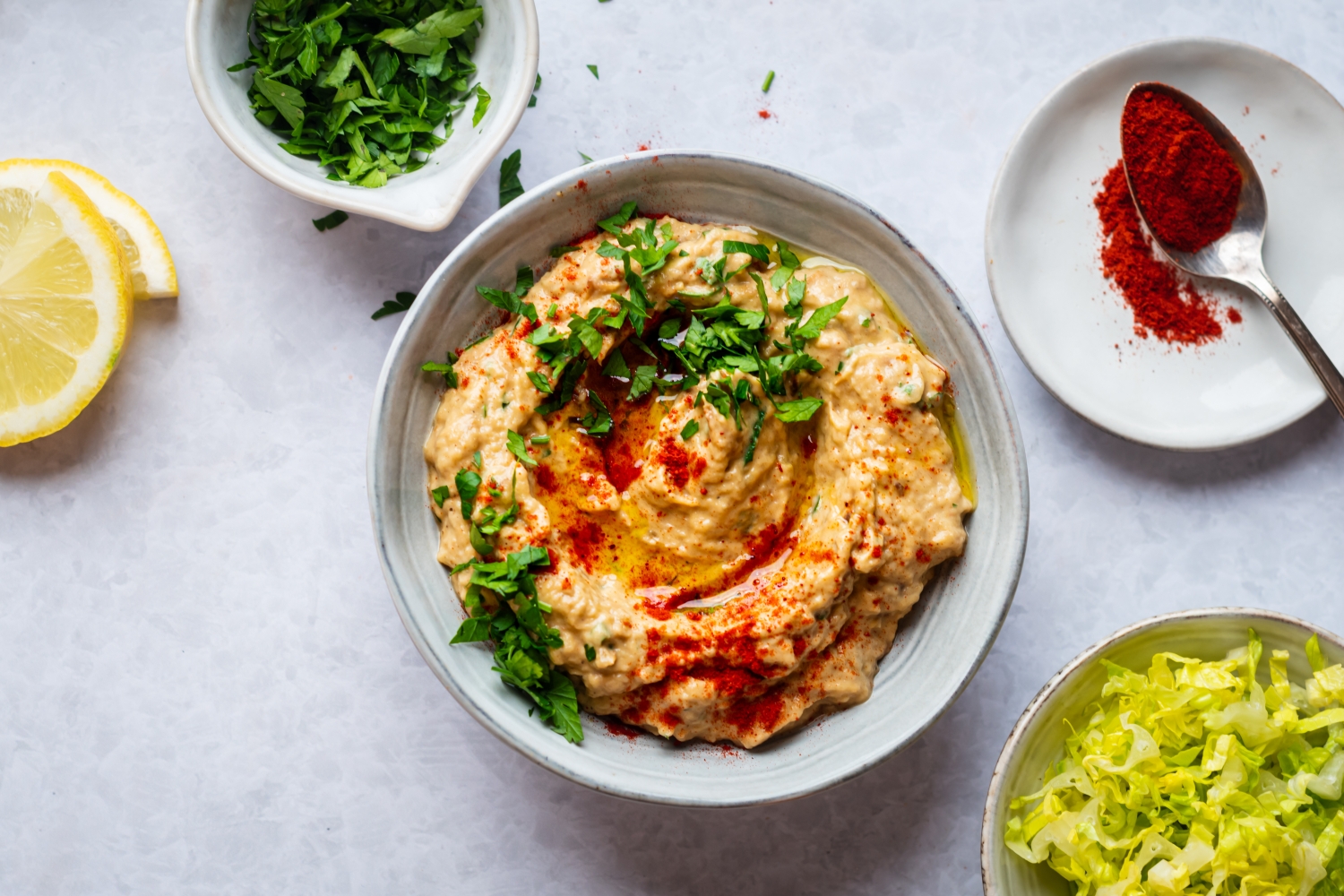 If you haven't tried Baba Ganoush before, it's similar to hummus but uses smoky grilled or roasted eggplant instead of chickpeas. It's creamy, savory, and full of flavor from garlic, lemon, and tahini.
When I am craving a healthy snack, there is nothing I love more than veggies and dips. I always have some in my fridge, like this tzatziki, roasted red pepper dip, or black bean hummus.
One of my favorite Mediterranean dips is baba ganoush and I finally set out to a homemade version. While baba ganoush seems intimidating to make with roasted or grilled eggplant, it's actually surprisingly easy.
And the result is so much better than storebought eggplant dip. It's worth the extra work! Trust me, you will want to eat it with everything. Serve it with carrots and cucumbers, pita bread, pita chips, spread on sandwiches, or as part of a mezze platter.
Eggplant lovers should also try these tasty Baked Eggplant Cutlets, Eggplant Fries, and Eggplant Fajitas.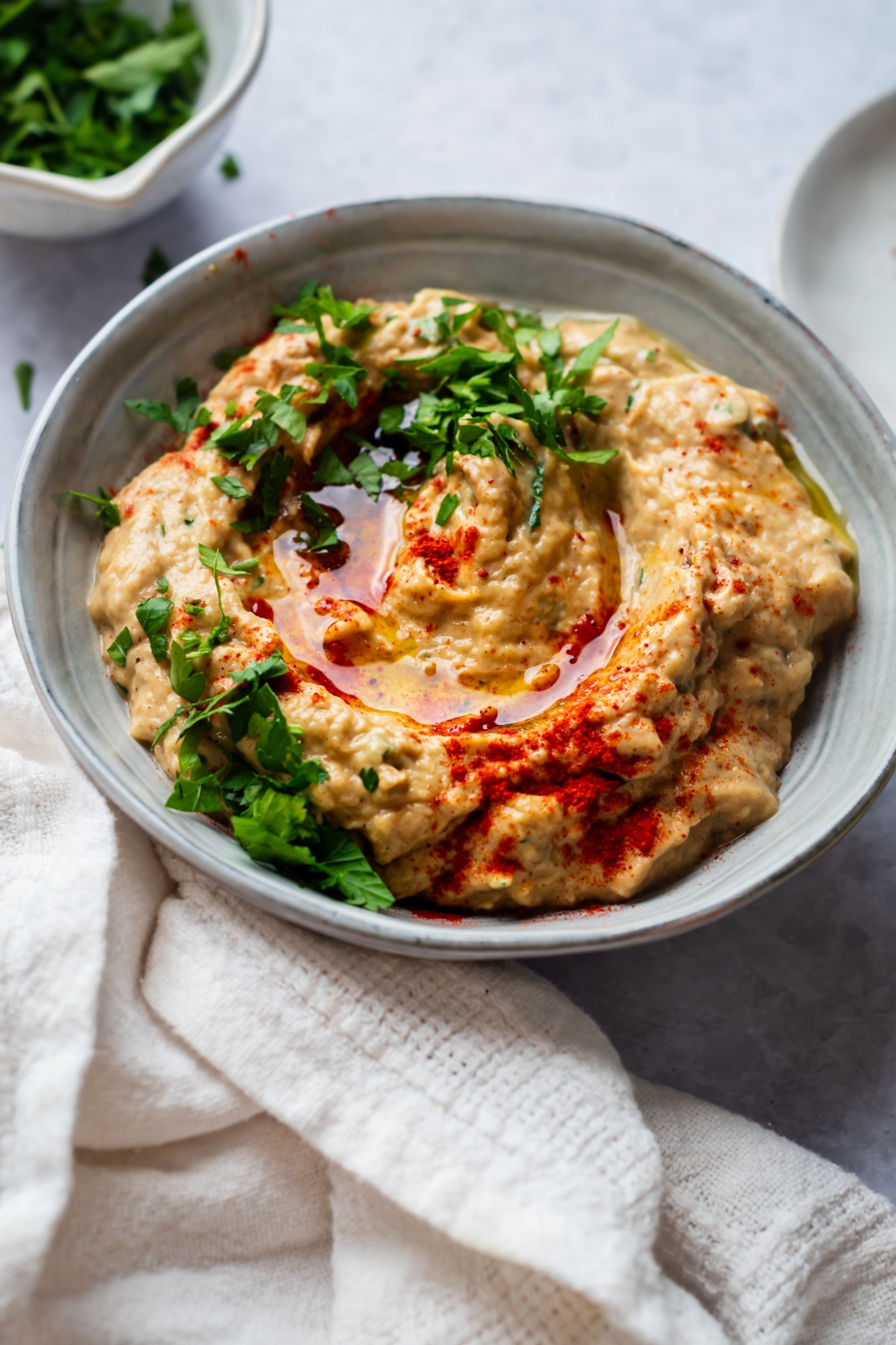 What Is Baba Ganoush?
Baba Ganoush is a Middle Eastern eggplant dip, typically made with roasted or grilled eggplant paired with garlic, olive oil, tahini (sesame paste), and spices.
Traditional baba ganoush is made with eggplant that is roasted over an open flame. But most modern versions use grilled eggplant or roasted eggplant.
Baba ganoush is sometimes called baba ganouj or muttabal. In Israel, it is often called salat hatzilim in Israel.
Ingredients for Baba Ganoush Recipe
This recipe uses ingredients that are pretty easy to find. Here's what you'll need to make it:
Eggplant: You will need to grill or roast the eggplant for this recipe, so try to buy some fresh eggplant in the grocery store's produce section.
Olive Oil: Since this is a Mediterranean recipe, olive oil is the most authentic flavor to use. If you don't have olive oil, you can use avocado oil or even vegetable oil.
Garlic Clove: Use fresh garlic cloves! You can use garlic powder in a pinch, but the garlic cloves will add a deeper flavor profile.
Parsley: Fresh parsley will taste more vibrant (and look better) in this dip.
Tahini: The tahini (which is made from sesame seeds) gives it a creamier texture. If you don't have any, you can leave it out entirely.
Lemon Juice: Use fresh lemon juice so the flavor is bright and fresh.
Salt & Pepper: Since this is a dip, use finely ground salt and pepper. Baba ganoush usually needs a good amount of salt.
Like many hummus and dip recipes, you'll want to experiment with the amounts of each ingredient. Some people like lots of garlic. Others love a lemony baba ganoush and will add lemon zest. Some people like it with lots of tahini. Play around with the flavors to best suit your tastes.
How to Make Baba Ganoush
Although it will take about an hour to make baba ganoush from start to finish, it's an easy recipe anyone can make.
1. Roast or Grill the Eggplant
Traditional baba ganoush is made with eggplant roasted over an open flame to impart the most smokiness possible. This can be done on a gas stove or grill, but I find roasting it is easier and produces really delicious results.
Start by cutting the eggplant in half and piercing the skin with a fork. Then drizzle it with olive oil and season with salt and pepper.
Roast cut side down for 4-50 minutes until the skin is beginning to collapse. The eggplant should be super tender. If grilling, make sure to pierce the skin well. The eggplant is done grilling when the skin has blackened and begun to collapse inward.
Tip: If you decide to roast the eggplant whole, make sure to wrap it in foil since eggplants can explode in the oven when cooked whole.
2. Drain the Eggplant
This is the most important part when making baba ganoush so it doesn't end up watery or runny. You want the final product to be thick and creamy.
Once the eggplant comes out of the oven, let it cool slightly. Then use a spoon to scoop out the eggplant. You could also peel off the skin, but I find scooping it out is easier.
Place the eggplant in a fine mesh strainer and press it down with a fork. Let it rest in the strainer and push it down every couple of minutes, draining off as much liquid as possible.
3. Hand Mash with Oil, Lemon, Tahini, and Spices
While many recipes use a food processor, baba ganoush is traditionally combined using a fork or wooden spoon. This ensures it still has some chunky texture.
Start by combining the eggplant, lemon juice, and garlic. Mix with a fork and the eggplant should begin to break down and start to form a creamy dip. Then add the tahini and stir well so it is fully incorporated into the eggplant.
Slowly drizzle in the olive oil so it emulsifies as you are mixing it in. The baba ganoush should get smoother and creamier, Continue stirring and adding olive oil until it is nice and creamy
Add your spices and herbs. We like a combination of smoked paprika, cumin, and parsley but you can add any spices you like. Taste and season liberally with salt and pepper.
Extra creamy: If you want a smoother texture, similar to humus, then use a food processor. Start by blending the eggplant, lemon juice, and garlic. Then drizzle in the olive oil slowly. Stir in the spices and herbs by hand to finish.
4. Chill and Serve
Like so many dips, baba ganoush only gets better after a night in the fridge for the flavors to combine. When possible, give this at least one hour to chill before serving. Serve with carrots, cucumbers, red peppers, chips, pita bread, or pretzels.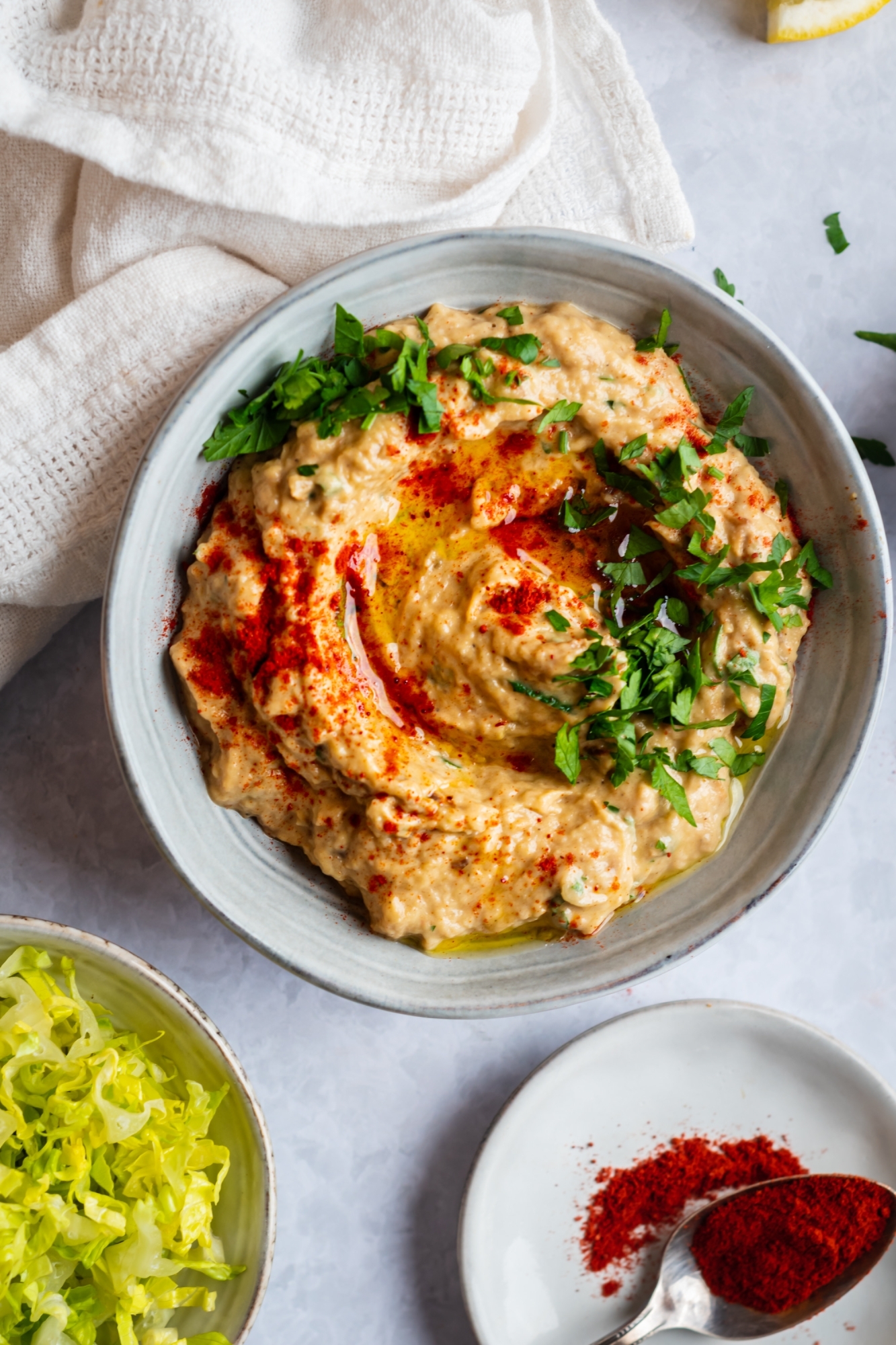 What To Serve With Baba Ganoush Dip
This is a dip that you can eat in a variety of ways. I think it's the perfect party food!
As a dip: Set it on the table with a platter of raw veggies, pita bread, or pita chips.
Sandwiches and wraps: Spread it on a sandwich or wrap it to add a smoky layer of flavor.
Mezze platter: Make an amazing mezze plate with baba ganoush, hummus, olives, artichokes, roasted red peppers, tabouleh, Mediterranean salad, and plenty of fresh pita bread.
Grain bowls: It's also great with grain bowls like these Mediterranean Bowls or Vegetarian Shawarma Bowls.
As a low-carb swap for hummus: Baba ganoush also makes a great low-carb substitute for hummus or bean dip!
Recipe Tips And Ideas
Follow these tips to make sure that this eggplant dip turns out creamy every single time!
Air fryer: You can also use your air fryer to roast the eggplant. To do this, cut the eggplant in half and air fryer it at 375F for about 20 minutes.
Garnish: Top the baba ganoush with your favorite herbs as a garnish. Capers bring out the garlic and lemon so, try a few of them on top. Pine nuts add crunch. A drizzle of olive oil and a dusting of smoked paprika adds color.
Make it spicy: If you want it to have a little more spice, add some red pepper flakes. This is a fun way to test out some of your favorite spice blends to create your own unique dip.
Storing Leftovers
Baba ganoush can be kept in the fridge for 4-5 days. It doesn't freeze well so it is best to consume it within a few days of making it.
What's the best way to cook eggplant for baba ganoush?
There is no one way to cook eggplant for the baba ganoush. You can roast it, air fry it, or grill it!
To grill the eggplant, just follow my grilled eggplant recipe (leave out the seasonings since you will be adding them to the dip). It only takes about 4 minutes per side to get the perfect char and cook on the eggplant.
Frequently Asked Questions
Here are the most common questions about baba ganoush.
They might come from the same region and have the same mouth-feel, but baba ganoush is not the same as hummus. The main ingredient in baba ganoush is eggplant. The main ingredient in hummus is chickpeas.
If you prefer not to use tahini in the dip, there are a few options. You can leave it out completely, but the texture won't be quote as smooth and creamy. You could swap in plain, full-fat Greek yogurt but it will make it slightly tangier. You can also use cashew butter or almond butter, but the flavor will be slightly different.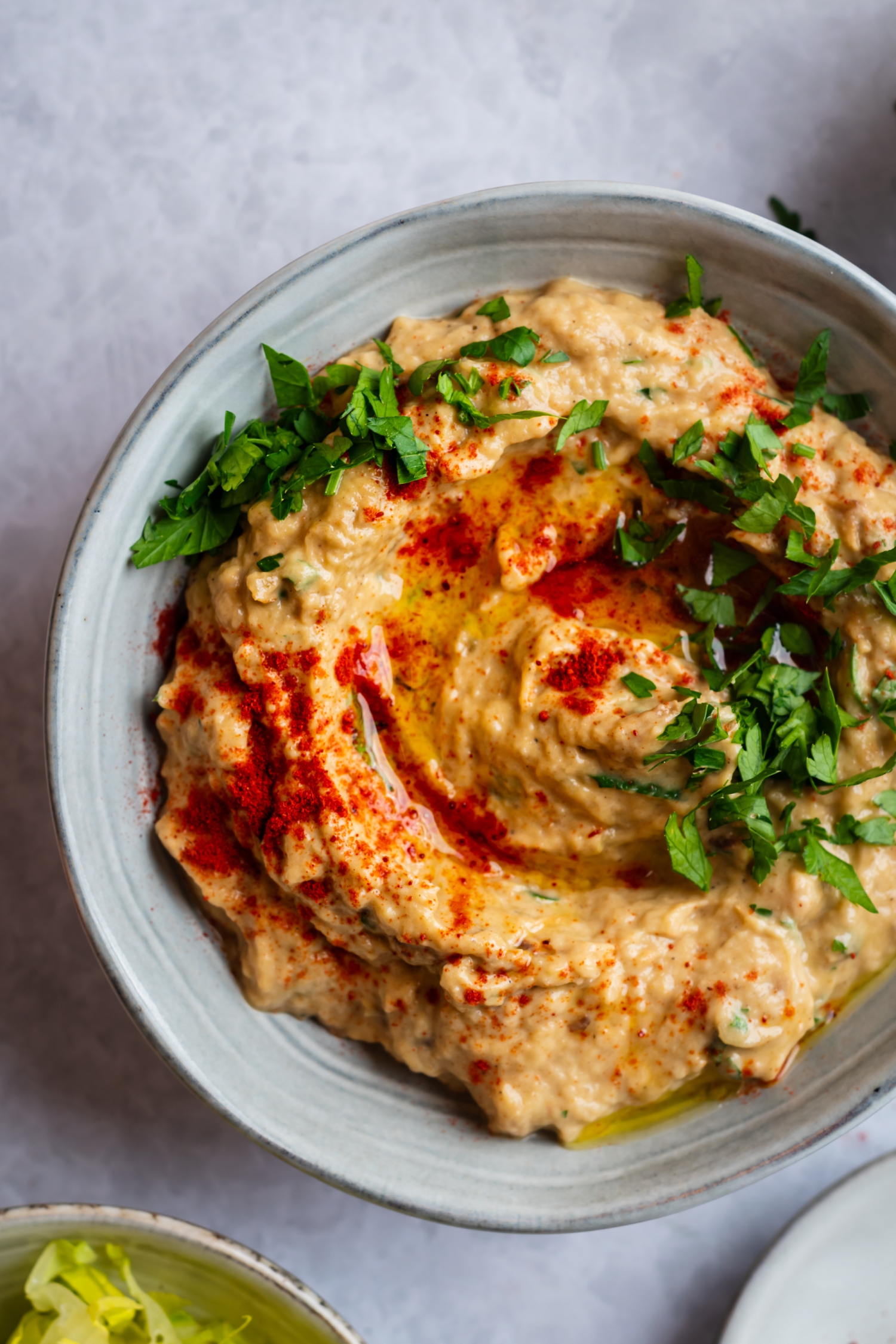 Baba Ganoush (Eggplant Dip)
PREP TIME: 10 Min
COOK TIME: 30 Min
TOTAL TIME: 40 Min
Print

Download

Get in your Inbox
Ingredients
2

tbsp

lemon juice (more to taste)

1

garlic cloves, minced (more to taste)

2

tbsp

olive oil (more as needed)

1/2

tsp

kosher salt (more to taste)
Like this Recipe? Try our Meal Plans!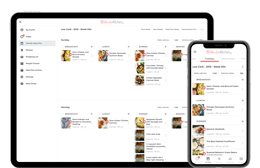 Weekly Meal Plans
Easy Shopping List
Healthy, Low Carb, & Vegetarian
Nutritional Information
Instructions
(Hide Media)
Switch to prevent your screen from going dark.
Nutritional Facts
Serving Size:
about 1/4 cup (75g)
Monounsaturated Fat 0g
0%
Polyunsaturated Fat 0g
0%
* Percent Daily Values are based on a 2,000 calorie diet. Your daily values may be higher or lower depending on your calorie needs.
The Nutritional Values provided are estimates only and may vary based on the preparation method.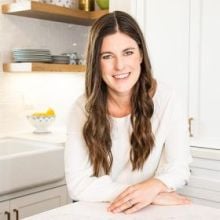 About the author
Meet

Kristen McCaffrey
Hi, I'm the cookbook author, recipe developer, and food enthusiast behind Slender Kitchen. I am obsessed with making healthy food that is easy to prepare and absolutely delicious. Meal planning is my secret weapon and I hope I can make meal time easier for you with our tried and tested recipes and foolproof meal plans.
Learn More
Get delicious, healthy recipes delivered each week right to your inbox.
Join over 80,000 subscribers.
Did you make this?
Snap a picture and show us what you made on Instagram or Facebook.
Tag us using @SlenderKitchen or #slenderkitchen.