Twelve Slow Cooker Chicken Thighs Recipes
Slow Cooker Chicken Thighs Recipes that are healthy, delicious, and all made in the crockpot for easy meals that are affordable and taste great.
Slow Cooker Chicken Thighs are one of my favorite things to make since chicken thighs are not only affordable but make for the most tender and juicy chicken, especially when made in the slow cooker.
In my opinion, chicken thighs are one of the most under appreciated ingredients out there. Not only are they extremely affordable, but they guarantee a tender and moist chicken every time since they have slightly more fat than the leaner chicken breast. Plus they take on flavor really well, making them an ideal candidate for the slow cooker. As everything cooks low and slow together, the chicken absorbs all the delicious flavors in the recipe meaning you never have to worry about bland or boring chicken.
Now when it comes to cooking chicken thighs in the slow cooker, here are some tips and tricks:
Consider buying chicken thighs in bulk to get the very best price possible. They freeze well and you can use them as needed. I find that when I buy them in bulk, I can get them for about half the price of buying them in smaller amounts.
Normally I use boneless and skinless chicken thighs since they are the lowest calorie option and contain less fat than the skin-on version. If you decide to use bone-in chicken thighs, I recommend removing the skin. Not only does it get chewy in the slow cooker, it adds a significiant amount of fat and calories to your dishes. If you leave the skin on, you will likely want to crisp it up under the broiler before serving.
If you only have chicken breasts at home or prefer them, all of these recipes will work with chicken breasts as well. Bone-in, skinless chicken breasts will stay more tender and be more flavorful but any type will work.
Generally chicken thighs cook pretty quickly in the slow cooker. I find that cooking them for 4 hours on low is usually sufficient. However since chicken thighs are forgiving and stay moist, you can also cook them for a full 8 hours on low and not worry about them drying up.
Now on to the recipes! Here are 12 of my favorite Slow Cooker Chicken Thighs meal ideas:
1. Slow Cooker Mediterranean Chicken packed with tender chicken thighs, red peppers, onions, olives, and plenty of Mediterranean flavors, this is a dish you will make again and again.
2. Slow Cooker Chicken Carnitas couldn't be easier to make with just a simple spice blend that adds tons of flavor to the chicken and makes for the best tacos and burrito bowls.
3. Slow Cooker Jerk Chicken is the perfect combination of sweet and spicy, especially when it is served alongside a simple mango slaw.
4. Slow Cooker Spicy Hoisin Chicken Thighs is made with a quick sauce of hoisin sauce and Sriracha for a sweet and spicy combination that is perfect for tender chicken thighs.
5. Slow Cooker Sesame Ginger Chicken is cooked low and slow in the crockpot and then crisped under the broiler to get some nice, crispy pieces.
6. Slow Cooker Sweet and Spicy Chicken is one of our favorite chicken thighs dishes and uses just a few ingredients you probably already have at home. Seriously everyone loves this chicken.
7. Slow Cooker Chicken Cacciatore is Italian comfort food at its best with tomatoes, peppers, mushrooms, and juicy chicken. Serve it with pasta, polenta, cauliflower rice, or spaghetti squash.
8. Slow Cooker Chicken in Chili Verde is a tender chicken dish made with a fresh homemade green salsa that's perfect for tacos, burritos, or grain bowls.
9. Slow Cooker Chicken Tikka Masala with Cauliflower that's easy to make and tastes better than take out.
10. Slow Cooker Chicken Fajita Soup takes all the flavor of chicken fajitas in a tasty soup that's best topped with cheese and all your favorite fajita toppings.
11. Slow Cooker Chicken Quinoa Soup with Kale is a hearty stew that seriously delivers when it comes to flavor. And if kale isn't your thing, you can always use spinach.
12. Slow Cooker Korean Chicken that I love wrapping up in fresh lettuce and topping with thinly sliced veggies.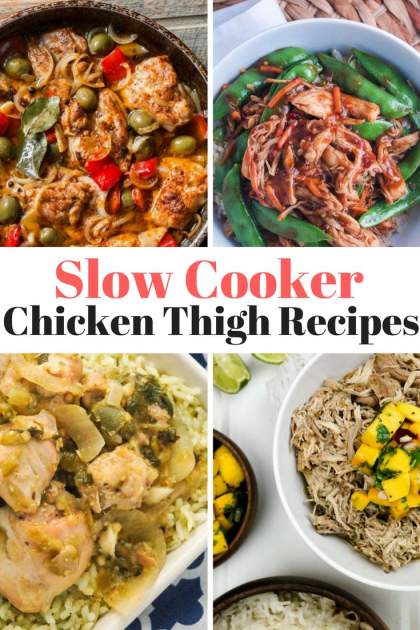 videocam Slender Kitchen Videos
Get delicious, healthy recipes delivered each week right to your inbox.
Join over 80,000 subscribers.