Instant Pot Brown Rice (Plus Meal Prep and Freezer Ideas)
Make perfect, fluffy rice every time using this Instant Pot Brown Rice. Plus find ideas for using your cooked rice, storing it for meal prep, and freezing brown rice for later use.
121 CALORIES
24g CARBS
2g FAT
2g PROTEIN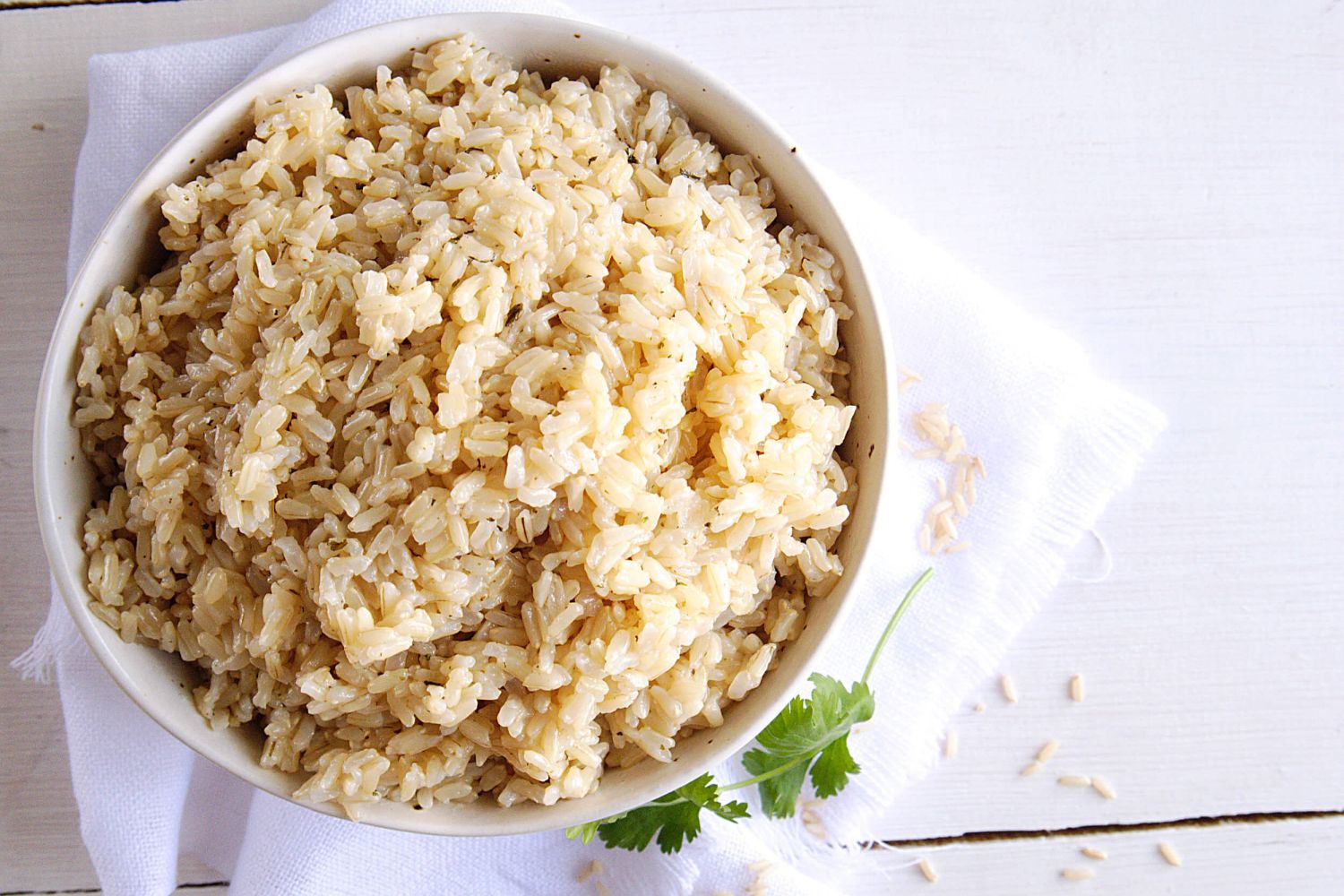 This easy pressure cooker brown rice ensures perfectly cooked brown rice every time. It's tender, fluffy, and can be used in so many different recipes from side dishes to full meals.
This is the most foolproof way I know to cook rice that comes out tender, fluffy, and ready to eat every time. Now, this is a funny thing to admit as a food blogger, but cooking rice on the stovetop is kind of my nemesis. Most of the time it comes out too mushy, sometimes its crunchy, and if I get it right - my timing is off so by the time the rest of the meal is ready, the rice is a mess.
That's why I love making brown rice in the Instant Pot. After about 2 minutes of prep time, I can walk away and know that in 40 minutes, I will have the best brown rice. I don't have to worry about boiling, simmering, covering, checking the temperature, rinsing, soaking, none of it. This is simple cooking at its best.
This has also saved me in recent weeks since I haven't been able to find the frozen or shelf-stable rice I normally buy for convenience. This method is so much more affordable and doesn't take that much extra work. Just throw the rice in the Instant Pot, let it cool, and store or freeze it for later use. Also, this is one of my favorite brown rice options to buy in bulk and it is still in stock.
You can use this brown rice in so many different recipes and dishes. Use it as a side dish, make fried rice, make rice bowls, make hearty salads, there are so many options for easy meals and meal prep.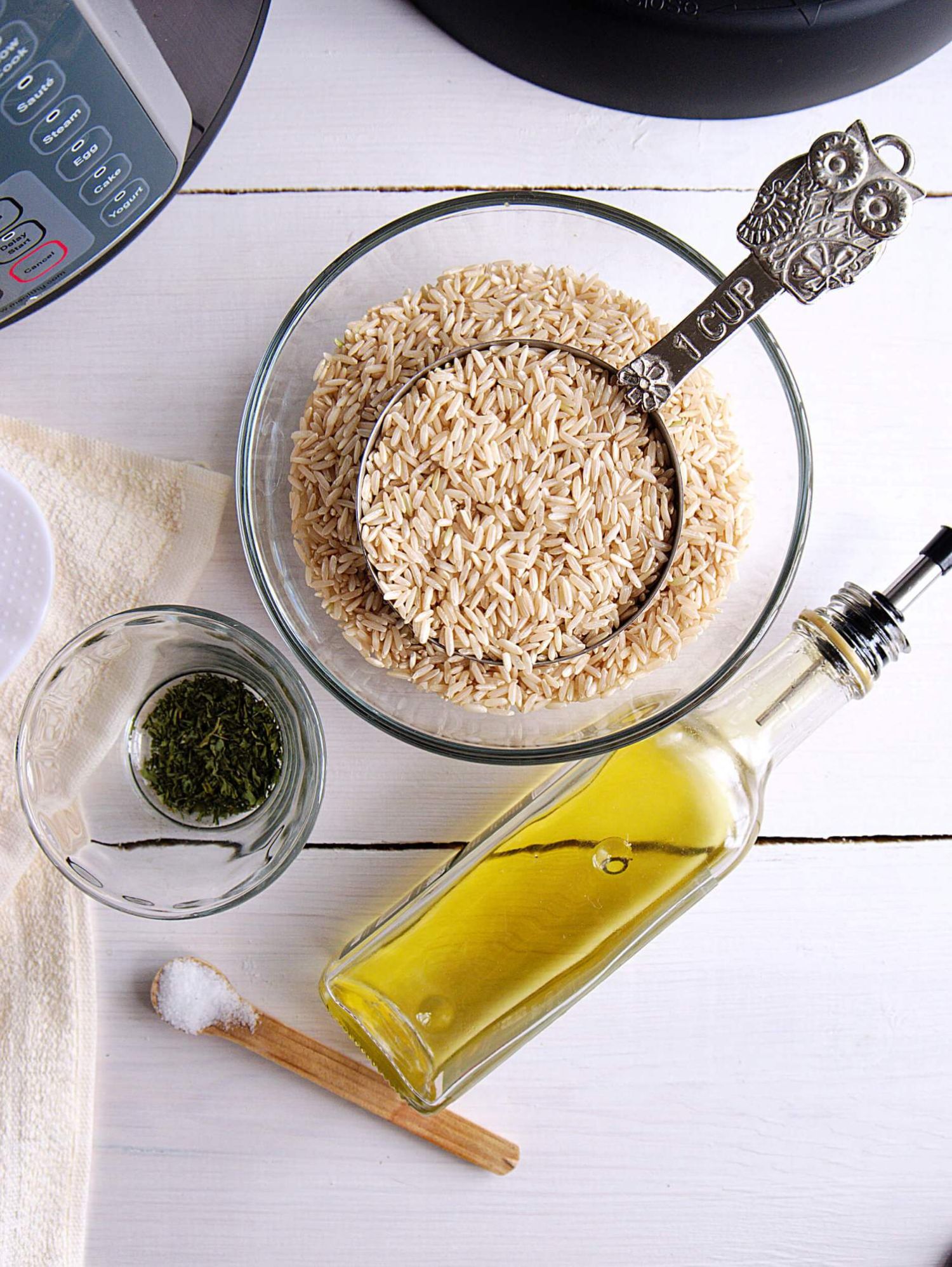 How to Make Brown in the Instant Pot
It couldn't be easier to make brown rice in the pressure cooker. This recipe does not require rinsing the rice, just dump it in and walk away.
Start by adding the rice to the Instant Pot. Make sure to use at least 1 cup of rice in a 6 quart Instant Pot and 1.5 cups of rice in an 8 quart Instant Pot for best results.
Next, you will want to add the liquid. This could be water, chicken broth, vegetable broth, or beef broth. To that, you have the option of adding a touch of fat like butter or olive oil. This helps flavor the rice and helps it not to stick together.
To that, you can add spices and seasonings if you like. Rice tastes much better with salt, so I recommend adding around 1 teaspoon of kosher salt. You could also add black pepper, dried herbs, a bay leaf, onion, garlic, or any other seasoning you like.
Close the Instant Pot and set it to seal. Then set the cooking time to 22 minutes at High Pressure. The pressure cooker will take about 10 minutes to come to pressure and then the rice needs to cook for the full 22 minutes. Once it finishes, you want to let it naturally release for 10 minutes.
After 10 minutes, carefully release the steam using the vent. Then open the Instant Pot and fluff your rice using a fork.
How to Add Flavor to Pressure Cooker Brown Rice
There are lots of ways to add flavor to brown rice but since this recipe makes a full 6 cups of cooked rice, I recommend adding most of the flavor after cooking the rice.
If you want to add some flavor before cooking the rice, I recommend using subtle flavors that will go with most meals.
Instead of water, use broth or stock. This adds tons of flavor to the rice in one simple step. You can use actual liquid stock, bouillon cubes, or bouillon powder. Just make sure to dissolve it in the water.
Add neutral flavors like dried parsley, bay leaves, salt, black pepper, onion pieces, or garlic.
Then once your rice is cooked, you can portion it out and add all kinds of flavor.
Add fresh or dried cilantro (coriander), lime juice, and lime juice to make a Chipotle copycat.
Add lemon juice and fresh parsley to make a bright, fresh brown rice.
Add soy sauce and ground ginger for an Asian style rice.
Mix in some salsa to your rice and add drained canned beans for a quick and easy Mexican style rice.
Add black beans (undrained) and cilantro to make a Cuban style black beans and rice.
Add butter and Parmesan cheese for a simple but super flavorful option. This is such comfort food.
Add homemade pesto (or storebought), marinara sauce, cooked vegetables and cheese, or a combination of curry paste and coconut milk. Get creative!
How to Store and Freeze Cooked Rice
If you plan on storing the rice in the fridge or freezer, the most important thing is to get it cooling right away. You want to take it out of the Instant Pot and place it on a baking sheet to cool down more quickly and prevent it from continuing to cook. This can create mushy rice. For the fastest cooling, place it in the freezer on the baking sheet or just leave it at room temperature for 15-20 minutes until cool.
Once it has fully cooled, you can store it in an airtight container in the fridge for about 5 days.
If you plan to freeze it, add it to a ziploc bag or airtight container. Make sure it is fully cooled or it will stick together. It will last in the fridge for up to 6 months. Personally, I like to store it in family sized or individual portion bags so that I can quickly grab what I need. This also makes it easy to store.
To reheat, you can let it naturally defrost in the fridge overnight. You can also reheat it in the microwave or in a pan with a touch of oil or butter.

Ideas for Using Cooked Brown Rice - Meal Prep
There are so many ways to use cooked rice for meal prep whether you pull it out for a simple side dish, make rice bowls, or whip up a whole meal. Here are some recipes we love for using cooked rice.
Anytime I have leftover cooked rice, you can almost guarantee I am making fried rice. This Healthy Fried Rice is a favorite as is this version with chicken or pork.
If you haven't ever added a fried or poached egg to your rice, you are missing out. Grab your rice, some sauteed vegetables like zucchini or mushrooms, and throw an egg on top with some Parmesan cheese and black pepper. So simple and so tasty.
Make this Skillet Mexican Brown Rice Casserole using your leftover rice, black beans, corn, salsa, and cheese.
Make a delicious salad using rice to bulk it up.
Try making soup with your leftover cooked rice. This could be a simple rice and vegetable soup using whatever you have at home or try this Lentil and Brown Rice Stuffed Pepper Soup.
One more vote for fried rice with this simple Beef and Broccoli Fried Rice that can be made with frozen veggies.
Will this work with white rice? wild rice?
Brown rice, white rice, and wild rice all have different cooking times in a pressure cooker so you will need to adjust depending on what kind of rice you are cooking. Here are some basic guidelines for standard brown, white, and wild rice. These may shift slightly for other types of rice.
Brown rice (short or long grain): 22 minutes
White rice (short or long grain): 4 minutes
Wild rice: 25 minutes
Important Tips
Never fill the Instant Pot over half full when making rice.
For a 6 quart Instant Pot, make sure to cook at least 1 cup of rice. For an 8 quart Instant Pot, make sure to cook at least 1.5 cups of rice. This will prevent burning.
If you rinse your rice before cooking, decrease the liquid in this recipe by 3 tablespoons.
Also if you are wondering, this is the Instant Pot I use at home. I find the 6 quart works great for our family, which includes two adults and two small children. For a larger family, you may want to the 8 quart option.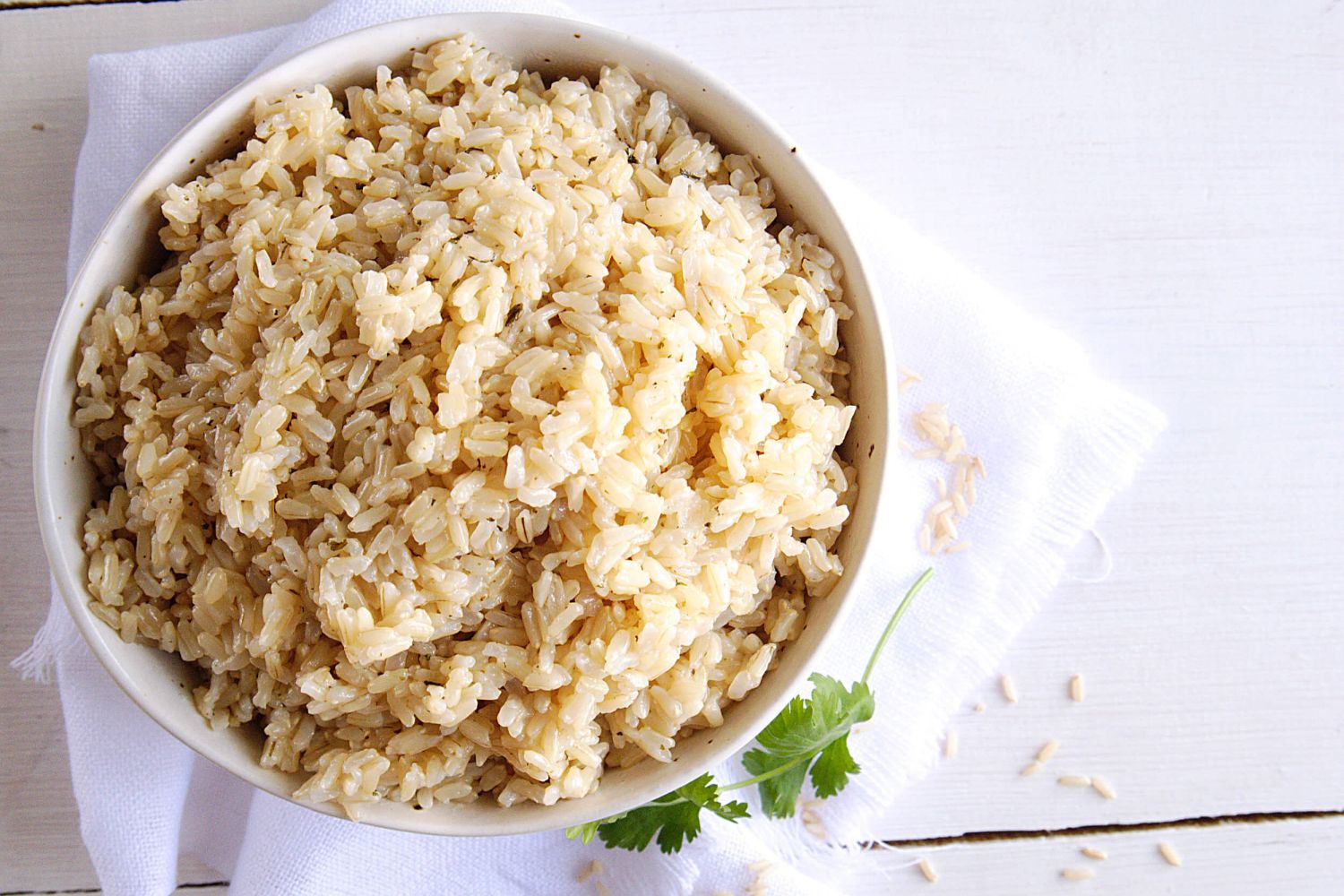 Instant Pot Brown Rice (Plus Meal Prep and Freezer Ideas)
PREP TIME: 5 Min
COOK TIME: 30 Min
TOTAL TIME: 35 Min
Print

Download

Get in your Inbox
Ingredients
2.5

cups

water (or vegetable or chicken broth)

1

teaspoon

dried parsley (or any other seasoning you'd like, optional)
Like this Recipe? Try our Meal Plans!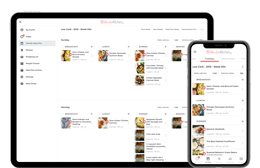 Weekly Meal Plans
Easy Shopping List
Healthy, Low Carb, & Vegetarian
Nutritional Information
Instructions
(Hide Media)
Switch to prevent your screen from going dark.
Nutritional Facts
Monounsaturated Fat 0g
0%
Polyunsaturated Fat 0g
0%
* Percent Daily Values are based on a 2,000 calorie diet. Your daily values may be higher or lower depending on your calorie needs.
The Nutritional Values provided are estimates only and may vary based on the preparation method.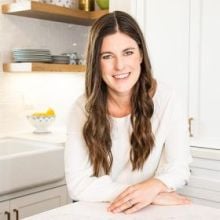 About the author
Meet

Kristen McCaffrey
Hi, I'm the cookbook author, recipe developer, and food enthusiast behind Slender Kitchen. I am obsessed with making healthy food that is easy to prepare and absolutely delicious. Meal planning is my secret weapon and I hope I can make meal time easier for you with our tried and tested recipes and foolproof meal plans.
Learn More
† We are a participant in the Amazon Services LLC Associates Program, an affiliate advertising program designed to provide a means for us to earn fees by linking to Amazon.com and affiliated sites.
Get delicious, healthy recipes delivered each week right to your inbox.
Join over 80,000 subscribers.
Did you make this?
Snap a picture and show us what you made on Instagram or Facebook.
Tag us using @SlenderKitchen or #slenderkitchen.