Polenta Fries are crispy on the outside and fluffy on the inside for the ultimate healthy side dish. Made simply with polenta, olive oil, parmesan cheese, and Italian seasoning, you won't be able to get enough of this mouth-watering dish!
147 CALORIES
19g CARBS
5g FAT
5g PROTEIN
I love French fries as much as the next person. However, with all their unwanted sodium, saturated fats, and carbohydrates, I'm always looking for healthier alternatives. From Healthy Carrot Fries to Spicy Green Bean Fries, I've tried just about every healthy fry alternative in the book.
Or so I thought. Enter: Polenta Fries. Polenta is coarsely ground cornmeal with a texture and consistency similar to that of grits. It has a subtle, corn-like flavor that is super versatile for any combination of spices. If you've never tried polenta fries, then it may seem crazy, but hardened polenta actually has a fantastic texture for french fries.
One of the greatest things about these fries is that they are unbelievably easy to make. When using pre-packaged polenta, these tasty fries come together in just 30 minutes. Easy, quick, and delicious—what's not to love?
If you're looking to really take this recipe to the next level, you can make Polenta Fries using homemade polenta. Instead of using the prepackaged kind, you can make your own polenta from scratch. Wait for it to cool and harden, then cut it into fries and follow the recipe. I don't typically go this route, but I know some people love making their own.
This healthy side dish is perfect for pairing with all your favorite burgers and sandwiches. I've served it for my family dozens of times and it's always been a huge hit in my home. Try it out for yourself and let me know what you think in the comments!
We also love making these creamy Polenta Bowls and Baked Polenta with Italian Vegetables when we are craving that delicious polenta flavor.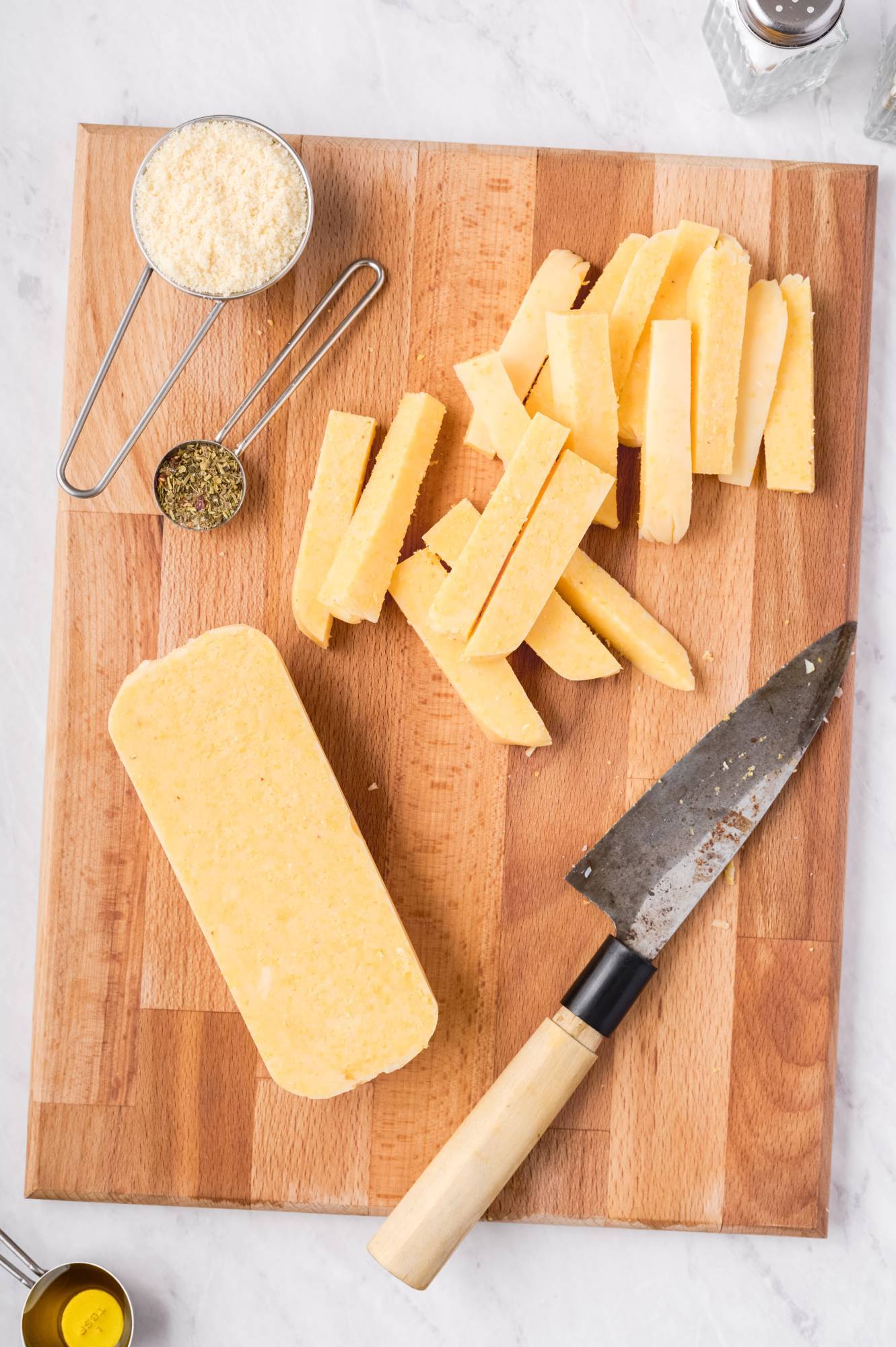 What Is Polenta?
Polenta is an age-old Italian delicacy made from coarsely ground cornmeal. It has a flavor and texture reminiscent of grits, and its subtle corn flavor pairs well with just about almost anything that you pair it with.
Polenta is super easy to make from home, using just a few basic ingredients. All you have to do is bring a pot of salted water to a boil, then add your cornmeal. Turn the heat to low and cook for about 45 minutes, stirring every 10 minutes. Then, butter a baking dish and pour in the mixture.
Let it cool to room temperature and it will solidify into polenta as it cools. If you don't have the time for this, you can find packaged polenta at most grocery stores!
Key Ingredients
To make these delicious crispy fries, you will need just a few key ingredients:
Polenta. Polenta is made of ground cornmeal, water, butter, salt, and pepper. When baked into fries, it gets crispy on the outside and tender on the inside, making it the perfect potato alternative for homemade fries.
Parmesan cheese. Parmesan adds tons of delicious, cheesy flavor to these healthy fries. For a gooier cheese, try swapping out the parmesan for mozzarella cheese.
Italian seasoning. I love seasoning my Polenta Fries with Italian seasoning, but you could really use any spices you prefer. If you want to make Italian seasoning at home, just combine basil, fresh oregano, rosemary, and thyme.
Recipe Tips
Here are my top tips for making the best homemade Polenta Fries:
If making your polenta from scratch, play around with the recipe! You can add your favorite spices and even some parmesan or mozzarella cheese.
If making your polenta from scratch, it will need at least an hour in the refrigerator to set before you are able to slice it into fries. Make sure you plan accordingly with this in mind.
If you are opting for prepackaged polenta, be sure to pat it dry before cutting it into fries. This will help to ensure that the fries get nice and crispy.
Make sure to cut your fries into even strips to ensure that they cook evenly. I recommend cutting your polenta into long, horizontal sheets, then cutting those in half. Then, slice them into fries that are about ½ inch thick.
To make these fries vegan, swap the parmesan cheese for nutritional yeast. Nutritional yeast still has an umami-rich cheesy flavor and tons of nutrients.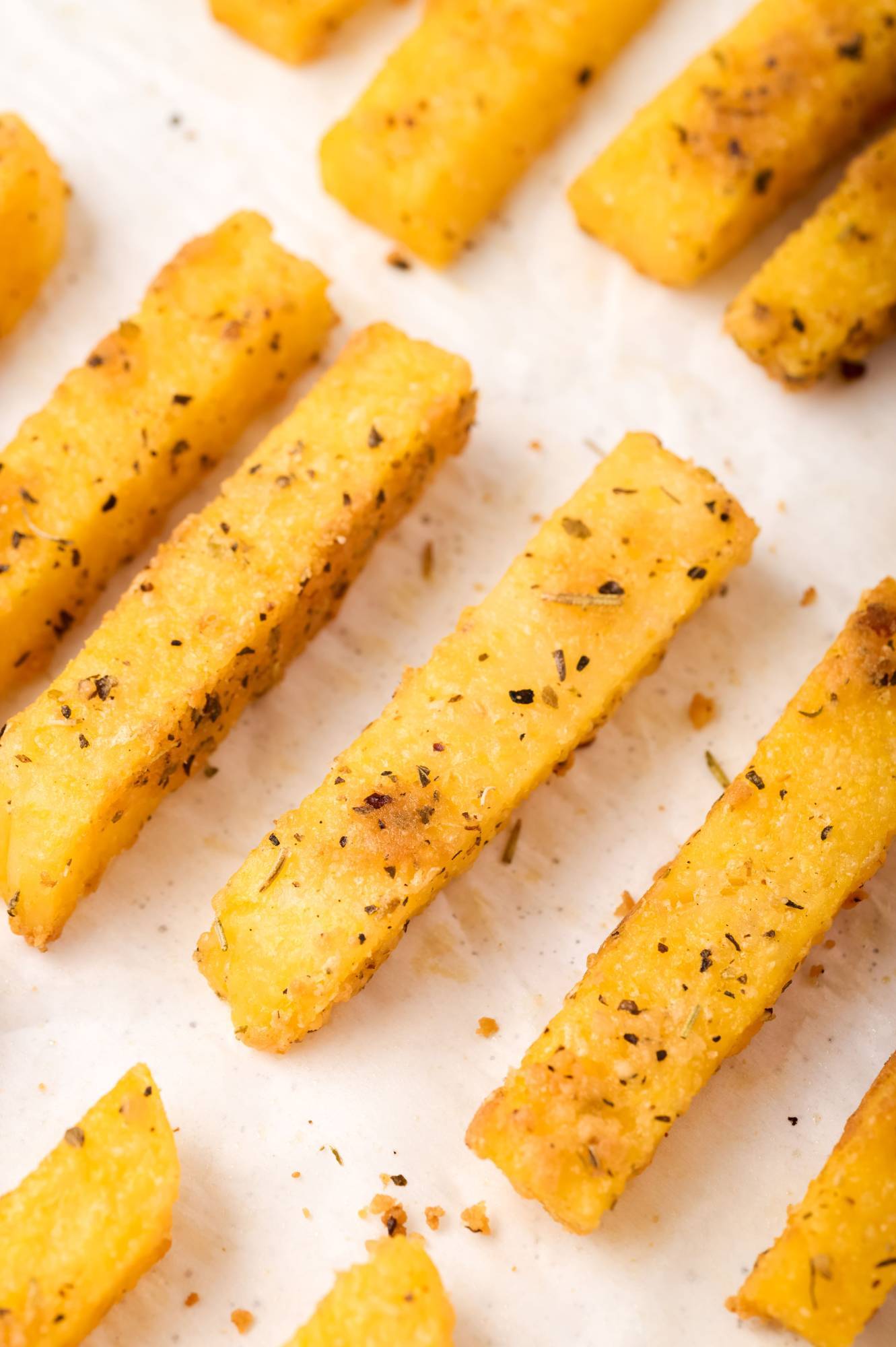 Polenta Fries Seasoning Ideas
Although this recipe calls for Italian seasoning, you can really use any seasoning that you would like for these delicious Polenta Fries! Here are a few ideas for spices and herbs that pair well with fries:
Red pepper flakes or cayenne powder
Paprika or smoked paprika
Onion powder
Garlic powder
Dried parsley
All-purpose seasoning
Cajun seasoning
How to Store Polenta Fries
If you happen to have any leftovers (which is a rarity in my household), you can easily store them to save for later. Just transfer your leftover fries in an airtight storage bag or container, then store them in one of two ways:
In the fridge for up to 4-5 days.
In the freezer for up to 3 months.
Frequently Asked Questions
Here are some of the most frequently asked questions about this healthy side dish recipe:
Polenta is a nutritious gluten-free grain that makes for a delicious source of antioxidants. Compared to regular french fries, polenta fries are lower in carbohydrates, sodium, and calories, making them an excellent healthier substitute.
Fried polenta has a mild corn flavor that is similar to grits or cornbread. One of the great things about polenta is how easily it can adapt to the flavors of whatever it's paired with. Therefore, these fries are incredibly easy to season to suit your preferences.
Polenta fries can be seasoned in all sorts of ways. I typically go with the classic Italian seasoning, but you could really use whatever seasoning you like. For spicier fries, try sprinkling some red pepper flakes over them. For a cheesier flavor, bake them under a thin layer of gooey mozzarella cheese.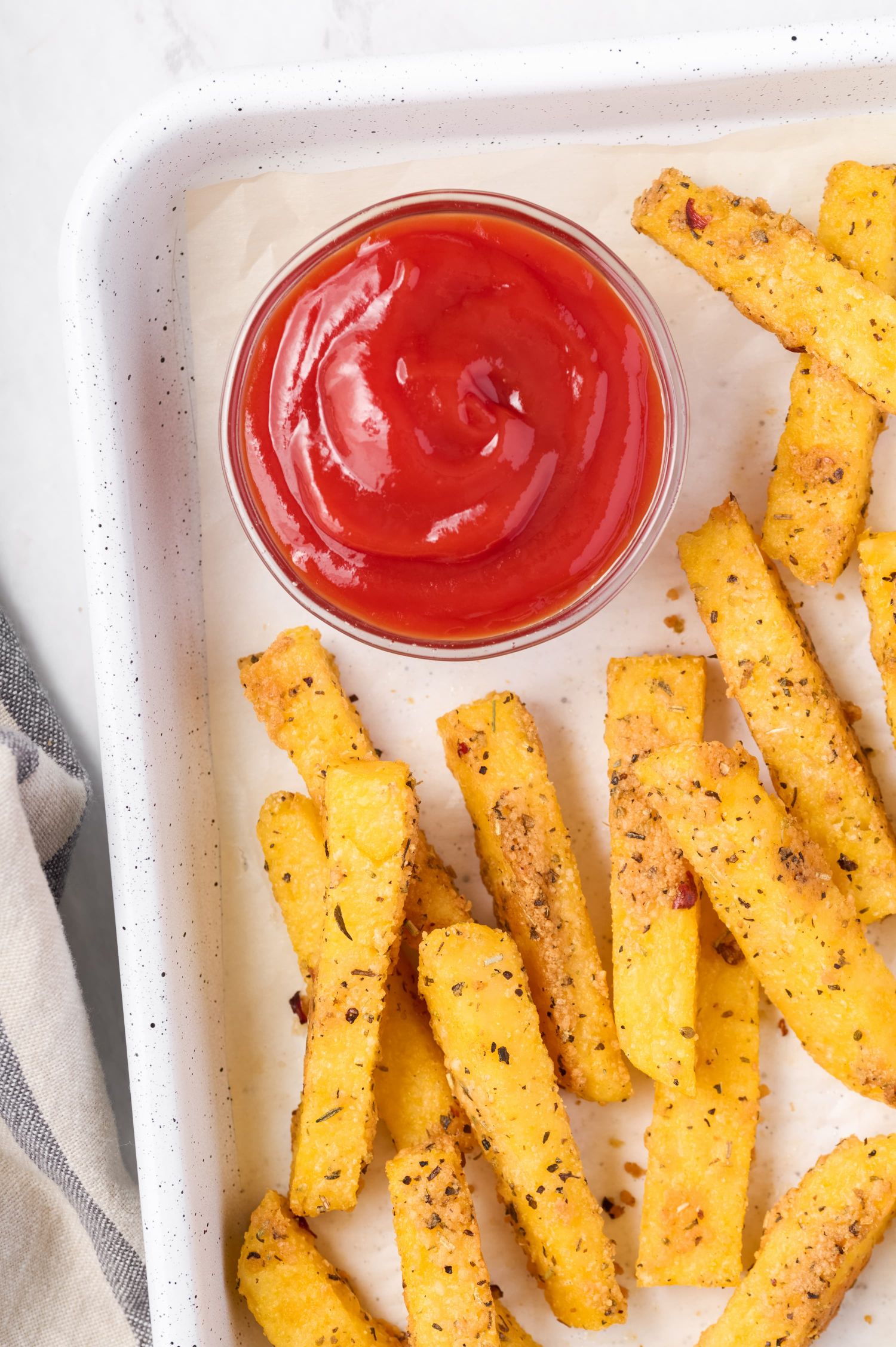 Polenta Fries
PREP TIME: 5 Min
COOK TIME: 30 Min
TOTAL TIME: 35 Min
Print

Download

Get in your Inbox
Ingredients
18

oz

prepared polenta tube
Like this Recipe? Try our Meal Plans!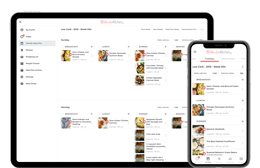 Weekly Meal Plans
Easy Shopping List
Healthy, Low Carb, & Vegetarian
Nutritional Information
Instructions
(Hide Media)
Switch to prevent your screen from going dark.
1
Preheat the oven to 425 degrees. Cover a baking sheet with parchment paper or cooking spray. Cut the polenta tube into fries. I find the easiest way to do this is to cut into long horizontal sheets, cut in half, and then slice into fries. You can choose the thickness of the fries, thinner fries will cook faster.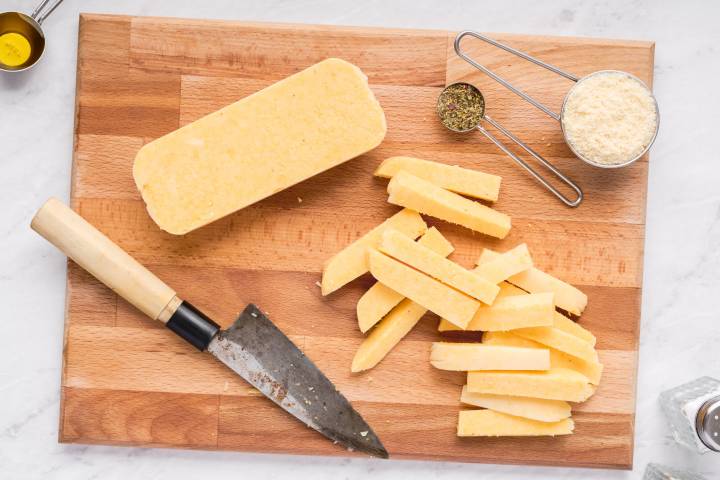 Nutritional Facts
Monounsaturated Fat 0g
0%
Polyunsaturated Fat 0g
0%
* Percent Daily Values are based on a 2,000 calorie diet. Your daily values may be higher or lower depending on your calorie needs.
The Nutritional Values provided are estimates only and may vary based on the preparation method.
Optional: 1-2 tbsp. seasoning – Cajun, Greek, Italian, etc.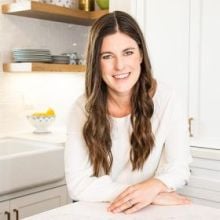 About the author
Meet

Kristen McCaffrey
Hi, I'm the cookbook author, recipe developer, and food enthusiast behind Slender Kitchen. I am obsessed with making healthy food that is easy to prepare and absolutely delicious. Meal planning is my secret weapon and I hope I can make meal time easier for you with our tried and tested recipes and foolproof meal plans.
Learn More
Get delicious, healthy recipes delivered each week right to your inbox.
Join over 80,000 subscribers.
Did you make this?
Snap a picture and show us what you made on Instagram or Facebook.
Tag us using @SlenderKitchen or #slenderkitchen.