Pan Seared Tilapia with Green Beans
This easy pan seared tilapia with green beans, garlic, lemon, and a homemade spice rub is a 15 minute meal that delivers tons of flavor.
252 CALORIES
13g CARBS
8g FAT
35g PROTEIN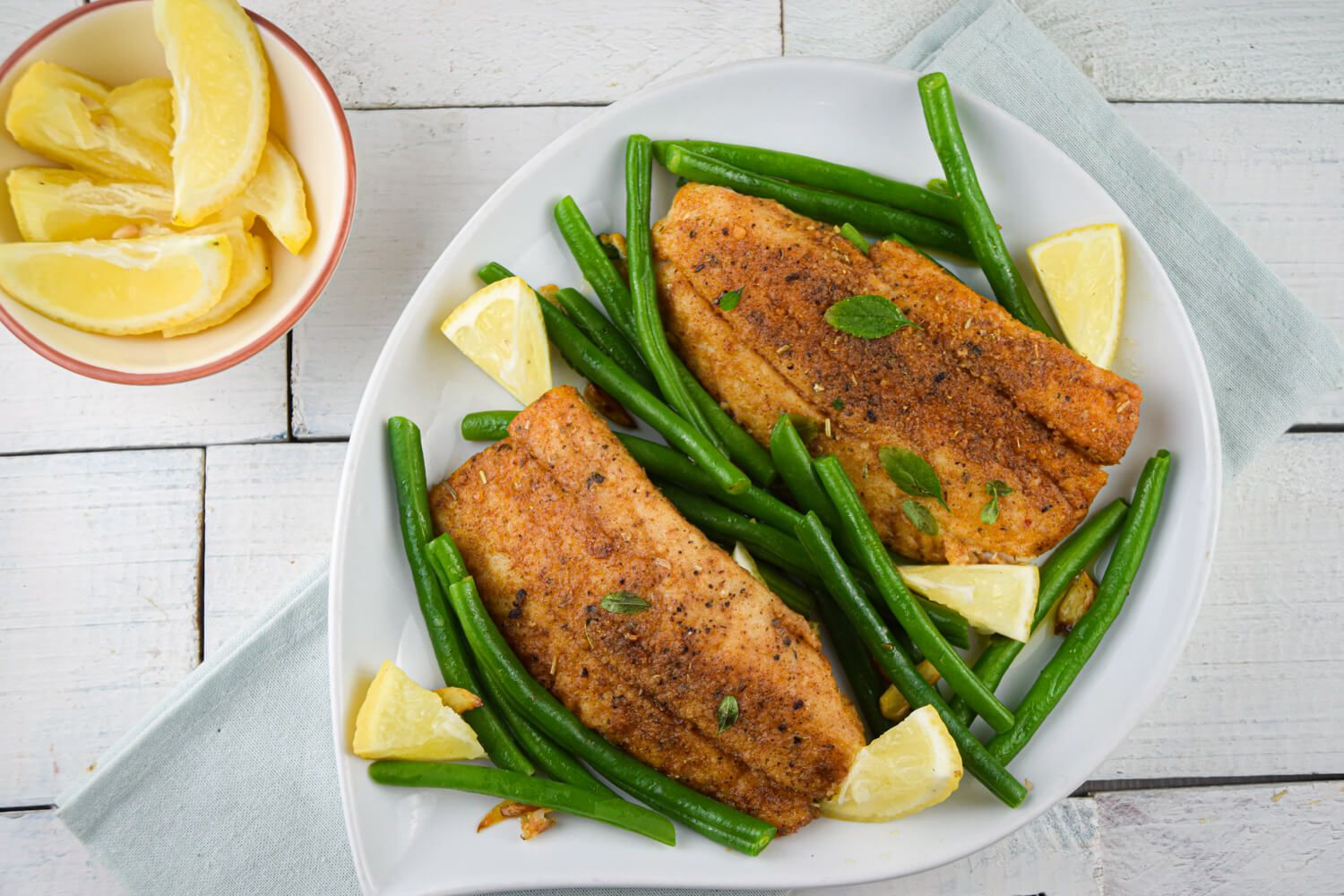 This easy Pan Seared Tilapia dish with a homemade spice rub and green beans cooks right in one pan for a quick and healthy dinner that's always a crowd pleaser. It's a great way to try out tilapia, just like these Tilapia Fish Burgers and Blackened Tilapia.
I feel as though tilapia is a fish that many look over as they opt for meatier fish like salmon and tuna. But I'm a huge fan of tilapia! Although not as thick as some bigger fish, it still has a meaty taste and texture. Also, it's healthy and affordable, all of which add up to one perfect seafood option if you ask me.
Also, tilapia is like chicken, in that it's great at taking on the flavors of whatever you throw at it — whether you use a dry rub, a marinade, or just add to a sauce. It's great with all kinds of veggies too!
All that being said, usually, when it comes to fish dishes I prefer something simple that really lets the fish shine, and for the veggies to be the side rather than the star. For this recipe, I used a touch of coconut flour (but regular flour would work too) to create a crispy coating on the fish and then I paired it with some green beans in a simple preparation for a low-calorie, low-carb meal.
While you could use any fish you like, I've found that tilapia works the best in my opinion. Or, if you prefer, a thinly sliced chicken breast or pork cutlet would work as well.

How Do You Cook Tilapia?
The first thing you want to do is make sure your tilapia is thawed. (I do this in the fridge.) Then, you'll season the fish with salt and pepper. In a bowl, mix together the coconut (or regular) flour, with the garlic powder, oregano, and paprika. Press the fish into this mixture on one side, and set aside.
In a skillet over medium-high heat, melt the butter. Add the fish to the skillet, flour side down, and cook for about 4 minutes or until it's browned. Flip the fish and cook on the other side for about 2 more minutes. Take it out of the skillet and set aside on a plate. Cover to keep warm. Tilapia is cooked when it is white, opaque, and flaky.
In the same skillet, add the green beans and garlic and cook over medium-high heat. Once the garlic starts to get fragrant, add about ¼ cup water and cover with a lid. Cook for an additional 4-6 minutes, or until the green beans are tender.
Plate the fish with the green beans and season with salt and pepper if you like. I also like to squeeze some lemon juice over the fish before diving right in.
If you are craving a different spice blend, you can also pan sear this Lemon Pepper Tilapia.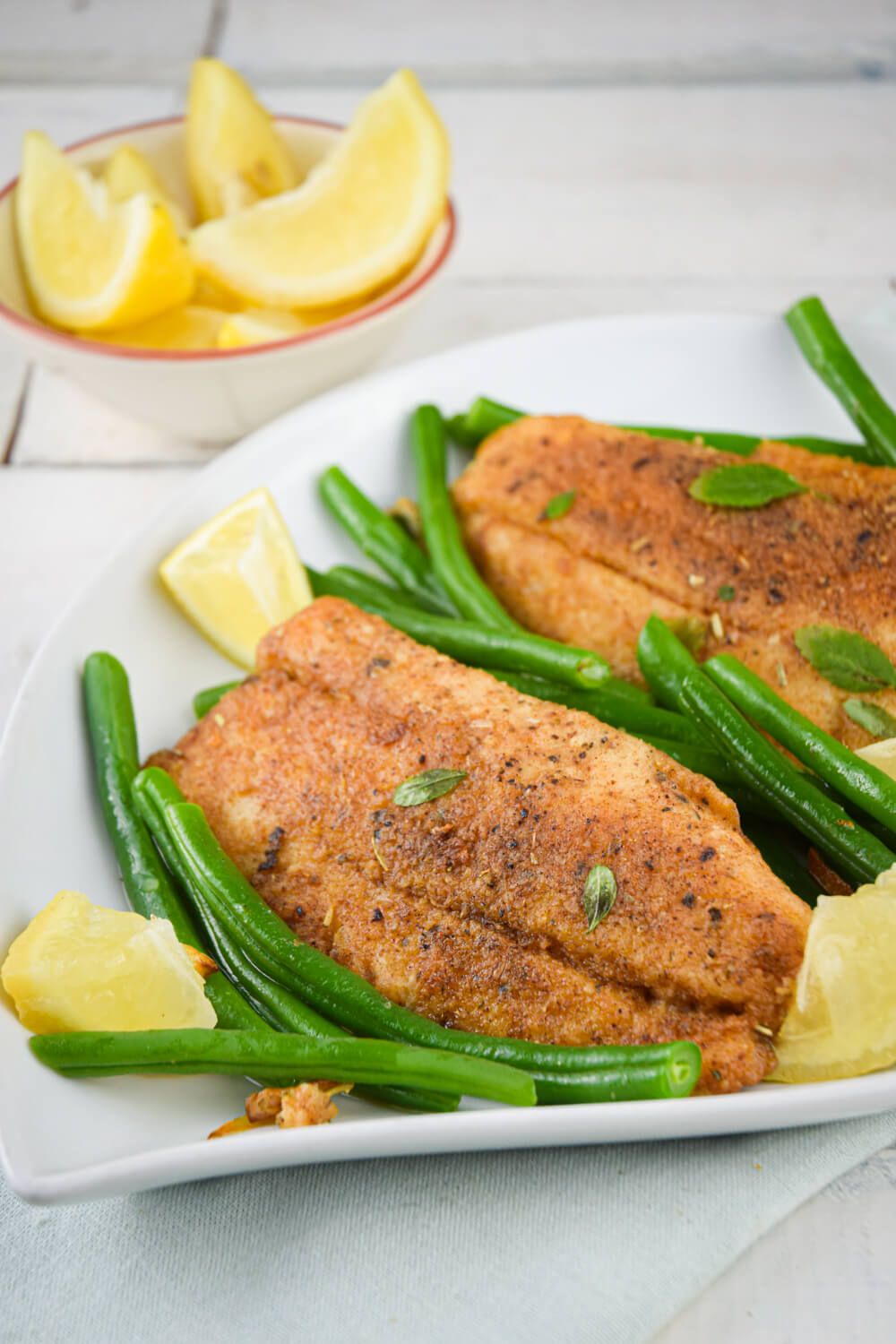 What Makes Tilapia with Green Beans Healthy?
This tilapia dish is quite nutritious and healthy for you.
First off, tilapia is low in calories, carbs, and sodium. It has way less fat than other meats, especially the processed kind. It contains no nitrates, but does contain the essential fatty acids Omega-3 and -6, which are good for your heart, vision, and joints. It's also a great source of protein, is low in fat, and contains vitamins B12, phosphorus, selenium, and potassium.
I use coconut flour in this dish because it gives the fish that nice coconutty flavor and a breading while also being high in fiber and MCTs. Coconut flour is gluten-free, and is thought to better stabilize your blood sugar than regular flour. It's also good for your heart, and just darn-right tasty.
Seasonings like garlic, paprika, and oregano are great ways to add flavor without any additional calories, fat, or sodium. Plus, many spices are full of antioxidants and inflammation-fighting properties.
A little bit of butter or ghee is okay with me! Although you don't want to overdo it due to its high fat content, butter is still rich in protein and calcium, as well as butyrate and conjugated linoleic acid. Some high-fat dairy products can help reduce your risk of heart problems and diabetes, when used in moderation and in conjunction with a healthy diet.
Green beans are not only a great, all-around veggie but just so happen to be one of my favorites. They are full of vitamins K, C, and A, and also contain fiber and folic acid. They are also low in fat and calories, and contain fiber and protein.
Finally, I like to finish off most fish dishes with a squeeze of lemon. Why? Well, because the bright, citrusy flavors of lemon really help to bring out the flavors of whatever fish you're eating. Also, lemons are high in vitamins C, which can reduce your risk of heart disease and stroke. The soluble pectin they contain is also thought to be filling, and they help you absorb iron from the other foods you're eating.
Is tilapia actually healthy?
There are a lot of questions out there about how healthy tilapia is given some of the ways it is farmed. When buying tilapia, it is always farm raised. Tilapia is not a wild caught fish. However, there are different standards when it comes to farming.
Whenever possible, look for tilapia that has been farmed according to high standards. A good place to check is Seafood Watch, which rates tilapia based on farming practices. Another good rule of thumb can be only purchasing tilapia from stores that certify the safety of their fish like Whole Foods or some other fish markets.
Can this be made with another fish? veggies?
This recipe works great with any flaky white fish as well as salmon. You can swap in different vegetables and even change out the spices if you like. Consider it a blueprint for making all kinds of simple pan seared fish and vegetable dishes.
I hope you enjoy this delicious tilapia and veggie recipe! I know I did!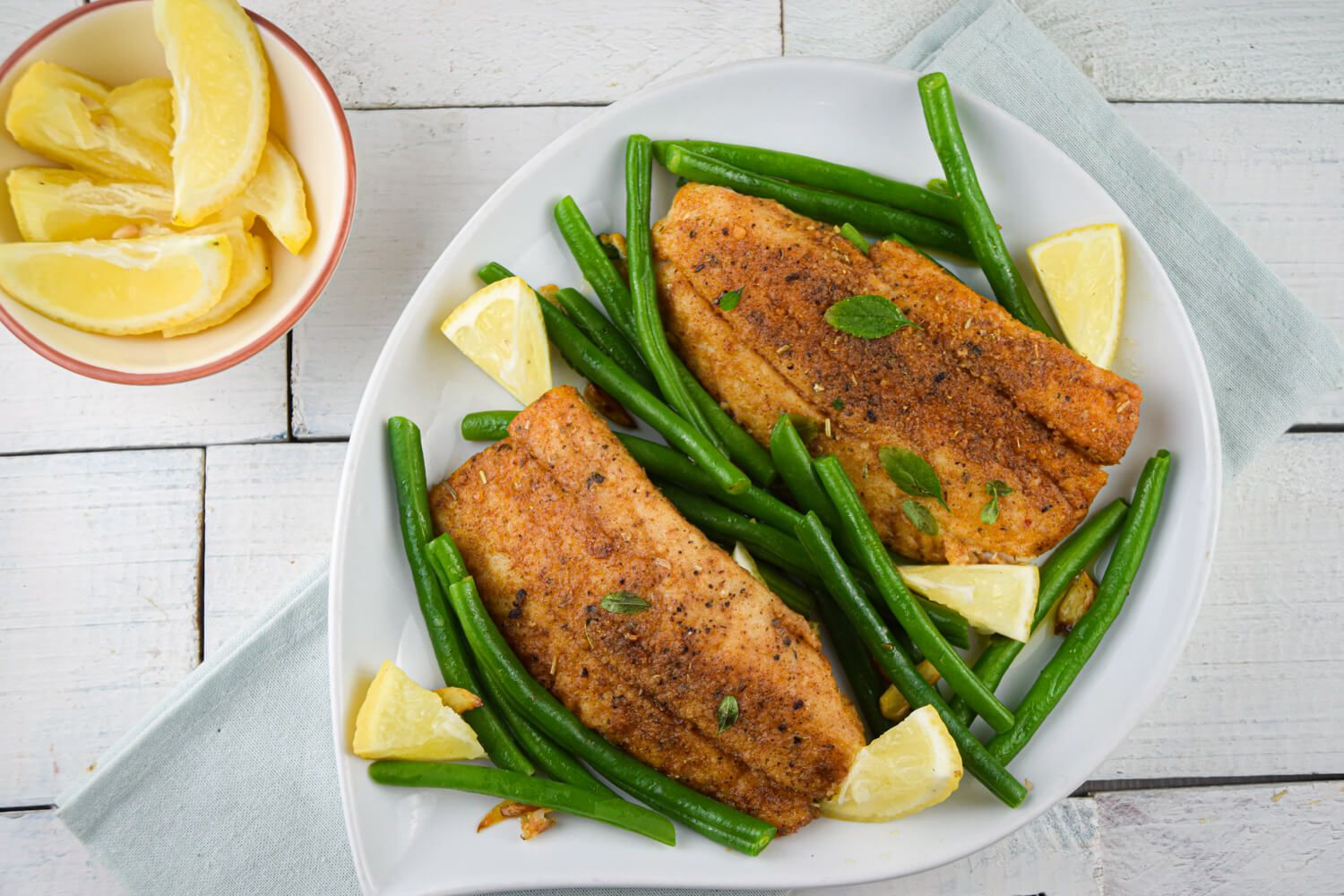 Pan Seared Tilapia with Green Beans
PREP TIME: 10 Min
COOK TIME: 15 Min
TOTAL TIME: 25 Min
Print

Download

Get in your Inbox
Ingredients
24

oz

tilapia (4 filets, or any white fish)
Like this Recipe? Try our Meal Plans!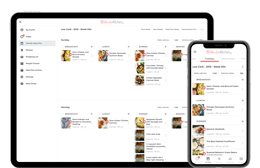 Weekly Meal Plans
Easy Shopping List
Healthy, Low Carb, & Vegetarian
Nutritional Information
Instructions
(Hide Media)
Switch to prevent your screen from going dark.
Nutritional Facts
Serving Size:
6 oz. fish and 3/4 cup green beans
Monounsaturated Fat 0g
0%
Polyunsaturated Fat 0g
0%
* Percent Daily Values are based on a 2,000 calorie diet. Your daily values may be higher or lower depending on your calorie needs.
The Nutritional Values provided are estimates only and may vary based on the preparation method.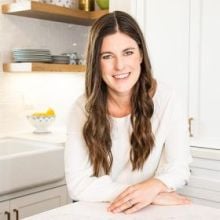 About the author
Meet

Kristen McCaffrey
Hi, I'm the cookbook author, recipe developer, and food enthusiast behind Slender Kitchen. I am obsessed with making healthy food that is easy to prepare and absolutely delicious. Meal planning is my secret weapon and I hope I can make meal time easier for you with our tried and tested recipes and foolproof meal plans.
Learn More
† We are a participant in the Amazon Services LLC Associates Program, an affiliate advertising program designed to provide a means for us to earn fees by linking to Amazon.com and affiliated sites.
Get delicious, healthy recipes delivered each week right to your inbox.
Join over 80,000 subscribers.
Did you make this?
Snap a picture and show us what you made on Instagram or Facebook.
Tag us using @SlenderKitchen or #slenderkitchen.