Grilled Sirloin Steak with Chimichurri
Grilled Sirloin Steak is full of flavor from a quick chimichurri sauce and ready in 20 minutes for an easy, healthy dinner.
280 CALORIES
1g CARBS
19g FAT
25g PROTEIN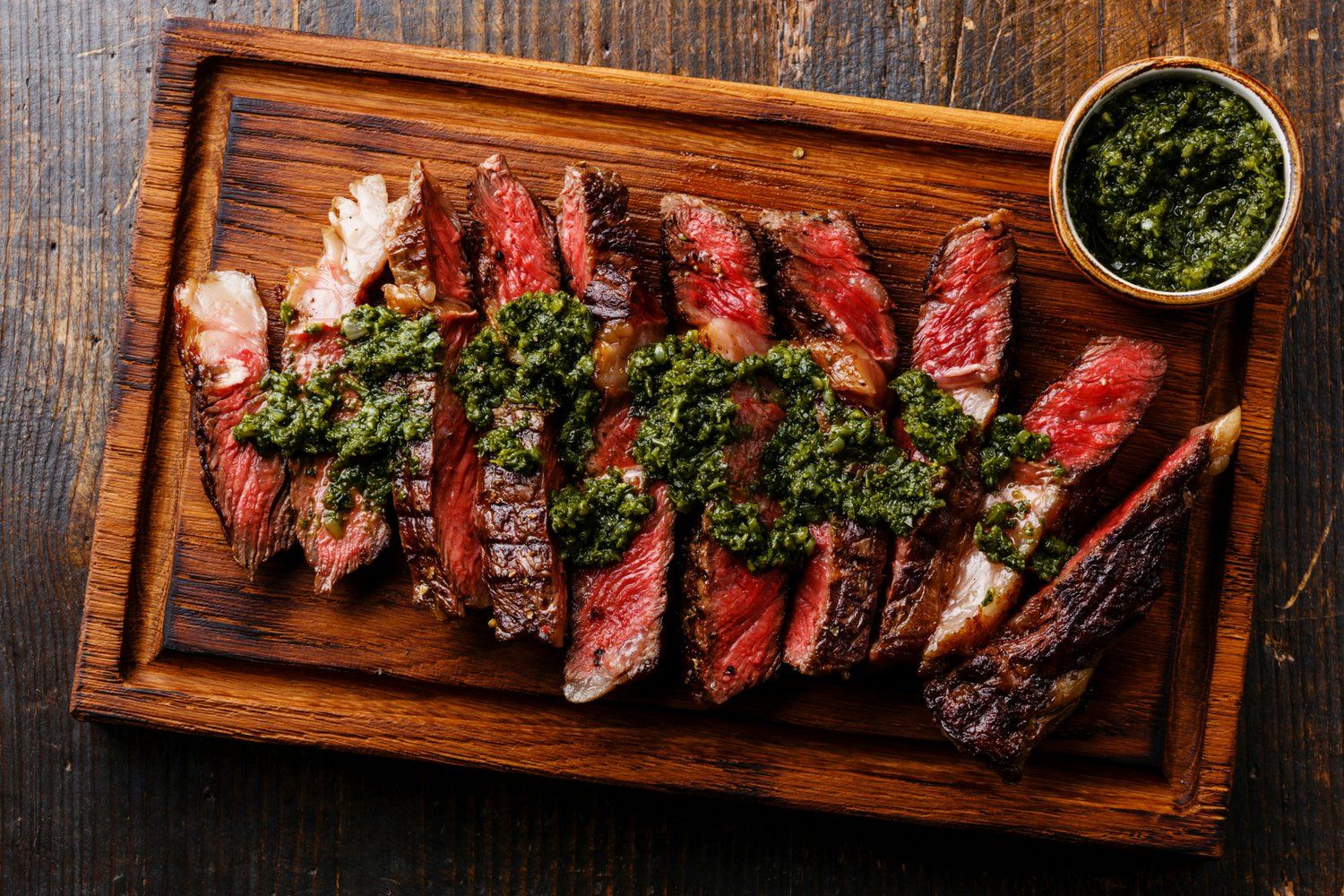 Grilled Sirloin Steak with Chimichurri packs in so much flavor from a homemade chimichurri sauce made with parsley, cilantro, basil, and garlic all served over a simple grilled steak makes the ultimate healthy steak dinner. Serve it with some Grilled Cauliflower and Grilled Red Potatoes for a delicious grilled dinner.
We are pretty obsessed with chimichurri in our house and are always looking for any excuse to whip up a batch. And my favorite way to eat it is with a simple, grilled steak. It's the first thing I make when grilling season starts and a constant on our menu throughout the warmer months.
Now to keep this dish healthy and relatively light, it's important to make sure to choose a nice, lean cut of meat. You can use a lean sirloin steak like the recipe suggests or go for a lean flank steak. Both pack in tons of beef flavor but are leaner cuts. Then when it comes to the chimichurri, the basics are the same, but you'll want to use less oil. Normal chimichurri is floating in olive oil and while delicious, it's a bit of a calorie bomb. This version uses just two tablespoons of oil and still tastes just as good.
How to Grill a Sirloin Steak
Grilling a sirloin steak is relatively easy but there are a few key things to keep in mind to make sure it comes out tender and delicious. Remember sirloin steak can be naturally a little tougher, so it is best to look top sirloin, which is the most tender. Sirloin steak also is the most tender when cooked on the rarer side. Most experts recommend not cooking a sirloin steak past medium to avoid toughness.
If you are using top sirloin, there is no need to marinate your steak. Simply season it up with salt, pepper, and/or your favorite spices and seasoning blends. If you are using a sirloin steak that isn't top sirloin, you will want to use a marinade to tenderize the steak.
Preheat the grill over high heat.
Once hot, place the steak on the grill and close the top. Cook for 5 minutes and then flip. Cook for an additional 4-5 minutes on the other side until it reaches desired doneness. For medium rare, you want the steak to have an internal temperature of 140 degrees. For a thicker, 2 inch steak, it will likely take 8-9 minutes per side.
Let it rest for 5 minutes. This step is super important so that the juices have time to redistribute and the steak stays tender and juicy.
Slice thinly and serve immediately.
If you are cooking inside, this recipe would also work great with strip steak. Here's how to make a delicious Cast Iron Seared Strip Steak. Then just top it with chimichurri.
Side Dish Ideas for Grilled Sirloin Steak
There are so many options when it comes to side dishes for this grilled steak with chimichurri. Here are some of the sides we make the most often:
We love corn on the cob during the hot summer months and it makes a great side for steak.
If you love steak and potatoes, consider making a baked potato on the grill. Start by poking holes in a regular or sweet potato with a fork. Parcook it in the microwave. Then wrap it in foil and pop it on the upper rack of the grill.
We love serving this dish with some cooked rice or quinoa since it absorbs all the yummy chimichurri sauce and juice from the steak. Delish.
Sneak in some extra vegetables by making a bunch of easy grilled vegetables to serve on the side.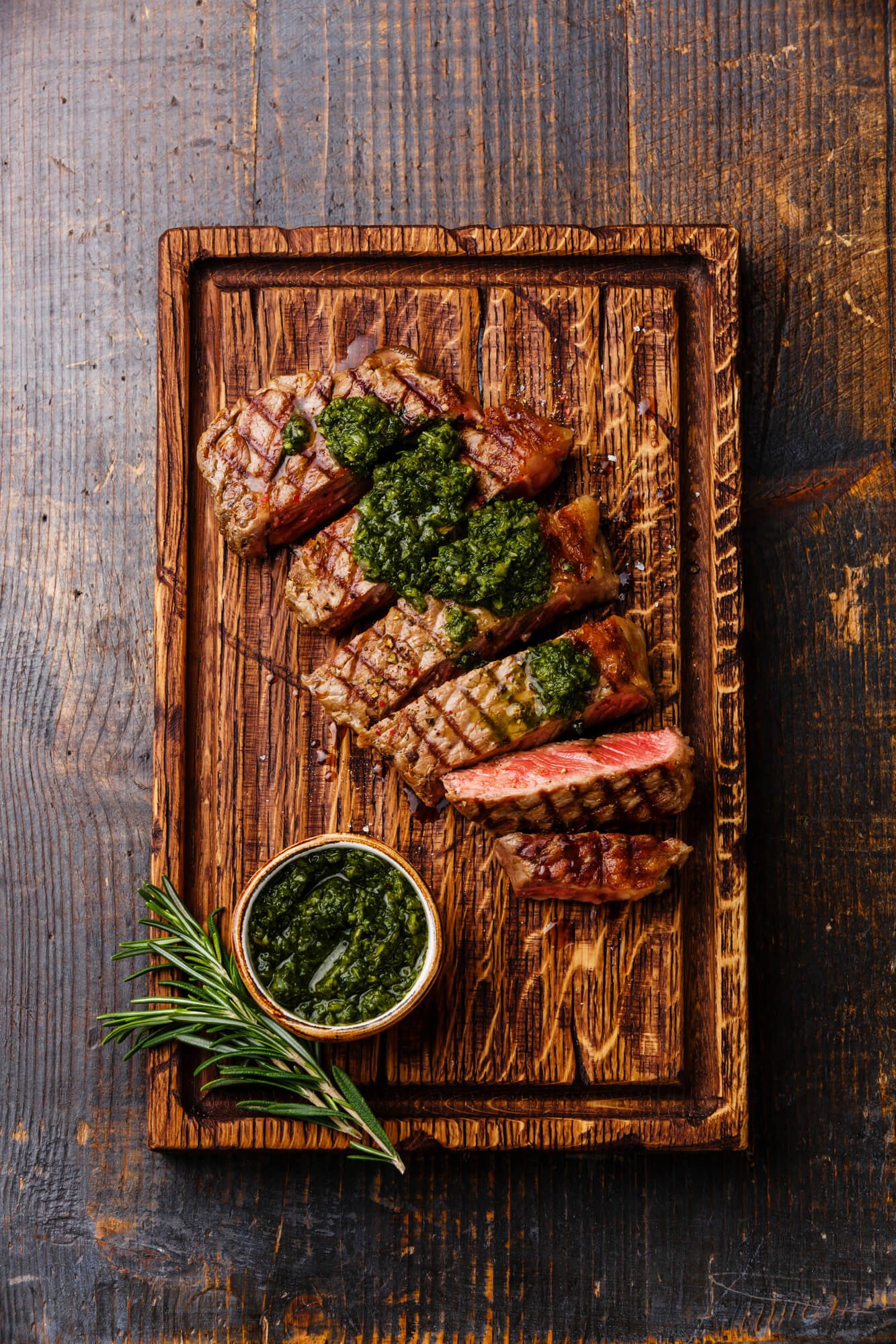 Is sirloin steak tender?
The best way to make sure that your sirloin steak is tender is to buy top sirloin, which tends to be more tender than a traditional sirloin steak. It is also important not to overcook the steak since the more cooked it is the tougher it will be. If you are using traditional sirloin steak, you can marinate it or use a tenderizer to help soften the steak. You can also use a meat tenderizer (the physical one) to tenderize the steak.
Sirloin Steak Temperature Guide
Here is a quick guide to help you grill your sirloin to the right temperature. These times are based on a one inch thickness, if thicker, you may need to add time. The temperatures are based on when they come off the grill. They will continue to cook as they rest.
Rare: 4 minutes each side (120-130 degrees)
Medium rare: 5 minutes per side (130-140 degrees)
Medium: 6 minutes each side (140-150 degrees)
Medium well: 7 minutes each side (150-160 degrees)
Well done: 8 minutes each side (165 degrees)
Tips for Making Sirloin with Chimichurri
Here are a few tips to make sure this dish comes out great when you prepare it.
Although I use sirloin steak in this recipe, you can substitute any other cut of steak you like. It's delicious with flank steak, rib eye, or steak tips.
For those who aren't big fans of cilantro, you can use fresh basil instead.
If you aren't a huge fan of steak, this works great with grilled chicken, fish, pork, or tofu.
Sirloin steak is the most tender when it is cooked medium rare-medium and sliced very thin against the grain. Rather than serving a large steak to each person, consider thinly slicing the steak into pieces before serving.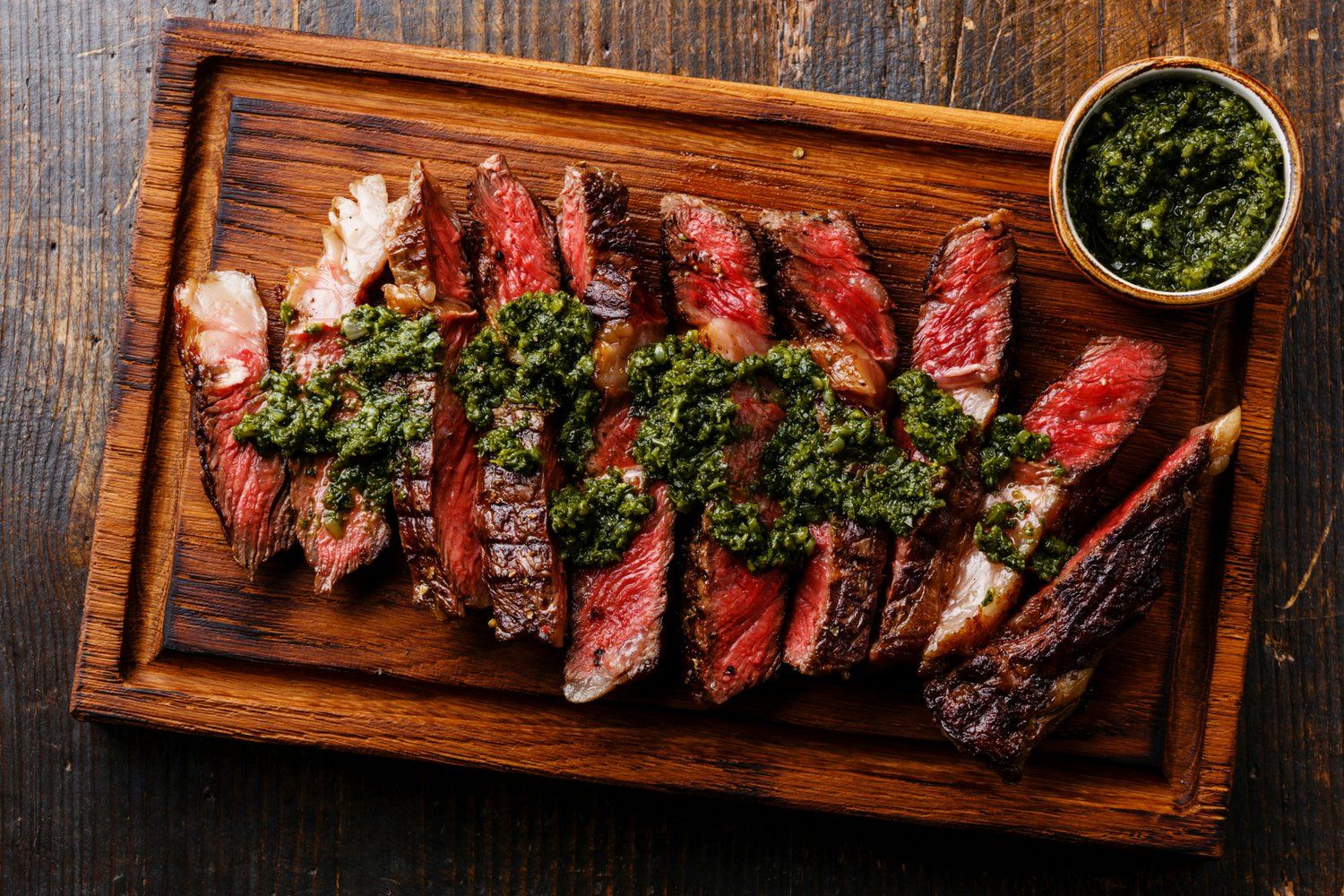 Grilled Sirloin Steak with Chimichurri
PREP TIME: 10 Min
COOK TIME: 10 Min
TOTAL TIME: 20 Min
Print Recipe

Download PDF
Ingredients
1.33

lbs.

lean sirloin steak, trimmed (I recommend top sirloin)

2

tbsp

extra virgin olive oil
Like this Recipe? Try our Meal Plans!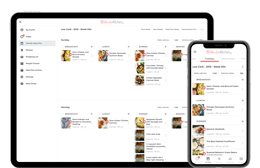 Weekly Meal Plans
Easy Shopping List
Healthy, Low Carb, & Vegetarian
Nutritional Information
Instructions
(Hide Media)
Nutritional Facts
Serving Size:
6 oz. steak and 1-2 tbsp sauce
Monounsaturated Fat 6g
0%
Polyunsaturated Fat 1g
0%
* Percent Daily Values are based on a 2,000 calorie diet. Your daily values may be higher or lower depending on your calorie needs.
The Nutritional Values provided are estimates only and may vary based on the preparation method.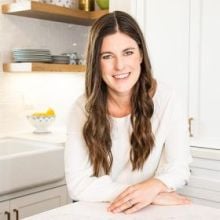 About the author
Meet

Kristen McCaffrey
Hi, I'm the cookbook author, recipe developer, and food enthusiast behind Slender Kitchen. I am obsessed with making healthy food that is easy to prepare and absolutely delicious. Meal planning is my secret weapon and I hope I can make meal time easier for you with our tried and tested recipes and foolproof meal plans.
Learn More
Get delicious, healthy recipes delivered each week right to your inbox.
Join over 80,000 subscribers.
Did you make this?
Snap a picture and show us what you made on Instagram or Facebook.
Tag us using @SlenderKitchen or #slenderkitchen.