Creamy Tortellini with Tomatoes
This Creamy Tomato Tortellini is super easy to make with your favorite cheese tortellini in a creamy tomato sauce with basil and garlic.
309 CALORIES
40g CARBS
10g FAT
15g PROTEIN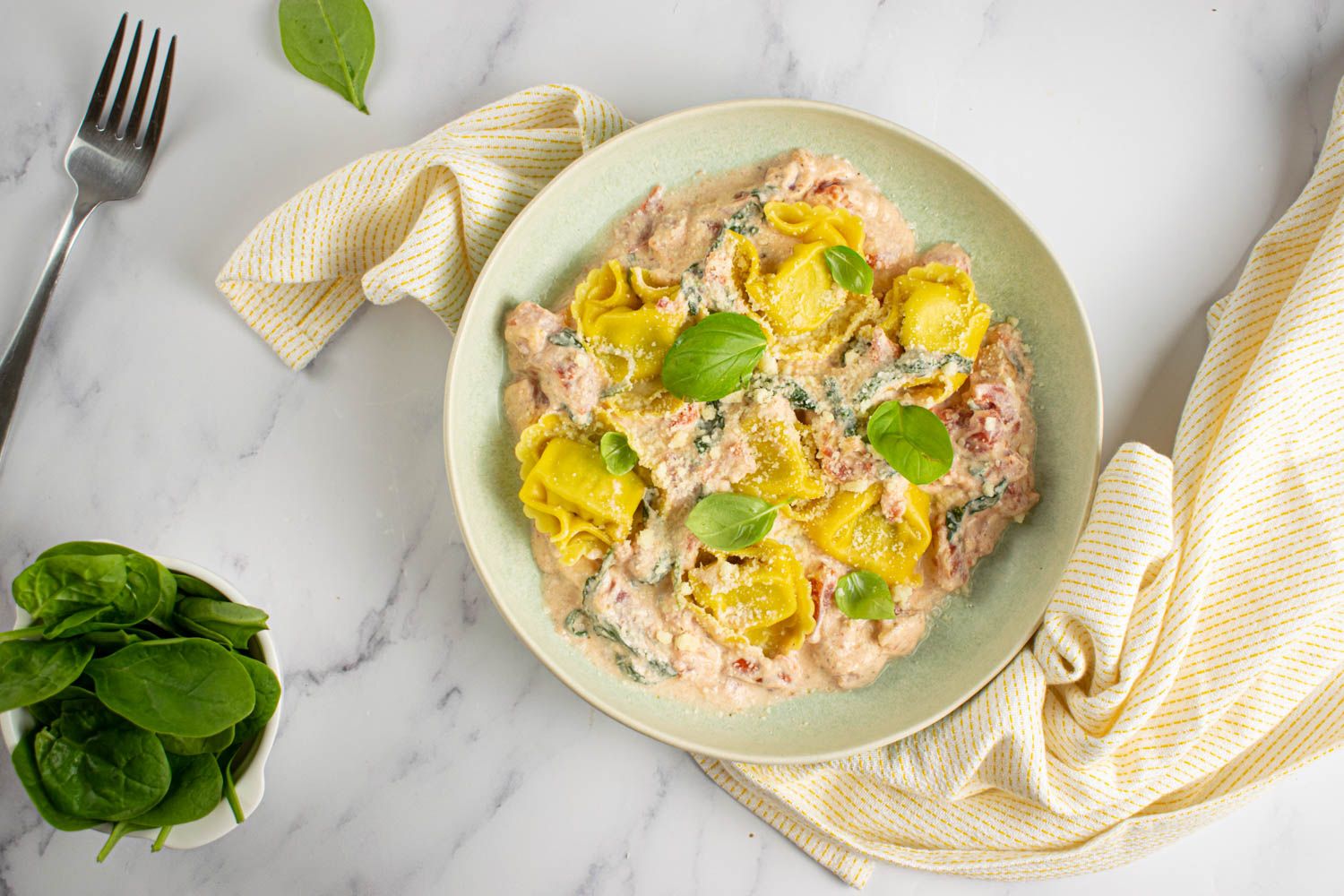 This cheese tortellini with a creamy tomato sauce will be your new favorite family dinner. It's surprisingly healthy and always a hit. Pasta lovers will also want to try this Creamy Mushroom Pasta and One Pot Chicken Broccoli Pasta.
I know what you're thinking: Pasta?! Healthy? For real?
Yes, for real! In my opinion, pasta gets a pretty bad rap in the healthy eating and dieting community. Now, I am definitely not saying it is the healthiest choice out there, because it's not. However in the right portion size and when paired with lots of veggies, it can definitely be a well-rounded meal and, what's more, it is a great way to satisfy those pasta cravings without all the guilt.
Today's recipe is a perfect example of that. You would assume that cheese-stuffed tortellini in a creamy sauce wouldn't definitely be a no-no. However, if you lighten up the sauce and use tomatoes to create loads of flavor, you can easily create a delicious lower-calorie version. This one has right around 300 calories per serving. If you do want to make this dish (even) healthier, you could always substitute whole grain pasta, spaghetti squash, or zucchini noodles.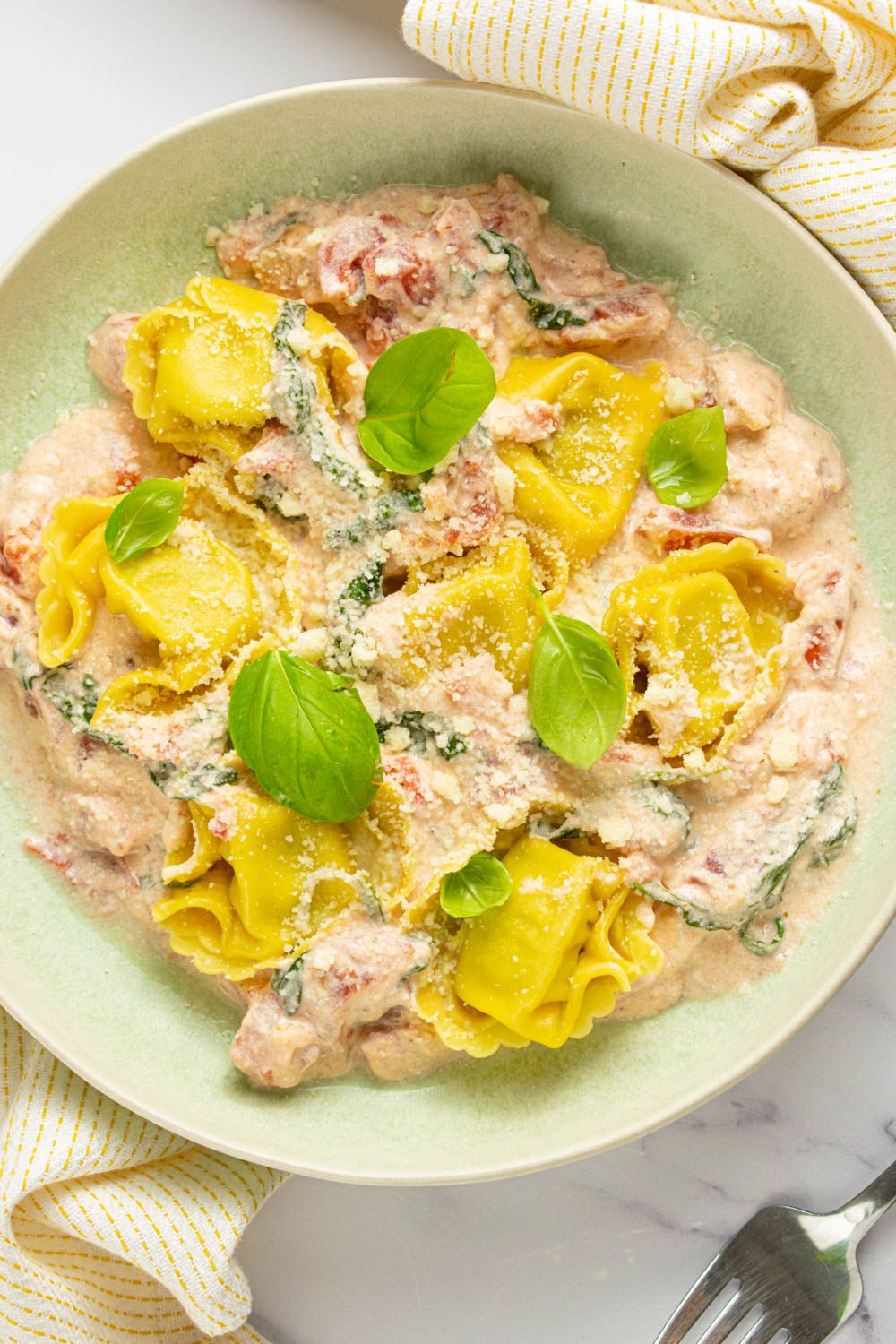 How do you make Creamy Tortellini with Tomatoes?
This pasta dish is really a cinch to pull together, and, as a bonus, you get to start with pre-made tortellini! (Because, who is making their own tortellini, anyway?)
So, first what I do is cook the cheese tortellini according to the package directions. Before draining, I use a glass or metal measuring cup to grab some of the cooking liquid and set that aside in case I need it later. I then drain the rest of the pasta and set it aside as well. Next, I melt the butter in a saucepan over medium heat. I add to that the minced garlic and cook till it's nice and fragrant, about 2-3 minutes.
To thicken the start of the sauce, I add to the garlic and butter some flour and onion powder. It'll brown after about 1 minute, and that's what you're looking for, that nice, light brown color. Once I achieve that brown color, I know it's time to whisk in the milk and half and half. I do this slowly so that it has time to incorporate smoothly.
I stir this sauce mixture until it all comes to a simmer together, then I add in the can of tomatoes with liquid and the spinach. I'll keep stirring until that spinach is wilted, and I get the sauce consistency that I want (thick, but not too thick).
I turn off the heat and add the spices, Parmesan, salt, and pepper and give the sauce another good stir. To the sauce, I add the tortellini and let it sit while I set the table or yell at the kids to come to the table for dinner or pour myself a glass of wine — you know, those final little, important things I need to take care of.
Sometimes I find I've taken too long to gather the family or I decided to finish that glass of wine before inviting the hungry wolves to the table, I'll add a little of the pasta cooking liquid to the dish and stir to thin it back out.
Dish up and dig in!
Ideas for Customizing Creamy Tortellini with Tomatoes
If you want to change up the tortellini, choose a different variety. One with veggies, herbs, or even meat will work as well.
Add more veggies to the sauce. I love to put one of those steamable bags of frozen vegetables in the microwave while I'm pulling the sauce together. When it's finished, simply add it to the sauce.
Switch up the herbs to ones that you prefer or have on hand.
Serve this tortellini over veggie noodles like zucchini or spaghetti squash.
Dice up cubes of butternut squash or sweet potatoes (or both) and roast those while you're cooking the tortellini. Add to the sauce toward the end for an extra layer of flavor.
Use spicy canned tomatoes (like Rotel) to easily add some heat and flavor to your sauce.
Better yet, use spicy tomatoes and red pepper flakes or a dash of hot sauce to really amp up the spice level.
Trade out spinach for kale, Swiss chard, or collard greens.
Add protein to the mix like cooked Italian chicken or turkey sausage or white beans.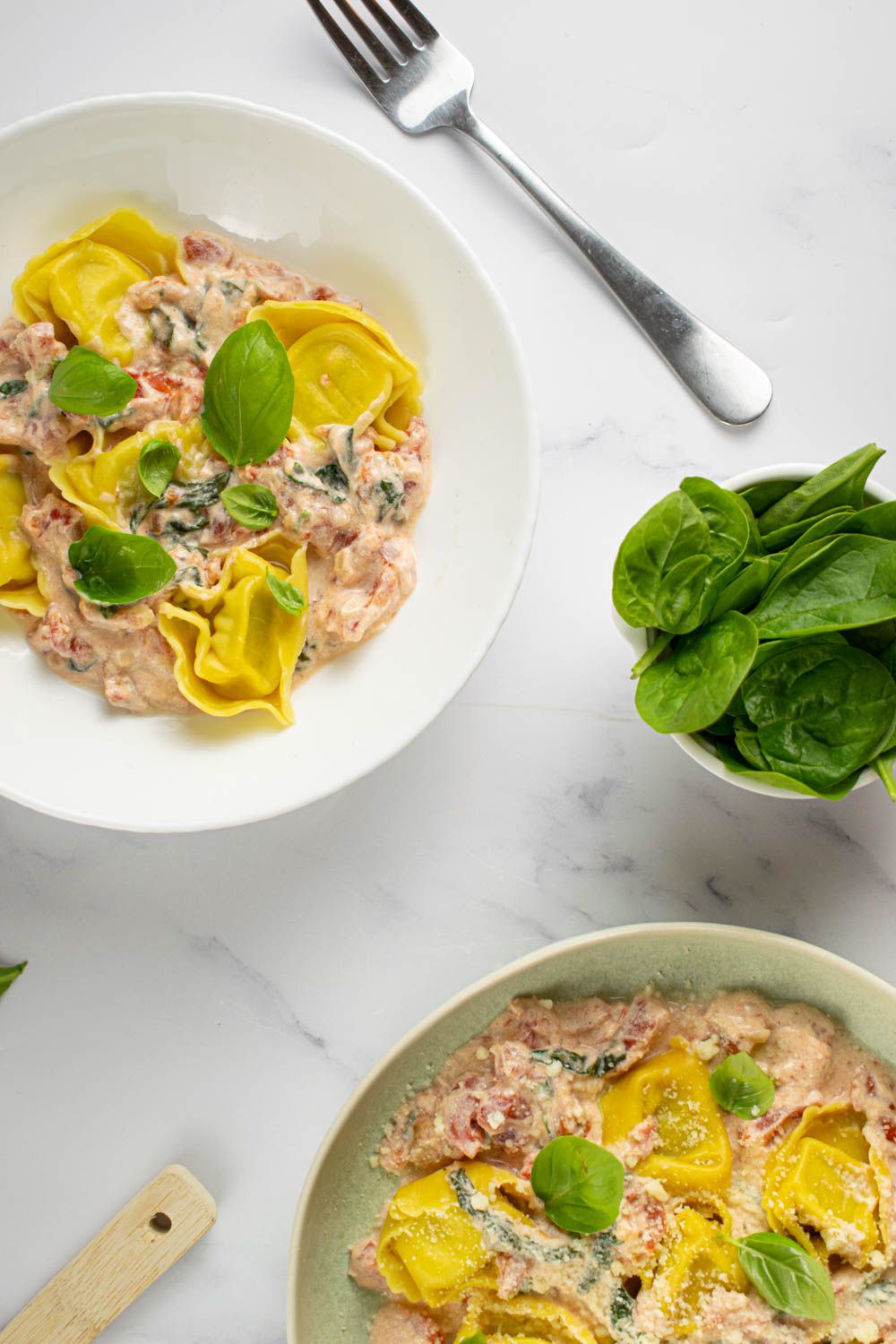 How long does Cheese Tortellini last in the fridge?
If you've purchased fresh tortellini, then follow the "use by" date on the package for when to cook it and definitely keep it in the fridge!
If you have purchased dry tortellini, well, that will keep quite a bit longer in your pantry until you are ready to cook it.
If you have leftovers after making this dish, store them in a container in the fridge for up to 3-5 days. Reheat and eat in that time.
How do you freeze Cheese Tortellini?
Fresh, uncooked tortellini can be kept in the freezer up to 3 months.
Cooked tortellini should be stored in a shallow, wide dish with an airtight lid (to avoid having it all clump together if stored upright) in the freezer for up to 3 months.
When reheating, for best results, thaw in the fridge and cook over a stovetop in a sauce pan. You can also microwave at medium heat, stirring occasionally. Avoid high heat as that can make the pasta become rubbery as it cooks a second time.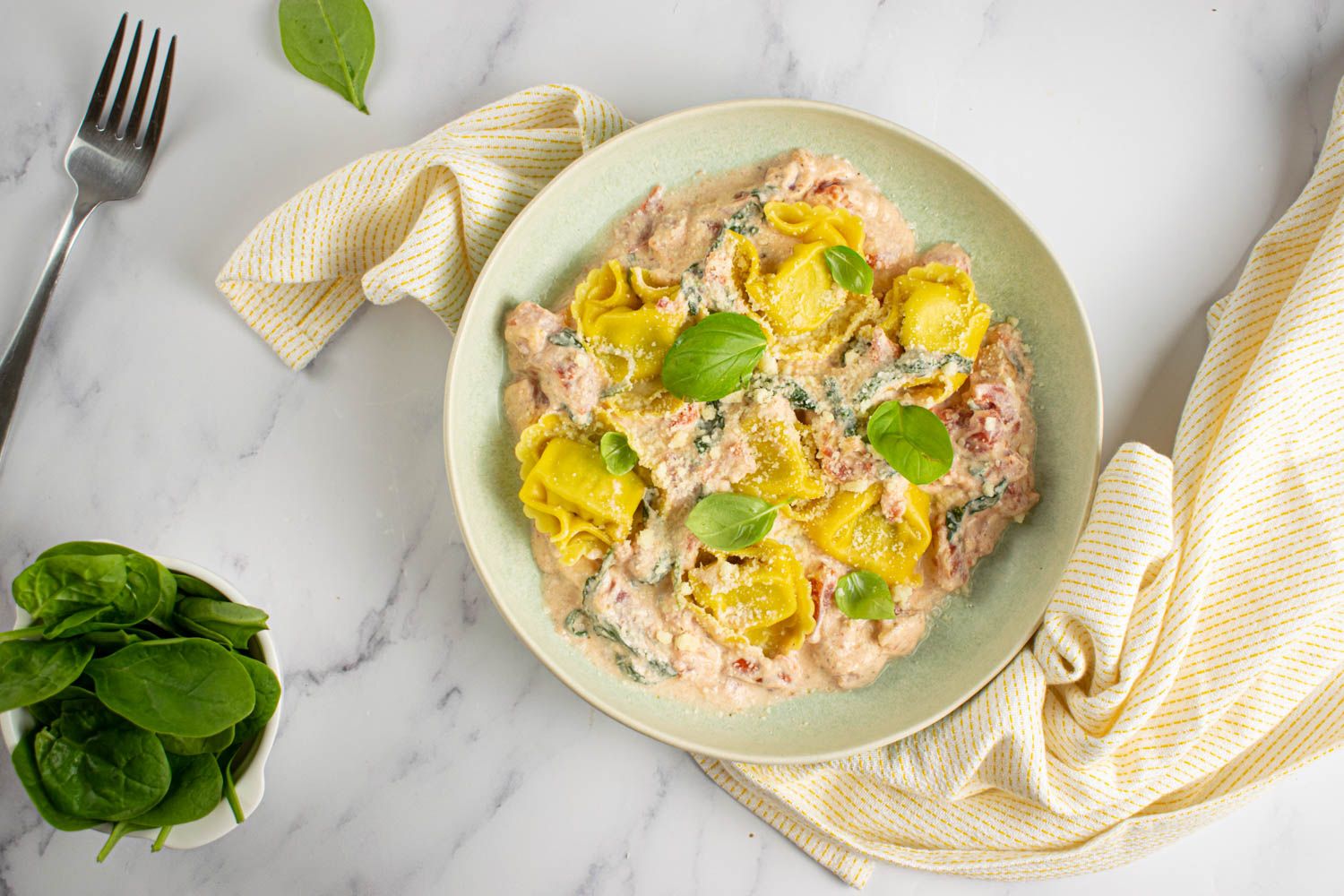 Creamy Tortellini with Tomatoes
PREP TIME: 5 Min
COOK TIME: 25 Min
TOTAL TIME: 30 Min
Print

Download

Get in your Inbox
Ingredients
1.5

tbsp

whole wheat flour

1/2

cup

fat free half and half

14.5

oz

canned diced tomatoes (do not drain)
Like this Recipe? Try our Meal Plans!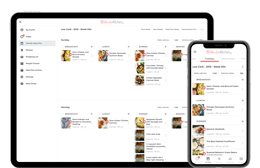 Weekly Meal Plans
Easy Shopping List
Healthy, Low Carb, & Vegetarian
Nutritional Information
Instructions
(Hide Media)
Switch to prevent your screen from going dark.
Nutritional Facts
Monounsaturated Fat 1g
0%
Polyunsaturated Fat 0g
0%
* Percent Daily Values are based on a 2,000 calorie diet. Your daily values may be higher or lower depending on your calorie needs.
The Nutritional Values provided are estimates only and may vary based on the preparation method.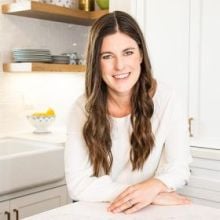 About the author
Meet

Kristen McCaffrey
Hi, I'm the cookbook author, recipe developer, and food enthusiast behind Slender Kitchen. I am obsessed with making healthy food that is easy to prepare and absolutely delicious. Meal planning is my secret weapon and I hope I can make meal time easier for you with our tried and tested recipes and foolproof meal plans.
Learn More
Get delicious, healthy recipes delivered each week right to your inbox.
Join over 80,000 subscribers.
Did you make this?
Snap a picture and show us what you made on Instagram or Facebook.
Tag us using @SlenderKitchen or #slenderkitchen.