How To Make A Smoothie + 20 Healthy Smoothies Recipes
The most delicious smoothie recipes including a complete guide for making fruit and vegetable smoothies that are nutritious, tasty, and come together in no time.
243 CALORIES
40g CARBS
7g FAT
5g PROTEIN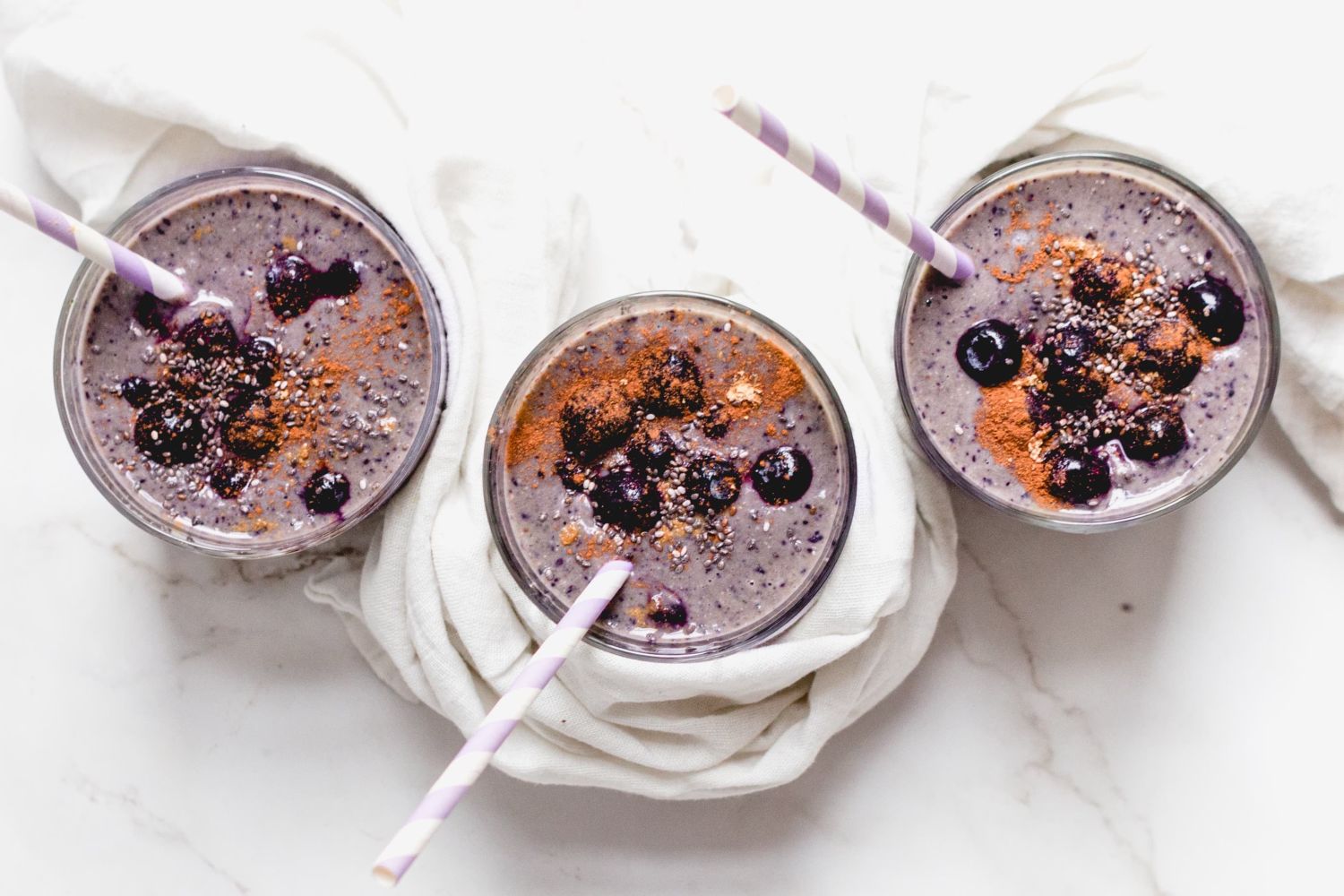 Welcome to your ultimate smoothie guide! In today's post, you will learn how to make a healthy smoothie PLUS all about the best protein powders, yummy add-ins, nutrition boosts, and the all-time best smoothie recipes. Let's get started!
It's no secret that smoothies are a healthy breakfast on the go. Smoothies provide you with an easy way to get your daily servings of fruits and vegetables, and they can be prepared in minutes! They are portable, delicious, and perfect for almost any time of the day.
But, how do you make a healthy smoothie? In this post, we will explore how to make all the best fruit smoothies, green smoothies, veggie smoothies, protein smoothies, smoothie bowls, and more - from the different types of ingredients needed, what type of blender is best for making them, to our favorite recipes.
Let's do it!
What Is A Smoothie?
There really isn't an exact definition of a smoothie or what sets it apart from other drinks like shakes or juices. Honestly, a smoothie is a drink that is usually made with some sort of fruit, vegetable, and liquid. Fruit is typically blended and thinned out with a type of milk.
There are lots of ways to make high-sugar and unhealthy smoothies. Just because you find a recipe that is called a "smoothie" doesn't necessarily mean that it will be good for you. In fact, many smoothie shops sell smoothies that are loaded with added sugars, processed juices, and unhealthy fats.
When you make smoothies at home, you get control of the ingredients and therefore can make sure your smoothie is packed with good for you ingredients.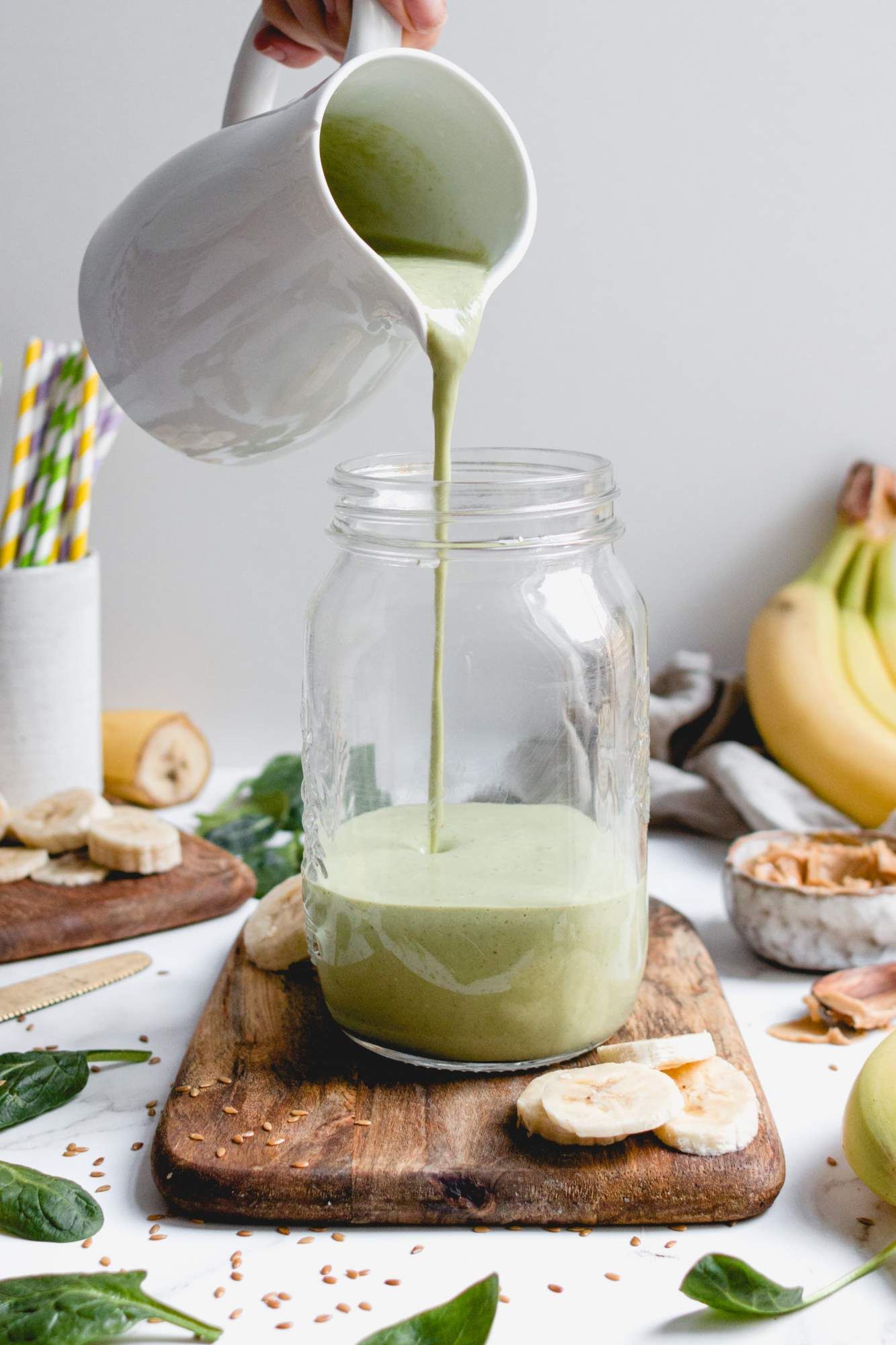 How To Make A Healthy Smoothie At Home
It's important to pay close attention to each of the ingredients you add to your smoothie. Follow recipes that call for whole ingredients that will nourish your body.
So, what makes a smoothie healthy? Well, let's break down the main components and learn how to make sure that each part is as good for you as possible.
Fruits And Veggies
The first (and most important) part of the smoothie is the produce - this is what makes your smoothie healthy. To get the most nutrition out of it, always use either fresh or frozen produce that isn't stored in syrup.
In other words, it's okay to use frozen mango chunks, but you should avoid using pre-made smoothie mixes that are sweetened with lots of added sugar.
Almost any fruits and vegetables can be used in smoothies, even things you may not initially think of like leafy greens, cauliflower, beets, broccoli, and bell peppers. With the right combination, smoothies work with so many different types of produce.
Liquid: Milk, Coconut Water, Juice, or Water
Almost all smoothies include some type of liquid, but for creamy smoothies, I prefer milk. I like to make my smoothies non-dairy, so I always use unsweetened almond milk.
Pay close attention to the type of milk you use.
If you are using non-dairy milk, always use the unsweetened varieties. This will keep the amount of sugar lower in your smoothies. You don't need sweetened milk in smoothies because it is sweet enough already from the fruit.
If you don't like almond milk, you can use coconut milk or even oat milk. Just make sure it's the unsweetened variety, and you're good to go.
When I am making a smoothie that's more icy than creamy, I almost always use coconut water. This makes it hydrating and the coconut flavor is subtle and doesn't overwhelm the other flavors in the smoothie. You can also use fruit juice, like orange juice or apple juice, or even water.
Sweetener
Sweeteners are optional!
If you make a smoothie with more veggies than fruit, you might want to sweeten it a little bit. If you do choose to add some, avoid using sweeteners that will cause blood sugar spikes. This includes white or brown sugar or corn syrup.
The best types of sweeteners will have a low glycemic index rating. This means they don't cause your blood sugar to spike and then dramatically fall (which feels like hunger, causing you to eat more). White table sugar has a glycemic index of 65, which means your blood sugar will spike very quickly.
Here are my favorite types of sweeteners to use in smoothies, along with their glycemic index:
Maple Syrup: GI 54
Stevia: GI 0
Honey: GI 58
Agave Nectar/Syrup: GI 30
Flavors
It is always best to use whole foods like fruit and vegetables to flavor your smoothies. Avoid using tons of other things like candy bar pieces or sugary mix-ins.
Spices are another healthy way to add more flavor to a smoothie. I use cinnamon in lots of my smoothies because it adds a spicy and nutty undertone. Ginger, turmeric, and matcha or green tea can also be delicious.
Thickeners
The thickness of a smoothie is an entirely personal preference. Low-fat Greek yogurt is one of the healthiest options for this purpose.
You can also use chia seed, flax seeds, or hemp seeds in your smoothies as they create a thicker texture and add more protein too. Nut butter can also make a smoothie thicker and we even love to use rolled oats in smoothies to make them more filling.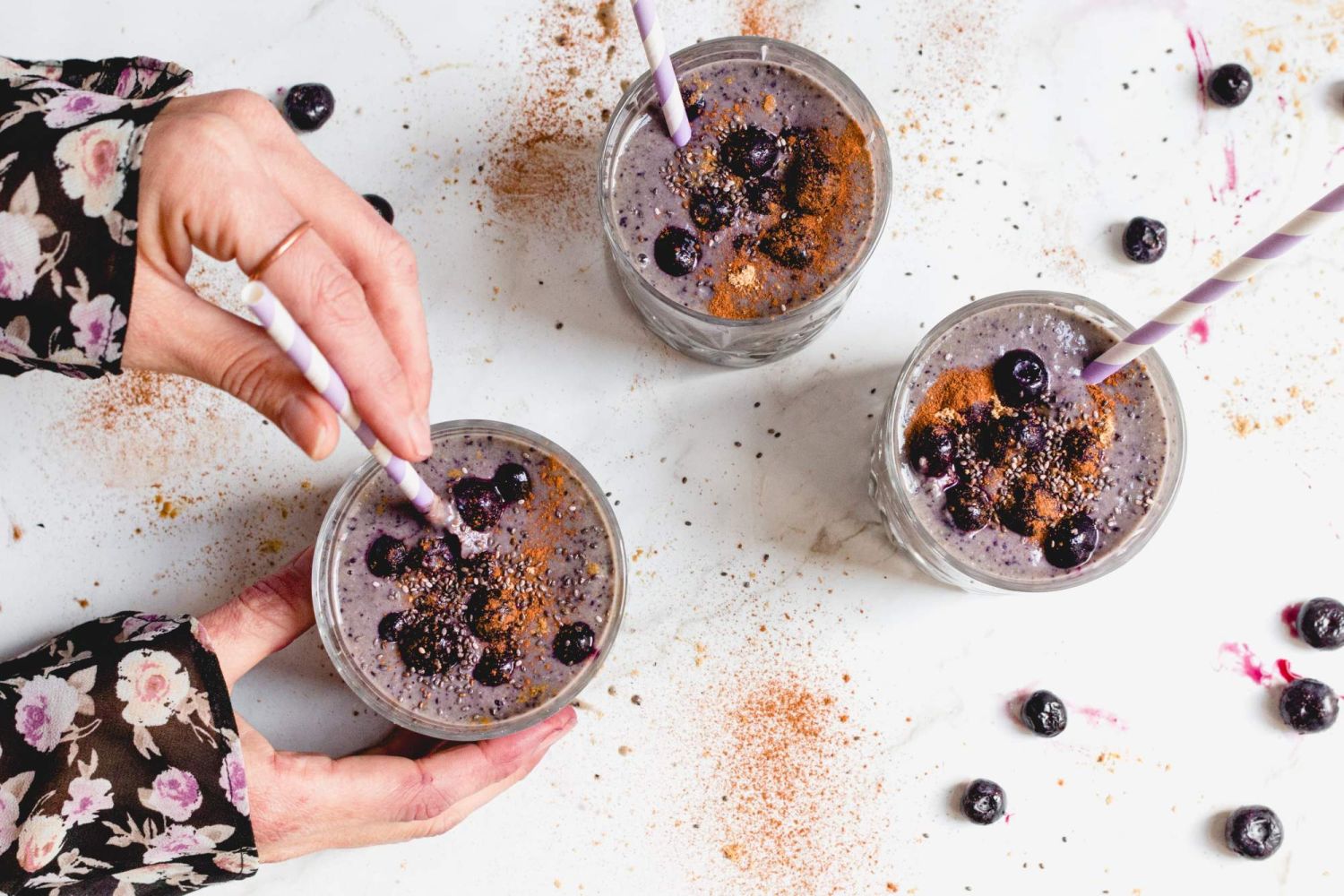 Best Ways To Add a Protein Boost To Smoothies
Smoothies don't have to be just full of fruits and vegetables. They can be excellent sources of protein too! Whenever you are trying to add protein to a smoothie, you need to use something that will blend in really well and won't add any distracting flavors.
Here are my favorite ways to add protein to smoothies. I have used these ideas in various smoothie recipes (and I am sharing these recipes with you below).
Nut or Seed Butter
Chia Seeds
Flax Seeds
Protein Powder
Greek Yogurt
Hemp seeds
Best Protein Powders For Smoothies
Be careful when you add protein powder to your smoothies. Some of them will leave a chalky or gritty texture behind because they don't blend well with fruits and milk.
These are the most popular protein powders that people love to add to smoothies because they blend in well and add the perfect taste and texture.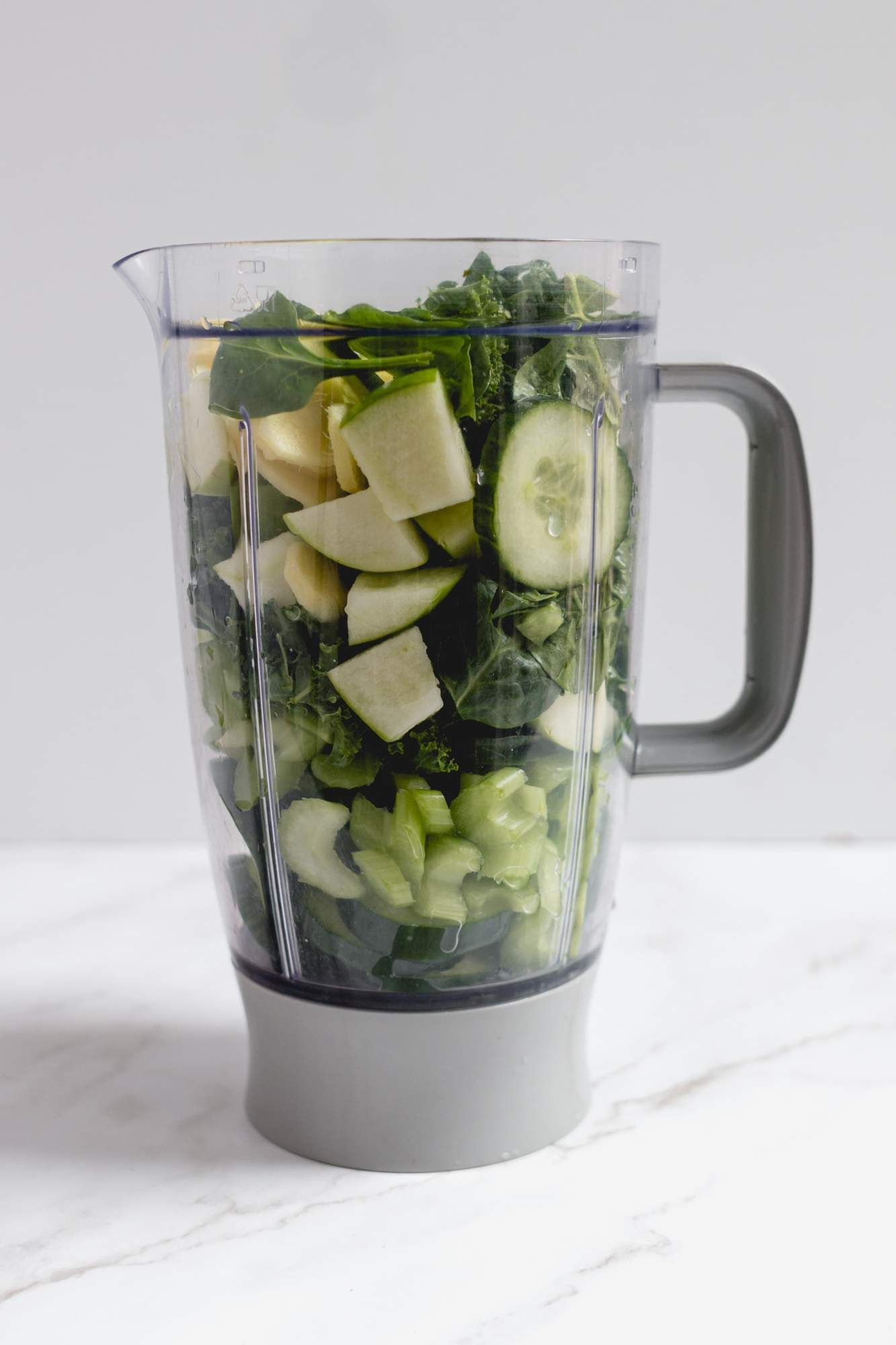 The Best Blenders To Use When Making Smoothies
The type of blender you use all depends on how often you will be using it and how many servings you will be making at once. Do you need a heavy-duty blender that makes your entire family smoothies all day? Or, do you just need a cute mini blender to make yourself one every once in a while?
Here are my top picks for the best types of blenders for healthy smoothies based on how you will use them:
Best Single-Serve Blender
The NutriBullet Pro is one of the most popular single-serve blenders on the market. It has a fantastic price and comes with everything you need to make two smoothies and take them with you on the go. You can literally blend the smoothie and then drink right from that very glass.
It's so easy to use that anyone can make their own fruit drinks. You just fill it with the ingredients, add the lid (that has the blades), and then press it down on the engine/base. It even comes with a recipe book.
The blades and engine are powerful enough to puree frozen fruit and ice. It's wonderful if what you need is something to make just one smoothie at a time.
Best Heavy Duty Blender
You just can't go wrong with a Vitamix Professional Series blender - it will last you for years! Small businesses love this blender and use it in their coffee shops and even gyms.
The best feature of the Vitamix is that the way the blades move actually whip air into the mixture, giving you a light and creamy smoothie-like nothing else can.
Another fantastic thing about the Vitamix is that it can do so much more than just smoothies! You can use it to make homemade ice cream, healthy shakes, and even soups.
This heavy-duty machine can also puree tough things like kale and nuts into your smoothie. There are so many reasons this blender is worth the splurge.
Best Value
The Oster Reverse Crush Counterforms Blender has a 6-cup dishwasher-safe pitcher, and you can often find it for under $75. It has a powerful 600 watt motor with multiple settings. The blender features "ice crusher" blades that will easily puree ice and frozen fruit for your smoothies.
Another fantastic feature of this option is the reversible blade technology which actually helps prevent clogs! It's fantastic.
You really can't beat the price and value of the Oster.
How To Make Smoothies Ahead Of Time
The best way to meal-prep smoothies is to create smoothie packs. After you puree your smoothie, it will last maybe a day in the refrigerator before it starts to separate and the texture changes. This is why I prefer to prepare the ingredients ahead of time. Then, all I have to do is grab the smoothie pack, add everything to the blender, and it's ready to go!
Store the solid parts of your smoothie - the fruits, veggies, nuts, and seeds - in a mason jar with a lid. Then, all you have to do is add the contents of your jar, some milk, and yogurt (and any sweetener or ice) to the blender, and you are ready to go.
If you don't know when you will make your next smoothie and want to save your prepped contents for a longer length of time, I suggest storing them in the freezer. Just put your fruit/veggie and seeds mix in freezer-safe bags. Then, you can grab a bag, add the contents to a blender, and add your milk and yogurt.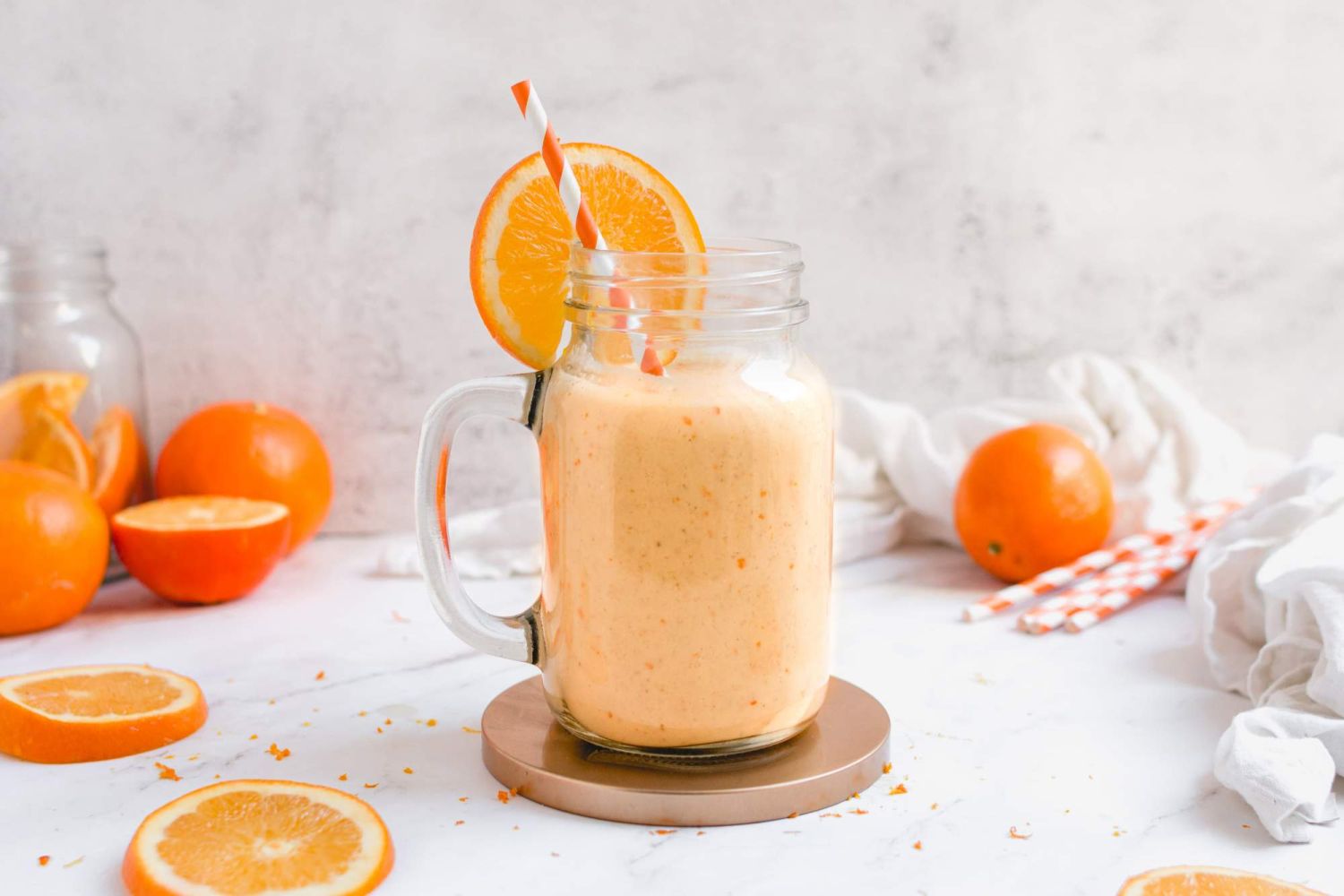 Exciting Add-Ins For Yummy Smoothies
When adding in toppings and other ingredients, make sure to be mindful of what you are adding in as some are better for you than others. I'll be honest, the mix-ins are a lot of fun, though!
Think about the healthiest options that will make your smoothie look and taste more delicious. Here are my favorite choices:
Thin-sliced nuts - My favorite is thin almond slivers. I sprinkle just a few on top of my smoothie and then munch on them at the end.
Spices - I like to sprinkle cinnamon or allspice into some of my nuttier smoothies.
Herbs - Top with some fresh mint.
Oatmeal - This adds a nice amount of fiber to the smoothie.
Fruit Slices - Place a few pieces of fruit on top of your smoothie.
Sugar-Free Chocolate Chips - You can still add chocolate chips, but just watch the calorie counts and use sugar-free chocolate chips first.
How to Make Smoothie Bowls
Some mornings you may not want to drink your smoothie, instead grab a spoon and make a smoothie bowl. All of these recipes can be made into a bowl, simply use less liquid so that the smoothie comes out thicker. Then add all your favorite toppings. Some favorites include:
Fresh fruit like peaches, raspberries, strawberries, blueberries, pineapples, and mango
Nuts and seeds like chia seeds, hemp seeds, almonds, cashews, walnuts, and pepitas
Crunchy toppings like granola, grape nuts, toasted oats, or shredded coconut
Fun drizzles with peanut butter, almond butter, low sugar chocolate syrup, or yogurt.
19 Healthy Smoothie Recipes To Try
Now that you know more about the different parts of smoothies, I'm thrilled to share 19 of my all-time favorite smoothie recipes with you! In this list, you'll find everything from the really fruity ones to smoothies with coffee and others that taste like a chocolate shake.
One thing that's for sure is that every smoothie on this list is good for you!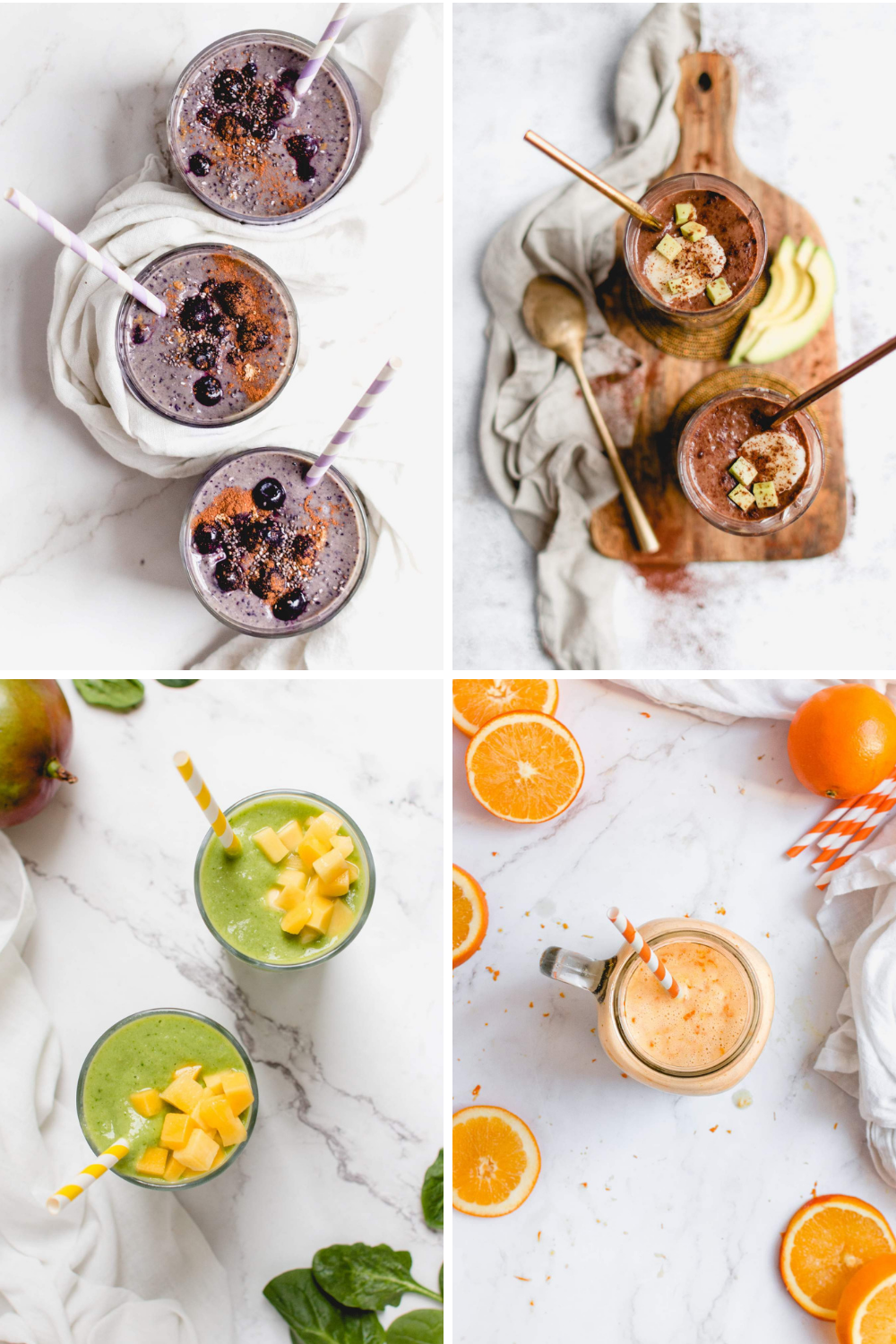 1. Blueberry Banana Blast Smoothie
The blueberry banana smoothie is full of healthy antioxidants, iron, potassium, and fiber. It has a really sweet taste, but there isn't any added sweetener in it. It doesn't need it! The blueberries and bananas are sweet enough. The chia seeds and almond butter add a nutty undertone and plenty of protein to make this a wonderful breakfast smoothie.
2. Chocolate Avocado Smoothie
When you are craving chocolate, make this healthy chocolate avocado smoothie. It tastes like a rich chocolate milkshake, but it is so much better for you! It uses maple syrup (or honey) as the sweetener because the avocado and cocoa powder are not sweet enough on their own. The only fruit in this smoothie is banana and avocado.
3. Energizing Mango Spinach Smoothie
The mango spinach smoothie only has 5 ingredients, but it is a perfect source of natural energy. Not only is mango really high in vitamin C, but it has plenty of natural sugar that will wake you up. Plus, the avocado and spinach have so much fiber and healthy fats that you will feel full for longer.
4. Orange Creamsicle Smoothie
Creamy with an unmistakable zest, the orange creamsicle smoothie is super popular with people of all ages. It tastes like a dessert that is high in calories, but it is actually a smoothie packed with vitamins and fiber.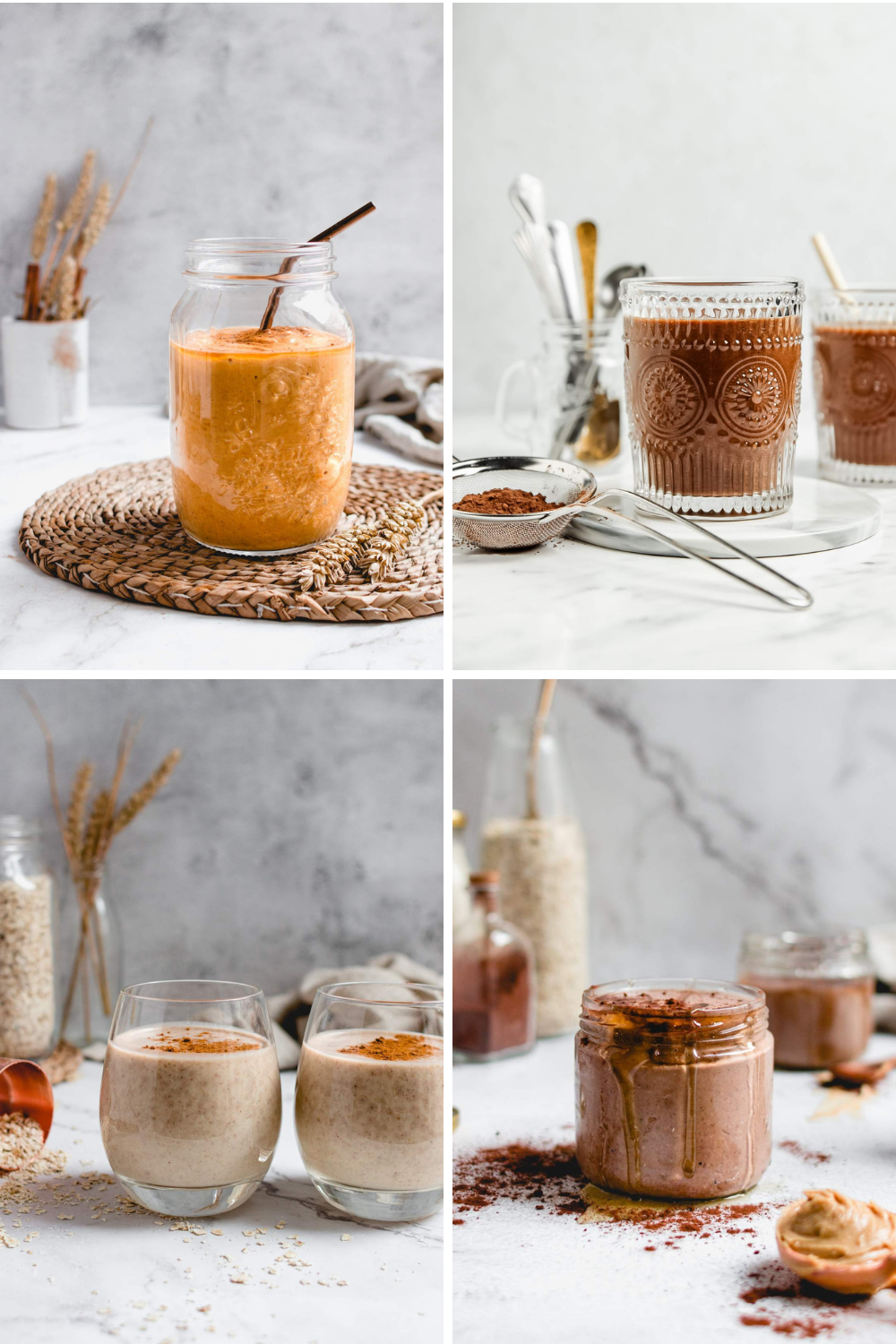 5. Pumpkin Pie Smoothie
The pumpkin pie smoothie is the perfect way to fulfill your craving for pumpkin pie! I honestly think this is a fantastic fall treat, but you can make and enjoy it all year long.
6. Mocha Smoothie
Yes, this mocha smoothie does have coffee in it! Sometimes you just don't want to drink a hot cup of coffee with a cold smoothie, so this is the best of both worlds. It's made with extra-fine ground coffee powder, cocoa powder, bananas, and sweetened with maple syrup.
It's such a rich and delightful smoothie for coffee and chocolate lovers alike.
7. Creamy Oatmeal Cookie Smoothie
This creamy banana oatmeal smoothie tastes just like an oatmeal cookie. It is a wonderful smoothie to make if you feel like you need more fiber in your diet. This is also a wonderful break from other fruity smoothies because the only fruit in it is bananas.
It's an excellent post-workout drink because the almond milk and almond butter are filled with protein for your sore muscles.
8. Peanut Butter Cup Smoothie
The peanut butter cup smoothie is a rich concoction that tastes like a decadent dessert. Good news for you - it's healthy for you! Mixed in with the oatmeal, bananas, and chia seeds is a hidden superfood - cauliflower! You won't even be able to taste it, but you'll still benefit from its nutrients and antioxidants.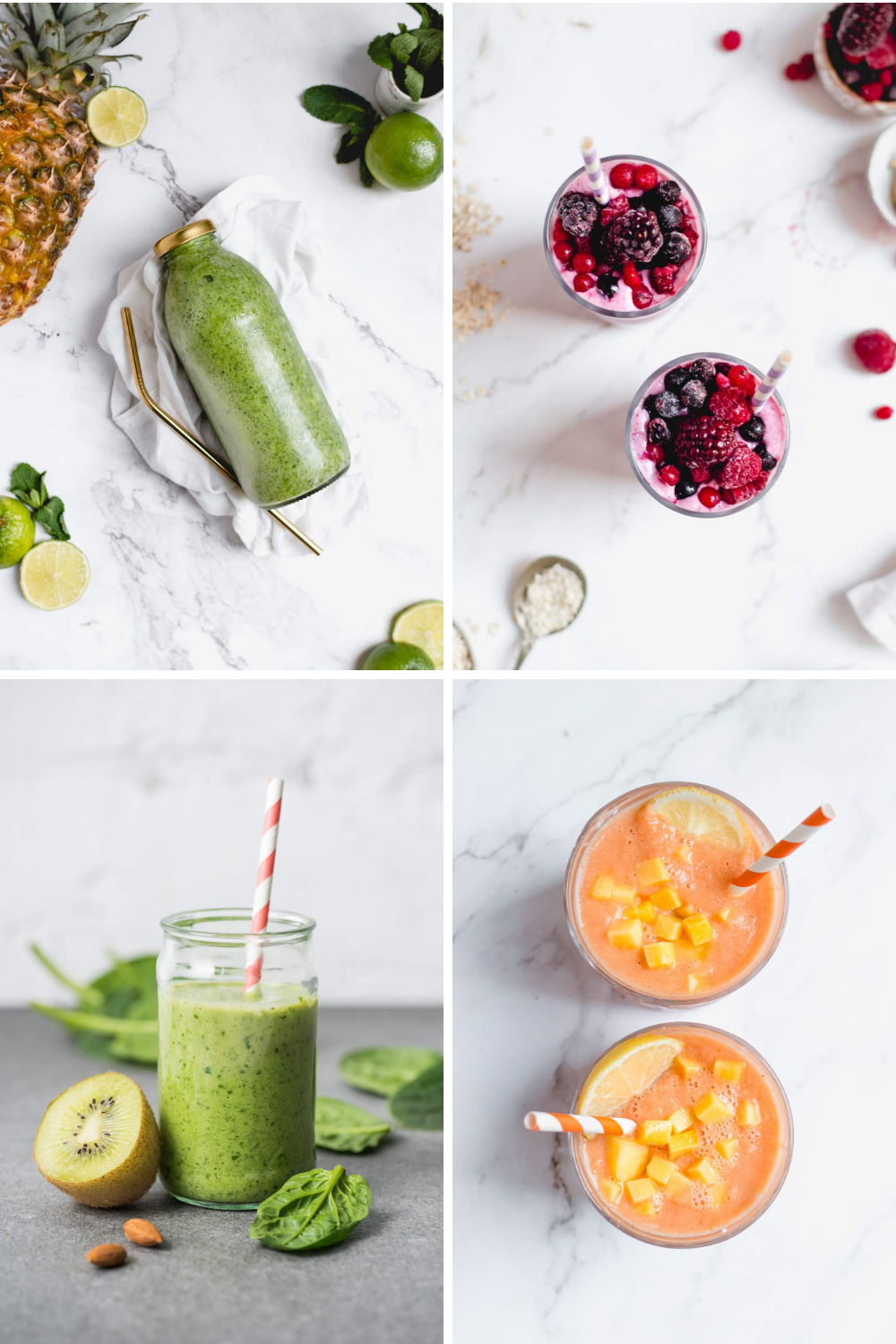 9. Pineapple Mojito Smoothie
Mix up this pineapple mojito smoothie when all you can think about is an island party. It's a festive green smoothie that tastes like your favorite citrus drink! Pineapple, spinach, lime, and the burst of fresh mint - it's all here and ready for you.
10. Protein-Packed Berry Banana Smoothie
Protein, fiber, and sweet fruit - it's all here in this berry banana smoothie! Sweet berries combine with oats, peanut butter, yogurt, and almond milk to give you a skip in your step. This is an energizing drink that tastes amazing after a hard workout.
11. Hydrating Pineapple Cucumber Smoothie
If you are feeling kind of parched, then this pineapple cucumber smoothie will rejuvenate you. It's the perfect drink when you are feeling sluggish and run down. I recommend adding in some kiwi for more sweetness and nutrients.
12. Refreshing Carrot Ginger Smoothie
Switch things up and enjoy veggies with this carrot ginger smoothie. It's both sweet and aromatic with the unforgettable taste of ginger. Ginger is fantastic for your gut health, so enjoy this when you are feeling kinda "meh".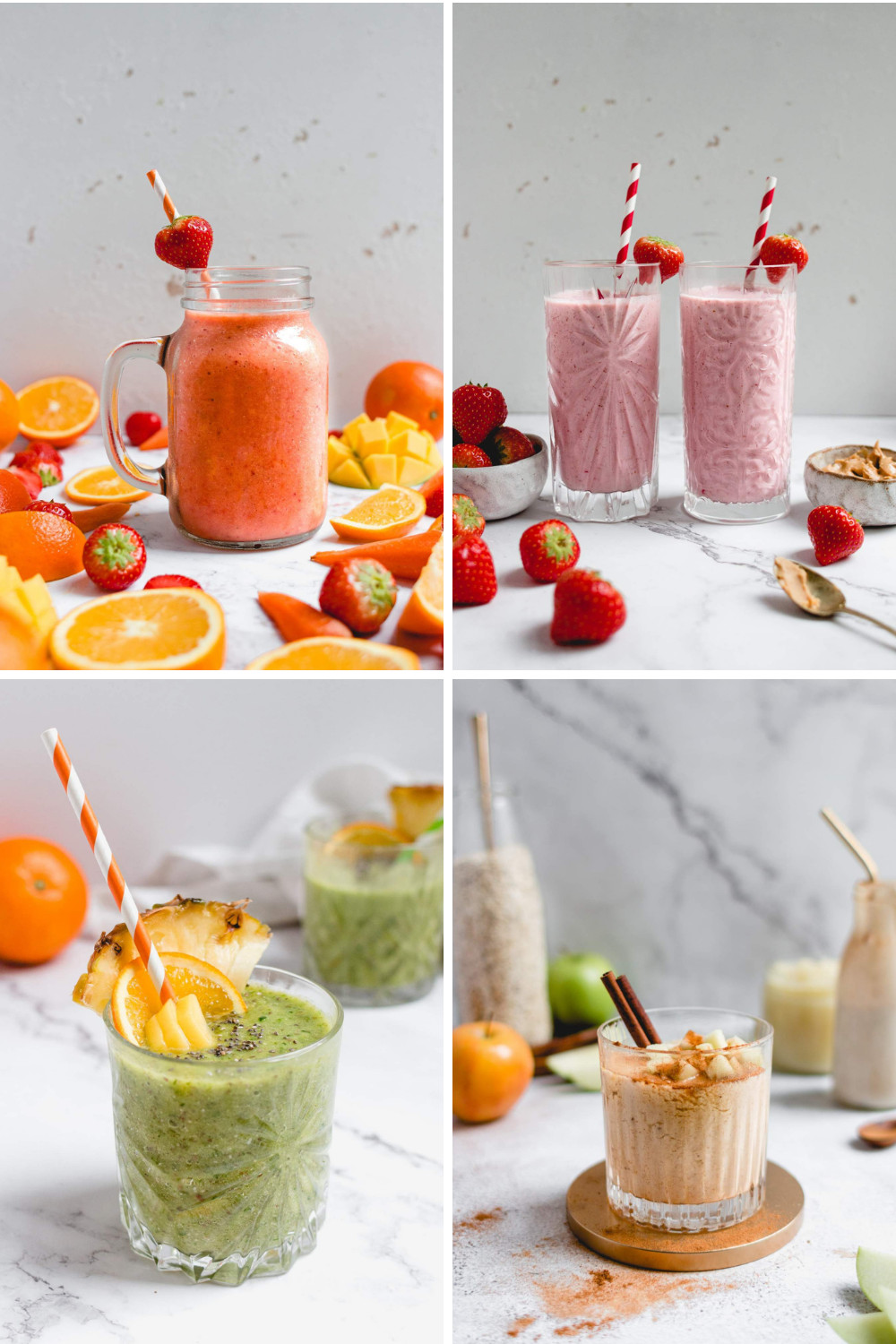 13. Strawberry Mango Smoothie
You'll feel revived and refreshed when you whip up this strawberry mango smoothie. It's my go-to when I need a bit more vitamin C. Not only is it super sweet, but it's full of fiber too, so you will stay feeling full in between meals.
14. PB&J Smoothie with Greek Yogurt
Take a trip down memory lane - this PB&J smoothie with greek yogurt tastes like those sandwiches you ate as a kid. Peanut butter is a wonderful source of protein, and strawberries are wonderful because they are full of disease-fighting vitamin C and antioxidants.
15. Tropical Kale Smoothie
This tropical kale smoothie tastes like you are on an island - you might even be tempted to put a little umbrella in it! The citrus fruits do a fantastic job of covering up the bitter taste of kale.
16. Healthy Apple Pie Smoothie
Satiate your craving for apple pie with this apple banana smoothie. It is sweet and creamy and has the amazing aroma of pie without all the sugar and calories. It's fortified with flax seeds and sprinkled with vanilla extract, cinnamon, and the amazing spice of ginger.
If you don't like almond butter, use peanut butter or any type of nut butter. It's a creamy and filling treat that's perfect any time of day.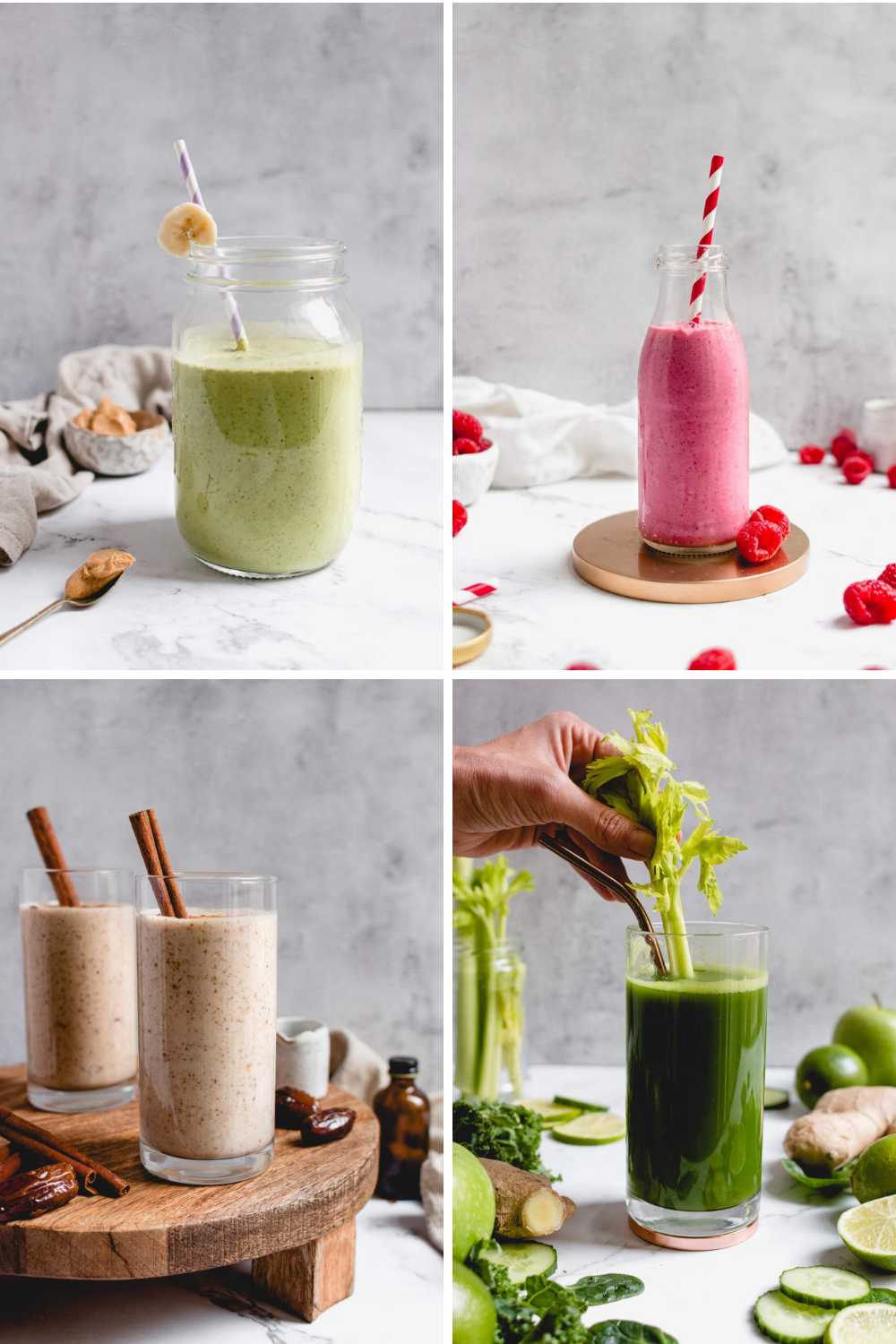 17. Peanut Butter Banana Green Smoothie
It's easy being green when it's a healthy smoothie! This peanut butter banana green smoothie is made with heart-healthy bananas, spinach, peanut butter, and flax seeds. It's a fantastic source of iron and protein, so enjoy it first thing in the morning.
18. Raspberry Chia Smoothie
For something sweet and nutty, whip up a raspberry chia smoothie. Raspberries are both sweet and tart, and when you mix in the seeds and nut butter, you have the best combination of sweet and salty flavors ever! You will especially enjoy this smoothie on days when you can't decide if you want something sweet or savory.
19. Vanilla Cinnamon Protein Shake
This vanilla cinnamon shake is rich and creamy and tastes like an indulgent milkshake. It doesn't have any fruit in it, but it's really high in fiber and will do your gut lots of good!
20. Glowing Green Juice
While technically not a smoothie, I am including this delicious green juice sincd it is also made in the blender. It's packed with tons of veggies (cucumber, celery, kale, and spinach) but sweet enough that kids also love it with the addition of green apples.
Final Thoughts
Fruit or vegetable smoothies are so incredibly healthy for you! They are a wonderful choice for a healthy snack, a post-workout treat, or they can even be your breakfast. When you want to make something quickly that's really nutritious, a smoothie is just the thing you need.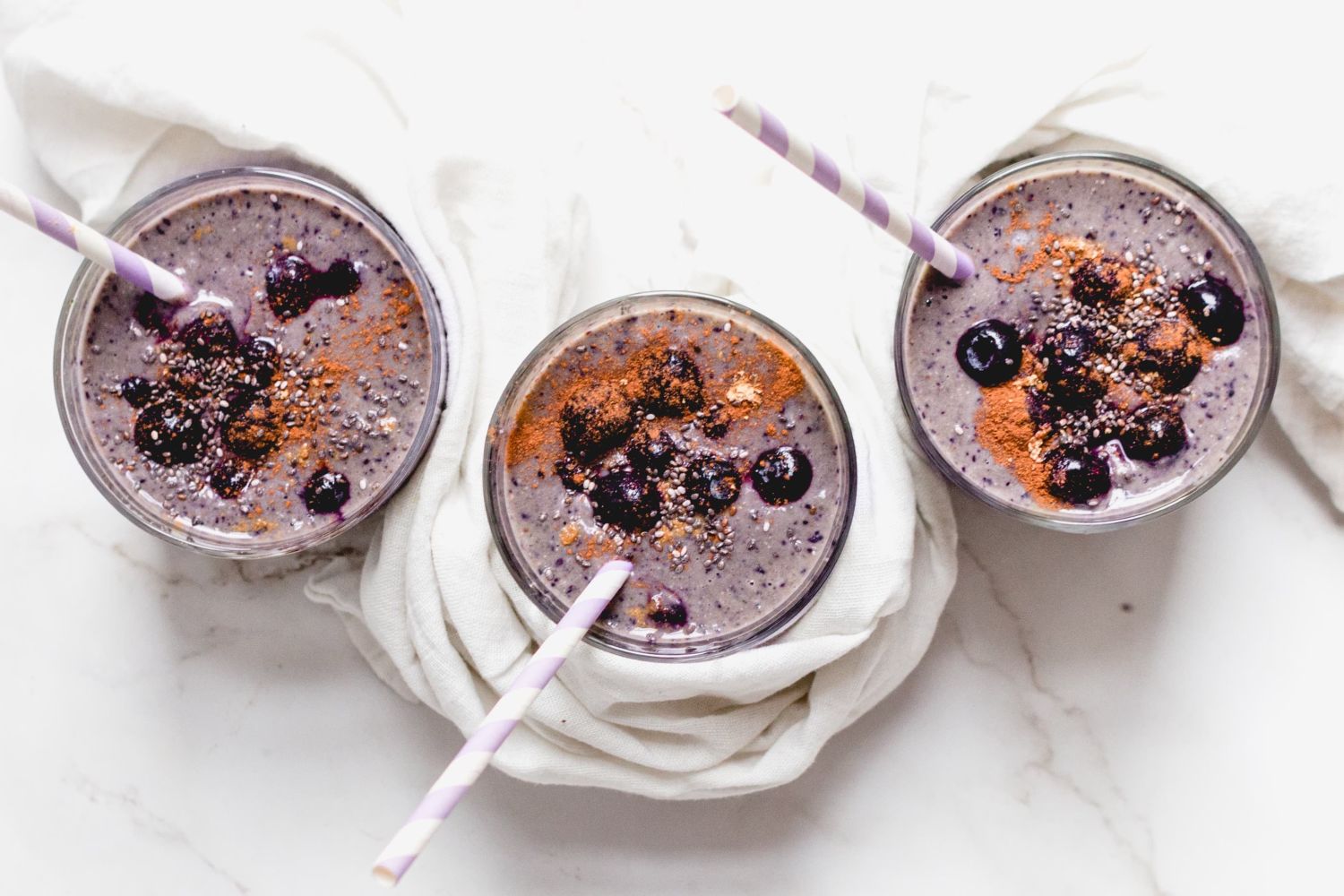 How To Make A Smoothie + 20 Healthy Smoothies Recipes
PREP TIME: 2 Min
COOK TIME: 3 Min
TOTAL TIME: 5 Min
Print

Download

Get in your Inbox
Ingredients
2

cups

fresh fruit (or frozen fruit)

2

cups

unsweetened almond milk
Like this Recipe? Try our Meal Plans!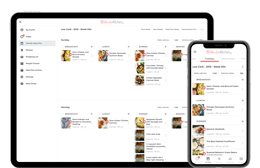 Weekly Meal Plans
Easy Shopping List
Healthy, Low Carb, & Vegetarian
Nutritional Information
Instructions
(Hide Media)
Switch to prevent your screen from going dark.
Nutritional Facts
Monounsaturated Fat 0g
0%
Polyunsaturated Fat 0g
0%
* Percent Daily Values are based on a 2,000 calorie diet. Your daily values may be higher or lower depending on your calorie needs.
The Nutritional Values provided are estimates only and may vary based on the preparation method.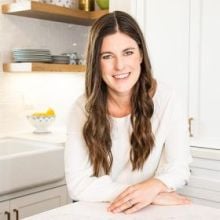 About the author
Meet

Kristen McCaffrey
Hi, I'm the cookbook author, recipe developer, and food enthusiast behind Slender Kitchen. I am obsessed with making healthy food that is easy to prepare and absolutely delicious. Meal planning is my secret weapon and I hope I can make meal time easier for you with our tried and tested recipes and foolproof meal plans.
Learn More
† We are a participant in the Amazon Services LLC Associates Program, an affiliate advertising program designed to provide a means for us to earn fees by linking to Amazon.com and affiliated sites.
Get delicious, healthy recipes delivered each week right to your inbox.
Join over 80,000 subscribers.
Did you make this?
Snap a picture and show us what you made on Instagram or Facebook.
Tag us using @SlenderKitchen or #slenderkitchen.