Eating Out on WW®: All the Best Options
Everything you need to know about eating out while on WW® including the best and worst options at all your favorite restaurants!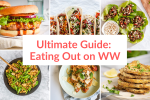 Following WW® and eating out can feel difficult - it's hard to know what to order, how many points it has, and what the best options are.
I would spend hours before the meal, pouring over the menu, trying to find a WW-friendly option. So many meals, I would end up ordering a green salad, because I just didn't know what I could eat.
Then there was fast food. What could I order that would be points friendly?
Today I am sharing one of my favorite secrets of all – the secret to eating out! Use the step-by-step guide below to plan for eating out. Then learn more about the best and worst choices at some of the most popular restaurants.
Plan Ahead
Use zero point and low point foods throughout the day so you have more points for your meal out.
Save your weeklies or rollover points for your meal out! Eating should be fun and enjoyable - so don't be scared to sue these points. That's what they are for.
Check out the menu: Look at the menu online before heading out to eat. Look for meals that include zero or low-point items, like fish or chicken. Also look for items that are grilled, poached, baked, steamed, or smoked - which tend to be lighter.
During Your Meal
Consider starting your meal with a salad or light appetizer, like a grilled artichoke, and a large glass of water. This helps to fill you up with some low-point items.
Don't be shy: Want fries? Ask if you can have half fries and half steamed veggies or salad. Going to a restaurant with large portions, ask if they can box up half your meal before bringing it. Most restaurants are happy to accommodate dietary requests.
Eat slowly: Many of us eat so fast we don't even realize we are full. Eat slowly and drink water throughout your meal. This will help you know when you are full.
Sauces and dressings: Be careful of high-calorie sauces, dipping sauces, and dressings. Ask for items on the side so you can choose how much you use.
Drinks: High-calorie soft drinks and cocktails can quickly add up. Pay attention to not only what you are eating, but also what you are drinking.
Enjoy yourself! The most important thing - enjoy yourself! Don't be afraid to treat yourself from time to time! Just make sure that this doesn't turn into a slippery slope. Get back on track the next day. One meal won't ruin everything.
After Your Meal
Get back to tracking: Make sure to stick to your plan the next day. After a big meal, it can be easy to just say, I'll start again on Monday and have a few days of off track eating.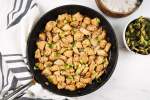 Chinese Food
Chinese food can be one of the trickiest cuisines when it comes to eating out since many of the dishes are fried, coated in sugary sauces, or cooked in lots of oil. However, there are some tricks to finding healthy options:
Try to avoid deep-fried dishes like Orange Chicken, Egg Rolls, Sesame Chicken, Sweet and Sour dishes, General Tso's, or Crab Rangoon.
Opt for steamed rice, steamed noodles, and steam vegetables over those cooks in sauces or fried in oil
Consider starting the meal with Egg Drop or Hot and Sour Soup to help fill you up with a low point option
Fill half your plate with steamed veggies and half your plate with your favorites and eat those first.
Best Choices: Wonton Soup (71 cal, 2 SP), Egg Drop Soup (65 cal, 2 SP), Hot and Sour Soup (91 cal, 2 SP), Kung Pao Chicken (209 cal, 6 SP), Veggie Delight/Buddha's Delight (199 cal, 5 SP), Mapo Tofu (241 cal, 6 G), Chop Suey (167 cal, 4 SP), String Bean Chicken (190 cal, 4 SP), Beef and Broccoli (270 cal, 7 SP), Stir-Fries (280 cal, 6 SP)
Worst Choices: Egg Rolls (223 cal, 7 SP for one), Crab Rangoon (193 cal, 7 SP for one large), General Tso's Chicken (577 cal, 16 SP), BBQ Spareribs (810 cal, 28 SP for 6 pieces), Lo Mein (352 cal, 10 SP), Fried Rice (366 cal, 10 SP), Sweet and Sour Pork (461 cal, 16 SP), Orange Chicken and Bee (490 cal, 16 SP)f, Chicken Wings (212 cal, 6 SP, for one wing), Sesame Chicken (490 cal, 16 SP)
Healthy Versions At Home: Sesame Chicken (255 cal, 5 G, 3 B, 3 P), Healthy Fried Rice (128 cal, 3 G, 3 B, 1 P), Chicken Lo Mein (366, 7 G, 6 B, 6 P), Chow Mein (141, 4 G, 4 B, 4 P), Kung Pao Chicken (303, 6 G, 4 B, 4 P), General Tso's Pork (218 cal, 5 G, 5 B, 5 P), Mongolian Beef (231 cal, 4 G, 4 B, 4 P), Baked Egg Rolls (130 cal, 2 G, 1 B, 1 P)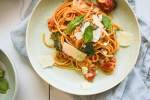 Italian
When most of us think about Italian food we automatically think about pasta, cheese, bread, and heavy sauces. However, there are actually lots of healthier and delicious options! Here are some things to keep in mind:
When choosing pasta, look for pasta with vegetables or tomato-based sauces over cream and cheese-based sauces
Ask for smaller portions of pasta or consider making pasta a side dish instead of the main course
Start with salads and ask with the dressing on the side. Look for salads packed with vegetables and lean proteins like hard-boiled eggs or chickpeas. Avoid heavier salads with lots of marinated items or high-calorie cheese and meats.
Choose lower-calorie appetizers like artichokes, grilled seafood, vegetable soup, and salads
Avoid dishes with fried food like Chicken parmesan or fried chicken and veal dishes
Avoid items cooked in large amounts of butter like Shrimp Scampi or ask for less butter
Best Choices: Cioppino (279 cal, 4 SP), Pasta Primavera (227 cal, 5 SP), Fresh Fish (400, 8 SP), Chicken Cacciatore (271 cal, 6 SP), Grilled Vegetables (150 cal, 3 SP), Steamed Mussels (300 cal, 7 SO), Chicken Marsala (440 cal, 10 SP), Chicken Piccata (360 cal, 9 SP), Minestrone Soup (110 cal, 2 SP)
Worst Choices: Chicken Parmesan (1060 cal, 32 SP), Fettuccine Alfredo (650 cal, 26 SP), Stuffed Shells (1020 cal, 34 SP), Meat Lasagna (462 cal, 16 SP), Spaghetti Carbonara (484 cal, 16 SP), Eggplant Parmesan (980 cal, 30 SP), Veal Parmesan (1178, 37 SP), Shrimp Scampi (510 cal, 13 SP)
Healthy Versions At Home: Sheet Pan Chicken Parmesan (287 cal, 7 G, 5 B, 5 P), Chicken Piccata (290 cal, 6 G, 4 B, 4 P), Eggplant Parmesan (290 cal, 8 G, 8 B, 8 P), Creamy Chicken and Broccoli Pasta (438 cal, 9 G, 7 B, 7 P), Slow Cooker Chicken Cacciatore (183 cal, 4 G, 4 B, 4P), Spinach Meatballs (198 cal, 4 G, 4 B, 4 P)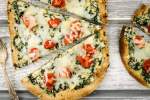 Pizza
Most of think of pizza and automatically think that it won't work in a healthy eating plan -but it will! That's actually one of the great things about WW - anything can work. Here are some tips for making the most point-friendly decisions when dining out for pizza.
Always opt for a thin crust when possible
When it comes to toppings, veggies are the lowest point choices. Try to avoid or limit higher fat toppings like pepperoni, sausage, and ground meat.
Start with a salad to sneak in some extra veggies - just ask for the dressing on the side.
Ask about alternative crusts - many pizza places now offer veggie-based crusts made with zucchini or cauliflower.
Skip the extra cheese, cheese in the crust, or buttery crust toppings
Best choices: Thin crust pizza (6-9 SP per slice, 280 cal), Salads
Worst choices: Deep dish pizza (11-15 SP, 410 cal), High calorie dipping sauces like garlic butter and ranch
Healthy Versions at Home: Spinach Artichoke Pizza (361 cal, 10 G, 10 B, 10 P), Pepperoni and Pineapple Pizza (280 cal, 7 G, 7 B, 7 P), Eggplant Pizza Bites (104 cal, 3 G, 3 P, 3 P), Zucchini Pizza Boats (102 cal, 4 G, 4 B, 4 P), Zucchini Ground Turkey Pizza Boats (228 cal, 5 G, 4 B, 4 P), Vegetable and Pepperoni Pizza (330 cal, 8 G, 8 B, 8 P)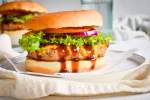 Fast Food
There are actually tons of great fast food choices that are points friendly, especially as more and more restaurants add healthy options to their menus. Here are some things to keep in mind when ordering fast food:
Opt for grilled chicken over fried chicken or burger options
Consider a lettuce wrap instead of a higher calorie bun
Swap in a healthier side dish like salad, fruit, or veggies instead of fries. If you really want fries, get a smaller serving
Skip mayo, mayo-based dressings, and cheese on sandwiches
Avoid deep-fried choices when possible since they are always high in points
Check out the salad options but be careful if it has lots of added nuts, toppings, or a thick creamy dressing. Sometimes a sandwich is a better choice.
Best choices: Arby's Jr Turkey and Cheese Sandwich (220 cal, 6 SP), Burger King Whopper Junior, no mayo (230 cal, 7 SP), 8 Piece Chick-Fil-A Grilled Nuggets (140 cal, 2 SP), Chipotle Chicken Salad Bowl with chicken, black beans, corn, fajita veggies, and salsa (435 cal, 6 SP), Jimmy Johns Club Lulu Lettuce Wrap (170 cal, 4 SP), McDonald's Southwest Salad with Grilled Chicken (310 cal, 5 SP), Panera Half Turkey Sandwich (270 cal, 6 SP), Taco Bell Fresco Soft Taco with Steak (150 cal, 4 SP), Wendy'sSmall Chili (240 cal, 3 SP)
Worst choices: Chick-fila-A Cobb Salad (850 cal, 15 SP), Burger King Triple Whopper (1220 cal, 39 SP), Small Sonic Peanut Butter Shake (710 cal, 33 SP), Taco Bell Nachos Grande with Beef (740 cal, 23 SP), Large Five Guys Fries (1314 cal, 41 SP), Arby's Half Pound Beef and Cheddar (740 cal, 23 SP), El Pollo California Queso Burrito (930 cal, 27 SP)
Healthy Versions at Home: Cowboy Turkey Burger (249 cal, 5 G, 3 B, 3 P), Bacon Cheddar Turkey Burger (262 cal, 6 G, 5 B, 5 P), Air Fryer Crispy Chicken Tenders (321 cal, 7 G, 4 B, 4 P), Baked Skinny Fries (125 cal, 3 G, 3 B, 2 P), Chicken Burrito Bowls (469 cal, 10 G, 6 B, 6 P)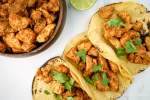 Mexican
Mexican food often gets a bad reputation since it can involve lots of melted cheese and fried chips, but with some good planning - there are actually lots of healthier options at Mexican restaurants.
Keep this in mind:
Stay away from fried items like chips, crispy tacos, taquitos, and chimichangas
Skip the margarita, which can be packed with sugar. Opt for a skinny margarita or light beer.
Try to avoid dishes covered in cheese or order it with less cheese.
Choose corn tortillas over flour tortillas since they tend to be lower in points.
If you want chips, count ut 12 chips for 4 SP and choose salsa over cheese dip or guacamole.
Get the sour cream on the side
Look out for oversized items like Giant Burritos. Tacos normally come in a better serving size or a kids-sized burrito.
Choose black beans or pinto beans prepared without lard over refried beans
Best options: Chicken fajitas (413 cal, 9 SP), Steak Fajitas (430 cal, 9 SP), Shrimp Fajitas (400 cal, 8 SP), Taco Salad (minus the crispy bowl, 388 cal, 11 SP), Chicken Soft Tacos (210 cal, 5 SP, Beef Soft Tacos (220 cal, 5 SP), Grilled fish Tacos (190 cal, 4 SP), Grilled Shrimp Tacos (180 cal, 3 SP), Carne Asada (245 cal, 6 SP), Ceviche (92 cal, 2 SP)
Worst Options: Ground Beef Burrito (670 cal, 20 SP), Nachos (1725 cal, 58 SP), Chimichangas (443 cal, 15 SP), Beef Flautas (446 cal, 14 SP), Cheese Enchiladas (613 cal, 18 SP)
Healthy Versions At Home: Grilled Chicken Tacos (260 cal, 5 G, 3 B, 3 P), Slow Cooker Beef Barbacoa (274 cal, 4 G, 4 B, 4 P), Shrimp Tacos (367 cal, 6 G, 5 B, 5 P), Fish Tacos (274 cal, 5 G, 4 B, 4 P), Quick Refried Beans (151 cal, 3 G, 1 B, 1 P), Carne Asada (324 cal, 6 G, 6 B, 6 P)
What are your favorite points friendly restaurant meals?