Will Meal Planning Work For You?
Learn the secret to long term success with healthy eating and WW®. Meal planning takes all the hard work and stress out of healthy eating.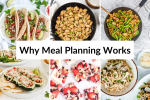 Getting started on a healthy eating plan or WW® is easy.
Know what's hard? Long-term success.
The first few days on any healthy eating journey, WW® included, are fun and exciting, but then real life hits. Before you know it, you are back to the old habits that got you here in the first place.
How to Guarantee Long-Term Success
Today I am going to let you in on my biggest secret to long term success – meal planning!
I am sure you have heard the famous quote- Fail to plan, plan to fail.
It couldn't be more true when it comes to success with healthier eating. As someone who struggled with weight loss for a long time, I didn't find real, long-lasting success until I started meal planning.
Knowing what's for dinner every night, knowing you have all the ingredients in the fridge, knowing you are set up for success – that makes healthy eating easy!
But let's be honest, meal planning can be hard. It takes time to search for healthy (points friendly) recipes. It takes time to adjust them to your family size. It takes time to build a shopping list. Most of us just don't have that time.
So I've made it easy and affordable to meal plan. For less than $1 per week, you'll get a complete meal plan that's full customizable packed with tried and true recipes your whole family will eat. The recipes are quick and easy, made with ingredients you can find in any grocery store, and include lightened up versions of all your favorites from pasta to burgers, tacos to stir-fries, and more. The weekly plans are filled with food you want to eat.
Plus all the plans with nutritional info and all three WW® color options. They also come in three varieties - healthy, low carb, and vegetarian - and you can access to all three plans with just one membership.
Our main goal at Slender Kitchen is to make healthy eating easy, stress-free, and affordable.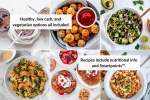 After sharing our meal planning special yesterday, we got lots of questions. Here of some of the most common ones to help you figure out if Slender Kitchen Meal Plans are right for you.
I already have a bunch of your recipes. Why should I join Slender Kitchen Meal Plans?
Our meal plans take of all the recipes you know and love (plus exclusive recipes just for meal plan members) and packages them into delicious, easy to follow weekly meal plans. We do all the hard work of meal planning for you! Then using our innovative meal planning platform, you can customize the meal plan and generate your shopping list in minutes.
Can I really join for less than $1 per week?
I want to make it easy and affordable for you to join Slender Kitchen Meal Plans. That means no hidden fees of any kind. With the current new year special, meals plan are just $36 for the year, just $ per month. Less than the cost of one fancy coffee to never have to worry about what's for dinner again.
Do your meal plans work for couples or are they only for big families?
Our meal plans are so versatile! The meal planner can be customized for any family size whether it's for 2 people, for 4 people, or for 12. You choose the meals you want and how many servings of each. Choose breakfasts for one and dinners for five. It's up to you and will work for any family size.
Are your recipes budget-friendly?
My budget-loving heart is excited to answer this. Yes! Meal planning is a HUGE reason we can stick to our weekly food budget! When you are only buying what you need at the grocery store, you cut down on your food cost and food waste.
See the meal planner in action.
We truly believe that meal planning can be the thing that changes mealtime stress, weight loss, and healthy living for you. We have seen this happen for countless members who are finally enjoying mealtime again, eating healthier, and losing weight.
Copy and paste the code
NY2021

at checkout for 25% off your subscription fee!