Weight Watchers Vegetarian Recipes
The best Weight Watchers Vegetarian recipes for everything from breakfast to lunch to dinner and side dishes. Find meatless dishes that your whole family will love with Freestyle Smartpoints.
Sometimes it can feel tough to be a vegetarian on Weight Watchers but we have some amazing Weight Watchers vegetarian recipes to make that journey easier. You won't want to miss them!
I have some veggie loving Weight Watchers vegetarian recipes below to please your palate any time of the day. From breakfast, lunch or dinner ideas, I got you covered. If you are a vegetarian then this list will be a dream come true.
Whether you are trying meatless options to rotate into your diet, or are full on vegetarian, these Weight Watcher recipes are a perfect fit. You don't lack flavor, and you have hearty and healthy dishes that anyone in your family can enjoy.
For many vegetarians following WW, beans and lentils become the base of many meals since they are zero point protein options. Think about how you can build meals using these as your base and then add vegetables, whole grains, and sauce. You can also always add protein to a vegetarian meal by reaching for some eggs. I can't tell you many times I have added eggs to grain bowls or made big scrambles when I need a quick protein fix. Tofu is another great zero point option for an easy protein source.
Weight Watchers Vegetarian Breakfast Ideas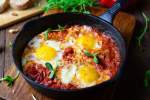 Baked Eggs with Tomatoes and Parmesan, is a protein-packed breakfast that is flavorful and keeps you full. It is only 2 Freestyle Smartpoints so you never have to feel guilty! Fantastic idea for a family brunch or get together.
Butternut Squash and Spinach Breakfast Casserole, this casserole is out of this world! It has amazing spinach and butternut squash topped with feta cheese. 2 Freestyle Smartpoints per serving. This makes a perfect light lunch or dinner too.
Vegetarian Breakfast Salad, is an ideal breakfast that is only 6 Freestyle Smartpoints and full of protein, flavor, and garden fresh vegetables. This is a great meal to start the day off with too.
Avocado Baked Eggs, creamy avocado with an over easy egg is the definition of food heaven! You won't have a morsel left of this scrumptious dish. Each serving is 5 Freestyle Smartpoints and absolutely divine.
Vegetarian Sausage, Spinach, and Egg White Wraps, is wonderful for a grab and go breakfast idea that your kids will gobble up! 4 Freestyle Smartpoints and full of tasty flavors you can't get enough of.
Sweet Potato Breakfast Hash, is 4 Freestyle Smartpoints and so yummy that you are going to add this to your breakfast recipe rotation! This recipe is so versatile because you can adjust it several different ways to meet your tastes.
WW Vegetarian Lunch Ideas
Spicy Vegetarian Sushi Bowls, is the flawless combination of sushi meets spice! Each bowl is 7 Freestyle Smartpoints and a terrific healthy meal for the entire family. Not only does it taste great it also looks gorgeous too!
Asian Kale Apple Slaw, is only 3 Freestyle Smartpoints and packed with flavor! The creamy peanut vinaigrette is the star of the show, and I promise you are going to fall head over heels in love.
Healthy Kale Caesar Salad, is 3 Freestyle Smartpoints and the most fantastic way to eat kale! Creamy homemade caesar dressing topped with croutons and parmesan cheese is sure to impress!
Baked Eggplant Cutlets, are perfect for a quick and easy light lunch. They provide a tasty crunch and pair well with a garden salad. Each serving is 1 freestyle point.
Black Bean and Corn Quesadillas, are protein packed, taste delectable and only 7 Freestyle Smartpoints. If you are like me, sometimes you just crave some Mexican food. These quesadillas hit the spot.
Roasted Cauliflower and Chickpeas with Garlic Cilantro Yogurt, is a dish that you will never have leftovers of! The creamy cilantro garlic yogurt takes it to the next level and the roasted garlic is positively delicious! The best part is that it is only 1 freestyle point.
Weight Watchers Vegetarian Dinner Ideas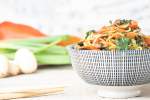 Spinach and Mushroom Lo Mein is the perfect thing to make when you are craving takeout. This at home version couldn't be easier to make and it so much better for you with just 8 Freestyle Smartpoints.
Baked Italian Polenta and Vegetables the best vegetarian comfort food around with creamy polenta and roasted vegetables in tomato sauce. Seriously good and a huge portion for 8 Freestyle Smartpoints.
Slow Cooker Curry Chickpeas and Vegetables is packed with flavor from curry paste and coconut milk. This creamy and filling dish is healthy and delicious and only 3 Freestyle Smartpoints.
Creamy Tomato Mushroom and Spinach Pasta, this meal can be made in around 30 minutes! Perfect for those hectic nights. A rich and creamy dish that is heavenly! Each serving is 9 Freestyle Smartpoints.
Baked Roasted Vegetable Ziti, is loaded with fresh bell peppers, zucchini, summer squash, eggplant, onion, ziti with a tomato based marinara sauce covered in mozzarella and parmesan cheese. 10 Freestyle Smartpoints per each savory serving.
Slow cooker Vegetarian Barbecue Stuffed Peppers, is a new spin on your typical stuffed pepper recipe. The barbecue sauce paired with the cheddar cheese, rice, and black beans is brilliant. 4 Freestyle Smartpoints per serving.
Healthy Eggplant Parmesan, is 8 Freestyle Smartpoints and ideal when you are craving comfort food. It has melted cheese, a tomato based sauce, and hearty eggplant slices. You can't go wrong with this recipe.
Vegetarian Korean Bowls, 4 Freestyle Smartpoints made with vegetarian crumbles and the best sweet and spicy sauce and tons of veggies are a delicious dinner, awesome for meal prep, and have just 4 Freestyle Smartpoints.
Chickpea Feta Burgers may just be my all time favorite veggie burger. These amazing patties are just 4 Freestyle Smartpoints and make the perfect vegetarian option for burger night.
Mongolian Tofu is the perfect dish to make when you are craving takeout but want a simpler and healthier meal at home. It's just 2 Freestyle Smartpoints and goes great with some brown rice and broccoli.
WW Vegetarian Side Dishes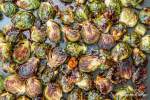 Crispy Asian Brussels Sprouts The most addictive sweet and spicy Brussels sprouts that will make anyone become a fan of these little gems. A big serving has 3 Freestyle Smartpoints .
Honey Balsamic Carrots with Thyme, Once you bite into these sweet and tangy carrots you are going to fall in love! Gone are the days of trying to get your kids to eat their vegetables! They are only 2 Freestyle Smartpoints per serving.
10 Minute Cabbage Stir Fry, only 1 Freestyle Smartpoints per serving of this Asian inspired dish! The mouthwatering sauce is made of ginger, soy sauce, sesame, and a bit of sriracha. Make this for your next get-together and your friends are going to beg for it all the time!
Fresh Spring Rolls filled with veggies, tofu, and vermicelli noodles are served with the most delicious peanut sauce and have just 2 Freestyle Smartpoints each.
Black Bean Hummus makes the perfect 0 Freestyle Smartpoints snack with all kinds of fresh cut veggies.
Healthy Kale Caesar Salad is my go to salad and has so much flavor for just 3 Freestyle Smartpoints per serving.
What is your favorite Weight Watchers vegetarian recipe?