Twenty Slow Cooker Recipes for Summer
The slow cooker is my secret weapon when it comes to summer cooking! Not only does it mean I can spend all day outside in the sunshine, it also means a delicious meal without ever having to turn on the oven. A must around here since I don't have air conditioning. Unlike winter slow cooker recipes for stews, chili, and rich comfort meals, I like to use my slow cooker in the summer to make the protein for tacos, lettuce wraps, salads, rice bowls, and sandwiches. Paired with a crunchy veggie slaw and you have the perfect summer meal.
Here are some of my favorite slow cooker recipes for summer. What are yours?
1. Slow Cooker Carnitas, 173 calories, 3 SmartPoints
2. Slow Cooker Barbecue Beer Chicken, 249 calories, 6 SmartPoints
3. Slow Cooker Korean Beef, 256 calories, 5 SmartPoints
4. Slow Cooker Barbecue Chipotle Beef, 209 calories, 4 SmartPoints
5. Slow Cooker Tri Tip Taco Meat, 196 calories, 3 SmartPoints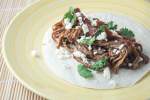 6. Slow Cooker Jerk Chicken, 183 calories, 2 SmartPoints
7. Slow Cooker Chicken Barbacoa, 193 calories, 3 SmartPoints
8. Slow Cooker Buffalo Chicken, 165 calories, 2 SmartPoints
9. Slow Cooker Dry Rub Barbecue Pork, 182 calories, 2 SmartPoints
10. Slow Cooker Hawaiian Chicken, 229 calories, 5 SmartPoints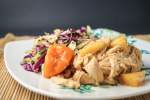 11. Slow Cooker Sweet and Spicy Chicken, 249 calories, 5 SmartPoints
12. Slow Cooker Tomato Balsamic Chicken, 227 calories, 3 SmartPoints
13. Slow Cooker Chicken in Chili Verde, 204 calories, 3 SmartPoints
14. Slow Cooker Chorizo Pulled Pork, 193 calories, 3 SmartPoints
15. Slow Cooker Banh Mi Pork, 289 calories, 5 SmartPoints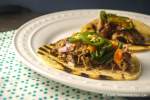 16. Slow Cooker Sesame Ginger Chicken, 225 calories, 5 SmartPoints
17. Slow Cooker Pepperoncini Chicken, 205 calories, 2 SmartPoints
18. Slow Cooker Kalua Pork with Cabbage, 163 calories, 3 SmartPoints
19. Slow Cooker Apple BBQ Turkey, 215 calories, 4 SmartPoints
20. Slow Coker Chicken Tinga, 189 calories, 2 SmartPoints