Peek Inside: Healthy Meal Plan Week 6
Check out this week's healthy meal plan with delicious meals, a full shopping list, and all the nutritional info and Smartpoints.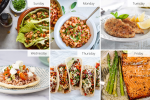 One of the questions we hear most often about our meal plans is, what will I be eating? Today we wanted to share a preview of one of our meal plans to help you decide if Slender Kitchen Meal Plans are a good fit for you.
Remember - all of our meal plans are fully customizable! That means if there is ever a recipe you don't like, you can easily swap in any other recipe from our website in just a few clicks.
With that, let's dig into this week's meal plan. We are highlighting dinners in this post, but meal plans also include breakfasts and lunches.
Stop Wondering What's for Dinner? We've Got You Covered!
Sunday: The week kicks off with one of my favorite copycat recipes made right in the slow cooker. These Slow cooker Chicken Lettuce Wraps taste just like the takeout and make a fun dinner. Make them with chicken, turkey, pork, or vegetarian crumbles. (321 calories, 4 G, 3 B, 3 P)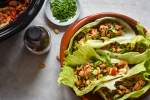 Monday: This five start pasta dish takes the flavor of sausage and peppers and transforms it into a delicious, easy pasta dish. Made with lean turkey sausage, this meal is not only quick, it's healthy too! (379 cal, 9 G, 9 B, 9 P) Swap in any whole grain or alternative pasta or spaghetti squash for a lighter option. Lean ground turkey can also be used in place of the sausage, just add extra spices.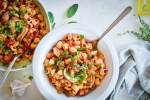 Tuesday: It's hard not to love this five ingredient crispy pork dish. It's easy to make, comes out deliciously crispy, and works with so many different side dishes. (227 cal, 4 G, 4 B, 4 P) Make it lighter with chicken breast for a lower calorie/point option.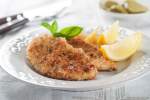 Wednesday: Instead of traditional tostadas, this recipe takes Greek flavors and turns them into a delicious tostada with ground turkey, cucumbers, tomatoes, and feta cheese all served on a crispy baked pita. It's easy and delicious. (346 cal, 5 G, 4 B, 4 P)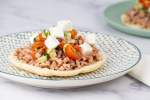 Thursday: Each week I try to include at least one meatless meal and this week it is these amazing roasted Vegetable Fajitas. Made on a single sheet pan, this easy dinner is one that even meat eaters love. (339 cal, 7 G, 6 B, 6 P)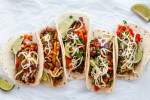 Friday: If you aren't cooking salmon in the broiler yet, it's time to start. The top gets brown and caramelized, the inside is perfectly cooked, and it takes less than 10 minutes. This Honey Garlic version couldn't be more delicious. (388 cal, 6 G, 3 B, 3 P)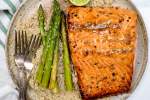 Saturday: Instead of ordering takeout, make these three ingredient Ranch Burgers! They will quickly become one of your favorite burger recipes. (202 calories, 4 G, 4 B, 4 P) Works with ground chicken and turkey as well.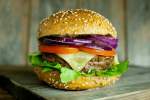 This is the standard healthy meal plan. we also offer a low carb and vegetarian variety. All with the ability to swap in new recipes, add your own recipes, and create your custom shopping list.
Here's what one of our members, Bhavisha, had to say about the recipes and meals in the weekly meal plans.
"I consider myself cooking-challenged. But the meal plans are so easy to follow. The food is delicious and I really look forward to eating it. I think the price is very reasonable for what you get. I have lost 10 lbs. in the 4 weeks I've been doing the meal Plans. Thank you so much!!!!!""
Read more testimonials.
We truly believe that meal planning can be the thing that changes mealtime stress, weight loss, and healthy living for you. We have seen this happen for countless members who are finally enjoying mealtime again, eating healthier, and losing weight.