Peek Inside: Healthy Meal Plan Week 2
Check out this week's healthy meal plan with delicious meals, a full shopping list, and all the nutritional info and Smartpoints.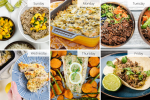 One of the questions we hear most often about our meal plans is, what will I be eating? Today we wanted to share a preview of one of our meal plans to help you decide if Slender Kitchen Meal Plans are a good fit for you.
Remember - all of our meal plans are fully customizable! That means if there is ever a recipe you don't like, you can easily swap in any other recipe from our website in just a few clicks.
With that, let's dig into this week's meal plan. We are highlighting dinners in this post, but meal plans also include breakfasts and lunches.
Stop Wondering What's for Dinner? We've Got You Covered!
Sunday: The week cooks off with the most amazing citrus and garlic-infused Slow Cooker Jerk Chicken with Mango Salsa. It's the perfect thing to brighten up the week. (253 calories, 4 G, 4 B, 4 P) This recipe also works with chicken breasts and is just 1 point on all plans.
Monday: Basically spinach artichoke dip turned into a delicious, baked pasta dish. This is so good and one of our family's favorite meals. The little ones don't even complain about the spinach. (331 cal, 8 G, 8 B, 8 P) Swap in any whole grain or alternative pasta or spaghetti squash for a lighter option. Add cooked chicken, ground turkey, lean chicken sausage, or white beans for some added protein.
Tuesday: These Korean Beef Bowls taste like something you would get from a restaurant but are made at home with just a few simple ingredients most of us have in the fridge. Use any combination of veggies you like or grab a bag of prewashed and prepped Asian veggies to make it even faster. Served with brown rice or cauliflower rice. (296 cal, 6 G, 6 B, 6 P) Make it with ground turkey or ground chicken for a lower calorie option.
Wednesday: Five ingredients stand between you and this delicious baked Greek Yogurt Parmesan Chicken. Served with roasted potatoes and crispy broccoli, it's a meal you will make again and again. (233 cal, 4 G, 2 B, 2 P)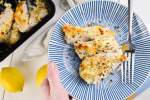 Thursday: By Thursday, I need something easy and this Sheet Pan Salmon with sweet potatoes and asparagus is the perfect solution for a busy weeknight. One dish that's covered in foil, for the ultimate in easy clean up. (382 cal, 8 G, 4 B, 1 P)
Friday: Instead of picking up the phone to order takeout, make this veggie packed Pork Fried Rice that tastes just as good as takeout without all the extras. Trust me - this is so good! (395 cal, 8 G, 8 B, 3 P) Swap in chicken, shrimp, or tofu for a lighter meal.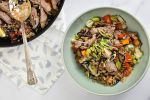 Saturday: The easiest ground turkey tacos made with salsa verde and a few secret ingredients. (214 calories, 3 G, 1 B, 1 P) Make these with all your favorite fixings and it is served with the most amazing Mexican Corn Salad.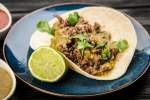 This is the standard healthy meal plan. we also offer a low carb and vegetarian variety. All with the ability to swap in new recipes, add your own recipes, and create your custom shopping list.
Here's what one of our members, Bhavisha, had to say about the recipes and meals in the weekly meal plans.
"I consider myself cooking-challenged. But the meal plans are so easy to follow. The food is delicious and I really look forward to eating it. I think the price is very reasonable for what you get. I have lost 10 lbs. in the 4 weeks I've been doing the meal Plans. Thank you so much!!!!!""
Read more testimonials.
We truly believe that meal planning can be the thing that changes mealtime stress, weight loss, and healthy living for you. We have seen this happen for countless members who are finally enjoying mealtime again, eating healthier, and losing weight.
Copy and paste the code
NY2021

at checkout for 25% off your subscription fee!