Peek Inside: Healthy Meal Plan Week 15
Check out this week's healthy meal plan with delicious meals, a full shopping list, and all the nutritional info and Smartpoints.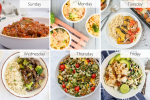 One of the questions we hear most often about our meal plans is, what will I be eating? Today we wanted to share a preview of one of our meal plans to help you decide if Slender Kitchen Meal Plans are a good fit for you.
Remember - all of our meal plans are fully customizable! That means if there is ever a recipe you don't like, you can easily swap in any other recipe from our website in just a few clicks.
With that, let's dig into this week's meal plan. We are highlighting dinners in this post, but meal plans also include breakfasts and lunches.
Stop Wondering What's for Dinner? We've Got You Covered!
Sunday: This Slow Cooker Chicken Cacciatore is full of so much flavor and couldn't be easier to make. It comes out super tender and can be served in so many different ways. (183 calories, 4 G, 4 B, 4 P) Make it with chicken breast for a lower point/calorie meal.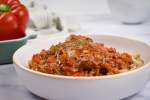 Monday: Broccoli Macaroni and Cheese with a creamy cheddar cheese sauce is baked in the oven for the perfect healthier mac and cheese. (323 cal, 10 G, 10 B, 10 P (less with whole wheat pasta). Add protein if you like with lean ground turkey, chicken breast, or white beans.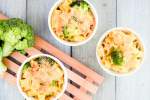 Tuesday: One Pan Sausage and Acorn Squash with bell peppers, onions, and Italian seasoning is a quick and easy 6 ingredient recipe that is cooked on just one sheet pan.(301 cal, 6 G, 6 B, 6 P) Make it any combination of veggies you like.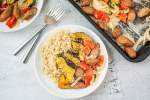 Wednesday: This brand new recipe for homemade Beef and Broccoli takeout is so delicious. It has the most delicious sauce but is much lighter than the typical takeout version. (267 cal, 6 G, 6 B, 6 P)
Thursday: I am obsessed with this One Pan Ground Turkey and Zucchini with Pesto! This recipe is only available to meal plan members and couldn't be more delicious. (400 cal, 6 G, 6 B, 6 P) This dish can also be made with lean ground chicken, beef, or veggie crumbles.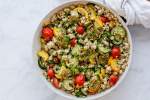 Friday: These simple Ancho Fish Taco Bowls are perfectly spicy with a delicious lime cabbage slaw and creamy avocado for a low carb alternative to fish tacos. (282 cal, 4 G, 3 B, 3 P) Works with any fish variety you like.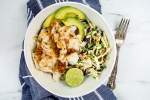 Saturday: This super easy chicken recipe is one of my kid's favorite ways to eat chicken! The crispy, sweet brown sugar crust is hard to beat. Makes amazing sandwiches as well. (232 calories, 5 G, 4 B, 4 P)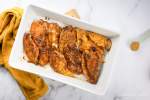 This is the standard healthy meal plan. we also offer a low carb and vegetarian variety. All with the ability to swap in new recipes, add your own recipes, and create your custom shopping list.
Here's what one of our members, Bhavisha, had to say about the recipes and meals in the weekly meal plans.
"I consider myself cooking-challenged. But the meal plans are so easy to follow. The food is delicious and I really look forward to eating it. I think the price is very reasonable for what you get. I have lost 10 lbs. in the 4 weeks I've been doing the meal Plans. Thank you so much!!!!!""
Read more testimonials.
We truly believe that meal planning can be the thing that changes mealtime stress, weight loss, and healthy living for you. We have seen this happen for countless members who are finally enjoying mealtime again, eating healthier, and losing weight.