Peek Inside: Healthy Meal Plan Week 12
Check out this week's healthy meal plan with delicious meals, a full shopping list, and all the nutritional info and Smartpoints.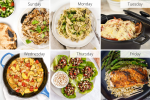 One of the questions we hear most often about our meal plans is, what will I be eating? Today we wanted to share a preview of one of our meal plans to help you decide if Slender Kitchen Meal Plans are a good fit for you.
Remember - all of our meal plans are fully customizable! That means if there is ever a recipe you don't like, you can easily swap in any other recipe from our website in just a few clicks.
With that, let's dig into this week's meal plan. We are highlighting dinners in this post, but meal plans also include breakfasts and lunches.
Stop Wondering What's for Dinner? We've Got You Covered!
Sunday: This Easy Greek Chicken (made in the Instant Pot, Slow Cooker, or Stovetop) is packed with garlic, lemon, and oregano. It comes out super tender and can be served in so many different ways. (199 calories, 4 G, 4 B, 4 P) Make it with chicken breast for a lower point/calorie meal.
Monday: Chicken Sausage Pasta with Broccoli with plenty of garlic, a hint of spice, and a creamy Parmesan sauce is ready in less than 30 minutes for an easy, comforting meal. (422 cal, 10 G, 10 B, 10 P) Make it with 99% lean ground chicken or turkey for a lower cal/point option, just add extra spices.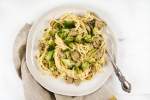 Tuesday: Easy Skillet Pork and Peppers made with tangy pepperoncinis, red peppers, yellow peppers, onions, and Parmesan cheese is a tasty and unexpected weeknight dinner (287 cal, 5 G, 5 B, 5 P) Make it with chicken as well.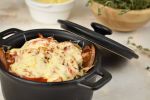 Wednesday: This Healthy Tuscan Chicken is a copycat of the Olive Garden favorite but lightened up! This dish is made with the most delicious creamy tomato Parmesan sauce, tender chicken breast, zucchini, and summer squash. (270 cal, 6 G, 4 B, 4 P)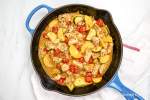 Thursday: If you love lettuce wraps, you have to try these tasty Asian Ground Beef Lettuce Wraps packed with veggies, tossed in a savory sauce, and topped with cashews. So good! (332 cal, 7 G, 7 B, 7 P) Can also be made with lean ground chicken, turkey, or veggie crumbles.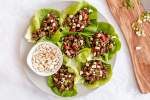 Friday: This fifteen minute Cajun seasoning with a homemade spice blend with pantry staples comes out perfectly cooked with just the right amount of spice. (350 cal, 5 G, 1 B, 1 P) Works with any fish variety you like.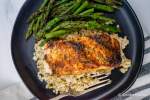 Saturday: These easy Pizza Turkey Burgers take all the delicious flavors of pizza and pack them into a tasty and protein packed turkey burger.(219 calories, 4 G, 2 B, 2 P)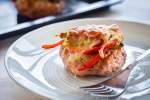 This is the standard healthy meal plan. we also offer a low carb and vegetarian variety. All with the ability to swap in new recipes, add your own recipes, and create your custom shopping list.
Here's what one of our members, Bhavisha, had to say about the recipes and meals in the weekly meal plans.
"I consider myself cooking-challenged. But the meal plans are so easy to follow. The food is delicious and I really look forward to eating it. I think the price is very reasonable for what you get. I have lost 10 lbs. in the 4 weeks I've been doing the meal Plans. Thank you so much!!!!!""
Read more testimonials.
We truly believe that meal planning can be the thing that changes mealtime stress, weight loss, and healthy living for you. We have seen this happen for countless members who are finally enjoying mealtime again, eating healthier, and losing weight.