Pantry Essentials (for Healthy Eating and Weight Watchers)
Everything you need to stock up a healthy and WW friendly pantry. Includes links to in stock products at reasonable prices.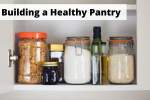 Lately, I have been getting lots of requests about how to stock a pantry that works for healthy living and Weight Watchers so today, I wanted to share a bunch of items I have been adding to my pantry. To make things easy, I specifically only chose items that are currently in stock on Amazon or other providers (at the time of this post) so that you could order them if needed.
In this unknown time, eating healthy may be the last thing you are thinking about, but for me, it's something that really helps with my mental health, physical energy, and general well-being. When I eat poorly, I just don't feel my best, which makes everything feel harder. So I am focusing on eating healthy most of the time with the occasional treat or special meal. It's all about balance and moderation, especially right now.
Additionally, this is a time to be kind of ourselves. When we don't have access to everything we are used to, are stuck at home, and dealing with a "new normal," we need to be kind to ourselves. Do what works for you, your family, and your current "new normal." This is a time to treat ourselves with the same compassion we are showing to others.
Fresh Produce, Frozen Meats, and Dried Goods
Before we dig into specifics, I wanted to share one service that I am loving right now called Imperfect Foods. Imperfect Foods (previously known as Imperfect Produce) is a company that works to reduce food waste by buying excess production of fruits, vegetables, grains, dairy, eggs, meat, and dried goods and delivering them to their customers at a discount.
Although they have experienced some delivery delays and inventory issues, I have been using them weekly to get shipments of fresh produce, frozen meat, and dairy right to my doorstep weekly. Not only do I deeply believe in their mission, their service has been extremely helpful during this time. You choose the groceries you want. There are no mandatory orders, you can skip any week without penalty, and you only pay for what you get. No membership fees or subscription requirements.
If you would like to try it, you can get $10 off your first shipment with this link. This is not sponsored, I have been using this service for over a year, but I will receive a $10 credit if you sign up through the link.
Dry Goods
Canned Goods
Diced tomatoes: Right now I just focus on buying plain or fire roasted tomatoes (could only find garlic in stock at a reasonable price) since I can always add spices or seasoning. (Mostly 0 points)
Pasta sauce: You can make your own or use a store-bought option. We love Rao's in our house since it has no added sugar, clean ingredients, and tastes amazing but it's expensive, even more so right now. This is another good option. (varies by brand)
Beans: We always have a ton of canned beans on hand for quick side dishes, salads, tacos, hummus, and more. (3 Green, 0 Blue, 0 Purple for 1/2 cup )
Pumpkin: We used canned pumpkin in oatmeal, smoothies, pancakes, waffles, and even in some savory dishes to create sauces. It's packed with nutrients and 0 points. (0 Green, 0 Blue, 0 Purple for 1/2 cup)
Amy's Soups: Another quick and healthy meal option I like to have on hand is Amy's soups. They are packed with good for you ingredients, filling, and usually low in points. At the time of this post, these were pretty expensive on Amazon so your local store or Costco might be a better option. (varies 2-4 points for most)
Canned tuna, salmon, and/or chicken: These healthy canned meat options can be a lifesaver for salads, sandwiches, and even casseroles, burgers, and pasta dishes. With between 0-3 points (depending on variety and plan), I always am stocked up.
Oils Vinegars, and Sauces
Olive Oil: We use olive oil more that any other cooking oil and if I could only have one oil, this would be it.
Cooking spray: Usually I use avocado cooking oil spray but any kind will work.
Low sodium soy sauce: Soy sauce is a staple in so many dishes - both Asian dishes and other savory dishes. It's a great option to build and enhance flavor.
Asian hot sauce: Any kind of hot sauce works but my personal favorite is sambal olek, which is an Asian garlic chili paste. Sriracha is a good option as well.
Vinegar: I usually try to have balsamic vinegar, apple cider vinegar, and red wine vinegar (I couldn't find a reasonably priced option in stock) in my pantry for salad dressing, marinades, and sauces.
Honey: I like to use raw honey as opposed to refine sugar to sweeten up oatmeal, smoothies, baked goods and also use it often in sauces, dressing, and marinades.
Pure maple syrup: Just like honey, I like to use pure maple syrup as a sweetener in place of refined sugar.
Buffalo sauce: This is something you either love or hate, but I am definitely on the LOVE side and always have buffalo sauce in my fridge. Plus it's zero points and low in calories.
Salsa: This is another staple in our house and we eat salsa daily with everything from eggs to carrot sticks to dinner. I am partial to Herdez salsa. Another great zero point option.
Mustard: Another zero point condiment that can be used for sandwiches, wraps, dressing, marinades, and more. We like whole grain mustard, but anything works
Peanut Butter: Even though peanut butter is a high point option, we use it all the time for pancakes, oats, smoothies, and sauces. Look for no sugar added options.
Fun Finds
Although these are in no way staples, these are some more items I always have in my pantry.
Note: Always check your local delivery options like Instacart, Amazon Fresh, and local grocery stores to find better prices. Many times you can find smaller packages and/or better prices on those platforms.
What do you make sure to always have in your pantry?