New Weight Watchers Freestyle Program
New Weight Watchers Freestyle Program for 2018! Learn more about what we know about the new program, daily points, new zero points foods, and more.
Make sure to check out the latest Weight Watchers Plan that is coming out for 2019 and 2020.
New Weight Watchers Freestyle Program could be coming our way soon and will include new daily points, new zero point foods, a new rollover points system, and more!
If you are a current Weight Watchers member or someone thinking about the program, you have likely already heard that there are new changes rolling out for 2018. Every few years, Weight Watchers updates their program to reflect the latest science and research when it comes to weight loss. And if the rumor mill is true, there are some new changes headed our at the end of this year. The new program was releasted today and the internet is buzzing with information about the new plan and what it will mean for current members. Here's what people are saying so far.
New Program: Weight Watchers Freestyle
According to many online groups and forums, the new Weight Watchers program for 2018 will be called Freestyle and will be introduced in early December, 2017. Somewent as far to say it will be rolled out at meetings the week of December 3rd. It will be an updated version of the current plan and will still use SmartPoints to count daily points and foods, but some points values will change. This is rumored to include a new and expanded zero points food list (yay!!) and it is also rumored that high sugar and high saturated fat foods may have higher SmartPoints in the new program. According to some sources, about 60% of foods will have the same SmartPoints values, but other sources are saying this number is much higher and only a few foods are changing SmartPoints values. It is worth mentioning that there is another theory that SmartPoints will actually be disappearing and changing to something new. However this hasn't been reported as often.
Essentially, it looks like most of the changes will be to encourage people to eat more lean protein sources like skinless chicken, turkey, eggs, lentils, and beans and eat less high sugar/high fat foods. This was already the focus in the SmartPoints plan released in 2015 and seems to be an extension of that. Personally, I am really excited if this is the case. The idea of being able to eat things like eggs and chicken for zero points would be awesome and it also means that putting together a zero point meal using lean proteins and veggies would be really easy. However to be honest, this makes me a little nervous as well. Although these foods are healthy, they still have calories and if overdone could lead to weight gain. We'll have to wait and see!
Changes to Daily Points Allowance
When it comes to the Daily Points Allowance on the new program, there is a lot of different information floating around. Most people seem to think that daily points allowances will still be based on age, weight, height, and activity level but will likely be lower overall. This is due to the fact that there will probably be an expanded zero point food list. Since more foods will be worth zero points, the total number of points you are allowed may decrease.
Specifically, some people have shared that it is likely that your daily points allowance would drop down to 23 points/daily if you are currently at 30 points/daily. This decrease in daily points can feel scary if it is in fact happening. Again, we don't know for sure at this point. However remember that if the zero points food list is actually expanding, it will be easier to stay in this range if you focus on lean proteins, veggies, and fruits.
New Zero Points Foods
For me, this is the most exciting news! I love the idea of new zero points food to encourage healthier choices. Most sources say that on the new Freestyle program, there will be new zero point foods. These are said to include:
Eggs
Bonless and skinless chicken and turkey
All fish and seafood (except seafood that has been dried or smoked)
Lean plant proteins like lentils, tofu, and beans
Non fat plain and Greek yogurt
Possibly lean ground beef
As you can see, if these foods are indeed zero point foods on the new program, there is definitely a shift to a higher protein style of eating. Fruits and veggies will still be zero points, as well as many condiments and spices.
Rollover and Activity Points
There is also a lot of talk about new rollover points and flex points. Most sources say that on the new Weight Watchers plan for 2018, you will be able to roll over 4 points daily if you do not use them. Personally I love this idea since it means if you have a holiday or big event coming up, you could save points for that day. However, I am always skeptical about these kind of changes since it could mean really going overboard on some days and then restricting yourself too much other days. Moderation and balance is always best, but this could be helpful for special events.
From what has been shared so far, it looks like there won't be any major changes to activity points. They will be earned and utilized in the same way.
Weight Watchers Meal Delivery Options and Expanded Online Products
The last update to the Weight Watchers program for 2018, seems to be the addition of an at home meal delivery system similar to those offered by companies like Blue Apron and Plated. This will include plan friendly meals that are packaged with all the ingredients and sent to your door. Some people have reported that the meals will be fully prepared (like Nutrisystem) and others have shared that you will get the ingredients and a recipe and need to cook the meal at home. This will be optional but could be a convenient way to get points friendly meals.
It also looks like Weight Watchers will be introducing a number of new online products, including a new, low calorie wine. The new wine has been reported by multiple media sources who were given the product early for testing. According to many sources it is actually pretty good and only has 85 calories per cup. Also, many people are reporting that Weight Watchers will also be offering a number of new food products online for purchase.
What This Means & Thoughts
At this point, I have mixed feelings about the new program and can't wait to see what it will actually include. It is rumored that the changes will be rolled out as early as December 3rd to help people get used to the new program and prepare for the new year. Personally, I am excited about having more zero points foods, especially ones with protein to keep you full. However I am not excited about learning a new system and having to update all my favorite recipes to reflect a new points system.
I also think it is worth it to mention, that I fully believe that Weight Watchers is a great weight loss option that has worked great for many people through multiple versions. When they made the change to SmartPoints in 2015, many people weren't happy about it, but it has worked great for me. I loved the shift to focusing on lean proteins, unprocessed foods, and less sugar. So although I don't know what the new program, perhaps Weight Watchers Freestyle, will include - I believe in the end it will likely work.
When it comes to how likely these changes are to happen, it is hard to know. It has been widely shared on blogs, social media sites, and forums but so far there is no official word from Weight Watchers and much of what is being shared is speculation. However, if we are to believe social media, it seems like some leaders have started to let the cat out of the bag. One member reported that at her meeting, a leader was sharing a turkey chili recipe. When a member suggested eliminating the beans to lower the points, the leader suggested that it wouldn't be neccessary to do that in just a few weeks.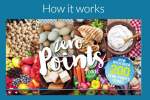 Some people are also reporting that these changes have already been rolled out in the UK and that in the UK it is being called Flex. There is a new program called Flex on the UK site, and if you watch the video, there are definitely some new foods being included for zero points! I have included a screen shot from the video below and it looks like things like chicken, tofu, yogurt, eggs, chickpeas, and seafood are all part of the zero foods list. However, just to play devil's advocate, some people say this is just the UK version of Simply Filling.
With that, we will just have to wait and see what's coming!
What have you heard about the new plan? What are you looking forward to? What are your dreading?
Looking for more information about the new Weight Watchers Plans?