Low Carb Weight Watchers Recipes
Find the best low carb Weight Watchers recipes for breakfast, lunch, and dinner including ideas for soup, slow cooker meals, quick and easy dinners, and more.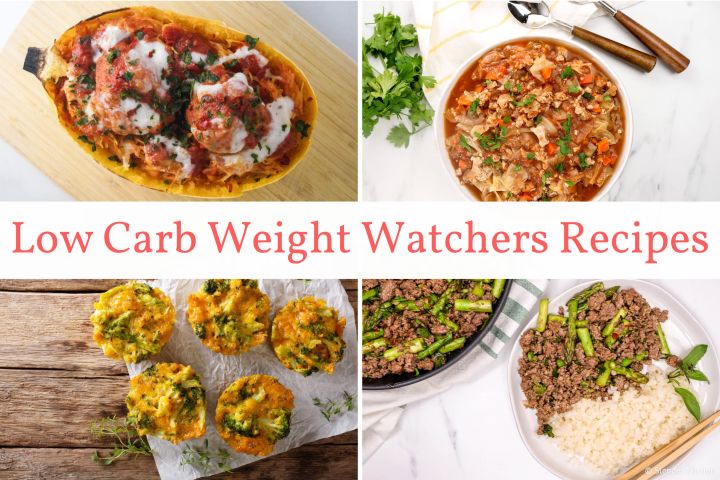 Following both a low carb diet and Weight Watchers at the same time can be tricky. Not only are you trying to find recipes that work for your daily points targets, you are also trying to find recipes that are low in carb. Today I am here to help you in that search!
Sometimes searching for new and exciting low carb Weight Watchers recipes can be a battle. I wanted to make your search much easier with this list of flavorful recipes. I am a huge fan of variety when it comes to food. That is what you get in all these low carb recipes below. Flavor, variety and something new to try out.
Whether you like to cook your meals on the stovetop, in the slow cooker, in the oven, or even with your Instant Pot, I have you covered. These scrumptious low carb recipes will not disappoint.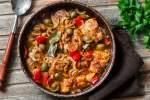 Slow Cooker and Instant Pot
Slow Cooker Chicken Fajita Soup, is a soup that is filled with the delicious flavors of Tex-Mex that you can't go without. I love the way the spices combine and create such a divine soup. It is only 5 Freestyle Points per serving.
Slow Cooker Red Pepper Paprika Chicken, is 1 Freestyle Point and pure comfort food at its finest. After cooking the vegetables on the stove, you can pretty much dump the ingredients in your slow cooker and forget about them until it is dinner time. My favorite kind of meals!
Easy Healthy Carnitas, can be made in the slow cooker or Instant Pot. This is such a simple recipe that really packs in tasty flavors you fall in love with. Dig in and enjoy that each serving only has 5 Freestyle Points.
Chicken Shawarma, is 1 Freestyle Point per serving and this delectable chicken can actually be cooked in the slow cooker, on the grill or using an Instant Pot. This tastes like you have been slaving over a hot stove for hours.
Slow Cooker Mediterranean Chicken, is made with juicy, moist and tender chicken thighs with sweet red peppers, onions, and olives. 5 Freestyle Points per serving of this terrific dish.
Low Carb Slow Cooker Pepperoni Pizza Chili, is 7 Freestyle Points per serving and gives you the flavor of pizza without the guilt. It is made with healthy ingredients that you probably already have around the house.
Weight Watchers Zero Point Cabbage Roll Soup for 0 Freestyle Smrtpoints made with lean ground turkey, cabbage, and cauliflower rice is perfect to have to have in the freezer for quick meals.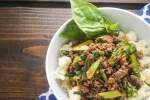 Quick and Easy
Thai Basil Ground Beef Bowl, this protein-packed dish only takes around 20 minutes to prepare. Plus, it just has 6 Freestyle Points per serving. This recipe is so healthy and your kids will love it too.
Easy Chicken Soft Tacos, is 4 Freestyle Points and will make your Taco Tuesday extra scrumptious! You will love how simple these are to make and how happy your taste buds are when you bite into them.
Turkey Apple Burgers, is only 1 Freestyle Point per serving and is the ultimate turkey burger! Full of tart green apples, minced sage, dijon mustard, ground turkey and seasonings. This burger is so moist and delicious.
Chicken and Zucchini Burgers, are mouthwatering burgers that you are going to want time and time again. 2 Freestyle Points per serving. I like to eat them with fresh fruit and a garden salad.
Peanut Chicken Stir Fry, 4 Freestyle Points with this restaurant-style recipe that will leave your family happy! The peanut butter takes this dish to a whole new level of amazing. You will fall in love at first bite.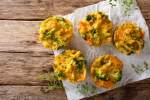 Baked Low Carb Weight Watchers Recipes
Turkey Quiche Muffins with Broccoli, 1 Freestyle Point per serving and fantastic for on the go breakfast of a light lunch. The combination of the turkey and eggs will keep your stomach full and your taste buds happy. The best part is that you can make these ahead of time to enjoy when life gets busy too.
Baked Cajun Garlic Chicken, is a satisfying meal that will knock your socks off with all the fantastic flavors. This quick and simple meal is only 1 Freestyle Point per serving too. I love guilt-free meal ideas that the entire family will eat.
Italian Salmon and Tomato Basil Salsa, this salmon is so easy to make and the result is a terrific meal that is loaded with flavor. You can enjoy this dish for only 1 Freestyle Point per serving.
Baked Buffalo Wings, is 4 Freestyle Points and the perfect crispy wing to serve. You will never have leftovers when you make these wings because they get devoured right away. Each wing is cooked to perfection, and they are finger licking good.,/p>
Honey Garlic Chicken and Asparagus, has 3 Freestyle Points per serving and is deliciously sweet. There is just something so magnificent about the combination of garlic and honey over chicken. I don't think you can find a more delectable recipe!
Low Carb Spaghetti Squash with Meatballs has 7 Freestyle Smartpoints and has been a reader favorite for years. Topped with fresh mozzarella cheese and filled with flavor.
Tips for Doing a Low Carb Weight Watchers Diet
If you are looking to follow the WW plan but also eat low carb, there are some things that can help you to make meal prep and planning easier.
Start with lean proteins: One tricky aspect of combining WW and low carb is that many of the standard items in a low carb diet are also high in WW points - nuts, nut butter, avocado, bacon, fattier cuts of meats, cheese, etc. Therefore you need to fill your diet with items that are both low carb and low points. This will mostly be lean protein. Think about building meals and snacks around items like chicken breast, lean ground turkey, lean ground chicken, chicken sausage, reduced fat cheese, low-fat or nonfat Greek yogurt, eggs, fish, seafood, canned tuna, tofu, lean beef, etc.
Add vegetables and fruit: Once you have your lean proteins, then you can add things like vegetables and fruit. Most people on a low carb diet also try to limit higher starch vegetables and higher sugar fruits.
Think about snacks: It can be tough to find good, WW friendly low carb snacks. Stock up on things like reduced fat string cheese, boiled eggs, turkey or salmon jerky, yogurt, cottage cheese, pickles, lean deli meat, olives, and edamame.
Other helpful products: It can also be helpful to stock your pantry and fridge with some low carb store-bought staples. This includes low carb wraps and tortillas, frozen cauliflower rice, canned black soybeans, egg white chips, and more.
Need help with meal planning? We actually offer a Low Carb Weight Watchers meal plan to help. It has recipes for breakfast, lunch, and dinner that are both low carb and WW friendly. Plus it has a full shopping list.