Inside Look: Vegetarian Meal Plan
Check out a sample week of the vegetarian meal plan! It always includes a wide range of protein sources, easy weeknight recipes, and meals you will make again and again, With nutritional info and points.
One of the questions we hear most often about our meal plans is, what will I be eating? Today we wanted to share a preview of one of our meal plans to help you decide if Slender Kitchen Meal Plans are a good fit for you.
Remember - all of our meal plans are fully customizable! That means if there is ever a recipe you don't like, you can easily swap in any other recipe from our website in just a few clicks.
With that, let's dig into this week's meal plan. We are highlighting dinners in this post, but meal plans also include breakfasts and lunches.
Stop Wondering What's for Dinner? We've Got You Covered!
Sunday: This is one of the most popular slow cooker recipes in our meal plans - Slow Cooker Quinoa and Black Bean Tacos! This is the tasty filling and it is served as tacos for dinner and then as a wrap and salad for easy leftover lunches. (234 calories, 6 G, 3 B, 1 P)
Monday: This easy Creamy Tortellini with Tomatoes and Spinach is a dish you will never believe is actually listened up. It tastes indulgent. Plus it comes together in less than 30 minutes, is packed veggies, and tastes like the best comfort food. (309 cal, 9 G, 9 B, 9 P) Swap in any whole grain or alternative pasta or spaghetti squash for a lighter option.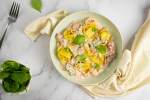 Tuesday: Chili is one of those meals that we love prepping on Sunday and having ready to go during the week. This Butternut Squash Chili recipe is great for that but also easy enough to throw together that night. (291 cal, 6 G, 1 B, 1 P)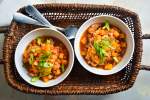 Wednesday: I love breaking up the week with a take-out style meal at home. This 20-minute Sesame Tofu with Broccoli is the perfect option and always a huge hit. In the meal plan, it's served with brown rice and Roasted Asian Broccoli. (230 cal, 5 G, 2 B, 2 P)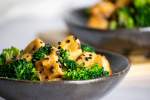 Thursday: Caesar salad reimagined into a delicious Quinoa Bowl with black olives, feta, and the most delicious (and easy!) homemade Caesar dressing. The leftovers are also incredible! (352 cal, 9 G, 9 B, 5 P)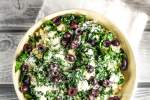 Friday: It's Friday and we all want something fun to eat! Many times for weekend meals, we include lightened up versions of fun family dishes like burgers, pizza, tacos, and more. This Friday meal is one of our favorite Portobello Burgers. Never had a mushroom burger before? Trust me - this is so good! (238 cal, 6 G, 6 B, 6 P)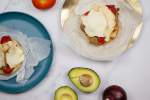 Breakfast Sneak Peek: Three Ingredient Banana Pancakes that will become a staple. Make them just three simple ingredients for a delicious, healthy breakfast. (213 cal, 4 G, 1 B, 1 p)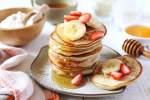 This is the standard healthy meal plan. we also offer a healthy and low carb variety that are all included with one membership. All with the ability to swap in new recipes, add your own recipes, and create your custom shopping list.
Here's what one of our members, Bhavisha, had to say about the recipes and meals in the weekly meal plans.
"I consider myself cooking-challenged. But the meal plans are so easy to follow. The food is delicious and I really look forward to eating it. I think the price is very reasonable for what you get. I have lost 10 lbs. in the 4 weeks I've been doing the meal Plans. Thank you so much!!!!!""
Read more testimonials.
We truly believe that meal planning can be the thing that changes mealtime stress, weight loss, and healthy living for you. We have seen this happen for countless members who are finally enjoying mealtime again, eating healthier, and losing weight.
Copy and paste the code
NY2021

at checkout for 25% off your subscription fee!