Healthy Meal Plans: Week 8
Don't miss out on this week's delicious healthy, low carb, and vegetarian meal plan packed with easy and family friendly recipes with nutritional info, myWW Points, shopping lists, and more.
This week is all about member requests! I love using inspiration from member's to build the meal plans and this week we had requests for easy vegetarian pasta, Banh Mi Pork, and easy sheet pan meals. You'll see all of those this week alongside other yummy recipes you and your family will love. Have a suggestion? Send it my way!
Now let's talk about the food! This week starts out with one of a reader request - Slow Cooker Banh Mi Pork. Monday night brings One Pot Spinach and Tomato Pasta. Tuesday brings Mexican Picadillo and Wednesday is Sheet Pan Italian Chicken and Vegetables. To end the week, enjoy Sweet and Spicy Pork, Garlic Lemon Baked Cod, and Bang Bang Chicken.
Meal Prep: A little work on Sunday goes a long way to make meals faster during the week. You can prep the Picadillo, baked potatoes, coleslaw, and quinoa. Plus you can prep all your veggies.
Cooking Tip: There are a couple spicy dishes this week, but it is easy to adapt them to your preferences. Leave the jalapeno out of the Banh Mi (or leave it whole for less spice), serve the chipotle peppers on the side for the Picadillo, and use only sweet chili sauce in the Bang Bang Chicken, which is more sweet than spicy.
Love leftovers: Double up the Banh Mi Pork, Picadillo, and Strawberry Oat Pancakes to store extras in the freezer.
Weight Watchers! We are excited to share a new feature that allows you to choose between Green, Blue, and Purple Smartpoints! Then you will get a customized plan for that plan! You can switch between plans at any point - it's all included with your membership.
And here's a preview of some of this week's delicious meals!
Sheet Pan Italian Chicken and Vegetables: This twenty minute sheet pan chicken dish will quickly become a favorite packed with tender chicken and vegetables roasted in olive oil, balsamic vinegar, and Italian spices.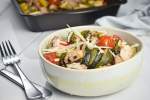 Mexican Picadillo: These slightly spicy Mexican version of picadillo has lean ground beef cooked with diced potatoes, carrots, and onions in a chipotle tomato sauce. It's a dish that's hard to stop eating.
Slow Cooker Banh Mi Pork: This healthy spin on banh mi is easy to make, made with lean pork tenderloin, and has the sweet and savory flavors you expect in banh mi. Serve it with rice or make Asian inspired tacos.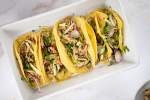 Strawberry Banana Oat Pancakes: These pancakes are a weekend favorite in our house and are packed with fruit and healthy whole grains.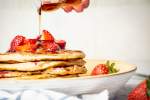 Remember to check out the healthy, low carb, and vegetarian meal plans all with nutritional info and Freestyle SmartPoints.
Love the idea of meal planning but don't have time to find recipes, create shopping lists, and make meal plans?
Since I know that many people simply don't have the time to create their own healthy meal plans, we provide delicious and healthy meal plans at Slender Kitchen that you can customize to meet your needs.
Each healthy weekly meal plan comes full of delicious recipes for breakfast, lunch, and dinner. The meal plans come in regular, vegetarian, and low carb options. All feature complete nutritional information, Weight Watchers Green, Blue, or Purple SmartPoints, and categorized shopping lists! There are also two bonus fallback recipes weekly and the option for either a complete meal plan or a Dinner Only plan.
This includes our interactive meal planning option where you can customize the number of servings for each meal, swap in new recipes if you don't like something, or build your own meal plan from scratch. All that for less the cost of one cup of coffee per month with the yearly plan.