Healthy Meal Plans: Week 45
Don't miss out on this week's delicious healthy, low carb, and vegetarian meal plan packed with easy and family-friendly recipes with nutritional info, myWW Points, shopping lists, and more.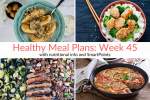 Welcome to this week's meal plan! I couldn't be more excited to welcome all our new members of easy, healthy eating with our weekly meal plans! This week is packed with easy to prepare, family-friendly recipes that you will love!
Here's what's on the menu this week. Sunday kicks off with my favorite Baked Blueberry Banana Oatmeal. Lunch is an easy Fifteen Minute Black Bean Soup and dinner is Balsamic Beef. Monday brings a yummy Italian Spaghetti Squash Casserole followed by Sheet Pan Mustard Sausages. Midweek meals include Creamy Mushroom Chicken and General Tso's Pork. To end the week, there's a tasty Brown Sugar Salmon and Sweet Chili Coconut Chicken Fingers.
Slow Cooker Balsamic Beef: This recipe will work with chicken breast (just cook 4 hours), chicken thighs, or pork. If you use a tenderloin, cook it for 3-4 hours only.
Get ahead: Make the spaghetti squash casserole, brown rice, and baked sweet potatoes in advance. Also, don't forget to prep your veggies in advance to save time during the week.
Love leftovers: Double up the Baked Banana Blueberry Oatmeal, Italian Spaghetti Squash Casserole, and Black Bean Soup.
Weight Watchers! You to choose between Green, Blue, and Purple Smartpoints! Then you will get a customized plan for that plan! You can switch between plans at any point - it's all included with your membership.
Dietary Needs: We offer a healthy, low carb, and vegetarian version of our meal plans each week. You get all three options with your membership and can change at any time.
Family Size: Our meal plans are interactive so you can adjust the settings to make it work for any size family and any needs. You choose how many servings you want for each recipe and what meals you want. Plus you can swap in recipes if there is something in the meal plan you don't care for.
And here's a preview of some of this week's delicious meals!
Creamy Garlic Mushroom Chicken: You'll never believe this Creamy Garlic Mushroom Chicken comes together in less than 20 minutes and is a healthier version of a normally heavy restaurant dish. (244 calories, 5 G, 2 B, 2 P)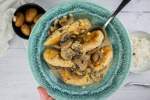 Sheet Pan Roasted Sausages, Potatoes, and Brussels Sprouts: It would be really hard for these ingredients not to taste good together. I mean it's a pan full of crispy roasted potatoes coated in mustard, caramelized Brussels sprouts, and sausage. (346 calories, 8 G, 8 B, 6 P)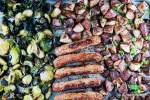 General Tso's Pork: General Tso's Pork is a healthy, easy to make version of one our favorite Chinese take out dishes. It's the perfect combination of sweet and spicy and can be made in under 25 minutes. (214 calories, 5 G, 5 B, 5 P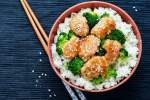 Western Omelet Frittata: Western Omelet Frittata packed with bell peppers, red onion, ham, and cheese for an easy, healthy, and protein packed breakfast (213 calories, 5 G, 2 B, 2 P)
Love the idea of meal planning but don't have time to find recipes, create shopping lists, and make meal plans?
Since I know that many people simply don't have the time to create their own healthy meal plans, we provide delicious and healthy meal plans at Slender Kitchen that you can customize to meet your needs.
Each healthy weekly meal plan comes full of delicious recipes for breakfast, lunch, and dinner. The meal plans come in regular, vegetarian, and low carb options. All feature complete nutritional information, Weight Watchers Green, Blue, or Purple SmartPoints, and categorized shopping lists! There are also two bonus fallback recipes weekly and the option for either a complete meal plan or a Dinner Only plan.
This includes our interactive meal planning option where you can customize the number of servings for each meal, swap in new recipes if you don't like something, or build your own meal plan from scratch. All that for less the cost of one cup of coffee per month with the yearly plan.