Healthy Meal Plans: Week 42
Don't miss out on this week's delicious healthy, low carb, and vegetarian meal plan packed with easy and family friendly recipes with nutritional info, myWW Points, shopping lists, and more.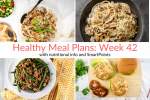 Welcome to this week's meal plan! I couldn't be more excited to welcome all our new members of easy, healthy eating with our weekly meal plans! This week is packed with easy to prepare, family-friendly recipes that you will love!
Now let's talk about the food! It starts out with a delicious Broccoli and Cheese Frittata, the best Healthy Tuna Salad, and Slow Cooker Greek Chicken. Monday brings Creamy Mushroom Pasta and Tuesday is Pork Fried Rice. Wednesday is Spicy Turkey and Green Bean Stir Fry and Thursday is Quick and Easy Black Bean Tacos. To end the week, meals include Crispy Shrimp Tacos and Easy Honey Mustard Chicken.
Meal Prep: You can make the Pork Fried Rice (or at least the rice) and couscous in advance. And don't forget to prep any veggies ahead of time to save time chopping and dicing on weeknights.
Cooking Tip: Use chicken, salmon, or chickpeas instead of the Healthy Tuna Salad. You can also jazz it up with any of your favorite add-ins.
Love leftovers: Consider doubling up the Greek Chicken, Pork Fried Rice, and Cripsy Shrimp Burgers.
Weight Watchers! You to choose between Green, Blue, and Purple Smartpoints! Then you will get a customized plan for that plan! You can switch between plans at any point - it's all included with your membership.
Dietary Needs: We offer a healthy, low carb, and vegetarian version of our meal plans each week. You get all three options with your membership and can change at any time.
Family Size: Our meal plans are interactive so you can adjust the settings to make it work for any size family and any needs. You choose how many servings you want for each recipe and what meals you want. Plus you can swap in recipes if there is something in the meal plan you don't care for.
And here's a preview of some of this week's delicious meals!
Easy Greek Chicken: Easy chicken recipes are always a favorite and this Lemon Greek Chicken with oregano and garlic is at the top of the list. It can be used for everything from Greek salads to wraps to grain bowls and has so much flavor in every bite. (199 calories, 4 G, 4 B, 4 P)
One Pot Creamy Mushroom Pasta: This Mushroom Pasta takes less than thirty minutes to make and is serious comfort food. I mean what is better than a bowl full of cheesy, garlicky pasta topped with mushrooms that has only 300 calories and tastes super decadent. (312 calories, 9 G, 9 B, 9 P)
Spicy Ground Turkey and Green Bean Stir-Fry: This easy Ground Turkey Green Bean Stir Fry takes only 15 minutes to make and is the perfect quick dinner for a busy night (294 calories, 5 G, 5 B, 4 P
Crispy Shrimp Burgers: Who doesn't love a good burger? It's one of my family's favorite meals but sometimes I want something different than traditional beef or turkey burger. Enter this incredible shrimp burger. It's light, healthy, and one of my favorite things to make (177 calories, 4 G, 3 B, 3 P)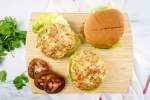 Love the idea of meal planning but don't have time to find recipes, create shopping lists, and make meal plans?
Since I know that many people simply don't have the time to create their own healthy meal plans, we provide delicious and healthy meal plans at Slender Kitchen that you can customize to meet your needs.
Each healthy weekly meal plan comes full of delicious recipes for breakfast, lunch, and dinner. The meal plans come in regular, vegetarian, and low carb options. All feature complete nutritional information, Weight Watchers Green, Blue, or Purple SmartPoints, and categorized shopping lists! There are also two bonus fallback recipes weekly and the option for either a complete meal plan or a Dinner Only plan.
This includes our interactive meal planning option where you can customize the number of servings for each meal, swap in new recipes if you don't like something, or build your own meal plan from scratch. All that for less the cost of one cup of coffee per month with the yearly plan.