Healthy Meal Plans: Week 41
Don't miss out on this week's delicious healthy, low carb, and vegetarian meal plan packed with easy and family friendly recipes with nutritional info, myWW Points, shopping lists, and more.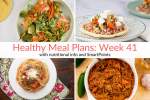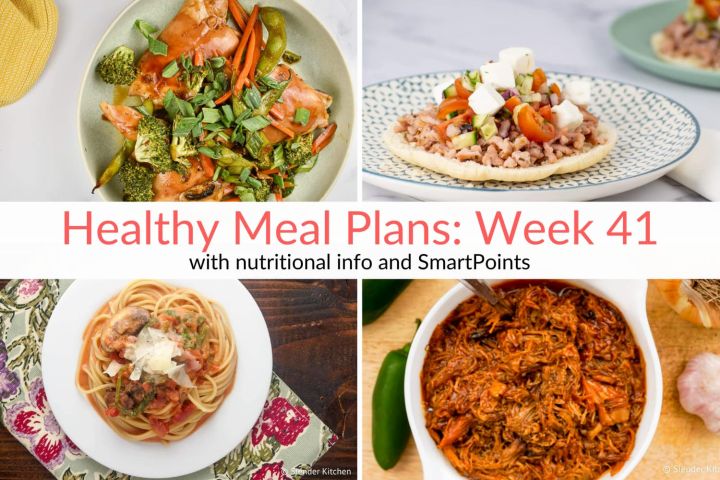 Welcome to this week's meal plan! I couldn't be more excited to welcome all our new members of easy, healthy eating with our weekly meal plans! This week is packed with easy to prepare, family-friendly recipes that you will love!
Now let's talk about the food! It starts out with a delicious Italian Frittata, Tex Mex Stuffed Zucchini, and Slow Cooker Spicy Pulled Pork. Monday brings Creamy Tomato, Spinach, and Mushroom Pasta and Tuesday is One Pan Teriyaki Chicken and Vegetables. Wednesday is Greek Tostadas and Thursday is Sheet Pan Lemon Pepper Chicken. To end the week, meals include Fish Tacos with Lime Slaw and Grilled Cheeseburger Wraps.
Meal Prep: You can make the Apple Pie and Almond Butter Chia Seed Pudding (at least 4 hours in advance), couscous, and refried beans in advance. And don't forget to prep any veggies ahead of time to save time chopping and dicing on weeknights.
Cooking Tip: Use boneless skinless chicken thighs instead for the slow cooker pork if you prefer a chicken option.
Love leftovers: Consider doubling up the Tex Mex Zucchini and Slow Cooker Spicy Pork.
Weight Watchers! You to choose between Green, Blue, and Purple Smartpoints! Then you will get a customized plan for that plan! You can switch between plans at any point - it's all included with your membership.
Dietary Needs: We offer a healthy, low carb, and vegetarian version of our meal plans each week. You get all three options with your membership and can change at any time.
Family Size: Our meal plans are interactive so you can adjust the settings to make it work for any size family and any needs. You choose how many servings you want for each recipe and what meals you want. Plus you can swap in recipes if there is something in the meal plan you don't care for.
And here's a preview of some of this week's delicious meals!
Slow Cooker Spicy Pulled Pork with Celery Ranch Slaw: This healthy Slow Cooker Spicy Pulled Pork is the perfect easy meal to kick off the week and makes the most amazing leftovers. Plus the Celery Ranch Slaw that's served on the side is the perfect pairing for the spice in the pork. (2577 calories, 6 G, 6 B, 6 P)
Creamy Tomato, Mushroom, and Spinach Pasta: This Creamy Tomato and Spinach Pasta with Mushrooms hits the spot when it comes to healthy and super comforting meals. (298 calories, 9 G, 9 B, 9 P)
One Pan Teriyaki Chicken Thighs and Vegetables: This healthy One Pan Teriyaki Chicken Thighs and Vegetables is made with a simple homemade teriyaki sauce, tender chicken thighs, and tons of veggies for a delicious dinner that's ready in about 30 minutes. (316 calories, 7 G, 7 B, 7 P
Greek Tostadas with Turkey: Toasted pita, Greek spiced ground turkey, bright tomatoes, crispy cucumbers, red onion, and feta — there is nothing better. (346 calories, 5 G, 4 B, 4 P)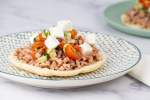 Love the idea of meal planning but don't have time to find recipes, create shopping lists, and make meal plans?
Since I know that many people simply don't have the time to create their own healthy meal plans, we provide delicious and healthy meal plans at Slender Kitchen that you can customize to meet your needs.
Each healthy weekly meal plan comes full of delicious recipes for breakfast, lunch, and dinner. The meal plans come in regular, vegetarian, and low carb options. All feature complete nutritional information, Weight Watchers Green, Blue, or Purple SmartPoints, and categorized shopping lists! There are also two bonus fallback recipes weekly and the option for either a complete meal plan or a Dinner Only plan.
This includes our interactive meal planning option where you can customize the number of servings for each meal, swap in new recipes if you don't like something, or build your own meal plan from scratch. All that for less the cost of one cup of coffee per month with the yearly plan.