Healthy Meal Plans: Week 11
Don't miss out on this week's delicious healthy, low carb, and vegetarian meal plan packed with easy and family friendly recipes with nutritional info, myWW Points, shopping lists, and more.
It seems crazy to think that we are in March, but it feels good to see spring on the horizon. As you enter this month, think about your goals and any adjustments you want to make. The beginning of the month is always a good time to focus on what's going well and what you want to change up.
Now let's talk about the food. Here's what to expect this week! It starts out with Low Carb Apple Cinnamon Pancakes, a yummy Cranberry Tuna Salad, and Slow Cooker Chicken Carnitas Tacos. Monday brings a Spinach and Cherry Tomato "Pasta" Arrabiata with Sausage and Tuesday is Sesame Pork Tenderloin. Wednesday brings one of my favorites, Bulgogi Beef Bowls with Vegetables and Thursday is One Pan Mustard Chicken. To end the week, meals include Black Olive and Feta Turkey Burgers and One Pan Blackened Cod, Butternut Squash, and Zucchini.
Meal Prep: You can make the brown rice, couscous, and turkey burgers in advance. And don't forget to prep any veggies ahead of time to save time chopping and dicing on weeknights.
Cooking Tip: If you aren't a big fan of spice, just leave out the Sriracha in the Bulgogi Beef Bowls.
Love leftovers: Consider doubling up the Frozen Breakfast Quesadillas and Black Olive and Feta Turkey Burgers.
Weight Watchers! We are excited to share a new feature that allows you to choose between Green, Blue, and Purple Smartpoints! Then you will get a customized plan for that plan! You can switch between plans at any point - it's all included with your membership.
And here's a preview of some of this week's delicious meals!
One Pan Honey Mustard Balsamic Chicken with Broccolini: This recipe has been on the website for years, but every time it is included in a meal plan, I always get requests to use it more often. It's easy, packed with flavor, and works for the whole family.
Frozen Breakfast Quesadillas: If you could come over and open my freezer, you would see a giant pile of this family favorite meal prep recipe. Make them with all your favorites.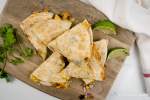 Greek Turkey Burgers: These are some of my very favorite turkey burgers made with black olives and feta cheese. So easy and so good.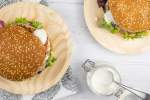 Bulgogi Ground Beef Bowls: All the flavor of Bulgogi beef without all the hard work. Make this take out style meal in less than thirty minutes.
Remember to check out the healthy, low carb, and vegetarian meal plans all with nutritional info and Freestyle SmartPoints.
Love the idea of meal planning but don't have time to find recipes, create shopping lists, and make meal plans?
Since I know that many people simply don't have the time to create their own healthy meal plans, we provide delicious and healthy meal plans at Slender Kitchen that you can customize to meet your needs.
Each healthy weekly meal plan comes full of delicious recipes for breakfast, lunch, and dinner. The meal plans come in regular, vegetarian, and low carb options. All feature complete nutritional information, Weight Watchers Green, Blue, or Purple SmartPoints, and categorized shopping lists! There are also two bonus fallback recipes weekly and the option for either a complete meal plan or a Dinner Only plan.
This includes our interactive meal planning option where you can customize the number of servings for each meal, swap in new recipes if you don't like something, or build your own meal plan from scratch. All that for less the cost of one cup of coffee per month with the yearly plan.