Healthy Meal Plans Week 1: Start the New Year Right!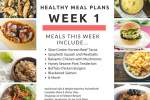 Next week's meal plans are ready, just in time to start off the new year right!
I don't know about you, but coming off the holidays everything feels a little tighter. This leaves me motivated to get back to healthy eating, and excited to really get back to planning out my meals and sticking to my plan. As I have mentioned before, meal plans have always been an essential part of my healthy eating and weight loss journey, and the only way I have had long term success. It's just too easy to fall back into bad habits when I haven't thought through what I will be eating. And coming off the holidays, I am ready for some structure, healthy food, and a smaller number on the scale.
Additionally, meal planning really saves my sanity. I can't tell you how many times in the past, I would finish working only to start stressing about what I was going to make for dinner that night. It was like another full time job. I would scramble to come up with a dinner idea, sprint to the grocery store, and then try to get something reasonably healthy on the table that night. Often this didn't happen and we ended up with take-out, processed frozen or convenience foods, or eating cereal while I promised myself tomorrow would be different. I was stressed out and gaining weight. Truth be told, I found myself falling into this pattern again over the past two weeks, so I am excited to get back on track this week.
So with that said, I am really excited about this week's meal plan! It includes lots of delicious recipes that are the perfect solution to get back on track. Also for anyone on Weight Watchers, the meal plans and all recipes are now updated with the new SmartPoints. If you have been struggling at all with the transition to the new system, consider using the meal plans as support while you get used to the new program. Many of our current members have shared that having everything figured out for them in the meal plans has made the switch much easier.
Love the idea of meal planning but don't want to do all the work?
Since I know that many people simply don't have the time to create their own healthy meal plans, we provide delicious and healthy meal plans at Slender Kitchen that you can customize to meet your needs.
Here are some highlights from this week's healthy meal plans:
Slow Cooker Korean Beef Tacos
Spaghetti Squash and Meatballs with Fresh Mozzarella
Balsamic Chicken and Mushrooms with Thyme (made with white beans for vegetairans)
Honey Sesame Pork Tenderloin
Buffalo Chicken Burgers with Green Bean Fries
Blackened Salmon
Baked Italian Polenta and Vegetables (vegetarian plan)
Vanilla Cinnamon Chia Seed Pudding (low carb plan)
Cinnamon Pear Oatmeal
Turkey Bacon, Zucchini, and Egg Muffins
& more
Each healthy weekly meal plan comes full of delicious recipes for breakfast, lunch, and dinner. The meal plans come in regular, vegetarian, and low carb options. All feature complete nutritional information, Weight Watchers SmartPoints, and categorized shopping lists! There are also two bonus fallback recipes weekly and the option for either a complete meal plan or a Dinner Only plan. This includes our interactive meal planning option where you can customize the number of servings for each meal, swap in new recipes if you don't like something, or build your own meal plan from scratch. All that for less the cost of one cup of coffee per month with the yearly plan.