Healthy Meal Planning Made Easy: Week 48 Meal Plans and Holiday Leftovers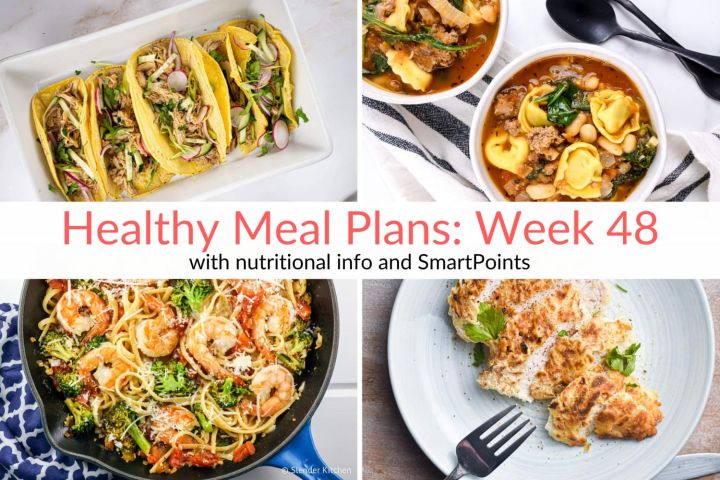 "If you fail to plan, you are planning to fail."
Once a week, I will be sharing a tip, trick, or some interesting information about meal planning. I believe meal planning is critical to any long term and effective healthy living or weight loss goals. For me it was the single thing that finally made permanent weight loss achievable. The quote stood true, when I failed to plan, I failed, and I don't want that to happen to others.
Additionally, I believe that meal planning is a skill that takes time to master and we can all use some help! When I first started meal planning it took up countless hours pouring over recipes, calculating nutritional info and/or points, and creating elaborate calendars. It was painful. Anything I can do to ease that pain for someone else is a win-win in my book.
Finally, I hope by sharing meal planning strategies, it will help you find a system that works for you. Whether it's using our meal plans, scratching one into your weekly planner, or creating your own meal planning system – I hope this feature inspires you to start planning at least a few meals every week. It will save you time, money, and it truly will help you reach your weight loss and healthy living goals. So with that, on to this week's tip!
Meal Planning Made Easy: Utilizing Holiday Leftovers
I don't know about you but leftovers are one of my favorite parts of Thanksgiving. I love the classic turkey, stuffing, and cranberry sauce sandwich as well as using leftover turkey for hash, scrambles, and soups. There are just so many things you can make with all your delicious leftovers. Here are some of my favorites, what are yours?
Here are some great ideas for using Thanksgiving leftovers.
Turkey Breakfast Hash: Combine leftover turkey with leftover roasted veggies to create an amazing breakfast hash. Just add some fried eggs on top and breakfast is ready in minutes.
Turkey, Cranberry, & Brie Quesadillas: Another leftover I love is using leftover turkey and cranberry sauce to make quesadillas or paninis. While I love using brie if I have some leftover, cheddar cheese is also a great option.
Slow Cooker Turkey Soup or Chili: I almost always make a batch of soup or chili using leftover turkey meat. Just use your favorite soup or chili recipe and add leftover turkey during the last 30-60 minutes of cooking.
Turkey Tacos: Not surprisingly, tacos are another great use for leftover turkey. Add paprika, oregano, cumin, and chili powder to the leftover turkey meat in a skillet with a bit of chicken broth. Let it simmer and then wrap it up in your favorite tortillas.
Quiche and Frittatas: Have lots of leftover veggies? Use them in quick and easy quiches and frittatas for breakfasts and lunches.
Kitchen Sink Salads: I am a huge fan of "kitchen sink salads" where you add in a bit of everything you have on hand over a nice bowl of greens. This can be a good solution as well if you overindulged on Thanksgiving and want a lighter option.
Love the idea of meal planning but don't want to do all the work? Since I know that many people simply don't have the time to create their own healthy meal plans, we provide delicious and healthy meal plans at Slender Kitchen that you can customize to meet your needs.
Here are some highlights from this week's healthy meal plans:
Slow Cooker Sausage Gnocchi Soup
Slow Cook Chicken Fajita Soup (low carb plan)
Lemon Shrimp and Broccoli Pasta
Lemon, Kale, and White Bean Pasta (vegetarian plan)
General Tso's Pork (with tofu for vegetarians)
Quinoa Egg Muffins
Honey Lime Chicken
Mushroom Burgers with Butternut Squash Fries
Chocolate Chia Seed Pudding
Spicy Chicken and Corn Tacos
& more
Each healthy weekly meal plan comes full of delicious recipes for breakfast, lunch, and dinner. The meal plans come in regular, vegetarian, and low carb options. All feature complete nutritional information, Weight Watchers PointsPlus®, and categorized shopping lists! There are also two bonus fallback recipes weekly and the option for either a complete meal plan or a Dinner Only plan. All that for less the cost of one cup of coffee per month with the yearly plan.