Healthy Meal Planning Made Easy: Prepping Snacks & Week 46 Meal Plans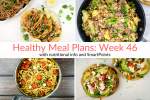 "If you fail to plan, you are planning to fail."
Once a week, I will be sharing a tip, trick, or some interesting information about meal planning. I believe meal planning is critical to any long term and effective healthy living or weight loss goals. For me it was the single thing that finally made permanent weight loss achievable. The quote stood true, when I failed to plan, I failed, and I don't want that to happen to others.
Additionally, I believe that meal planning is a skill that takes time to master and we can all use some help! When I first started meal planning it took up countless hours pouring over recipes, calculating nutritional info and/or points, and creating elaborate calendars. It was painful. Anything I can do to ease that pain for someone else is a win-win in my book.
Finally, I hope by sharing meal planning strategies, it will help you find a system that works for you. Whether it's using our meal plans, scratching one into your weekly planner, or creating your own meal planning system – I hope this feature inspires you to start planning at least a few meals every week. It will save you time, money, and it truly will help you reach your weight loss and healthy living goals. So with that, on to this week's tip!
Meal Planning Made Easy: Prepping Weekly Snacks
Recently a meal plan member reached out asking the following question, "So far I am loving the weekly meal plans and it has truly helped me lose weight - I am down almost 10 pounds already! However the past couple of weeks I find myself sabotaging my progress with snacks. I get hangry (hungry+angry!) during the day and since I haven't planned or prepped snacks, I end up at the vending machine or buying an expensive, calorie pack coffee. Any advice?"
Here are some tips to survive mid day cravings:
1. Assess your snacking needs: Before starting any meal planning, it is always best to first understand your needs. Figure out how many people you are planning for and how many snacks are needed. Let's say you are just planning snacks for you. Figure out how many days you need snacks and then how many snacks you need daily. Personally, I usually reach for a mid-morning and mid-afternoon snack so I plan on two snacks daily. On the weekends, I find I don't really snack at home, so I only plan snacks for Monday-Friday.
2. Add protein: In my personal opinion, it's important to always add some protein to your snacks. Without protein it's likely you will be hungry twenty minutes after eating. So instead of reaching for plain carrot sticks or pretzels, add some hummus, cheese, or nuts to get in some protein as well. This will keep you full and provide energy.
3. Plan out your snacks: The most important thing, unsurprisingly, is actually taking the time to plan out your snacks. If you are a meal plan member, you can simply add items to your meal plan in the snack column. Then they are automatically added to your shopping list. If you are meal planning on your own, write down your snack plan for the week and make sure to add those items to your shopping list.
4. Prep your snacks: This is almost as imporant as making a snack plan. Make sure to spend time prepping your snacks at the beginning of the week. Cut up veggies, wash fruit, and portion out everything. Pack pretzels, nuts, crackers, or baked chips in individual bags. Measure out servings of hummus, yogurt, dressings, cheese, and nut butters in small containers. Make sure everything is ready to grab and go so you don't have to think about packing anything during the week.
5. Add variety: Eating the same snack five days a week is enough to drive anyone to the vending machine. Make sure to mix up your snacks and also give yourself both sweet and savory options.
Love the idea of meal planning but don't want to do all the work? Since I know that many people simply don't have the time to create their own healthy meal plans, we provide delicious and healthy meal plans at Slender Kitchen that you can customize to meet your needs.
Here are some highlights from this week's healthy meal plans:
Slow Cooker Balsamic Brown Sugar Pork
Slow Cooker Madras Lentils (vegetarian plan)
Sugar Snap Pea and Bacon Pasta
Sausage Stuffed Portabella Mushrooms (low carb plan)
Banana Chocolate Coconut Oatmeal Muffins
Roasted Vegetables and Orzo
Baked Chicken Fajitas (Eggplant Fajitas for vegetarians)
Korean Beef and Cabbage Stir-fry
Sweet Chili Coconut Chicken Fingers
Honey Lime Shrimp
Turkey Sloppy Joes
& more
Each healthy weekly meal plan comes full of delicious recipes for breakfast, lunch, and dinner. The meal plans come in regular, vegetarian, and low carb options. All feature complete nutritional information, Weight Watchers PointsPlus®, and categorized shopping lists! There are also two bonus fallback recipes weekly and the option for either a complete meal plan or a Dinner Only plan. All that for less the cost of one cup of coffee per month with the yearly plan.