Free First Week Back to School Dinner Meal Plan
Let's be honest, while we all have the best intentions when it comes to cooking up healthy meals, many times life just gets in the way. This coudln't be more true with school starting again and the end of our beloved lazy days of summer. Between busy work days, afterschool activities, running errands, cleaning up, and hopefully squeezing in some exercise – it's hard to find the time to shop, plan, and cook a healthy meal. And if you are like me, on nights when I don't have a plan for dinner, I end up reaching for take-out, processed food, or the same boring chicken breast we have eaten ten times in the past two weeks.
So this week, instead of making meals a last-minute afterthought, you need a plan. A healthy meal plan that will not only make dinner time easy and stress-free, but will help you reach your weight loss and healthy living goals. And make this back to school chaos a little easier.
Not heading back to school? No worries! This plan is perfect for anyone looking to make dinner time easier and healthier.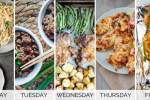 To get you started, I am sharing a free dinner meal plan that includes five dinners you will love plus an easy to use shopping list. The meals are easy to prepare and family tested. Plan to make these quick and easy dinners during the week and if you want to really get moving, cook extra so you can use the leftovers for quick lunches – think big healthy salads, wraps, tacos, or grain bowls. Really want to get ahead? Cut and prep your veggies and cook your grains on Sunday for even faster weekday cooking. That's all it takes! One simple meal plan for a week of delicious and healthy eating. So go get cooking and eat well all week.
And if you are counting calories or points, all the recipes include nutritional information and Weight Watchers SmartPoints.
Get Your Free Back to School Meal Plan
Looking to add breakfast and lunch? Check out our complete meal plans. These plans give you complete control. Choose the meals you want, the number of servings you need, and swap in new recipes to create the perfect meal plan for your family. Take advantage of our 25% off Back to School special.
25% Off Back to School Meal Plans Special
Stress free healthy eating has never been easier! Delicious, customizable weekly meal plans with nutritional information, SmartPoints™, shopping lists, and more… Use coupon code: SCHOOL17 during checkout.
Want to learn more about meal planning?